Vietnam is a country known for its rich history, diverse culture, and stunning natural landscapes. From the limestone cliffs of Ha Long Bay to the rice terraces of Sapa, Vietnam has no shortage of incredible sights to explore. Before the name Pù Luông became one of major attractions in North Vietnam travel map, we had long set foot on this land as a senior tour operator focusing on adventure and unusual experience for travelers, typically dirt motorbikes, trekking and camping exploring unsurfaced roads or tracks from Mai Chau valley to Pu Luong Nature Reserve, Ngo Luong and Ninh Binh.
We are two brothers who simply love experiencing nature, having spent most of our youth conquering the view of mountains in Northern Vietnam. We have wandered around the frontiers in Ha Giang, strolled down Mai Chau valley with ethnic minorities' villages, and roamed from the marvelous rice terraces in Mu Cang Chai to the impressive mountain ranges in Sapa. After all, Pu Luong has won our hearts, as it encompasses every best assets that have made Northern Vietnam famous all over the world. It is a truly unique gem of Northern Vietnam. The brand Pu Luong Excursions was born with the initial purpose of sharing the beauty of Pu Luong Nature Reserve with a wider range of travelers. Travelers express their desired experiences, and we conduct surveys and assess the potential for success. Our customers consists of individuals and small groups of friends who are interested in mountain climbing, sleeping under an open sky, and similar activities. History has shown that we have successfully met most of their requirements and it went on a decade of experience.
Jason
Nowadays, Pu Luong Excursions has rapidly become one of Vietnam's most reliable tour companies specializing in mountain treks. With over 10 years of experience in the tourism industry, our passion for sharing Vietnam's natural beauty, cultural diversity, and local communities, our dedication to responsible and sustainable tourism, and our commitment to delivering high-quality tours and exceptional customer service have garnered us a loyal following of travelers from all corners of the globe.
Nestled in the heart of northern Vietnam, Pu Luong Nature Reserve is a breathtaking and biodiverse region. Renowned for its towering limestone cliffs, lush green forests, and terraced rice fields, Pu Luong offers a paradise for mountain lovers and outdoor adventurers. At Pu Luong Excursions, we provide a range of tours and loop tours that enable visitors to explore the reserve's natural splendor, immerse themselves in local culture, and contribute to sustainable tourism initiatives.
Pu Luong Excursions presents an array of tours, each with its own distinctive itinerary and highlights. Our tours are designed to be flexible and customizable, allowing travelers to tailor their itineraries to suit their preferences. Whether you have a penchant for trekking, cycling, motorbike tours, cultural immersion, or homestays, Pu Luong Excursions has the perfect tour to cater to your desires.
One of Pu Luong Excursions' most popular tours is the Pu Luong Trekking Tour. This tour takes visitors on a multi-day trek through the reserve, with stops at local villages and homestays along the way. Travelers will have the opportunity to witness the traditional way of life of the Thai and Muong people, who have lived in the area for generations. The tour includes visits to waterfalls, rice terraces, and bamboo forests, rafting with plenty of opportunities for hiking and taking in the stunning views.
Another popular tour offered by Pu Luong Excursions is to Mai Chau. Mai Chau is a lovely valley located just 40km from Pu Luong, and is home to Thai ethnic minority group. The tour allows visitors to experience daily life in a traditional Thai village, with activities like rice planting, weaving, and cooking. The tour also includes visits to local markets and handicraft shops, as well as a trek through the surrounding hills.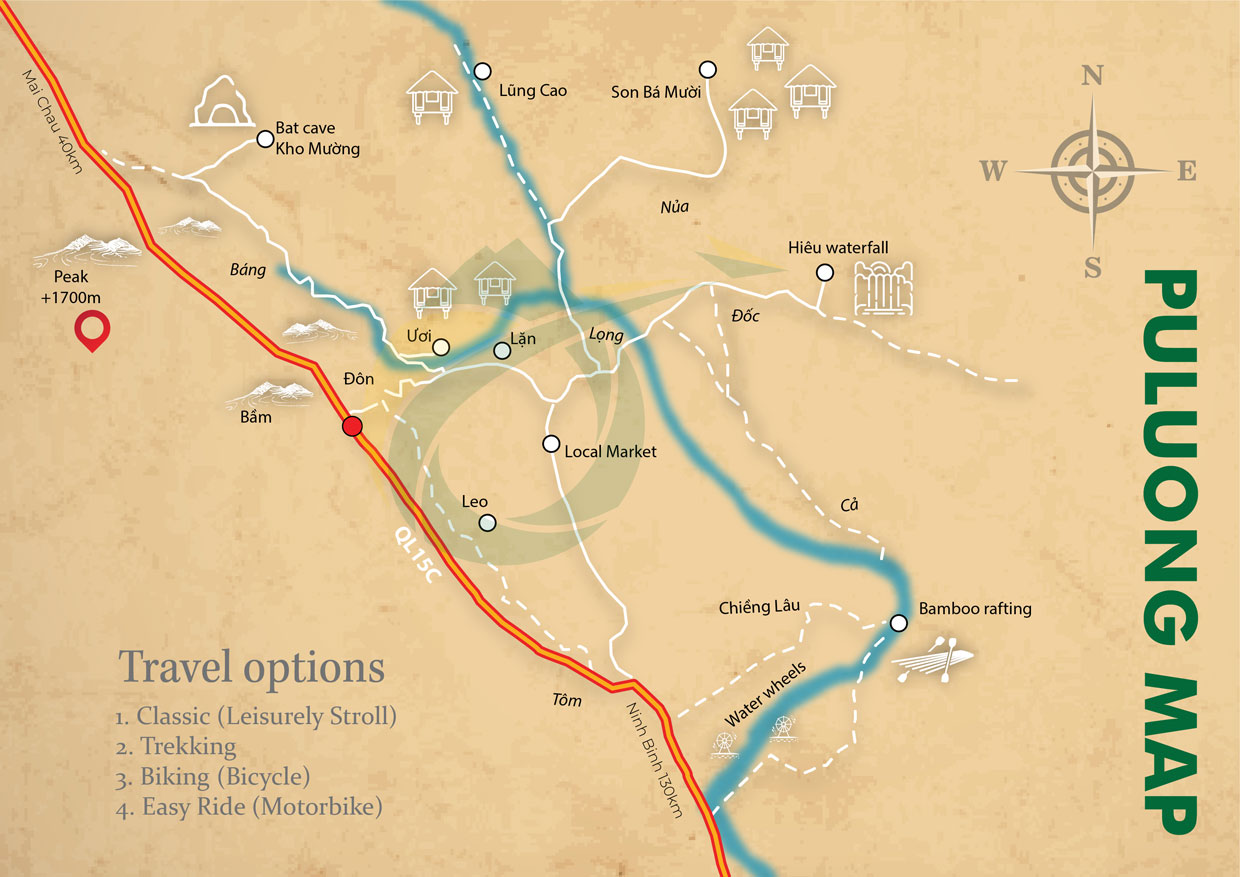 Both Mai Chau and Pu Luong are two beautiful destinations nearby, and both offer unique and authentic cultural experiences. However, there are some key differences between these two destinations that may influence your decision on which tour to choose.
    Landscape and Scenery
Mai Chau is known for its rice paddies, stunning mountains, and traditional stilt houses. Pu Luong, on the other hand, boasts breathtaking terraced rice fields, hidden valleys, and lush green forests. Both destinations are surrounded by natural beauty, but the landscapes are pretty different.
    Tourist Crowds
Mai Chau is a well-known tourist destination and can be quite crowded, especially during peak season. Pu Luong, on the other hand, is relatively untouched by tourism, and you may find fewer tourists in this area.
    Accommodation Options
Both Mai Chau and Pu Luong offer a range of accommodation options, from homestays and eco-lodges to more luxurious resorts. However, the quality and level of comfort of the accommodations may vary between the two destinations.
    Trekking and Hiking
Both destinations offer plenty of opportunities for trekking and hiking, but the level of difficulty may differ. Pu Luong is known for its challenging trekking routes, including steep climbs and descents, while Mai Chau offers more leisurely walking experiences through the rice paddies and countryside.
    Cultural Experiences
Both Mai Chau and Pu Luong offer a chance to experience the local ethnic cultures of the region. Mai Chau is home to the Thai ethnic group, known for their traditional stilt houses, lively markets, and colorful festivals. Pu Luong, on the other hand, is home to the Thai and Muong ethnic groups, who live in remote villages and practice traditional farming methods.
For more information, Pu Luong Travel Guide will be helpful.
In summary, both Mai Chau and Pu Luong offer cultural experiences and stunning natural beauty. Mai Chau may be a more popular and accessible tourist destination with easier walking routes, while Pu Luong offers a more challenging and off-the-beaten-path experience with fewer crowds and more demanding trekking routes. Ultimately, the choice between these two destinations depends on your personal preferences and travel style.
For those who prefer a more active tour, Pu Luong Excursions offers several cycling tours. The Ninh Binh Cycling Tour takes visitors through the stunning countryside of Ninh Binh province, featuring stops at historic temples, pagodas, and local markets. Additionally, the tour includes a boat ride through the Tam Coc caves, providing stunning views of the surrounding limestone cliffs. On the other hand, the Pu Luong Cycling Tour takes visitors on a journey through the Pu Luong Nature Reserve, with captivating stops at local villages and homestays along the route. Cycling serves as an excellent means to explore the local area while simultaneously engaging in exercise and enjoying the fresh air.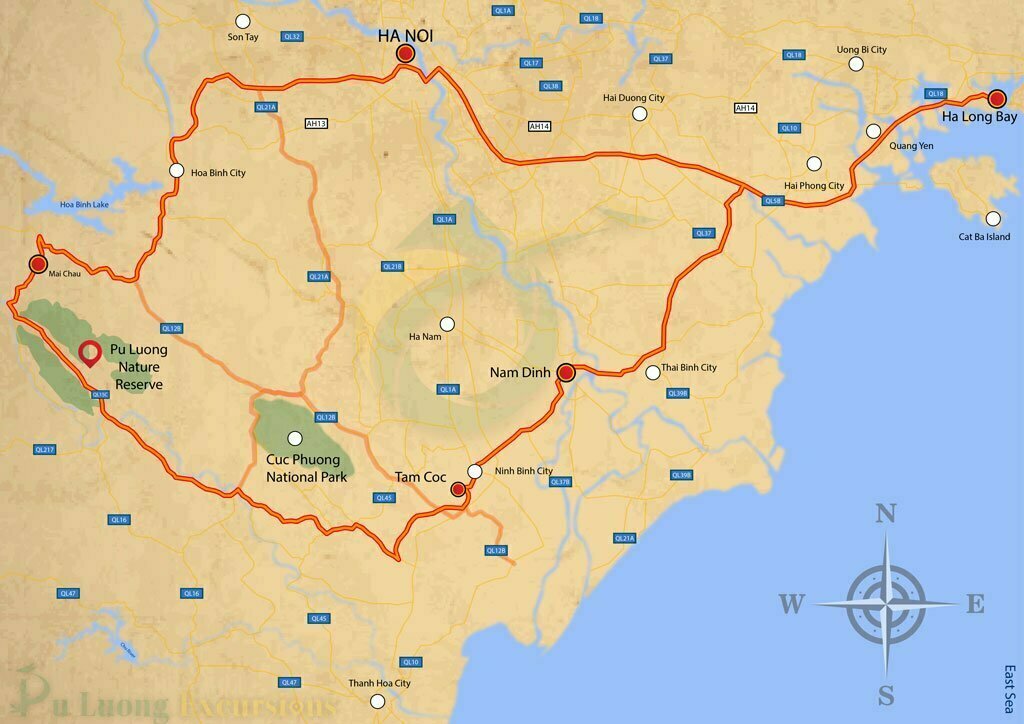 In addition to the trekking and cycling tours, Pu Luong Excursions also offers the exhilarating Pu Luong Motorbike Tour, providing a thrilling and adventurous option for those seeking to explore the magnificent landscapes of Pu Luong and the surrounding region on two wheels. The Ho Chi Minh Trail Motorbike Tour, tailored for passionate riders, presents visitors with a multi-day expedition through Vietnam's most breathtaking and historically significant areas, including Hue, Hoi An, and the Mekong Delta. Throughout the journey, travelers will have the opportunity to immerse themselves in local markets, visit historical sites, and experience cultural landmarks, all while relishing in the excitement of the open road.
One of the distinctive aspects of Pu Luong Excursions is our dedicated focus on responsible and sustainable tourism. We firmly believe that travel should be a mutually beneficial experience for both travelers and local communities. Therefore, we actively collaborate with local communities to curate authentic experiences that contribute positively to both parties.
Our commitment to minimizing environmental impact is paramount. We accomplish this by opting for eco-friendly accommodations and transportation options. Moreover, we wholeheartedly encourage travelers to respect and appreciate the natural world during their journeys. By supporting local communities and implementing measures to reduce our ecological footprint, Pu Luong Excursions is actively contributing to the creation of a sustainable future for Vietnam's tourism industry, particularly in the context of Pu Luong Nature Reserve.
In addition to our tours, Pu Luong Excursions also offers a range of travel services, including airport transfers, hotel bookings, and visa assistance. Our utmost priority is to deliver exceptional customer service and support throughout the entirety of your travel journey, starting from the initial planning stages until the conclusion of the tour. Our team comprises seasoned tour guides and travel experts who are readily available to address any inquiries or offer recommendations, guaranteeing that you have an outstanding travel experience in Vietnam.