This Pu Luong travel guide will help you to plan your stay in this wonderful nature reserve the best way. When to go, what to do, where to sleep!
About Pu Luong Nature Reserve
You can find all the useful and detailed information in our dedicated article "Pu Luong Nature Reserve" here.
To summarize and to describe what Pu Luong (Pù Luông in Vietnamese) is, we could say:
A small Sapa with impressive mountain range, a glimpse of Mu Cang Chai with stunning rice terraces, a Mai Chau valley with ethnic minorities' villages – A perfect combination of all beauties of Northwest Vietnam in one place.
Indeed, Pu Luong has cumulated every best assets of each area that have made Northern Vietnam famous all over the world and condensed them in one place. It has become an unmissable destination that most travelers add to their travel itineraries.
You will understand in this Pu Luong travel guide why you have to integrate the Reserve in your travel plans.
Best time to visit Pu Luong
For every traveler, one of the main concerns when making the travel plan is to choose the best time to visit the destination. The luckiest can decide when to go while some people don't have flexible dates. This Pu Luong Travel guide will inform you on what to expect depending on the time of the year.
When thinking of Northern Vietnam, one of the main icons is the rice paddies. Fortunately, it is one of the highlights in Pu Luong and as there are two crops a year, the opportunities to enjoy the beautiful colors of the rice terraces are many.
The Golden Rice Season
Let's start with what is called the "golden season", when the rice turns yellow before the harvest. You will be able to contemplate that in May and October. It is also the harvest time. While temperatures can be hot in May due to the high humidity rate, in October the weather is usually perfect. Cool temperature, around 25°C in day time, sunny days and rare rainfalls.
October is the most enjoyable month as it can combine nice weather and yellow rice fields. It is also the high season in Pu Luong, book in advance your accommodation will allow you to have more choices.
Summer Time in Pu Luong
The summer is also a nice time to enjoy Pu Luong, from July to September. Even if it can be very hot, most of the hotels nowadays have a swimming pool and air-conditioned rooms. From July to September, the rice will grow from the water terraces to the green ones. Temperatures can climb high in daytime (more than 35°C) but will cool down in the evening. The storms that may happen at the end of the day or at night won't disturb your activities in daytime.
In June, the rice will be harvested and temperatures are usually the hottest with very high rate of humidity. If you come in June, do not worry, there are many other activities besides enjoying the rice field views.
Spring Time in Pu Luong
From March to April, the rice terraces are like July to September. The rice starts to appear from the young roots to the high green plants. The weather is cool (can even be cold in March). It can be very changing, from the pristine blue sky to the invading fog.
Fall and Winter in Pu Luong
November is a particular month. The rice will still be harvested at the beginning of the month and then will be fallow. The farmers scattered all around to clean the fields. Even if it is the end of the rice season, the weather is very enjoyable. Mostly sunny, temperatures gravitate around 25°C.
Winter, from December to March, is not the season for the rice. Fields are resting, regaining the energy until the spring. For the hotels having only a rice field view, it is less interesting. It is better to choose one with mountain view. Enjoying a cup or warm local tea from your balcony remains a wonderful activity.
To summarize, from March to November, Pu Luong Nature Reserve is idyllic. If the winter is not the rice time, as all areas in the North of Vietnam, it is pleasant and you will find below in this Pu Luong Travel Guide that the large range of activities are well adapted to every season.

Pu Luong Transportation Travel Guide
The travel distance from Hanoi to Pu Luong is about 180 km. Three roads are deserving the Reserve. One is passing by the Ho Chi Minh trail, one by the valley of Mai Chau and one crossing through the heart of the Reserve.
By bus – saving cost solution
A daily limousine bus operated by First Class Xpress is departing from the Hanoi's Old Quarter every morning at 7am and arrive in Pu Luong around 12pm. The bus is comfortable with WIFI connection. The bus will drop you off at the entrance of Don village or in any other hotels along the main road to Bang village.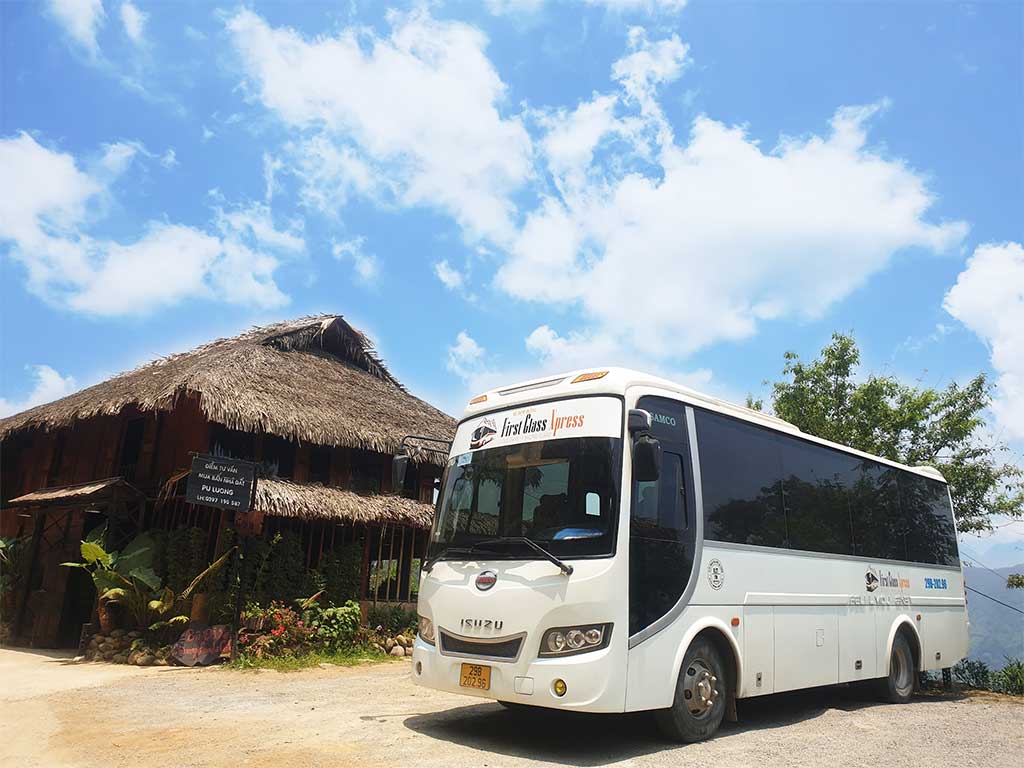 By Car
The second option will be to hire a private car. The trip will last around 4 hours. The benefit is to choose which way to go and also to stop whenever you want. You will get by the Ho Chi Minh road if you want to reach the fastest possible the Reserve.
If you have time and want to enjoy some sightseeing on the way, you will pass by Mai Chau to stop at the Thung Khe pass (one of the most beautiful passes in the North Vietnam) and visit the local market. You can even arrange a lunch in Mai Chau to admire the valley before arriving to Pu Luong.
You can also decide to pass through the Reserve. You will have the opportunity to stop at Son Ba Muoi to take some photos of the untouched area from some viewpoints. You can see more information about Son Ba Muoi here.
By Motorbike
The last option will be to ride a motorbike to reach Pu Luong. North of Vietnam is an excellent playground for the riders. In this case, the Ho Chi Ming trails is not so exciting. Passing the other side will be more interesting. You can have a look to our Pu Luong Motorbike tour travel guide to collect more information for your trip here.
Pu Luong Excursions provides support for every kind of transportations' booking you need. Feel free to send us your preferred options.
PU LUONG HIGHLIGHTS
These are what you should not miss when traveling in Pu Luong:
Kho Muong village – Bat Cave
Kho Muong, a hidden village is probably the most special one as it is accessible only by motorbike or walking. Lost in a hidden valley, home of a circular mountain range with rice paddies and the largest cave in the Reserve, the Bat Cave (Hang Dơi in Vietnamese).
Hieu villages – Hieu waterfall
Hieu village (Bản Hiêu in Vietnamese) has also changed in last 3 years with homestays blooming all over the village. This is due to the stream along the village creating a multi-level waterfall – Hieu waterfall (Thác Hiêu in Vietnamese) that allows water hike in the dry season or a swim with the friendly locals.
Experience local life in Son Ba Muoi
Son Ba Muoi is located at the extreme south of the Reserve; on top of Pha He, Pha Chien mountain range. Not yet fully developed, tourists love to get there to feel the cool atmosphere and the untouched nature with amazing view.
Don village (Bản Đôn, xã Thành Lâm)
Don Village is the most developed one and can be considered as the epicenter of the touristic area. His location is very special with stunning view on the rice fields and the mountain range. You will find every kind of accommodations in the village from the traditional homestay to higher standard hotels. Here are some highlights to do when you visit Don village, Pu Luong Nature Reserve:
Trekking along the rice fields and discover some hidden valleys

Experience jungle ride in palm or bamboo forest

Join cultural activity as farming, sewing, cooking
For more information in Don Village, visit our dedicated article.
Climb Pu Luong peak
Pu Luong in local language means "The highest peak in the area" and culminates at a height of 1700m. You can join a full day tour to conquer the Pu Luong peak that last 12 hours or take a private camping tour with our experienced tour guide if you have much time.
Visit Pho Doan market
You take a half day tour to experience this typical local market and see how locals exchange goods. The market operates on a traditional schedule, opening only on Sundays. It is also available for tourism on Tuesdays and Fridays.
PU LUONG ACTIVITY TRAVEL GUIDE
The topography and the cultural environment allow Pu Luong Nature Reserve to offer a multitude of activities. All year along, there are plenty of things to do. Whether you are an adventurer, a slow traveler or looking for cultural connections, you will for sure find your happiness in Pu Luong.
Probably the most enjoyable one to have time to discover the area and its beauty. There are trekking for every level from the half day one in flat land to the multi days connecting different villages. The challenger will give a try to reach the top of Pu Luong mountain (1700m) hiking in the jungle.
Camping
Exciting adventure to sleep in the tent in the nature after a delicious barbecue diner.
Bamboo Rafting
Enjoy a boat tour on the traditional bamboo raft on Ma river. This is usually combining with an easy trekking passing local villages and visiting the impressive bamboo waterwheels.
Biking in Pu Luong
Another way to visit the Reserve is to jump on a bike. The roads are good and land flat enough in some areas to enjoy the ride. It is for example very easy to go to Hieu village from Don village. For the most experienced one willing to ride into dirt path, you will either have to bring your bike from Hanoi (it can be load in the bus) or request a customized tour in advance. Then you will be able to take hidden dirt path.
For those not willing to trek or don't have much time, main roads are in good conditions to ride around to access to villages, waterfalls… It can be done by renting a motorbike in Pu Luong or organizing package tours from Hanoi. You can see this article for more details.
Part of the journey is to discover local food, having a class by local people is the best way to experience. If you stay in a homestay, you can join your hosts. For a deeper introduction to the cooking techniques of the Thai people, you can join a class. Starting with a trekking, you will collect directly ingredients in the nature or at the market before preparing some local dishes.
Farming
Live the local touch by joining the local people in their daily life in the fields. Depending on the season, initiate yourself to plant or harvest the rice. You can do it while trekking with a tour guide. If you are walking around by yourself, just go and meet them, they will appreciate and be very happy to welcome you and show you their technique.
Quad tour or jeep tour
Due to the development, you can find those activities on site. It is a new way to discover the Reserve in safari style. For added certainty, checking availability is advisable. Local policies and events may occasionally restrict this type of tour.
Chilling by the pool or on your balcony
That is an activity not to miss! Enjoying a coffee in the morning, a cup of tea or a glass of wine at the sunset, are entirely part of the Pu Luong experience. For the bravest, you can wake up around 5am to admire the sunrise and the sea clouds. The pink color invading the sky and seeing the sun appearing on top of the mountain range will be one of the highlights of your stay.
Running a marathon
It is now possible to join the Pu Luong Jungle Marathon organized by Topas. It is known as one of the most challenging in Vietnam. Running through dirt path, people are coming all over Asia and some from overseas. Runners will get the opportunity to challenge themselves and extend their stay to enjoy the Reserve.
WHERE TO SLEEP IN PU LUONG
Hotel, resort, homestay in Pu Luong: Pu Luong travel guide would not be complete without a review and some recommendations on which hotels to sleep during your stay. Various hotels have opened during the Covid time. As Pu Luong has become popular in the domestic market, trendy hotels with swimming pool and 3-star standards are blooming all over the place, mostly concentrated in Don village and along the main road until Bang village. Our recommended homestays and hotels include:
Homestays, hotels in Don Village
Puluong Retreat
The first 3* standard hotel in Pu Luong remains a safe bet. Rooms are well decorated with a local touch. You have option between deluxe rooms or private bungalow. The dorm is about to not sell anymore. The view is impressive from the rooms or from the two infinity pools. More details about Puluong Retreat here.
Gateway Inn Pu Luong
Another recent hotel, close to the entrance of the village and situated just 200m away from Puluong Retreat, features a location overlooking layers of mountains in the distance, providing all the comforts travelers need. The fully equipped bungalows are decorated with natural materials, and there's a sunbathing area with a panoramic view of the whole valley of Don village with villages and rice terraces, and a restaurant under a traditional stilt house for a local touch.
One of the first to have setup a homestay in Pu Luong. If before the accommodations were pretty basic with dorm and basic private rooms, the new open view bungalows provide a wonderful view on the rice fields and the mountains. Just 1.5km down to Don village from Pu Luong Retreat.
Pu Luong Natura Bungalows
Probably the biggest competitor to Pu Luong Retreat in Don village based on scale. The hotel featured a dorm, basic private rooms with shared bathrooms and some stunning bungalows with large window overlooking the rice fields. You will also have this view from an infinity pool.
Pu Luong Tree House
On the lower part of Don village, just a short walk from Valley Home, hidden in an islet in the middle of a small forest, is the Tree House. It is an original structure surrounded by rice terraces, featuring a swimming pool and some private rooms nestled in the trees.
Lua Pu Luong
Located outside the Don village and managed by Lua, a yoga lover, this hotel offers a nice swimming pool, cozy rooms, and a quiet atmosphere. While the view is less impressive, the hotel is very suitable for people who want to relax and enjoy some wellness activities.
Homestays, hotels on the main road to Bang Village
Pu Luong Eco Charm
Perched on high side of the road, the view from the 6 private bungalows is stunning with the rice fields and the mountains. Hanh, the owner and manager is local Thai people from Mai Chau. Quiet place. A small swimming pool will relax you after some treks.
Pu Luong Eco Garden
In Bang Village, Eco Garden has significantly contributed to the development of Pu Luong. Offering different options, including dormitory, private rooms, and deluxe rooms, the new villas with private outdoor bathtubs are well decorated in a modern style. While there isn't a close view of rice terraces, the view from the infinity pool is one of the most beautiful in Pu Luong.
Pu Luong Casa Resort
New comer and freshly opened, Pu Luong Casa is a pretty modern one. Full equipped rooms on two-story buildings with a great view on the valley and the mountains. The swimming pool is ideally located overlooking the mountain range.
Pu Luong Bocbandi Retreat
Another new comer in Pu Luong with high standard accommodations. The view from the rooms and the swimming pool are overlooking the rice fields located on the top of the hotel with the mountain range in the background. The cubic style bungalows are originals and have all a private balcony to enjoy a relaxing time after an exciting day of exploration.
Homestays, hotels in other areas of Pu Luong
If you stay in Pu Luong for 3 nights or more, consider adding a night in another location within the Reserve. Pu Luong is generally remote, and the villages listed below are the most secluded in the region. They lack public amenities, especially pharmacies, and have limited food choices. With no public bus access, we only recommed choosing a private guided tour with an overnight stay for the best vacation experience. Here are some secrets from our Pu Luong Travel Guide to help you escape the tourist areas and get closer to local life.
Hieu village
Staying one night in Hieu village can be a nice option. Although the village has developed rapidly, you can spend a night at Tai Dam homestay, located on the higher level of the village. Here, you can experience a jungle tour with a local guide.
Kho Muong village
Kho Muong is typically just a stop for a half-day or full-day trekking. However, there are some basic homestays where you can spend your time in the local culture. It serves as a great stop for multi-day trekking from one village to another.
Son Ba Muoi villages
Son Ba Muoi has limited accommodation options, and they might not be of high standard yet. However, the experience of overnighting there is very special, and the locals are very friendly. You can find more information in our Son Ba Muoi travel guide article.
May you be interested?
FOOD IN PU LUONG
The food in Pu Luong is particularly tasty, healthy and varied that should not to miss when visiting Pu Luong Nature Reserve.
The duck (Vịt Cổ Lũng in Vietnamese)
As previously mentioned, the duck is one of the most famous dishes in Pu Luong. Hanoians are coming to Pu Luong with the purpose to taste it. It can be cooked in different ways, boiled, steamed, grilled. You will find it everywhere in Pu Luong, even if you have the chance to share a local meal with a family.
The fish (Cá suối nướng)
The Cham river is full of fish and the local fishermen are making a living of it. The special one will be cooked in a banana leave at low heat. The meat will remain tender and will be soaked by the flavor of the leave. A must try in Pu Luong.
The Com Lam (Cơm Lam)
Specialty of the Thai people, another must try! The sticky rice is slowly cooked in a bamboo stick, providing a smoked flavor very unique. You will accompany that with peanuts' dust.
The Canh (Canh đắng)
Canh is a traditional soup that you will find everywhere in Vietnam when having a family meal. All over the country, you will find many different Canh, from the vegetable one, seafood one or meat one. In Pu Luong, they have this special one named Canh Dang. It is made either with Chicken, pork or fish stomach with some herbs and vegetables. Very tasty and very suitable for winter time.
The stream snails
Snails are on the top list of favorite dishes for Vietnamese. Every size, every kind, if the appearance can repel some, it really deserves a try. Even more in Pu Luong where the water from the stream is known as pure and rich.
For more details of what to eat and where to eat in Pu Luong, you can find it all at the dedicated article Food in Pu Luong here.
SAMPLES OF PU LUONG TOURS
You now have all information to organize your journey. Here are some tour samples in Pu Luong that combine the most suitable activities to your expectations. Beyond a tour operator, Pu Luong Excursions are a provider of experiences. Let's show you the best.
Day trip to Pu Luong from Hanoi
Just a small group of 10 people that departs from Hanoi city. A full day trip of hiking the iconic trails of Pu Luong, caving at the isolated village, Kho Muong and interacting with locals with a picnic lunch. Day trip to Pu Luong from Hanoi has cumulated the best assets of Pu Luong and condensed them in one day. An unmissable tour when you are short in time. For more day tours in Pu Luong, visit our Tour section.
Pu Luong 2 days 1 night from Hanoi
The perfect vacation away the hustle of city life. This tour will take you to Pu Luong Nature Reserve – a quiet place with unspoiled beauty. Walking is the best way to discover nature around as well as local culture. Wander through terraced fields offering hundreds of photo opportunities gives you relaxing moments. Biking around beautiful remote hamlets in Pu Luong surrounded by tropical forests and interact Thai ethnic people are enchanting experiences on your journey. For detail tour plan, visit Offbeat Trekking Tour.
Pu Luong 3 days 2 nights from Hanoi
The perfect holiday to melt into nature and rejuvenate your soul. This tour will take you to Pu Luong Nature Reserve – a quiet place with unspoiled beauty. Walking is the best way to discover nature around as well as local culture. Wander through terraced fields and interact Thai ethnic people give you relaxing moments. Biking around beautiful remote hamlets in Pu Luong surrounded by tropical forests, melting into the unique waterfall in that area are enchanting experiences on your journey. Welcome to Pu Luong. For detail tour itineraries, visit Class Easy Ride 3 Days.
This Pu Luong Travel Guide is providing all general information and recommendations to organize his trip the best way. You can contact us directly for any concerns or questions you may have. Pu Luong Excursions will be glad to support and offer customized tours with some delightful surprises.
Contact us now