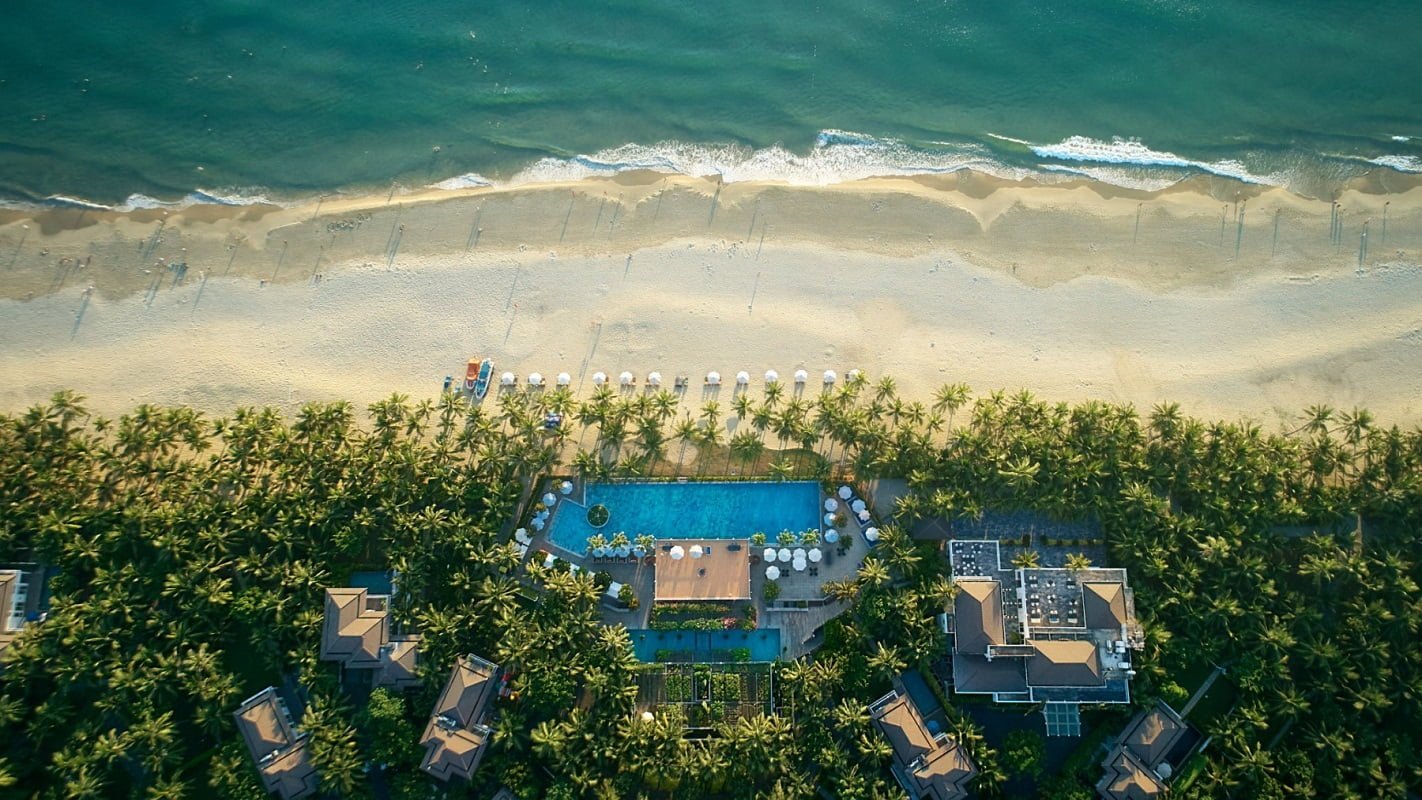 Converging all the beauty of sunshine and wind, blue sea, white clouds and majestic landscape, Central Vietnam tourism attracts a large number of tourists by this perfect interference. So where should tourists go to the Central region, what to eat? Let's explore the full set of tips below!
Phong Nha Ke Bang National Park- central Vietnam 
Phong Nha Ke Bang National Park has long become a leading tourist destination in Central Vietnam. This population is located in Son Trach commune, Bo Trach district, Quang Binh province, about 50 km northwest of Dong Hoi city center. Its feature is the longest and most beautiful caves in the world. Moreover, there are rivers and mountains with many impressive flora and fauna.
With these many things, the scenic Phong Nha – Ke Bang becomes an attraction not only for tourists in the Central region but also in the whole world. Coming here, going deep inside the cave, you will be extremely surprised by the diverse stalactites that the Creator has bestowed.
Vestiges of the Vietnam War- Central Vietnam
Quang Tri ancient Citadel
Quang Tri Ancient Citadel – A special national relic of Vietnam is located in the center of Quang Tri town, Quang Tri province. Quang Tri Citadel is a military citadel and the seat of the Nguyen Dynasty in Quang Tri district. This is also the center of Quang Tri province during the French colonial period and the Southern government. In particular, during the general offensive and uprising in 1972, the citadel was known to the whole world through the fierce battle of 81 days and nights to keep the citadel.
Vinh Moc tunnel- Quang Tri
Amidst the years of fierce bombing, no one could have imagined that there was a Vinh Moc tunnel – a world of living and fighting in the ground, completely isolated from the outside world. Vinh Moc Tunnels is a cultural and historical relic with great historical and educational values, a symbol of the undying patriotism, the unyielding will and creativity of his father during the resistance years. war. Visiting Vinh Moc tunnels, visitors will feel the arduous endurance, incessant creativity and brave fighting spirit of Quang Tri's army and people during the war years.
Hien Luong bridge

 
Hien Luong Bridge (Quang Tri) crosses the Ben Hai River separating the North and South of Vietnam from 1954 until the country's reunification. The bridge witnesses the history of the efforts to sacrifice their lives for independence. Today, the bridge is a monument to the unity of the nation. You can only walk on the bridge on the occasion of April 30 every year, the people on both sides of the Ben Hai River celebrate Reunification Day.
My Lai Massacre Memorial Site
"Find and destroy" was a common mission during the war, and the American army burned down the entire village and massacred all the people. And the place that attracted great public attention was My Lai (Quang Ngai), although the massacre did not stop there.
When you come here, you will see a statue of a woman raising her hand to the sky, next to the body of a family member. The museum here also has pictures of the massacre and relics like costumes, etc, and all are full of bullet holes.
Hue Ancient Capital- dreamy city in central Vietnam
The coastal resort is located on both sides of the Perfume River, the ancient capital of Hue is considered a world cultural heritage land, located in Thua Thien – Hue province. This place has many scenic spots with both ancient, poetic and captivating beauty such as: Complex of Ancient Capital Monuments, Truong Tien Bridge, Ngu Binh Mountain, Dong Ba Market, Lang Co Bay, Tam Giang lagoon, etc.
Hue has the intangible cultural heritage recognized by UNESCO as Hue royal court music and the rustic, simple but attractive culinary culture just like the local people here. If you don't once try mussel rice, Hue beef vermicelli, banh beo, filter cake, Nam cake, Ram It cake, grilled meat rice noodle, banh canh Hue, etc, it's a pity here.
Da Nang- central Vietnam
Da Nang is located between three world heritage sites: the ancient capital of Hue, the ancient town of Hoi An and the holy land of My Son. Da Nang also has many beautiful landscapes that captivate tourists such as Ngu Hanh Son, Ba Na, Son Tra peninsula, Hai Van pass, poetic Han River and Han River turning bridge – the pride of the city, and the American sea. The most beautiful place on the planet.
Da Nang city – known as the most livable city in Vietnam. This place is gradually becoming the focus of both domestic and foreign tourism in the field of tourism. You can explore Da Nang by motorbike, car, .. easily. Every year, it attracts millions of tourists by its majestic, civilized and modern natural scenery. You will get lost in the culinary culture paradise with fun destinations to forget the way back. Traveling to Da Nang will bring you the most unforgettable time.
Delicious dishes of Hoi An ancient town- in central Vietnam
Read more:Pu luong day trip
Hoi An Ancient Town is located in Quang Nam Province, located downstream of the Thu Bon River, on the famous fertility road of Vietnam. This place preserves the long-standing ancient features, known as an attractive destination of the Central region in particular and of Vietnam in general. This small town used to be the intersection of Vietnamese – Chinese – Japanese – European cultures in terms of architecture, traditions and cuisine. By the way, our Pu Luong Excursion will suggests you some well-known dishes in Hoi An:
Cao Lau Hoi An
It is not an exaggeration to say that if you have not eaten Cao Lau, it is considered that you have never been to Hoi An. Cao Lau noodles have a bright yellow color, because the flour is mixed with ashes of Melaleuca firewood to create a special flavor. Cao Lau is often eaten with shrimp, pork, char siu, raw vegetables…. The broth is small but full of flavor, creating the "soul" for the dish, which is considered to represent the old beauty of the old town.
Hoi An Quang Noodles
If you have come to the Central region, you must definitely eat Quang noodles. Rustic, simple but delicate, I don't know since when, Quang noodles have become the favorite name of gourmets. Quang noodles are milky white, soft and chewy. The fragrant rice smell of the noodles blends in the rich broth, the fatty leopard is eaten with raw vegetables, roasted peanuts, shrimp, meat, poached eggs… it's really perfect. Eaten with crispy rice paper is really right.
Hoanh Thanh
Despite being a delicacy originating from China, Hoi An wonton still possesses a very pure Vietnamese flavor. The golden, tender wonton shell embraces the filling of the shrimp and meat and is served with pork liver, chives, peach egg, etc.
Stir-fried mussel served with banh da gion
Stir-fried mussel served with banh da gion  is a famous Hoi An specialty near and far that should be tried at least once in a lifetime. Fresh mussels are stir-fried with spices, laksa leaves, onions, fried onions, peanuts, chili sauce, etc. until fragrant. After that, eat with rice paper or pound cake and add sweet and sour dipping sauce.
Tay Nguyen
–
central Vietnam
The Tay Nguyen region includes 5 provinces of Kon Tum, Gia Lai, Dak Lak, Dak Nong and Lam Dong. Traveling to the Tay Nguyen provinces, you not only visit beautiful landscapes but also experience the life of ethnic minorities such as Ba Na, Gia Rai, Ede, Co Ho, Ma, Xo Dang, Mo Nong, etc,  and enjoy the unique local dishes. In addition, the cool and temperate climate and friendly people here will hold visitors' footsteps and look forward to coming back again.
Quy Nhon seaside resorts of central Vietnam
Quy Nhon today is becoming an ideal and attractive tourist destination for both domestic and foreign tourists. Besides the majestic green natural scenery, romantic and romantic check-in locations, Quy Nhon is also favored by tourists because of its perfect and comfortable accommodation service. There are many resorts in Quy Nhon that are being built and put into operation to serve the needs and tastes of tourists. Here are a few suggestions about famous resorts in Quy Nhon that you can refer to:
1 Crown Retreat Quy Nhon Resort
2 AVANI Quy Nhon Resort & Spa
3 FLC Quy Nhon Luxury Resort
4 Resort Casa Marina Quy Nhon
5 FLC Quy Nhon Luxury Hotel
6 Aurora Villas & Resorts
7 Royal Hotel & Healthcare Resort Quy Nhon
8 Anantara Quy Nhon Villas
Nha Trang seaside resorts of central Vietnam
With unique designs, captivating scenery and world-class services, Nha Trang resorts are increasingly proving the tourism power of this beautiful coastal city. There is a saying "Nha Trang beach is beautiful partly because of the beauty of high-class resorts". Let's take a look at the top 12 most luxurious resorts in Nha Trang with VNTrip to find yourself the best place to stay.
Amiana Resort and Villas Nha Trang

Six Senses Ninh Van Bay

Vinpearl Golf Land Resort & Villas

Fusion Resort Nha Trang (All Spa Inclusive)

MerPerle Hon Tam Resort

Vinpearl Nha Trang Resort

Champa Island Nha Trang Resort Hotel & Spa

Mia Resort Nha Trang
Read more: Pu Luong Nature Reserve