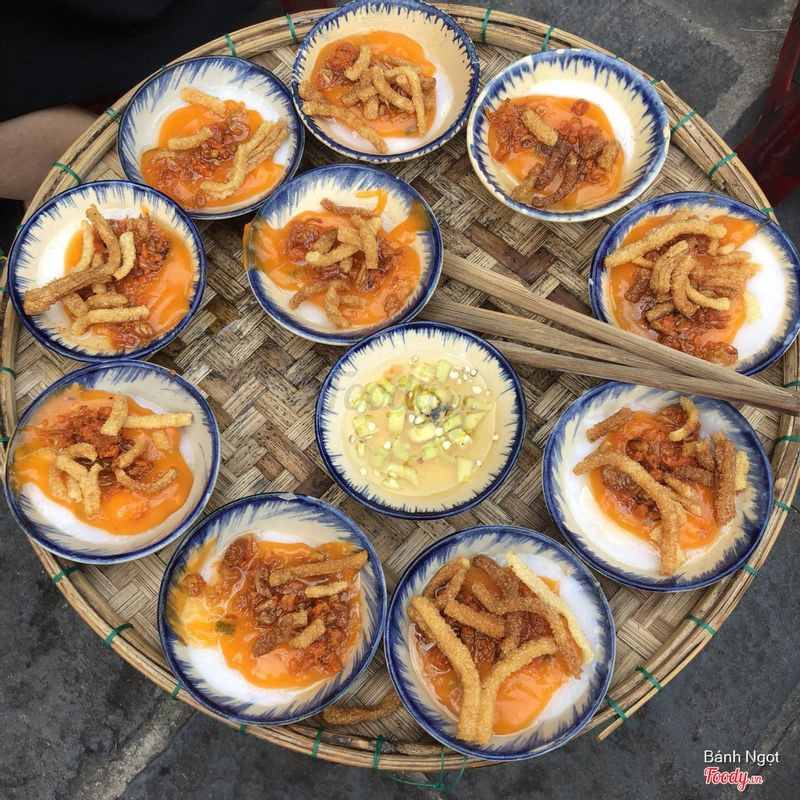 Hoi An's attraction emerges from diverse cuisine, which is undoubtedly delicious and surprisingly affordable. To enrich your food journey in Hoi An, Pu Luong Excursion has rounded up top 10 street foods and places to eat them.
1. Chicken rice (Cơm gà), Ba Buoi
Address: 22 Phan Chu Trinh, Minh An Ward, Hoi An, Quang Nam, Vietnam
Operating Hours: 10:30 am to 2:30 pm, 5 pm to 9 pm every day
Com ga is the Vietnamese version of Hainan chicken rice. Originally from China. It originated in China and was introduced to Hoi An by Chinese traders who settled in Quang Nam Province.
Com Ga Ba Buoi has been around since the 1950s and is one of Hoi An's most popular chicken rice restaurants. The main ingredients of chicken rice at Ba Buoi restaurant include: plain rice, boiled chicken and fresh herbs purchased at the famous garden of the village. All ingredients are processed meticulously and sophisticatedly to bring an unforgettable taste to customers.
2. Cao Lau Noodles (MÌ Cao Lầu), Cao Lau Thanh
Address: 26 Thai Phien, Minh An Ward, Hoi An, Quang Nam, Vietnam
Operating Hours: 7 am to 7 pm every day
Cao Lau is a Hoi An specialty noodle dish. Cao Lau appears on the menu as a traditional Vietnamese dish, with marinated roast pork slices and fresh green vegetables served over rice noodles.
Come to Cao Lau Thanh restaurant for the best Cao Lau in Hoi An. Despite its small size, it is very neatly and cleanly organized. Cao Lau in its entirety, with char siu meat, chewy noodles, fresh vegetables and fried pork skin in a rich broth. There is also hot and cold tea available at the restaurant for free.
Suggest read: Must try food in Pu Luong
3. White rose dumplings (Bánh bao bánh vạc), Hoa Hong Trang
Address: 533 Hai Ba Trung, Cam Pho Ward, Hoi An, Quang Nam, Vietnam
Operating Hours: 7 am to 8:30 pm every day
Banh bao banh vac aka the White Rose Dumpling is a unique dish in Hoi An. It is a simple steamed dumpling with minced shrimp, pork and served with deep fried shallots.
Hoi An White Rose restaurant created the white rose dumpling, which is loved by many tourists. To enhance the experience for visitors, the restaurant organizes a cooking class with a number of 50 people. You can enjoy the original taste and learn to make white rose dumplings at the same time .White Rose Restaurant is about a 10-15 minute walk from the ancient town.
4. Bread (Bánh mì), Madame Khanh
Address: 115 Tran Cao Van, Minh An Ward, Hoi An, Quang Nam, Vietnam
Operating Hours: 6:30 am to 7:30 pm every day
It would be a crime to visit Vietnam without eating Banh Mi. Banh Mi is a Vietnamese sandwich with minced meat, liver pate, and fresh vegetables such as lettuce, cucumbers, and pickled carrots. For breakfast, most Vietnamese people eat one Banh Mi. At 20,000 VND (US$0.86), it's a cheap, nutritious, and convenient way to start a new day.
Madam Khanh Hoi An bread is loved by many foreign tourists with nearly 30 years of operation. In the early days of establishment, the bakery only had a simple trolley, but thanks to his love of bread, Madam Khanh bread has constantly been creative, bringing unique and unforgettable flavors to the customers.
5. Wet cake rolled with grilled meat (Bánh ướt cuốn thịt nướng), Hoai river
Address: Along Hoai River, Hoi An City, Quang Nam Province
Operating Hours: 4 pm to 10 pm every day
Wrapping grilled meat skewers (thịt nướng) with wet cake (bánh ướt) is great way to enjoy street food in Hoi An. Its decisive condiment is the thick and spicy sauce blended with soybean paste, peanuts, and chilies. 
Walking along the Hoai River, around the old town, you will see many barbecue stalls. The sellers here are mainly locals with a lot of experience. Meat skewers here cost 10,000 VND per skewer. With affordable prices and bold flavors, this is one of the must-try dishes in Hoi An for both domestic and foreign tourists
Exploring: Brilliant culinary in Pu Luong Thanh Hoa
6. Stir – Fried mussels (Hến xào), Ba Gia
Address: Hamlet 1, Cam Nam Commune, Hoi An city, Vietnam
Operating Hours: 7 am to 5 pm every day
Hen Tron is a clam, peanut, herb, and onion salad. It comes with a massive crispy rice cracker called Banh dap. This is an extremely famous street food in Hoi An Vietnam.
The Ba Gia stir-fried mussels restaurant is probably the oldest and most famous in Hoi An. It is located right at the foot of Cam Nam bridge, a convenient location to catch the wind from the river.
The restaurant's specialty is most likely its distinct smell. To reduce the fishiness of mussels, Ba Gia uses a special recipe that includes many fried onions, laksa leaves, roasted peanuts, onions, and so on. This is why mussels are more appealing than ever.
Read more:Pu luong day trip
7. Beo pancake (Bánh bèo) Hoang Van Thu, Dinh Tien Hoang
Address: Corner of the old wall on Hoang Van Thu, Hoi An, Vietnam
Operating Hours: Starts at around 3 pm
Banh beo is small steamed rice cakes with savory ingredients such as shrimp, scallions, roasted peanuts, fried shallots, and fish sauce. Though they are more commonly associated with Hue, they can also be found in Hoi An.
Different from other stalls, Banh Beo Chen topping is an extremely fragrant deep-fried tortilla combined with an attractive spicy and sour fish sauce. You will enjoy a dish full of attractive flavors from sour, salty to sweet for only 2000 – 3000 VND/cup.
8. Wonton (Hoành Thánh), Van Loc
Address: 27 Tran Phu Street, Minh An Ward, Hoi An City
Operating Hours: 7 am to 7 pm every day
Fried Wontons, also known as Hoi An Pizza, are crispy wontons topped with shrimp and a pineapple laden, tomato roulade. According to rumor, these wontons were introduced by Chinese traders, making Fried Wontons one of the city's most international dishes in Hoi An.
Van Loc is a long-standing famous restaurant in Hoi An with an age of up to nearly 100 years. This restaurant mainly serves specialties Central and the fried wontons here are especially famous. The golden pieces of cake, crispy crust with ketchup sauce in the heirloom recipe will bring an unforgettable taste to tourists.
See more: What you know about northern mountainous cuisine?
9. Shrimp Pancake (Bánh xèo tôm), Ba Le
Address: 45/51 Tran Hung Dao Street, Hoi An city, Vietnam
Operating Hours: 11 am to 10 pm every day
Banh Xeo is a popular dish found throughout Vietnam, and each region has its own style of Banh Xeo. In the south, Banh Xeo is a much larger pancake, roughly the size of a dinner plate. In Central Vietnam, they are about a quarter of a dinner plate size.
Banh Xeo Ba Le is one of the oldest shrimp pancakes of Hoi An. It always retains the crispiness, fresh ingredients and especially the flavorful dipping sauce. 
10.Grilled Pork in Rice Paper (Thịt xiên nướng), Kazik Park
Address: Right on the sidewalk of Kazik Park, 138 Tran Phu, Hoi An
Operating Hours: 3 pm to 9 pm every day
Thit Xien Nuong is considered street food in Vietnam, despite its size, which is far from that of a simple snack. It's made of dry rice paper and contains grilled meat, vegetables, and carbs.
Hoi An is a must-see destination for foodies traveling through Vietnam. Hopefully, our list of the top 10 foods and places to eat in Hoi An will be useful for your culinary experience in Vietnam's cultural city.
Read more: Pu Luong Nature Reserve