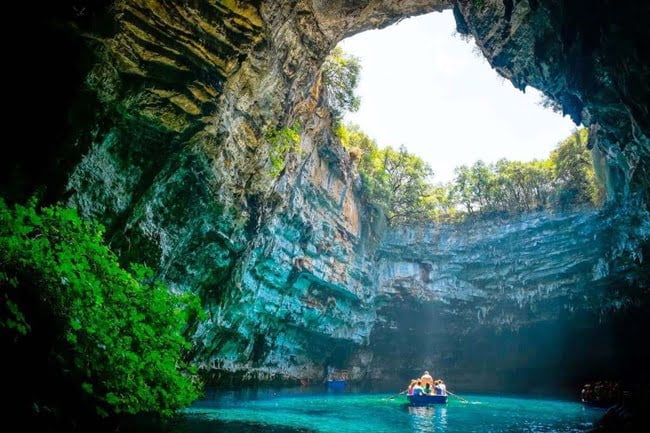 Caves are perhaps the most magnificent and mysterious masterpieces of nature. The journeys to discover the secret inside the caves always make people more surprised and admired by the power of nature. The existence of such natural wonders proves to us that man himself and the things that we think are great are actually very small when standing in front of nature.
Presentation of the Vietnamese landscape conducive to caves
Vietnam is not only a country with a unique culture and heroic history, but also a country favored by nature with the most magnificent wonders on the planet, which are also large and beautiful caves. best in the world. Vietnam's top caves make a sci-fi movie adventure come true!
See more: Pu Luong Nature Reserve
The best caves in Vietnam
Fortunately, our planet is blessed with countless majestic caves, most of which are located right at the World Natural Heritage – Phong Nha – Ke Bang National Park. Therefore, Phong Nha is also known as Vietnam's Cave Kingdom.
Phong Nha Ke Bang caves
Phong Nha Cave is the first cave found and also the origin of the name Phong Nha – Ke Bang National Park. Phong Nha Cave is not only one of the largest and most beautiful caves in Vietnam, but also an iconic cave with many historical values. With a length of up to 7729m, Phong Nha Cave is also the cave with the longest underground river in the world. It is a huge underground river flowing through Phong Nha Cave, and has a length of up to 13,969m. Phong Nha cave consists of a large dry cave and is divided into 3 main parts, ranked according to the level of light and dark in these areas: the cave entrance area receives the most light, the area in the middle of the cave is quite bright, and the area in the middle of the cave is quite bright, dark cave. Each area is inhabited by a group of organisms with unique adaptations.
Thien Duong Cave (Paradise Cave)
Thien Duong Cave – also known as the "Royal Palace in the ground" is ranked in the list of the most magnificent caves in Vietnam. At the same time, Thien Duong Cave is also a famous tourist destination in Phong Nha in recent years thanks to its huge size, along with countless magnificent and rare stalactites. Visiting Paradise Cave will give you great experiences and be overwhelmed by the beauty of Paradise Cave and Phong Nha – Ke Bang National Park. Before Thien Duong Cave was discovered, Phong Nha Cave was considered the longest cave in the area. However, when discovered, Thien Duong Cave surpassed Phong Nha to become the longest cave with a length of up to 15km.
Located 200m above sea level, Thien Duong Cave has an estimated height of 72m, while width is up to 150m, the majesty of Thien Duong Cave is truly beyond imagination. In addition, cave experts have also concluded that the stalactites in Thien Duong cave are among the most magnificent ever seen, proving that Thien Duong cave deserves to be one of the most magnificent caves in Vietnam.
En cave (Swallow Cave)
Hang En is one of the most majestic caves in Vietnam, and also the third largest cave in the world in terms of volume (after Son Doong and Deer caves in Malaysia). Hang En is one of the most famous and beautiful caves on the planet, located deep in the tropical forests of Phong Nha – Ke Bang National Park. The program "Explore En Cave 2 days 1 night" organized by Oxalis Adventure offers visitors dramatic experiences, with many activities to explore the mountains, explore and especially camp right in the heart of Hang En.
Son Doong, the largest cave in the world in Vietnam
Son Doong is the largest cave on the planet and also the most majestic cave in Vietnam. Son Doong Cave was discovered and discovered in 2009-2010 by cave experts from the British Cave Research Association (BCRA). The Son Doong cave exploration program has been put into operation in adventure tourism since 2013. Up to now, all expeditions for the purpose of scientific research or tourism have been organized and guaranteed. safe by one of the leading adventure tour companies in Asia – Oxalis Adventure company based in Phong Nha, Quang Binh. Oxalis Adventure has an international tourism business license and is licensed to organize and operate the Son Doong Cave Exploration program.
Dau Go cave- Halong
Located on Dau Go Island, Dau Go Cave, also known as "Giu Go Cave", is one of the most unique caves in Vietnam with mysterious beauty. Behind this cave, there are many thrilling stories and legends hidden, which is also what makes the attraction of this cave. In 1938, a French journalist introduced the beauty of Dau Go Cave with an article titled "Cave of wonders", roughly translated as "Cave of natural wonders". Formed 2 million years ago, Dau Go cave is located 27m above sea level
The caves of Tam Coc
Ha Long Bay on land or Nam Thien De Nhi Dong are beautiful names that are loved by tourists for the Tam Coc Bich Dong cave system. Belonging to Ngu Nhac Son mountain range, 7 km south of Ninh Binh, Tam Coc – Bich Dong scenic spot includes 3 caves, Ca cave, Hai cave and Ba cave.
Right from the first moments when taking a boat trip on Ngo Dong River, visitors can admire the wonderful natural scenery. Entering the cave, visitors seem to be immersed in a different world, although it lacks sunlight, it is extremely shimmering and fanciful. Ca Cave is 127m long, through a large mountain, and the mouth of the cave is over 20m wide. In the cave, visitors can clearly feel a cool, fresh air that is different from outside. Thanks to the miraculous construction, the cave has many stalactites hanging down with various shapes.
Tu Lan caves
The Tu Lan cave system is located in Tan Hoa village, Minh Hoa district, Quang Binh. This cave system includes 8 caves, discovered in 2009, in 2012 continued to discover 4 more valleys. Tu Lan has the main cave system which is Tu Lan cave and the auxiliary caves are Song cave, Uoi cave, Mouse cave, Hung Ton cave, Kim cave, Tu Lan cave, Ken cave and To Mo cave… with each cave. a wonderful natural beauty.
With unspoiled beauty, hidden secrets of majestic nature in the heart of limestone mountains, Tu Lan cave system is always attractive to any visitor. The deeper you go, the more you explore, the larger the cave, the larger the cave and the stalactite system with a variety of shapes. Coming here, visitors will not be surprised by the splendid scenes that mother nature bestows.
Nguom Ngao Cave
Nguom Ngao is an invaluable gift that nature bestows on Cao Bang. The cave has a total length of 2144 meters, including 3 main gates: Nguom Ngao, Nguom Lom and Ban Thuon. According to scientific researchers, this cave is a limestone cave that was formed about 400 million years ago today. In summer, the temperature in the cave makes visitors feel cool, in winter it is very warm.
Tips for visiting caves Vietnam
Before caving need to prepare:
– Special clothes, Lighting, Helmets, Water and food
– When the group moves in the cave, it is necessary to appoint the most experienced person to take the lead and one who is quite good at the end, evenly spaced, moving slowly.
– Explorers must not disturb animals. Creatures in the cave often flee when they see humans, but there are also many people who are attacked by them.
– You need to outline your journey on the map in advance and remember to bring the area to orient, especially when there are many turns in the cave. You also have to mark on the map so that you can easily find your way back out.
– Many caves do not have ventilation, or because bat droppings accumulate for a long time, creating a layer of carbon dioxide, which is dangerous. To determine if the cave has ventilation holes, you stand near the cave entrance, tie a piece of paper to the head of a thick hair (or thread) if you see the piece of paper moving, it means the cave has ventilation holes, you can rest assured. enter. If you go deeper into the cave, the more you find it difficult to breathe, or see any unusual phenomenon, you should leave immediately.
– Lost in the cave: If you have no experience but want not to get lost, you should bring small light-colored coils. When moving to a dark area, tie one end of the rope to one side of the path and gradually release it according to your footsteps, one coil after another. When the rope runs out, if the cave is still deep and attractive, you also have to follow the line and come back out