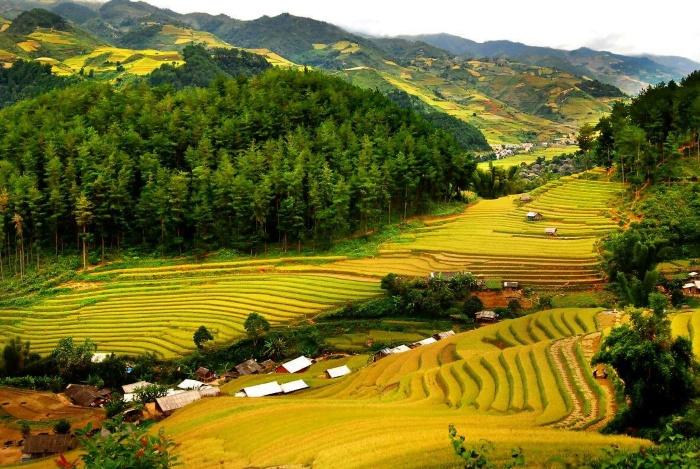 The Vietnamese landscape is breathtakingly gorgeous, from the yellow terraces that span from the North to the Central Highlands during harvest season to the interesting bustles of the Mekong Delta in the South. The most common trekking and hiking activities in Vietnam are wandering expeditions, mountain hiking, hitchhiking across the countryside, and jungle trekking. Below is a list of the top 5 best places for trekking in Vietnam as chosen by both domestic and international tourists.
SAPA
Level of trek:
 easy
Highlight:
Along with Halong Bay, Sapa is definitely one of the top tourist destinations in Northern Vietnam. This hilly village, which is located 1,500 meters above sea level and 315 kilometers from Hanoi, looks out over a wide landscape of beautiful terraced rice fields and is surrounded by stunning mountains. Vietnam is known for Sapa's ethnic minorities, which include the Black H'mong, Red Zao, Zay, Tay, and Xa Pho.
If you get the chance, Sapa is absolutely worth visiting because it combines culture and natural beauty into one enticing package. Many travelers who want to spice up their trip to Vietnam with a journey through rice terraces and tropical forests come to Sapa as well. Although there are opportunities for longer treks of three or four days, the typical walk in Sapa lasts two days. One of the attractions of Sapa trekking is the chance to spend the night at a local homestay. Making new friends while also learning about the local culture makes this an enjoyable experience. For travelers seeking adventure, Sapa is regarded as the trekking capital of Vietnam.
See more: Pu Luong Nature Reserve
Best time to trek:
Because Sapa's environment only allows one rice crop annually, the terraces aren't always lush and green. The wettest season of the year is also the finest time to view the rice terraces at their height (from May to early September). There is, however, plenty to see in Sapa at all times of the year, regardless of when you go.
Popular treks in Sapa:
There are many different trekking activities available in Sapa. The following are some of the top attractions that every visitor to Sapa should see at least once. Prepare to be overcome by the land's breathtaking beauty and unable to find your way out.
Cat Cat – Sin Chai (3-5 km).
Conquer Fansipan Summit – Roof of Indochina (2 or 3 days).
Sa Seng & Hau Thao Village (12-15 km).
Lao Chai & Ta Van Village (6-8 km).
Thanh Kim Village.
Ta Giang Phinh Village.
Y Linh Ho – Lao Chai & Ta Van Village (12-15 km).
How to get there:
To the northeast of Hanoi, it is 320 kilometers. There are numerous methods to get there, including by bus, train, or motorcycle (drive on your own). It should be noted that Sapa is a rugged and remote place, making it only suitable for serious motorcyclists.
See more: Pu luong day trip
PU LUONG NATURE RESERVE
Level of trek
: moderate to challenging
Highlights:
Pu Luong Nature Reserve must be on your bucket list if you're seeking for a less traveled, undeveloped, and breathtakingly gorgeous trekking location. Pu Luong (Pù Luông) is situated on the border of the provinces of Hoa Binh and Thanh Hoa, about 160 kilometers southwest of Hanoi. For locals, it's a well-liked weekend escape, and more and more foreign tourists are coming there.
This hidden gem, which is blessed with lush forests, limestone panoramas, spectacular rice terraces, and breathtaking landscape, combines the splendor of Northern Vietnam with the lovely terraced rice fields of Sapa, the majestic passes of Ha Giang, and the green fields of Mai Chau. Pu Luong, which has a 17,662 ha area, has a rich diversity of flora and fauna. You can also get a glimpse into the customs and culture of the Muong and Thai people from here.
Best time to trek:
from February to May and from September to October when rice is being harvested.
Popular treks in Pu Luong:
You may access the Pu Luong jungle and lovely little villages like Hang, Kho Muong, and Kia on a well-known trekking excursion. Hieu village to Nua village and Nua village to Son village are two well-known trekking routes.
To get more details about the Pu Luong trekking tour, click here.
How to get there:
Either take a shuttle bus that runs directly from the Hanoi Old Quarter to Pu Luong or arrange for private transportation
CAO BANG
Level of trek:
 moderate
Highlights:
The frontier region of North Vietnam, Cao Bang, is incredibly beautiful. This region is known for its craggy mountains, narrow, winding roads, and sporadic rice paddies. You shouldn't skip Ban Gioc Waterfalls, Nguom Ngao cave, Thang Hen Lake, Pac Bo cave, or Ky Sam Temple if you choose Cao Bang as your trekking route.
See more hanoi to pu luong bus
Best time to trek:
Between October and April
Popular treks in Cao Bang
Pac Po cave – Trek Nam Nhung
Ba Be National Park
Ta Lung border town
Tong Cot Village
How to get there:
You can take a bus in the morning or evening at My Dinh or Gia Lam bus stations.
HA GIANG
Level of trek: easy
Highlights:
Around 300 kilometers northwest of Hanoi, in the northernmost region of Vietnam, is Ha Giang, which borders China. One of the top vacation spots for anyone who enjoys adventure is this distant and enigmatic province. It is a showcase of beautiful mountain scenery, rolling hills, stunning karsts, lush valleys, roaring rivers, happy people, and gorgeous ethnic children.
Despite having some of the most spectacular and stunning natural scenery in Southeast Asia, a lot of tourists regretfully pass it by because of the gateway's remoteness from Hanoi. You can spend days at a time wandering the highlands of Ha Giang unhindered since the trekking in Ha Giang is sufficiently removed from the tourist trail. Aside from the breathtaking environment, you may easily access the most authentically ethnic side of Vietnam, including distinctive tribe villages.
Quan Ba Twin Mountain, Dong Van Town, the Lung Cu Flagpole, Meo Vac Valley, Ma Pi Leng Pass, and the Hoang Su Phi rice terraces are just a few of Ha Giang highlights.
Best time to trek:
From October to May.
Popular treks in Sapa:
Most treks in Ha Giang last between two and five days. There are trails beginning from nearby small communities, though you cannot trek from Ha Giang itself.
Dong Van valley
Ma Pi Leng Pass – Tu San Valley
Lung Vai – Khuoi My Village – Ban Tha – Nam Dam
Hoang Su Phi
Tam Son town (Heaven's gate)
How to get there:
Take a bus at the My Dinh bus station; the journey lasts 6 to 8 hours
SON DOONG CAVE
Level of trek:
 extreme
Highlight:
Vietnam's Son Doong Cave is the country's most unique cave. Comparing the cave's current state to other, more advanced caves around the world, it was only locally discovered in 1991. It's not your typical underground adventure. Son Doong, the world's biggest cave, takes you to a variety of fascinating habitats. There are just 200 people permitted to explore the cave each year, which is a strict limit. As a result, you must carefully plan your excursion and register in advance.
Best time to trek:
Between February and August, when the weather is cool
How to get there:
Take a bus to Phong Nha Ke Bang National Park, then pass via the park's only village.