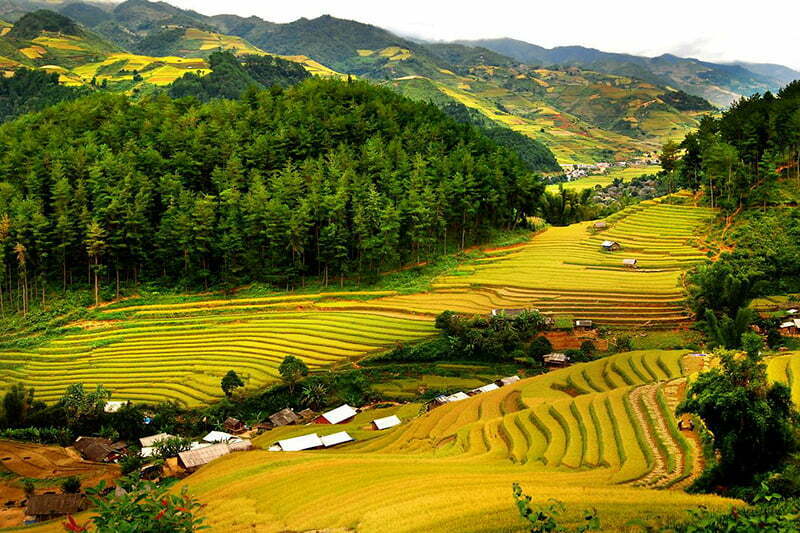 Trekking Mai Chau," "Mai Chau Trekking," and "Mai Chau Trekking Tour" are keywords for those who are interested in exploring the beauty of Mai Chau through a trekking adventure. Located in the Northern region of Vietnam, Mai Chau boasts breathtaking landscapes, tranquil rice paddies, and rich cultural heritage. Embarking on a trekking journey through the region is the perfect way to immerse yourself in the natural beauty and local culture. Whether you prefer a guided tour or an independent trek, Mai Chau offers a variety of options to suit your needs. With its challenging terrain and stunning scenery, Mai Chau is a trekker's paradise. Book your "Mai Chau Trekking Tour" today and experience the ultimate adventure in this remarkable destination.
In Mai Chau, trekking is not very common, but you can take long walks on the winding pathways between the villages. Meanwhile, a lot of tourists that come to this area prefer to travel by bicycle. You can take walks over the mountains and terraced rice fields in the neighboring Pu Luong Nature Reserve.
HOW TO PLAN YOUR MAI CHAU TREKKING TOUR
As previously mentioned, the majority of tourists don't decide to go trekking in Mai Chau. In Vietnam, there are many great areas to go trekking. There are nevertheless some choices. You can make arrangements for a tour guide at your Mai Chau accommodation. You can decide to hike independently between the valley's villages. There seems to be no traffic on the narrow roads, except for the occasional buffalo or peasant riding a scooter. You may tour the villages of the ethnic minority in Thailand who live in stilt homes while on foot and take in the beautiful views of the rice fields.
PU LUONG NATURE RESERVE TREKKING
Pu Luong Nature Reserve is the best choice if you desire to go trekking nearby to Mai Chau. Beautiful rice field terraces can be found here, with mountains in the distance and tiny villages dotting the valley floor. There are just 2 roads in Pu Luong that are suitable for motorcycles or cars to travel on. Because of this, not only is it the ideal location for trekking but also the greatest and only option to explore this region.
While trekking in Pu Luong, you will walk through some of Vietnam's best rice fields and visit some local villages to learn more about the lives of the Thai ethnic minorities who live on stilts. In order to irrigate the higher-lying rice fields, get as close to the river as you can to the water wheels that gather water from the river.
Suggestions on planning your trek to Pu Luong
You can make arrangements at your lodging in Mai Chau or Pu Luong if you wish to go hiking in the Pu Luong Nature Reserve. However, as Pu Luong is far away, it is advisable to reserve this as part of a package that departs from Hanoi. This includes transportation to Pu Luong (which you can combine with a trip to Mai Chau), lodging, and a trekking excursion. Local Vietnam offers a special Mai Chau and Pu Luong Nature Reserve, the lodging experience that departs from Hanoi and may be completed in three or four days.
For more details about the Pu Luong Mai Chau Tour
What to pack
Contrary to Sapa trekking, you typically don't walk for more than just a day or a half day before returning to your lodging. When you travel with a guide, they'll give you lunch and refreshments. Nevertheless, it is helpful to pack a few extra drinks and perhaps a snack.
Additionally, make sure you are dressed comfortably and have good walking shoes. Although it can get a little colder in the winter, you should never dress warmly for a walk. It is preferable to dress in lighter layers with the ability to remove quickly if the heat from walking becomes uncomfortable. It may also be a good idea to carry a raincoat. Click here to get more information about Pu Luong Travel Guide.
THE IDEAL TIME TO GO TREKKING
From April until the end of June, as the rice paddies are lush and green, is the best time to go hiking in Mai Chau. These months precede the rainy season as well. The rice will be planted once more in July, and it will be harvested in October. Therefore, the months of August through October are also ideal for strolling around Mai Chau's rice fields.
Trekking is most enjoyable in Pu Luong between September and November or from February to May. The fields are green this time, and the temperature is pleasant.
ROUTE TREKKING DIRECTION TO MAI CHAU FROM HANOI
For traveling by motorbike, from Hanoi city center you move to Thang Long Avenue in the direction to Hoa Lac, at the end of Thang Long Boulevard you turn left onto Hoa Lac Hoa Binh street – DT446. end of Hoa Lac road to National Road 6. You go along road 6 and you will pass the super famous Thung Khe – White Stone pass, this road is difficult to go because it is a steep and sharp pass, so if the weather conditions are cloudy, you should move slowly and observe carefully to avoid it. It's dangerous. Continue your journey on the QL6 route through the forests, hills and mountains to Tong Dau junction, turn left onto QL15 and go straight to Mai Chau town.
For those of you who want to travel by car, you can follow the following route: go along Thang Long Boulevard (Lang Hoa Lac Street) and then go straight to Hoa Lac – Hoa Binh Expressway and then go through Cao Cao districts. Phong, Tan Lac, then through Thung Khe Pass. At Tong Dau intersection, you turn left to Mai Chau town.
TREKKING MAI CHAU VIETNAM ITINERARY
Day 1: Hanoi – Kia Cave
We depart Hanoi and travel to Hoa Binh Province in the west. Another two hours later, we trek towards the Mai Chau valley, pausing along the route to admire the breathtaking panorama. We drive to the White Thai village of Sa Linh after lunch in Mai Chau town, where we begin the two-hour journey to the village of Hang Kia. The Hmong people will be our hosts tonight. We gain some understanding of their way of life while taking advantage of their hospitality. The lodging for tonight will be simple, but there are mattresses, sheets, and mosquito nets available.
Day 2: Kia Cave – Van Village
We have a 4-5 hour trek to Van Village, the home of the White Thai people, this morning. The trek offers us the chance to experience rural life and passes through breathtaking surroundings. When you reach Van village around mid- to late-afternoon, you'll have time to wander down to the creek nearby. We'll be treated to a great lunch and tales of life in Van village by our hosts this evening. A toast to our wellbeing and happiness will be made with their home-brewed rice wine.
Day 3: Van Village – Xo Village
We take a trip to the nearby villages in the morning. Then we get back to Van for lunch. After lunch, there will be time for a little nap or stroll toward the river before starting the three-hour hike to the village of Xo. We will have another opportunity for cultural connection after dinner before retiring for our second night in a stilt house.
Day 4: Xo Village – Pom Coong Village
After saying goodbye to our hosts, we have a five-hour hike from Xo to the village of Poong Cong, where we eat lunch. You have the afternoon free to explore the charming Thai villages or to go to Mai Chau town.
Day 5: Pom Coong – Nanh Village
From Poong Cong, we take a 30-minute drive to the Da River at Mai Chau, where we board a boat for a 30-minute river tour. We have a two-hour hike to Nanh village, home to the Zao people, from our drop-off location. We make a pit stop for a picnic lunch along the road and arrive in the villages for our fifth and last night by late afternoon.
Day 6: Nanh Village – Hanoi
Around 8:00 a.m, we leave the village and make our way back to the boat, where we will take a cruise to meet our waiting car and make the trip back to Hanoi. We expect to return to Hanoi at 13.00.
See more: