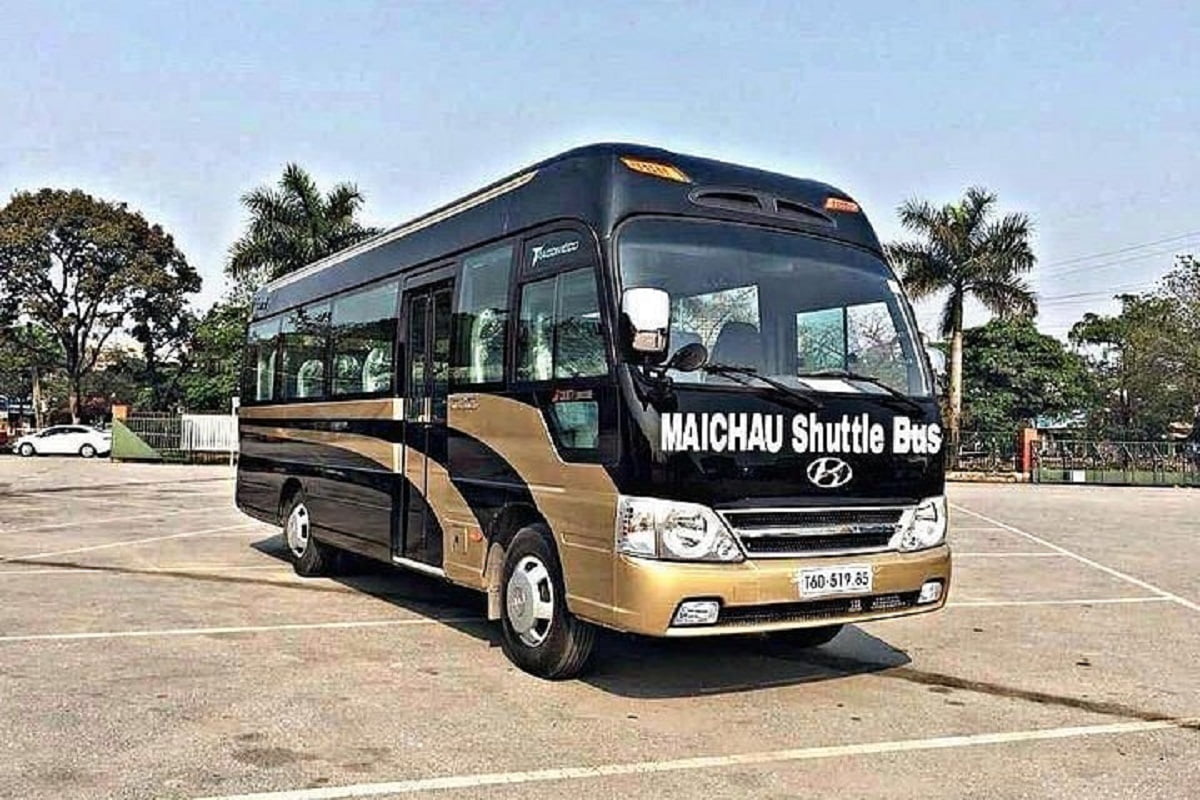 Mai Chau Shuttle Bus is a convenient and affordable transportation option for travelers visiting the Mai Chau Valley in Vietnam. This shuttle bus provides comfortable and reliable transportation services between Hanoi and Mai Chau, making it easy for travelers to access this stunning region of Vietnam. The shuttle bus features air-conditioned vehicles and experienced drivers, ensuring a comfortable and safe journey for passengers.
With Mai Chau Shuttle Bus, travelers can sit back and relax as they enjoy scenic views of the surrounding countryside. The shuttle bus operates regularly, so travelers can choose a departure time that suits their schedule. The shuttle bus also provides flexible pick-up and drop-off points, making it easy for travelers to reach their destination.
Whether you are planning a day trip or a longer stay in Mai Chau Valley, Mai Chau Shuttle Bus is the perfect transportation option. With its comfortable vehicles, experienced drivers, and flexible scheduling, this shuttle bus provides a convenient and hassle-free way to explore this beautiful region of Vietnam. Book your seat on Mai Chau Shuttle Bus today and enjoy a stress-free journey to Mai Chau.
Shuttle buses have become a popular way for many Mai Chau accommodations to transport their guests from Hanoi. Shuttle bus trips last approximately 3.5 hours after guests are picked up from hotels and transported in comfort along the nature-bordered highway. We make one stop in the middle of the journey for a quick snack and a restroom break.
What is the Mai Chau shuttle bus?
Mai Chau Shuttle Bus was founded in 2018 to provide daily transportation from Hanoi to Mai Chau with a fixed route and time. Our bus service provides door-to-door pickup and drop-off.
The primary business of the Mai Chau shuttle bus is to provide road passenger transportation services.
Services at the Mai Chau shuttle bus
Mai Chau shuttle bus offers a variety of services, including transportation for tourists; car rentals in Hanoi with good cars and drivers who speak English; transportation for business passengers, meetings, conventions, and conferences; transportation for officials, employees, and students; transportation for airport shuttles; transportation for weddings and special events; and other on-demand road passenger transportation services like Pick up and drop off at Noi Bai international airport. Etc.
Why should we choose the Mai Chau shuttle bus?
There are many means of transportation for tourists who want to go to Mai Chau. If the family has their own car, they can drive themselves to actively explore, and if they like sightseeing and leisurely enjoyment, they can take the shuttle bus.
However, the main means of transport that families choose today is the shuttle bus. A new type that is very convenient to book, clean, airy, and on time.
Taking the Shuttle bus has a number of conveniences as follows: fewer cancellations or delay, you can choose a pick-up point right in the city according to the available schedule, not cramped, but only go with the same line of passengers travel, have adequate drinking water in the car, and stop at a clean resting place.
Suggest when choosing the Mai Chau shuttle bus
Choose the right sitting position
Choosing the seat position is very important. To ensure safety and not get motion sickness, passengers should choose to sit in the middle of the bus. Those who have a lot of experience on the road, surely understand this. Choosing this position will ensure you do not encounter risks and avoid significant shaking.
Not only that, if you choose a position in the middle row, passengers can also comfortably travel. Moreover, moving in and out of the shuttle bus is also easier than ever. Especially sitting in the middle of the bus, people will be less likely to get motion sickness by looking at the road from the front. In addition, if the shuttle bus has an accident, the severity of people in this position will be greatly reduced, so passengers should pay attention to this issue when traveling.
Book a shuttle bus through a reputable and quality website
The second thing is quite important because if you find an unreliable travel companion, your trip will be greatly affected. Please refer to reputable bus ticket booking websites, full of information about the most accurate trip route. Moreover, people can get the most specific information about prices, and objective evaluation of other customers. From there, plan the details for your trip to be more special.
Always keep your belongings 24/24
To ensure that they do not lose their belongings, passengers when traveling by bus must always preserve their personal belongings. You should pay attention if you go alone, always have to hold the phone, and bag in your hand to be more secure.
Moreover, traveling by bus should not bring too much cash or valuable items to avoid being tracked and watched. Because the bus is very crowded and full of strangers, everyone must be really careful. The best way is to pay the expenses by card. This will ensure absolute safety for the passengers.
If you are interested in traveling to Pu Luong Nature Reserve by shuttle bus as well, you can refer to our service here by clicking Pu Luong Shuttle bus.
Traveling to Pu Luong by shuttle bus

 
Our Pu Luong – Mai Chau tour is the ideal way to experience Mai Chau while also staying in the gorgeous Pu Luong Nature Reserve.
Before, tourists would go from Mai Chau to Pu Luong for the day, but since the Reserve's beauty has attracted more visitors, it has become increasingly common to spend the night in Pu Luong and travel to Mai Chau the next day. Only 40 kilometers between the two, making a day trip easy to do.
You already have all the details you need to organize your trip to Pu Luong Reserve in our Pu Luong travel guide.
See more: