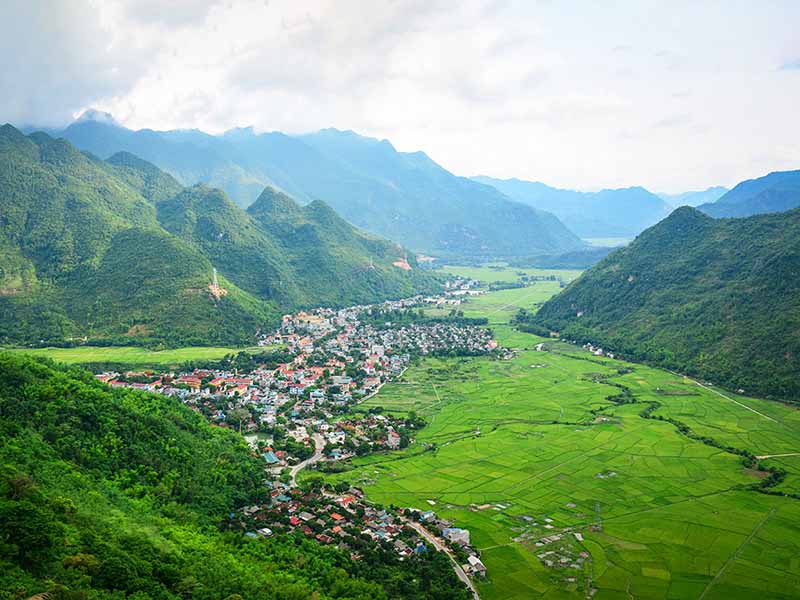 DISTANCE FROM HANOI TO MAI CHAU ? Mai Chau was originally a small town in Hoa Binh province, about 150 kilometers from Hanoi. The area is known more for the beautiful valley nearby, which is surrounded by a mountain range, than for the town itself. The Thai minority group lives in three main villages in the valley: Ban Lac 1 and 2 and Pom Coong.
From Hanoi to Mai Chau you can travel by bus, taxi, or motorbike.
Even though Mai Chau is physically near Hanoi, the journey takes you about 3.5–4 hours.
There are numerous ways to travel to Mai Chau. The least expensive options involve taking public transportation or going by your own motorbike. A different option is to rent a driver for the day. For a more convenient experience, you can contact the hotel or the homestay where you will stay and ask for transfer support. 
See more: Pu Luong Travel Guide 2023
How do I get from Hanoi to Mai Chau?
Mai Chau is relatively near Hanoi, so if you want to travel to Mai Chau, it is very easy. Because there are many choices for you like bus, taxi, drive, etc. Which one do you prefer:
1. Bus/ Van from Hanoi to Mai Chau
I highly recommend you book your ticket online if you want to save time and avoid scams. I recommend it to you. The ticket costs about $5-10 when purchased online, and the journey takes about 5 hours. If your plans change, you can get a full refund up to 24 hours before your trip. 
2. Taxi (Van, Minivan) from Hanoi to Mai Chau
It was really convenient. You will be picked up directly from your hotel and arrive at Mai Chau after about 3,5 hours. The next day, you can also choose a private car from Mai Chau to Hanoi as well.
The one-way fare is approximately $100. You pay for the car but not for the number of passengers. If there are four of you, the cost is only $25 per person. The cost is flexible depending on each car brand. 
3. Travel by motorbike to Mai Chau from Hanoi
This is a good way to challenge yourself to transfer from Hanoi city to Mai Chau by motorbike. But I suppose that this way is just only for experienced drivers. You can freely stop where you want, for instance: you can stop and visit Hoa Binh Lake, Hoa Binh town is about 65km from Mai Chau. Please make use of the Google Maps app on your smartphone. In Hanoi, there are several places to rent tourist motorcycles (a motorcycle for a day costs approximately $10 to $15 per person). And this trip will take about 4-5 hours by motorbike.
Map of  Hanoi to Mai Chau
Getting around Mai Chau Vietnam
Ideally when exploring small villages around Mai Chau. You should rent a bike and travel on dirt roads. Perhaps they were offered to visitors at your lodging. You can travel through the small villages strewn across the valley. You may travel at your own leisure and it's a relaxed and enjoyable way to do so. 
Be cautious of speeding motorcycles (yes, they still exist out here!) and the incidental cow or water buffalo. More concerning are the potholes and shaky road edges, which could send you into a muddy rice field before you know it. 
Lac village- Mai Chau valley 
Best places to visit in Mai Chau Vietnam
When travelling to Mai Chau Vietnam you should not miss trekking through rice farms in rural locations. Join in Black River kayaking and Go Lao waterfall swimming, visiting the 1000-step cave or the Mo Luong cave, or exploring rural villages like Ban Buoc and Mai Ich. One more interesting place is visiting the Mai Chau market on a daily basis. 
I also have a suggestion for you that might interest you:
Besides the Hanoi- Mai Chau tour, maybe you will be interested in travelling from Pu Luong to Mai Chau. Pu Luong is just more than 70 kilometers from Mai Chau. It is very convenient for tourists who want to explore the beauty of the mountainous region in the North of Vietnam. 
Our  Pu Luong – Mai Chau tour is the ideal way to experience Mai Chau while also staying in the gorgeous Pu Luong Nature Reserve. The various ways to plan the trip and learn more about the beautiful Mai Chau valley are discussed in Pu Luong – Mai Chau tour.  
Before, tourists would go from Mai Chau to Pu Luong for the day, but since the Reserve's beauty has drawn more visitors, it has become increasingly common to spend the night in Pu Luong and travel to Mai Chau the next day. Only 40 kilometers separate the two, making a day trip easy to complete.
Our Pu Luong travel guide contains all of the information you need to plan your visit to the Reserve. 
See more: