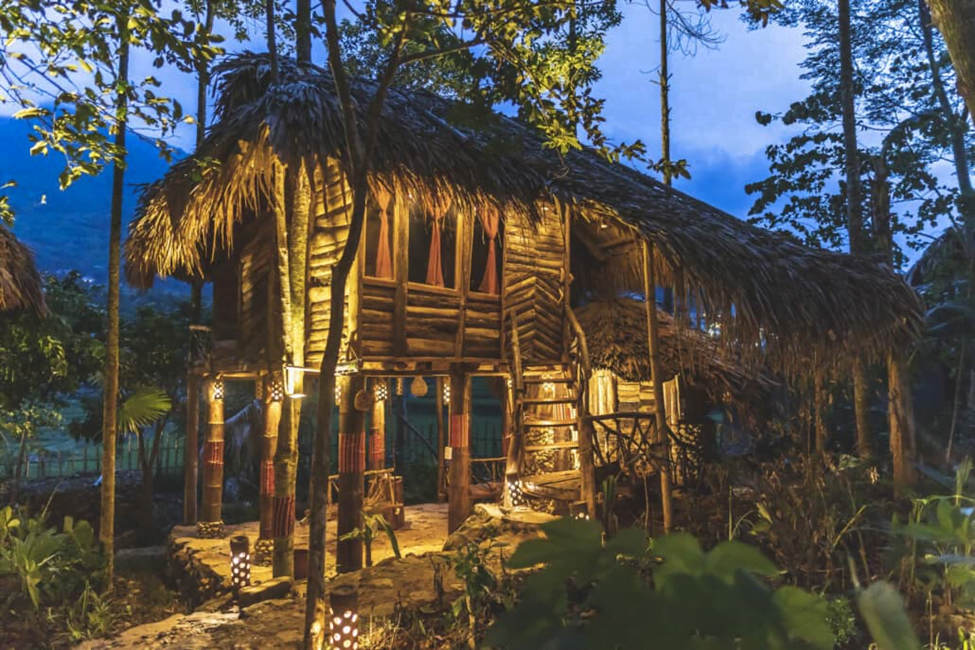 Overview about Pu Luong Tree House Resort
Pu Luong Tree House is located on a unique tree island in the sea of rice paddies in Don Village. This place is peaceful as a paradise with amazing scenery, friendly people and delicious food. Pu Luong Tree House's operating motto is "Local – Unique – Authentic", with the goal of creating unique, authentic and truthly local products for guests.
Room types of Pu Luong Tree House Resort
House on Stilts
Stilts House is a suitable space for families or groups of tourists who want to experience the daily life and specialties dishes of Thai people. Pu Luong Tree House has 2 private rooms, Moon and Rose. Rooms are decorated with local crafts, giving guests a warm feeling like being at home. All furniture and equipment in the room are carefully selected to ensure environmental friendliness and minimize the impact on both Pu Luong Nature Reserve and local people.
Tree House
Tree House in Pu Luong Tree House homestay is a blend of classic and modern, which is a combination of cottage roof and large sliding glass windows. Four tree houses are named after the four people who created the treehouse design concept. Each room has a different color scheme and view, located 2.5m above the ground. This is the best place to see the terraced fields of Pu Luong Nature Reserve.
Bungalows at Pu Luong Tree House Resort
With the bungalows of Pu Luong Tree House resort, you can admire the panoramic view of the Pu Luong valley and take in the deep calm of Pu Luong Nature Reserve. It has "Wood" and "Bamboo" bungalows and each of them provides an unforgettable landscape. Bungalows were built entirely from stone and decorated with the local weaving artwork and printed photos of Pu Luong Treehouse back – yard/front – yard.
The Nest – Family room
The Nest is considered as a "Shelt in the sky" with a completely separate space for the family of four or two couples. The room is located high among the trees, so guests can zoom your eyes far away and admire the splendor of Pu Luong nature.
Why should you choose Pu Luong Treehouse resort as your accommodation?
Firstly, Pu Luong Treehouse resort received excellent evaluations of users on some reputable sites such as Google (4.8/5), Tripadviser.com (5/5) and Booking.com (9.7/10).
Secondly, in addition to wonderful services during guest's stay, Pu Luong Treehouse resort offers unique experiences that no other nearby accommodation has.
Tours by Pu Luong Tree House Resort
Pu Luong Treehouse resort will help you have a great trip with the ideal tours to explore Pu Luong's nature. They are cycling tours, motor biking tours, trekking (guided or unguided), river boat riding and river bamboo rafting.
Cooking Class by Pu Luong Tree House Resort
Great experience for guests who love to cook and want to improve their cooking skills. Here, you will learn about the process of shopping, preparing ingredients and cooking Vietnamese dishes. There are 2 options you can choose for cooking class: Option 1 (banana blossom salad, fried spring rolls, eggplant in a clay pot) and Option 2 (papaya salad, tofu in tomato sauce, eggplant in a clay pot).
Yoga by Pu Luong Tree House Resort
Pu Luong Treehouse resort is a dream location for a yoga retreat. Majestic mountains, flowing valleys and poetic terraced rice paddies are a unique setting to put you in high spiritual concentration. The calm, the nature, the birds, the flowers, the trees, and butterflies are all healing you.
Facilities and services of Pu Luong Tree House resort    
Facilities at Pu Luong Tree House Resort
High speed internet connect

Outdoor swimming pool

Restaurant with normal and diet menu

Bar with diverse beverages

Parking area

Shared lounge/TV area

Smoking area

CCTV system in common area

Fire extinguisher
Services by Pu Luong Tree House Resort
Daily cleaning

Safety box

Luggage storage

Cycle rental

Cooking class

Yoga retreat class
Some pictures that give you an authentic look at Pu Luong Tree House resort.
Some attractions nearby Pu Luong Treehouse resort
Don Village – The epicenter of Pu Luong
Visitors to Ban Don can enjoy specialties prepared by local people, enjoy "Straw Liquor", participate in cultural exchange programs, learn about the traditional craft of indigenous people.
Lan Village – Kingdom of Thai People in Pu Luong
Over time, the village still retains its simple and ancient features. This is an ideal place for cycling, walking around nature and immersing in the daily life of the local people.
Pu Luong Peak – The highest peak of the village
It is about 1,700 m high, is one of the attractive destinations for tourists who love to explore, experience, trekking and immerse themselves in the mountain nature.  
Hieu Village – Limestone habitat all year round
Hieu village is famous for Hieu waterfall with clear and strong flow, flowing into many layers to attract tourists.
Kho Muong Village
You can see the roofs of stilts, rice and corn fields surrounding the village and the largest cave in Pu Luong Nature Reserve, the "Batcave".
Exploring more beautiful villages near Pu Luong Tree House resort: Lan Village
Some accommodation options beside Pu Luong Tree House Resort
Pu Luong Natura (nearest Pu Luong Tree House Resort)
The homestay has a variety of rooms, which are characterized by Thai ethnic stilt houses, the main materials are wood, bamboo, and dried palm leaves.
For more informations:Puluong Natura Bungalow Hotel

Jungle Lodge Pu Luong
The Pu Luong hotel was created, owned and managed by a Vietnamese family with the desire to create a safe, natural, comfortable and eco – friendly place where visitors can explore and enjoy the attractions of Pu Luong.
Pu Luong Discovery
It is a bold green natural picture of the mountains in Pu Luong Nature Reserve. Every single blue color connects each other creating a fresh scene full of life.
Puluong Hideaway Homestay
The resort is named as "Home in the mountains", is one of the most luxurious resorts. Besides the space filled with roses and bamboo in the room architecture, the homestay is honored to be in the top 1 restaurant in Pu Luong Nature Reserve.
Pu Luong Holiday -destination for nature lovers
At the hotel, you not only have the opportunity to discover the wild beauty of the mountains and terraced fields, but also experience the unique cuisine of Thai people.
To refer more popular accommodations beside Pu Luong Tree House resort: https://puluongexcursions.com/hotels/
See more: