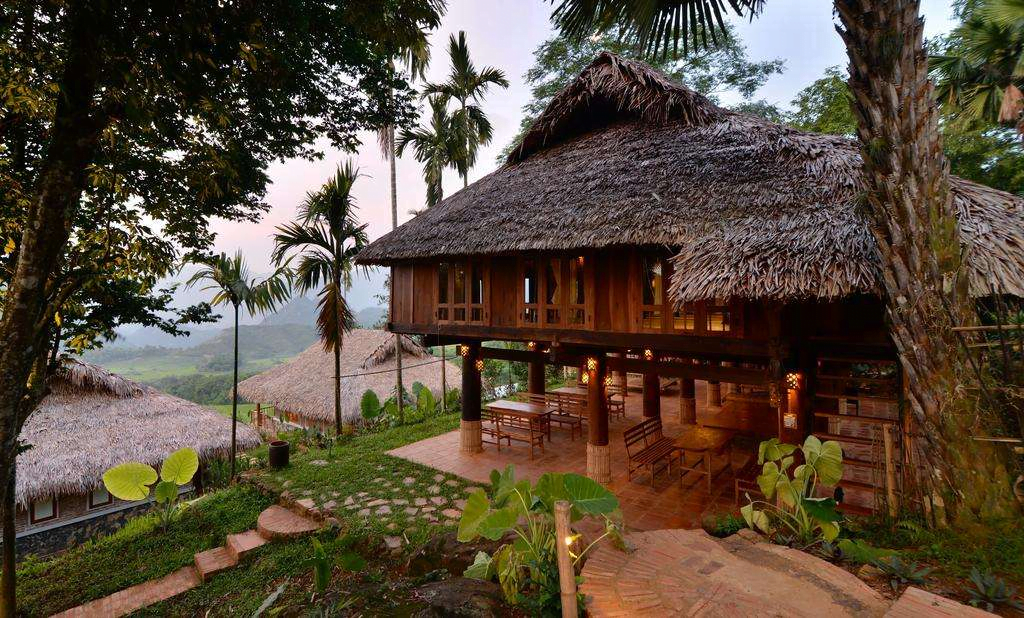 Puluong RiceRoad Homestay also provides accommodation, massage services, a garden and on-site dining, and also enjoyable mountain views. Check it out below
Overview Puluong Riceroad homestay
Pu Luong Rice Road homestay was built in Don village, one of the most famous villages in Pu Luong Nature Reserve, Thanh Lam ward, Ba Phuoc district, Thanh Hoa. The homestay is located in a convenient position, only 6 km from Pu Luong mountain, 2 km from Uoi river, 4 km from market and 1 km from supermarket.
Pu Luong Rice Road Homestay is designed in a simple style, suitable for those who want to learn about local culture, enjoy special dishes and experience the normal life of local people. The entire homestay is built in the ancient, long – standing and very typical architecture, the style of the stilt house brings a new experience to guests.
Room types of Puluong Riceroad homestay
Traditional Stilt house
Living in the space of a stilt house will help you experience the life and customs of Pu Luong people. This is the perfect choice for travel groups, companies, offices or families because of the capacity of the house on stilts up to 30 people.
Standard room
For guests who prefer quietness, not sharing, Puluong Riceroad homestay offers Standard room – a private space for 2-3 people/room with reasonable price. The room provides full amenities and equipment for your comfortable stay.
Why should you choose Puluong Riceroad homestay as your accommodation?
Puluong Riceroad homestay promises to bring visitors a wonderful holiday. Not only is it located in the heart of Pu Luong, not only it has a reasonable price, but this homestay also converges the following outstanding advantages.
Staff attitude of Puluong Riceroad homestay
If you are a picky person in choosing where to stay, Puluong Riceroad homestay will not disappoint you. Because when you come here, you will feel the closeness, warmth and friendliness of the staff, there will be no distance between guests – staff but instead an intimate reception like family members.
Rooms at Puluong Riceroad homestay
Many people think that resting in a stilt house will not ensure hygiene and cleanliness. However, you will completely change your perspective when coming to Puluong Riceroad homestay. Blankets and pillows are carefully changed in each batch of guests and the floor is cleaned thoroughly every day.
Puluong Riceroad homestay brings a feeling of coolness and freshness in summer and a warm space in winter. Therefore, here, tourists are always crowded in 4 seasons of the year.
Quality of services at Puluong Riceroad homestay
The type of accommodation is mainly homestay, but Puluong Riceroad still provides a full range of additional services such as massage, restaurant, car parking area and free wifi operating 24/7. Specifically, the homestay's bathroom has a bathtub, so you can soak yourself for hours and admire the majestic natural scenery of mountains, valleys and rice terraces.
Facilities/services and policies of Puluong Riceroad homestay
Facilities/services
Rooms are equipped with all necessary facilities

Food and drinks are served at the homestay

Offers free wifi throughout the accommodation

Free car parking area

Car and bicycle rentals are available at an additional charge

Organizing cultural tours, cycling tours, walking tours
Policies
Check – in time: 2:00 PM

Check – out time: 12:00 PM
Some images that give you an authentic view of Puluong Riceroad homestay
Some attractions near Puluong Riceroad homestay
Don Village
You can not only enjoy specialties prepared by local people, "Straw Liquor" but also participate in cultural exchange programs and learn about the traditional craft of indigenous people.
Pu Luong Peak
It is one of the most attractive destinations for tourists who are keen on exploring, experiencing, trekking and immersing themselves in the mountain nature.
Son Ba Muoi
There are 3 villages of Cao Son in the highlands of Lung Cao commune, Ba Thuoc district, Thanh Hoa province, where the ethnic people live and reside (mainly Thai).
Kho Muong Village
An unforgettable beauty with the roofs of stilts, rice and corn fields surrounding the village and the largest cave in Pu Luong Nature Reserve, the "Batcave".
Hieu Village
Besides waterfall bathing at Hieu waterfall, you can also visit palm hills, terraced fields, primeval forests or experience hiking, cycling through villages, boating on the river.
Exploring Pu Luong Nature Reserve nearby Puluong Riceroad homestay https://puluongexcursions.com/attractions/lan-village/
Some accommodation options beside Puluong Riceroad homestay
Pu Luong Eco Garden
This is one of the ideal choices when visitors come to Pu Luong Nature Reserve. The resort provides a full range of services and facilities giving guests the best experience. Click to see more informations https://puluongexcursions.com/hotels/puluong-eco-garden/
Pu Luong Tree House
Famous for its "out of the beaten path location", Pu Luong Treehouse is located deep into the hills and rice paddies. Here, you will completely immerse yourself in nature, enjoy the peaceful atmosphere and escape from the hustle and bustle of the city.
Pu Luong Home
Resort has many services for customers from basic needs such as wifi, laundry to advanced needs such as airport transfer, tour booking.
Pu Luong Ecolodge
Ecolodge is known as "Green space in the heart of heritage". Described as a green, close and friendly resort space with nature.
Jungle Lodge Pu Luong
Hotel was created, owned and managed by a Vietnamese family with the desire to create a safe, natural, comfortable and eco – friendly place where visitors can explore and enjoy the attractions of Pu Luong.
Reference some accommodations beside Puluong Riceroad homestay: https://puluongexcursions.com/hotels/
See more: