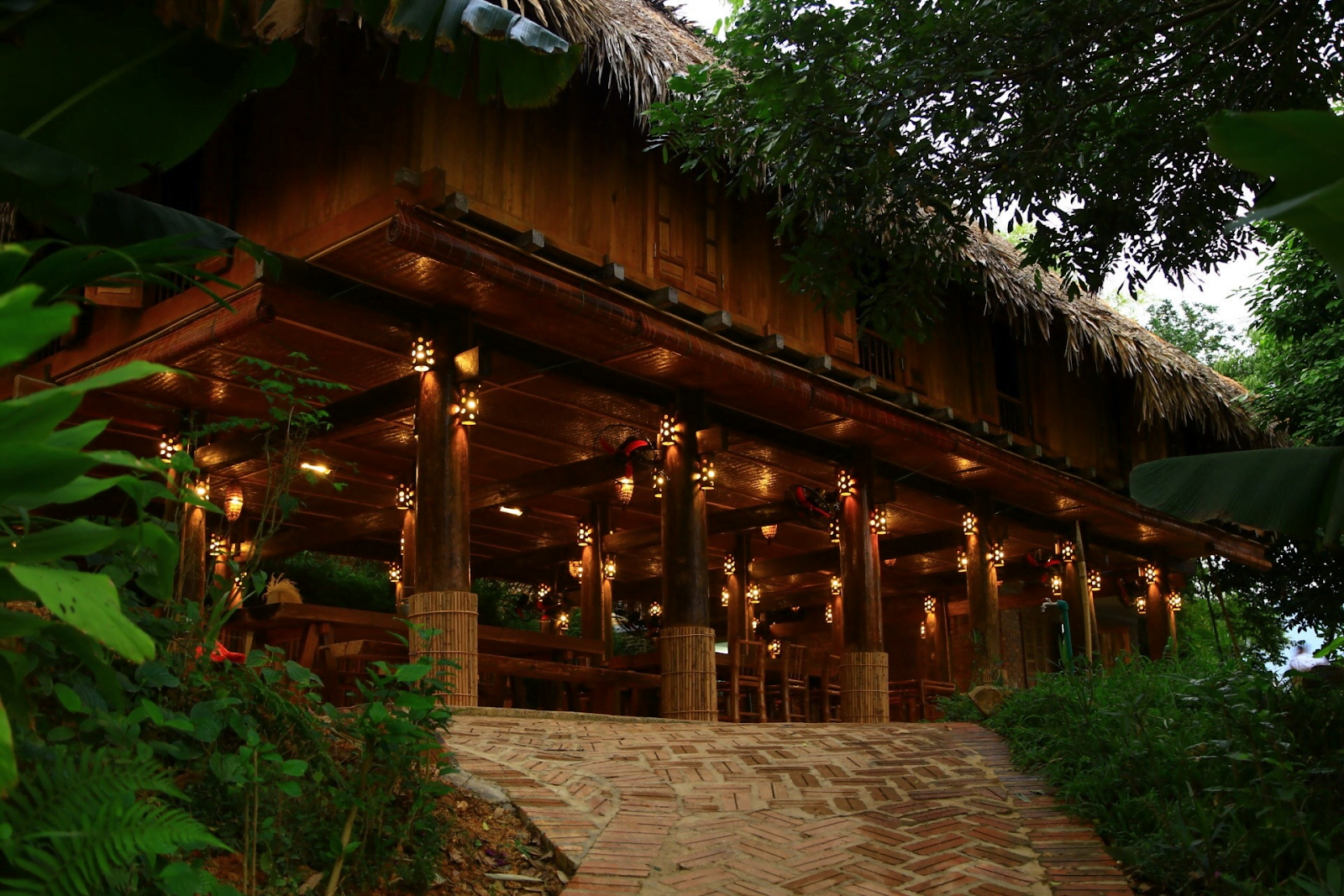 Welcome to Pu Luong Boutique Garden resort – A luxury hotel nestled among wonderful mountains and rice terraces. Escaping from hustle and bustle city life, as a small green village in Pu Luong Nature Reserve, Pu Luong Boutique Garden resort has 10 mountain Bungalows, 2 traditional Stilt houses of the black Thai people with 16 comfy beds, a Restaurant and Reception area.
Room types of Pu Luong Boutique Garden resort
Bungalows at Pu Luong Boutique Garden resort
At Pu Luong Boutique Garden, bungalows are mainly made from natural materials such as wood, bamboo, dried palm leaves which give guests a completely "green" experience. A bungalow suitable for 2 – 3 people and an extra bed can always be added on request. All bungalows contain a spacious balcony with deck chairs, the greatest place to admire the beauty of Pu Luong, Thanh Hoa.
The Bungalows at Pu Luong Boutique Garden offer a variety of picturesque views, including terraces, bamboo groves, and palm trees. Each room is equipped with modern amenities and services, ensuring a comfortable stay for guests. These amenities include a two-way air conditioner, a private bathroom with a hot shower, daily breakfast included in the room rate, wake-up calls, and limited-hour turndown services. Whether you prefer to wake up to the serene beauty of terraced fields or the rustling of bamboo leaves, our bungalows provide a unique and immersive experience for your stay in Pu Luong.
Traditional stilt House
The stilt house at Pu Luong Boutique Garden Resort provides a warm and welcoming environment for guests to connect and create lasting memories. In addition to complimentary Wi-Fi, the resort offers an open area beneath the house where guests can gather. The accommodations also include thoughtful amenities such as curtains to separate the beds, a shared bathroom with a picturesque garden view and a spacious window, and a daily breakfast to start your day off right.
Suggesting some beautiful resorts in Pu Luong Nature Reserve!
Latest updated reference price list of Pu Luong Boutique Garden resort
The price included tax and service charge.
Room type
Price 

(VND/night)

Suite Rice Terraces View Bungalow

3,084,000 

Deluxe Bamboo View Bungalow

2,570,000 

Superior Palm View Bungalow

1,850,125 

Traditional Stilt House 

649,000 
Note: Prices may vary and change on holidays, New Year and peak season.
Facilities and services of Pu Luong Boutique Garden resort
Hillside restaurant
of Pu Luong Boutique Garden resort
The restaurant at Pu Luong Boutique Garden resort is situated on the first floor, beneath a charming traditional stilt house, boasting a seating capacity of approximately 50 guests. The rustic ambiance of the hillside's facilities, constructed predominantly from wood and bamboo, caters to the comfort and enjoyment of both in-house patrons and those dropping by spontaneously.
Undoubtedly, the pièce de résistance of the restaurant is its dinner service, featuring a delectably diverse menu of Thai specialties. Guests can relish an array of authentic dishes that capture the essence of Thai cuisine, ensuring a memorable dining experience in the heart of Pu Luong Boutique Garden resort.
Reception service 24/24
The Pu Luong Boutique Garden Resort provides 24/7 front desk assistance to ensure that all of our guests' needs and requests are promptly and efficiently attended to at any time. We prioritize your comfort and satisfaction above all else, and our committed staff is always prepared to deliver exceptional service during your entire stay.
Daily cleaning service
at Pu Luong Boutique Garden resort
At Pu Luong Boutique Garden Resort, we prioritize cleanliness and aesthetics by providing daily room cleaning services. Additionally, we offer a Turn Down service with a designated time to ensure your continuous comfort during your stay.
Relax and entertainment service
In addition to marveling at the breathtaking natural beauty of Pu Luong Nature Reserve, visitors to Pu Luong Boutique Garden have the opportunity to indulge in a variety of leisure and entertainment offerings provided by the resort. These include a range of beauty services such as spa treatments, massages, and a hair salon, allowing guests to unwind and rejuvenate in a tranquil setting. Furthermore, the resort boasts an outdoor swimming pool adorned with comfortable loungers on its shores, inviting guests to soak up the sun and take a refreshing dip in the crystal-clear waters. Whether you seek relaxation or adventure, Pu Luong Boutique Garden caters to your desires, ensuring a memorable and fulfilling experience during your stay.
Common facilities
Complimentary Wi-Fi access
Air-conditioning available in common areas
Complimentary parking facility
On-site coffee shop
Lobby bar for guests to relax and unwind
Convenient bicycle and motorbike rental services
Assistance with tour bookings
Wake-up call service for your convenience during your stay.
Policies of Pu Luong Boutique Garden resort
Check – in and Check – out policy
Early check – in before 06:00: 100% 1 night room rate charge
Check – in from 06:00 PM to 12.00 PM: 50% 1 night room rate charge
Check – out time: 12:00 PM
Late Check – out from 2 PM to 6 PM: 50% 1 night room rate charge
Late Check – out after 6:00 PM: 100% 1 night room rate charge
Note: Early check – in or late check – out is subject to room availability.
Cancellation policy
Cancellation from 15 to 20 days before arrival date: 25% room rate charge
Cancellation from 7 to 14 days before arrival date: 50% room rate charge
Cancellation after 7 days before arrival date or no – show: 100% room rate charge
Exploring attractions nearby Pu Luong Boutique Garden resort
Don Village – The epicenter of Pu Luong
Tourists in Ban Don are in for a treat as they can relish in the delectable specialties prepared by the local residents, partake in the distinctive "Straw Liquor" experience, engage in immersive cultural exchange activities, and explore the traditional craftsmanship of the indigenous community.
Lan Village 
Throughout the years, Lan Village has successfully maintained its genuine and traditional charm. It serves as an excellent choice for those passionate about cycling and those who admire the beauty of nature. Lan Village provides an idyllic backdrop for leisurely strolls in the midst of breathtaking natural scenery. As you engage with the warm-hearted locals, you'll have the opportunity to fully embrace the daily routines and rhythms of life in this charming destination.
Kho Muong Village
Located in a serene and idyllic setting, Lan Village is a truly enchanting destination for travelers seeking an authentic glimpse into traditional rural life. Situated amidst lush landscapes, this picturesque village boasts stilted-roof houses that exude a rustic charm, creating a captivating atmosphere for visitors.
What sets Lan Village apart is its breathtaking surroundings, characterized by a vibrant patchwork of rice and corn fields that envelop the area. The lush greenery and rolling hills provide a serene backdrop for travelers looking to escape the hustle and bustle of city life and reconnect with nature.
One of the highlights of Lan Village is the renowned "Batcave," which happens to be the largest cave within the stunning Pu Luong Nature Reserve. This natural wonder offers a mesmerizing exploration opportunity for adventurers and nature enthusiasts alike. Inside the cave, you'll be greeted by awe-inspiring rock formations and an underground world teeming with unique flora and fauna. It's a truly immersive experience that showcases the raw beauty of the region.
In addition to its natural wonders, Lan Village also offers a rich cultural experience. Visitors can interact with friendly locals and gain insights into their traditional way of life. From participating in traditional rituals to trying out local cuisine, there are plenty of opportunities to connect with the community and learn about their customs and traditions.
Whether you're an adventurer seeking the thrill of exploration or a traveler yearning for a tranquil escape, Lan Village in Pu Luong Nature Reserve promises an unforgettable experience. It's a place where nature and culture intertwine to create a harmonious and captivating retreat for all who venture here.
Son Ba Muoi
Cao Son, located in the picturesque highlands of Lung Cao Commune in Thanh Hoa Province, Vietnam, is home to three charming villages that share the same name. These villages provide a unique opportunity for travelers to immerse themselves in the lives and cultures of the local ethnic communities, primarily the Thai people.
Nestled amidst the stunning backdrop of lush landscapes and rolling hills, Cao Son's villages offer an authentic and immersive experience for those seeking to explore this hidden gem. Here, the traditions and way of life of the Thai ethnic group come to life, creating a captivating blend of heritage and modernity. As you wander along the winding paths that connect these villages, you'll have the chance to interact with welcoming locals, savor regional cuisine, and witness ancient practices that have been passed down through generations.
With their rich history and vibrant cultural tapestry, the villages of Cao Son provide an extraordinary retreat for travelers eager to discover the heart and soul of the highlands. Whether you're enchanted by the breathtaking landscapes or drawn to the warmth of the local community, a visit to Cao Son's villages guarantees an unforgettable travel experience that celebrates the diversity and beauty of Vietnam's ethnic mosaic.
Pho Doan Market
Pho Don Market is a lively event that occurs every Thursday and Sunday. When you make a trip to this delightful destination, you are not only submerging yourself into the distinctive ambiance of a highland market, but also delving into a wide variety of souvenirs, locally-made products, and indulging in delicious specialties.
Visiting amazing places nearby Pu Luong Boutique Garden resort!
See more: