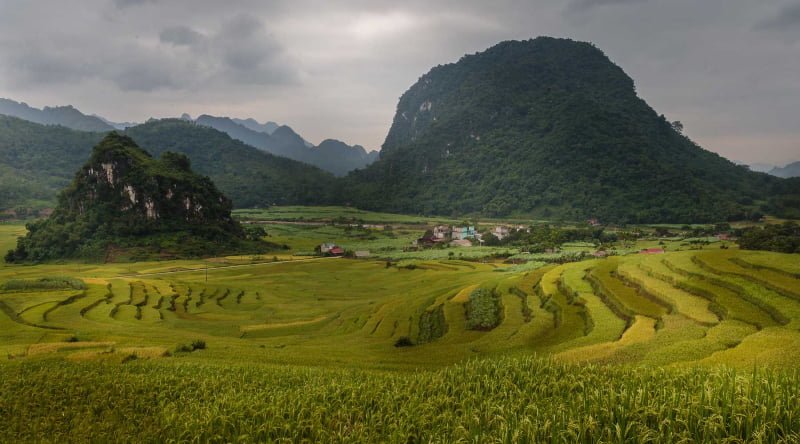 What a wonderful combination of two beautiful places in Vietnam. PuLuong Nature Reserve is a place of true wilderness. The ethnic minorities in Pu Luong live off agriculture. Walking through the villages is an opportunity to interact with the indigenous people, learn the culture, life and understand more about the agriculture here.
Experience the pristine Pu Luong nature reserve and immerse yourself in the beautiful waterfalls in the mountains and tropical forests. In Ninh Binh, you will understand more about the culture and history of Vietnam with the ancient capital of Hoa Lu, ride a boat on the Sao Khe River and explore mysterious caves. Here, you will be able to cycle among the limestone mountains and be welcomed by hospitable locals.
PU LUONG TRAVEL GUIDE
Pu Luong Nature Reserve is located 130 kilometers northwest of Thanh Hoa City in the districts of Ba Thuoc and Quan Hoa. Visitors are impressed by Pu Luong's majestic forests, terraced fields, and ethnic mountain minority's tranquil existence. Those who enjoy the outdoors and desire to travel to new places will find this to be a fascinating tourist destination.
Pu Luong has gathered all of the best assets from each region that have made Northern Vietnam famous around the world and condensed them in one place. It has become an unmissable destination that most visitors include on their travel plans.
Best time to visit Pu Luong
Each season in Pu Luong brings its own stunning beauty, and any visitor will be satisfied after each visit. The Golden Rice Season in Pu Luong may have to be the most impressive.
We call it the "golden season" because of the beautiful time when the rice turns yellow before harvest. In Pu Luong, the ripe rice season occurs twice a year, in May and October. Additionally, it is harvest time. While May's high humidity level can make it heated outside, October's weather is often ideal. Cool daytime temperatures of around 25°C, sunny weather, and infrequent rainfalls.
The best weather and yellow rice fields are found in October, making it the most pleasant month. Also, Pu Luong is in its peak season, so by booking your accommodations early, you'll have more options.
What to do in Pu Luong?
Visit Pho Doan Market

Admire the beauty of Kho Muong Cave

Trekking Son Ba Muoi, Pu Luong peak

Experience the local life and the peaceful atmosphere that only found in Don Village, Hieu Village and Lan Village
Our Pu Luong travel guide contains all of the information you need to plan your visit to the Reserve. Let's now have a look at the various aspects of Ninh Binh tourism.
NINH BINH TRAVEL GUIDE
About 100 km from Hanoi, with many famous landscapes such as Hoa Lu ancient capital with a rich history, beautiful Tam Coc – Bich Dong complex, Trang An with majestic natural scenery and many Spiritual tourist sites such as Bai Dinh pagoda, Phat Diem church, etc. Ninh Binh is the right choice for travelers who do not have much time but want to explore the majestic nature.
Best time to visit Ninh Binh
Ninh Binh is a place you can visit at many times of the year. However, you should come here in spring (January – March) when the weather is cool, there are many festivals and summer (May – August) to see the golden rice fields or fragrant lotus ponds.
What to in Ninh Binh?
     

Enjoy the specialties of burnt rice, goat meat with lemon, stir-fried goat, grilled goat, roasted crab with guise leaves, fish salad…

     

Discover the natural tourist attractions in Ninh Binh: Trang An Scenic Area, Tam Coc – Bich Dong Tourist Area, Mua Cave, Hoa Lu Ancient Capital

     

Experience the sacred atmosphere at spiritual tourist sites in Ninh Binh such as Bai Dinh Pagoda or Phat Diem Stone Church

     

Discover Vietnamese cultural identity through Ninh Binh festival
HOW TO GET PULUONG FROM NINH BINH
BY PRIVATE CAR
You have the option to travel from Pu Luong to Ninh Binh by utilizing your own private vehicle or by hiring one. The primary advantage of this mode of transportation is the flexibility it offers, allowing you to select your preferred route and make stops at your discretion. If your priority is to reach your destination quickly, the recommended route is via the Ho Chi Minh road.
It is more convenient for you to have the guidance of our Pu Luong travel guide in your journey.
BY LOCAL BUS
This is the most saving-cost solution for visitors in Pu Luong – Ninh Binh tour and the most flexible way for those who do not want to search the maps' direction. The daily limousine run by Pu Luong Express Bus will pick you up in your hotel in Pu Luong and drop you in Tam Coc, Ninh Binh. Free wifi and water are included in the limousine.
BY MOTORBIKE
The final option is to use a motorcycle to get to Pu Luong. The region of northern Vietnam is a great playground for riders. Traveling by motorbike is a great advantage for those who want to see the majestic natural scenery in the most authentic way. The Ho Chi Ming trails aren't especially interesting in this case. It will be more fascinating to pass through the other side. You can check at our Pu Luong Motorbike tour travel guide to get more details for your trip here, click here. 
Every type of transportation booking you require is supported by Pu Luong Excursions. Please be free to send us your best options here.
PU LUONG – NINH BINH TOUR PRICE LIST
There are various price options available for the Pu Luong Ninh Binh tour, with the cost differing based on the specific type of tour, included services, and itineraries. For comprehensive information on pricing and tour details, we recommend reaching out to Puluong Excursions.
PU LUONG – NINH BINH TOUR ITINERARIES
FULL DAY PU LUONG – NINH BINH TOUR
After a filling breakfast, you will start early in the morning in the direction of Pu Luong. You will have the chance to admire the beauty of terrace fields and the magnificent view of hills and waterfalls in Pu Luong. Have your lunch with Pu Luong locals and move to Ninh Binh after that. In Ninh Binh, you will experience the tour to visit Trang An scenic spot – an attraction not to be missed by any visitor when traveling Ninh Binh.
2 DAYS 1 NIGHT PU LUONG – NINH BINH TOUR
If you don't have too much time but still want to experience the beauty and activities in Pu Luong and Ninh Binh, this tour is suitable for you. After leaving Hanoi in the morning and arriving in the Pu Luong Nature Reserve for lunch, you will spend the entire afternoon touring the Reserve. After engaging in activities like discovering the largest cave in the Reserve or going on a stroll through lovely rice fields, you can spend the ideal peaceful evening on your balcony taking in the breathtaking views.
The next day, go by car or motorcycle in the direction of Ninh Binh after a satisfying breakfast. Here, you will have a special time to explore the culture and history of Vietnam in Ninh Binh through lots of famous destinations such as Trang An scenic spot, Bai Dinh Pagoda or Bich Dong pagoda and some traditional craft villages.
For more information, visit the section above titled "full day Pu Luong – Ninh Binh tour." Finally, finish your tour by a shuttle bus to Hanoi.
3 DAYS 2 NIGHTS PU LUONG – NINH BINH TOUR
Day 1: HANOI – PU LUONG
Pick up guests at the Old Quarter area. You stop at Luong Son town, Hoa Binh at 9am. At 11am, you visit the Muong market and learn about the life, culture and customs of the people here, enjoy the beautiful scenery at Thung Khe pass – one of the ten most beautiful passes in Vietnam. Arriving in Mai Chau, you change to a small car to move to Pu Luong. You come to Pu Luong nature reserve, have lunch and check in at 1pm.
The car takes you to the starting point of the journey to explore the mountains and forests. Walk along the small paths through the rice terraces, the suspension bridge to visit the remote Thai village. You visit the traditional old house of the Thai people to understand more about the life of the indigenous people. See the giant water wheels and duck farm to better understand the agriculture of the people here before participating in bamboo rafting on the Cham river and then boarding the car to the homestay. At the end of day, have your dinner, drink wine with the host family and enjoy the quiet space in the mountains.
Day 2: PU LUONG – NINH BINH 
Have your breakfast and enjoy the mountain scenery. Begin your day by first walk along the small path, through the terraced fields, cross the stream to come to the Black Thai village to understand more about the life of the local people (6km) explore Bat Cave in Kho Muong village this is the largest cave in Pu Luong (depending on weather conditions)
You get in the car to return to the hotel and check out at 12:30. Then you have lunch and relax at the swimming pool or walk around the village before getting on the bus to Ninh Binh – the first capital of Vietnam in the 10th century. Check in at the hotel, rest and have dinner to finish your day.
Day 3: NINH BINH – HANOI 
Have breakfast, admire the majestic limestone mountains. At 8am, cycling to see the majestic limestone mountains to visit the two temples of two 10th century emperors, climb Ma Yen mountain to visit the king's grave. On the way back, you will stop at the local people's house to chat and drink tea with the locals
Have lunch at the hotel at 12:30. After that, you take a boat to visit Trang An among the limestone mountains, enjoy the peaceful and poetic landscape here. At 4pm, finish your tour by getting on the car back to Hanoi.
SERVICES INCLUDE IN PU LUONG – NINH BINH TOUR
Tour includes:
     

Homestay in Pu Luong, hotel in Ninh Binh.

     

Cars to pick up guests according to the program

     

Activities in tours, bicycles

     

Enthusiastic and friendly tour guide

     

The meals in the program

     

Tickets to visit attractions
Tour does not include:
     

Drinks

     

Travel insurance

     

Personal costs

     

Tipping.
SOME TIPS TO HAVE A SUCCESSFUL PU LUONG – NINH BINH TOUR
Plan and prepare the trip's itinerary
Please plan from the beginning when you want to go and select the tour that best suits your needs. A small tip is to visit Pu Luong and Ninh Binh during their most beautiful seasons to fully appreciate the beauty of these two destinations. If you don't have time, don't worry because it has its own unique features whatever the season is.
Prepare your necessary belongings for the trip
This is also an important consideration because you will be unable to travel with only one set of clothes or without having prepared all of the necessary items for the trip.
And the way you prepare supplies is determined by the number of days you travel and the location you visit to select the necessary items for you.
Tips: If you go in winter, remember to prepare warm clothes to avoid heat shock when hunting clouds on Pu Luong
Experiencing and discovering yourself everywhere, in every aspect through the trip
Traveling is a great way to discover yourself. Instead of just enjoying what you already have, you can give yourself a chance to live life to its fullest.
You can leave your phone behind to play with and exchange people, culture or lifestyles of the highland ethnic minorities in Pu Luong. You can also explore places that no one has ever been to, experience interesting historical knowledge in Ninh Binh, immerse yourself in the majestic beauty of nature that is hard to find in lavish urban places.
Interacting a lot with friends is also a way to help you get more energy.
Pu Luong, Pù Luông, Puluong Vietnam, pu luong nature reserve, pu luong excursions, sunday, saigon, hoabinh, security.
See more: