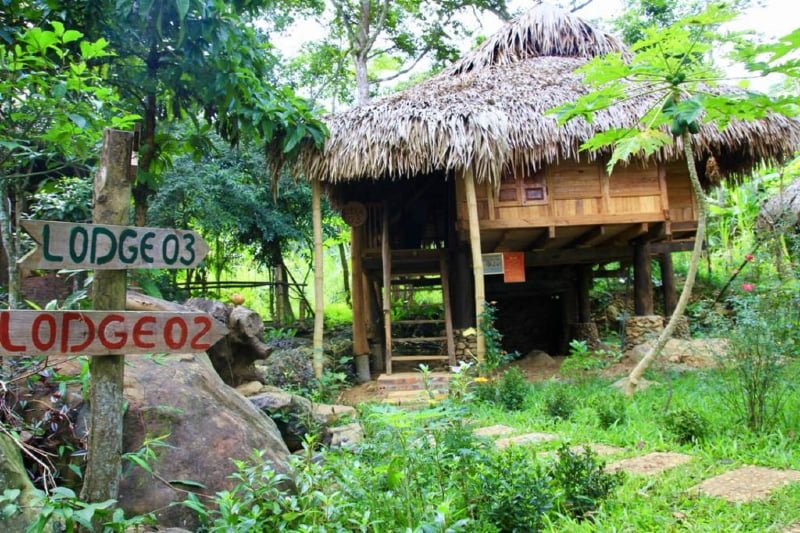 Coming to Pu Luong Hillside Lodge, you will enjoy the green space and enjoy the Thai dance, sip the strong can wine and immerse yourself in the fairyland.
Pu Luong Hillside Lodge has become an ideal place for many tourists. Homestay has many advantages to be able to hold anyone back. You will definitely want to go to a place where you can capture the majestic natural scenery with a gentle stream and green terraces just by looking at it.
LOCATION OF PU LUONG HILLSIDE LODGE
Pu Luong Hillside Lodge is located in Pu Luong nature reserve, Pu Luong Hillside Lodge with a convenient location, only 1km from attractions. Pu Luong Hillside Lodge will be the ideal destination to bring you to the beautiful nature, completely separate from the noise and hustle out there. Enjoy the most relaxing and meaningful time with your loved ones.
Location:
Don Village, Thanh Lam Commune, Ba Thuoc District, Thanh Hoa Province
TYPE OF ROOM IN PU LUONG HILLSIDE LODGE
Currently, Pu Luong HillSide Lodge has many types of rooms from single rooms to large houses that can accommodate 10-15 people for you to choose from: Dorm room, family room, single room, double room with view terraced fields, stream view and special trip room. 
See more: Pu Luong Travel Guide 2023
Another great advantage of homestay is that each room has its own bathroom, complete with a full reading table, sightseeing table, shampoo, bath soap, kettle, and mosquito net… You feel extremely relaxed and at ease, just like at home. 
EXCITING EXPERIENCES ONLY AT PU LUONG HILLSIDE LODGE
The first thing to mention is that each separate bungalow has a balcony overlooking a small stream, Pu Luong nature reserve's limestone mountains, or immense terraced fields, with numerous angles for taking photos that you don't want to miss.
You will be fascinated by the fresh young seedling color that covers the wonderful Pù Luong sky if you go around the beginning of May-June during the transplanting season. Those who visit Pu Luong during this season (September-October-November) will be awestruck by the golden fields of marvelously ripe rice.
You can rent national costumes and transform into beautiful Thai girls, strong and healthy boys, and hundreds of styles bearing the image of gentle and sincere Thai people.
The homestay, in particular, has a "secret garden" called Organic Farm – a "clean vegetable farm" to serve visitors. Visitors can freely visit and take photographs here, experiencing the simple life of a farmer harvesting clean vegetables. You can also enjoy delicious crispy green vegetables at the end of the day.
In the evening, you can also enjoy the charming traditional Thai women's dances. The dance follows each step rhythmically, each smile is full of life, and even the lovely and lovely faces are dazzlingly beautiful.
SERVICES AND FACILITIES IN PU LUONG HILLSIDE LODGE
In addition to a number of contemporary conveniences and services, the Pu Luong Hillside Lodge provides free WiFi, a parking space, a shuttle bus, laundry service, TVs in each room, a 24-hour front desk, non-smoking rooms, and a bar and restaurant.
In Particular, pets are allowed in Pu Luong Hillside Lodge.
Room facilities
The apartments come with a balcony, an electric kettle, and a private bathroom. There are two bathrooms in the accommodation, each with a sink, a hair dryer, and slippers. Pu Luong Hillside Lodge offers linens and hypoallergenic pillows. There is a sink and a shower in the bathroom.
Restaurant
Pu Luong Hillside Lodge has a cozy restaurant area for guests. The restaurant serves breakfast with an à la carte menu. Breakfast is continental and is served with hot items.
Lunch and dinner ready with a set menu. In addition, the restaurant also serves vegetarian dishes for vegetarian guests.
Pu Luong Hillside Lodge also has a small cafe for those who want to sit back and chat and immerse themselves in the cozy and peaceful space of Pu Luong Hillside Lodge.
Other services
On-site infinity swimming pool, FREE wifi, Car rental, parking lot, fishing area, walkway for people with disabilities, Welcome drink, Tour booking support service, Airport Shuttle Service, etc.
PLACES TO VISIT AROUND PU LUONG HILLSIDE LODGE
In addition to the picturesque terraces, coming to Pu Luong, visitors also have many other interesting places near Pu Luong Hillside Lodge with extremely interesting entertainment activities. You can contact the owner of Pu Luong Hillside Lodge to rent a motorbike and freely explore Pu Luong nature reserve in your own way. Or if you go in a large group and want to have a unique experience with the locals, you can rent a package tour Hanoi – Pu Luong with a super attractive schedule, explore more Pu Luong tours in here.
Travelers can visit Cam Luong Fish Stream with thousands of colorful fish very close to Pu Luong Hillside Lodge. Beside, you can explore the experience of ethnic villages: Don, Uoi, Hieu, Kho Muong, Son Ba Muoi, etc or enjoy the specialties of the Black Thai people such as the sweet and fragrant Co Lung Duck raised. nature on the streams that are very famous in this land; and enjoying wine and interacting with people at Pu Luong HillSide Lodge… Besides, you can join a climbing tour to conquer challenges at Pu Luong peak.
In Particular, it is 68 km from Moc Chau, while Ngoc Son Ngo Luong Nature Reserve is 3 km far away. You may come to Mai Chau, one of Vietnam's most well-known sites, in particular, just 46 km from Pu Luong Hillside Lodge.
For more information, click here.
SOME ACCOMODATION NEAR PU LUONG HILLSIDE LODGE
There are some other choices for visitors to stay in Pu Luong, Thanh Hoa such as Pu Luong Hideaway Homestay, Pu Luong Natura Bungalow, Pu Luong Eco Garden, Pu luong Bocbandi Retreat, Pu Luong Casa Resort, Puluong Retreat, Valley Home and more lodging options are available for travelers in Pu Luong, Thanh Hoa..
Click here. for more information about the Pu Luong Resort.
Pu Luong, Pù Luông, Puluong Vietnam, pu luong nature reserve, pu luong excursions, discount, combo, overview, direction, Thanh Hoa, question, status.
See more: