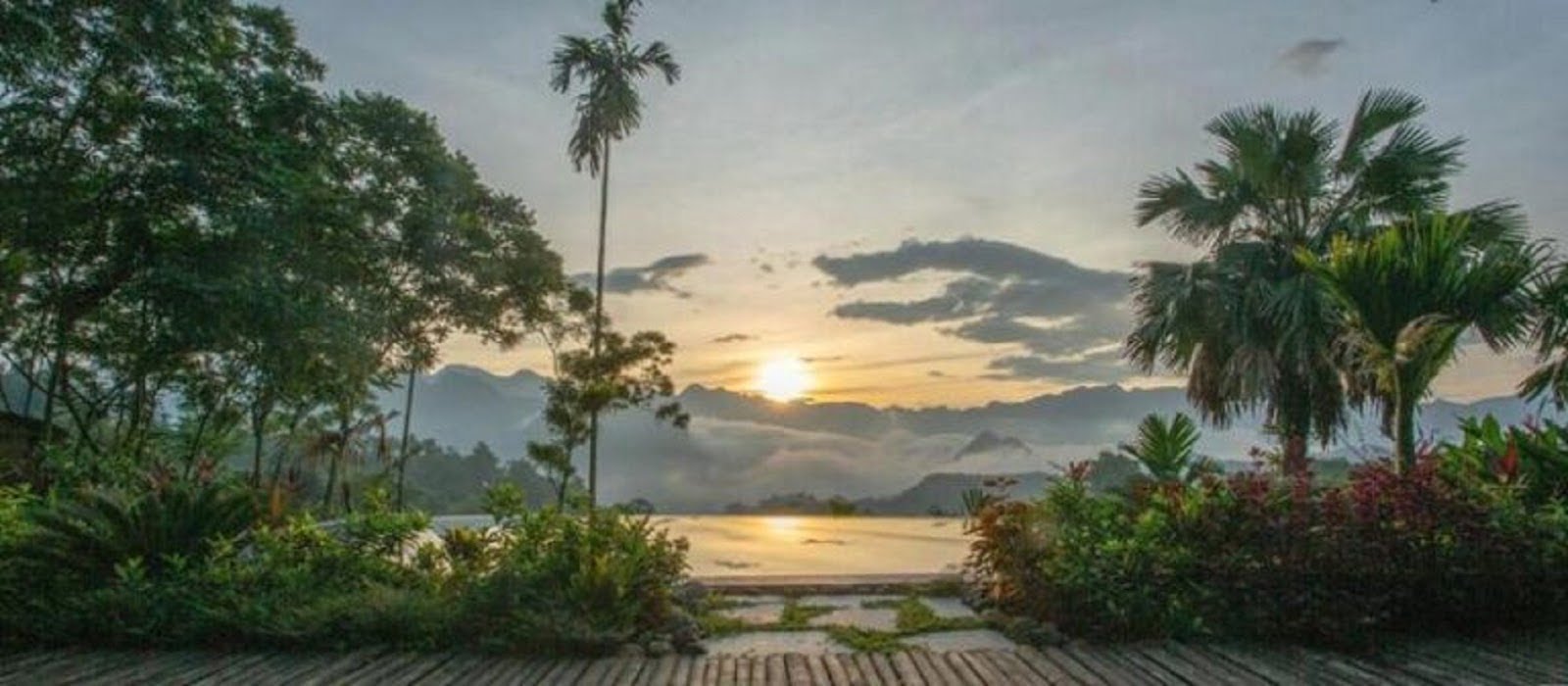 Pu Luong Home – A cozy house for you
"Pu Luong" in the Thai ethnic language means high mountain and the resort has added the word "Home" which means that this place is always the home of every guest who has ever come to Pu Luong Home. No need to advertise loudly, but Pu Luong Home is always one of the top destinations of tourists when coming to the land of Pu Luong.
Where is Pu Luong Home located?
Pu Luong Home is situated in Don Village, Thanh Lam Commune, Ba Thuoc District, Thanh Hoa Province. Nestled within the heart of the Pu Luong Nature Reserve, this resort boasts enchanting natural beauty that leaves an indelible impression on every traveler who graces its grounds.
System of rooms and houses on stilts at Pu Luong Home
Double room at Pu Luong Home
With a spacious 20m2 area, a comfortable double bed, and a picturesque garden view, our room is designed to resemble the stilt houses of the Thai ethnic community in this region. It offers a unique blend of exotic charm and a cozy, homely ambiance. Crafted primarily from natural wood, stepping into this room feels like stepping into a harmonious embrace with nature itself.
As you enter, you'll immediately notice the seamless integration of the room with its lush surroundings. The use of natural materials not only enhances the overall aesthetics but also creates a soothing and tranquil atmosphere. It's a perfect escape from the hustle and bustle of daily life, allowing you to reconnect with nature.
Moreover, our resort boasts high-class amenities that are designed to make your vacation as enjoyable and comfortable as possible. From top-notch dining options to relaxation facilities, we have everything you need to unwind and create lasting memories during your stay. So, immerse yourself in the beauty of nature and the luxury of our resort, and let us take care of the rest.
Room for 3 people at Pu Luong Home
This spacious room at Pu Luong Home boasts a size of 25m2 and offers breathtaking views of the surrounding mountains. It features two comfortable bed options, including one large double bed and one single bed, making it ideal for both couples and small groups of friends.
If you are planning to embark on an adventure to explore the beauty of Pu Luong with your companions, this room is an excellent choice. Pu Luong Home provides a range of convenient services and amenities that will enhance your stay, ensuring a memorable experience.
After a day filled with sightseeing and exploration in this picturesque mountainous region, you can return to this cozy room to unwind and recharge. Enjoy the tranquility of the mountain view as you relax and relive the day's adventures with your fellow travelers.
Room for 4 people at Pu Luong Home
A 28m2 room at Pu Luong Home awaits you, featuring a combination of 02 single beds and 01 extra-large double bed, all with a captivating mountain view. This 4-person room is meticulously designed to immerse you in the rich ethnic culture of the region, utilizing natural wood as its primary material to create a sense of harmony with the surrounding nature.
Our rooms come fully equipped with all the standard amenities you'd expect from a top-notch resort, ensuring your stay in Pu Luong is not only enjoyable but also supremely comfortable. Whether you're embarking on an adventure with a group of friends or seeking a tranquil retreat, our thoughtfully decorated rooms provide the perfect haven for your stay. So, come and explore the breathtaking natural beauty of Pu Luong while indulging in the exquisite comfort of our accommodations.
Room with a king-size bed at Pu Luong Home
This room at Pu Luong Home is the perfect choice for couples seeking a romantic getaway. Designed with a rustic charm, the room is adorned with ethnic wood furniture, creating a unique and cozy atmosphere. Equipped with all the necessary amenities, guests can enjoy a comfortable stay in this 25m2 room.
What sets this room apart is its breathtaking view of the mountains. With a spacious balcony overlooking the terraced fields, guests can witness the beauty of the golden rice fields during the harvest season. The sunlight casting a magical glow on the water creates a picturesque scene that is unmatched anywhere else.
For couples looking to escape the hustle and bustle of city life and immerse themselves in the tranquility and natural beauty of Pu Luong, this room at Valley Home Pu Luong is the perfect choice. Whether it's enjoying a romantic dinner on the balcony or taking a leisurely stroll through the lush landscapes, this room provides an unforgettable experience for couples seeking a romantic adventure.
Twin room
 at Pu Luong Home
This spacious room measures 25m2 and features two comfortable single beds. The room is elegantly designed with natural wood as the primary material, creating a warm and inviting atmosphere. The interior decor boasts a captivating ethnic design that immediately captivates your senses upon entering.
One of the highlights of the twin room at Valley Home Pu Luong is the breathtaking mountain view it offers. As you gaze out of the window, you'll be treated to a mesmerizing vista of the surrounding mountains, allowing you to unwind and immerse yourself in the tranquil and picturesque beauty of nature in this enchanting destination.
Family room at Pu Luong
If your family is looking for a unique alternative to traditional hotels for your next vacation, Pu Luong Home is the perfect choice. Choosing this destination for your small family will not leave you disappointed. The rooms are beautifully designed in the ethnic style of the resort and come fully equipped with all the necessary facilities to ensure even the most discerning travelers are satisfied.
Group house on stilts at Pu Luong Home
In addition to the standard room options, Valley Home Pu Luong offers 2 stilt houses with a capacity of 12-14 people. These stilt houses are a popular choice for groups of friends, companies, and offices looking to organize team-building activities or enjoy a picnic with friends.
Utility services at Pu Luong Home Hotel
Swimming Pool at Pu Luong Home
Pu Luong Home boasts a stunning infinity pool that offers an unparalleled view of the surrounding area. Its distinctive design and refreshing cool water create a tranquil and relaxing experience for guests who visit the pool.
The restaurant at Pu Luong Home
The Pu Luong home restaurant specializes in offering an extensive breakfast buffet for patrons, as well as serving a delectable selection of traditional Vietnamese dishes and some unique specialties.
Bars at Pu Luong Home
Pu Luong Home's bar is dedicated to offering a wide selection of beverages including beers, wines, and cocktails. Guests have the convenience of placing their orders at the bar, and our attentive staff will promptly deliver your preferred drinks to the pool area. This allows you to savor a glass of wine while soaking in the breathtaking natural surroundings that Pu Luong has to offer.
Places of entertainment and sightseeing near Pu Luong Home Lodge
It's fantastic that Pu Luong Home is conveniently situated in close proximity to numerous renowned tourist destinations. We would like to provide you with some enticing suggestions to enhance your travel experience:
Pu Luong Nature Reserve: Immerse yourself in the breathtaking natural beauty of Pu Luong Nature Reserve, home to lush rice terraces, pristine forests, and charming ethnic villages. Embark on a trekking adventure to discover hidden gems and observe the daily lives of the local Thai and Muong communities.
Don Village: Located just a stone's throw away, Don Village offers a glimpse into the traditional way of life of the Thai ethnic group. Wander through the village's winding pathways, visit stilt houses, and interact with the friendly locals to gain insight into their customs and traditions.
Hieu Waterfall: For those seeking tranquility and serenity, Hieu Waterfall is a must-visit spot. A short hike through the forest will lead you to this picturesque cascade where you can cool off in the crystal-clear waters or simply relax amidst the lush surroundings.
Pu Luong Suspension Bridge: Take a leisurely walk across the Pu Luong Suspension Bridge, which provides panoramic views of the valley and its stunning landscapes. This is an ideal spot for photography enthusiasts to capture the essence of Pu Luong's beauty.
Kho Muong Cave: Delve into the heart of nature by exploring Kho Muong Cave, a fascinating underground world adorned with unique limestone formations. Venture deep into the cave's chambers and be amazed by the mesmerizing stalactites and stalagmites.
Bamboo Rafting on Cham Stream: Embark on a bamboo rafting excursion along Cham Stream, where you can revel in the serenity of the waterway and soak in the tranquility of the surrounding wilderness.
Visit Local Markets: Discover the vibrant culture and flavors of the region by visiting the local markets in Pu Luong. Sample delicious traditional dishes, shop for handmade crafts, and engage with the warm-hearted locals.
With Pu Luong Home as your base, you'll have the opportunity to explore these captivating attractions and create unforgettable memories during your journey through this enchanting part of Vietnam.
Kho Muong village in Pu Luong
This is a must-visit destination for any traveler exploring Pu Luong. Situated in the heart of the region, this Thai village is home to over 200 inhabitants and stands out as one of the more challenging valley villages to reach. However, its untamed beauty and rich cultural heritage make it a prime candidate for tourism development.
Accessing the village can be quite a feat, with a rugged and challenging road leading the way. Yet, it is precisely this difficulty in reaching the village that has helped to preserve its wild and picturesque characteristics. The natural surroundings and cultural traditions of the Thai village offer immense potential for tourism, making it a captivating destination for adventure seekers and culture enthusiasts alike.
Kho Muong Cave in Pu Luong
Kho Muong Cave, situated within the Pu Luong nature reserve, is a perfect destination for adventurous young travelers. This cave boasts an intriguing geological history, with its formation dating back approximately 250 million years, primarily composed of limestone blocks.
Nestled amidst the lush natural beauty of Pu Luong, Kho Muong Cave offers an unparalleled opportunity for exploration and adventure. Its unique geological composition, showcasing the ancient limestone blocks, adds a layer of mystique and wonder to the entire experience. Travelers are drawn to this remarkable site, not only for its historical significance but also for the chance to immerse themselves in the breathtaking natural surroundings.
Upon entering Kho Muong Cave, visitors are greeted by an awe-inspiring spectacle of stalactites and stalagmites formations, further enhancing the sense of wonder and amazement. The cave's intricate chambers and passages create a labyrinth-like adventure, making it a thrilling endeavor for those seeking to uncover its hidden secrets.
While exploring the cave, one can also appreciate the rich biodiversity of Pu Luong nature reserve. This region is home to a diverse range of flora and fauna, making it a true haven for nature enthusiasts. The vibrant ecosystem and serene landscapes surrounding Kho Muong Cave provide an excellent backdrop for hiking, bird-watching, and eco-tourism activities.
In addition to its geological and ecological significance, Kho Muong Cave offers an unforgettable cultural experience as well. The local ethnic communities living nearby add a cultural dimension to the journey, allowing travelers to interact with the indigenous people, learn about their traditions, and savor authentic local cuisine.
In conclusion, Kho Muong Cave in the Pu Luong nature reserve is a captivating destination that combines geological wonders, rich biodiversity, and cultural immersion. It beckons adventurous souls to explore its depths, providing a once-in-a-lifetime experience that will leave a lasting impression on any traveler seeking the perfect blend of nature, history, and culture.
Don Village –  Pu Luong
Located in a picturesque Thai village, this destination is renowned for its thriving tourism industry. Visitors to this charming locale will have the opportunity to immerse themselves in the daily life and customs of the local inhabitants while savoring delectable traditional dishes.
Hieu Waterfall in Pu Luong
Hieu Waterfall, situated in the heart of Pu Luong Nature Reserve, is a beloved destination for backpackers seeking breathtaking and untouched natural beauty. This waterfall, stretching approximately 800 meters in length, is a sight to behold. When viewed from the top, it appears to split into two streams, only to merge back into one at its base, forming a natural pool with a depth of around 1 meter. The water here is refreshingly cool and crystal clear, making it a perfect oasis within the Pu Luong region.
Special dishes at Pu Luong Home
Grilled grass 
fork
One of the unique culinary delights in the Pu Luong region is the grilled grass-fed pork, often referred to as "armpit pigs." This delectable dish is prepared with great care to ensure that the natural sweetness of the meat is preserved. The pork is expertly grilled alongside fragrant grapefruit leaves, imparting a delightful aroma and flavor. It is then thinly sliced and elegantly arranged on fresh banana leaves, adding a touch of vibrant green to the presentation. To enhance the savory experience, diners are encouraged to dip the succulent pork slices into a mixture of roasted salt and crushed Doi seeds, elevating the overall taste to a whole new level. This exquisite combination of flavors and textures makes the grilled grass-fed pork a must-try delicacy for visitors exploring the Pu Luong region.
Hill chicken in Pu Luong mountains
In Pu Luong, chickens are meticulously raised by local farmers alongside rice paddies, and they roam freely in the rugged terrain. This unique environment contributes to the exceptional quality and flavor of the chicken meat produced in this region. The hill chickens of Pu Luong are not limited to just being boiled; they are also expertly grilled with a blend of special spices that leaves an indelible mark on your taste buds, ensuring a truly unforgettable culinary experience.
Co Lung duck at Pu Luong Home restaurant
If the chickens on the hill are fed with rice, the Co Lung ducks in this area are allowed to roam freely and feed in the streams. This results in duck meat that is not easily breakable and has a natural aroma when cooked. This unique method of raising ducks contributes to the exceptional quality of duck meat in this region, making it a popular choice for those seeking a delectable culinary experience while traveling.
Pu Luong Home reservation information
There are numerous methods to make a reservation for your travel accommodations, but in my personal opinion, the optimal choice is to book through Pu Luong Excursion. Pu Luong Excursion is a highly esteemed partner of Pu Luong Home and has garnered a strong reputation in the travel industry. When you choose to make your reservation through Pu Luong Excursion, you not only secure your accommodations but also gain access to valuable advice and recommendations to help you select the perfect room that suits your preferences.
Furthermore, Pu Luong Excursion provides you with the opportunity to explore other Pu Luong resorts such as Puluong Retreat, Pu Luong Boutique, Pù Luông Eco Garden, and more. This extensive range of options allows you and your family to carefully consider and compare the various resort offerings to ensure you find the ideal fit for your travel experience. Pu Luong Excursion simplifies the booking process and ensures that you have a delightful and memorable stay in the stunning Pu Luong region.
Let Pu Luong Excursion accompany you by clicking here Puluong or Pù Luông
See more: