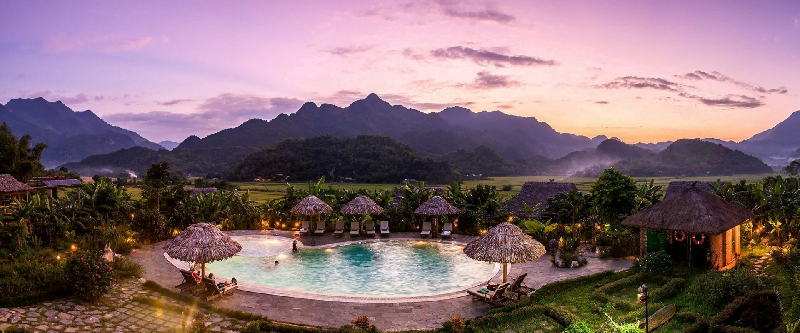 Mai Châu Ecolodgev Review is about 1 km from Lac Village and just 500 meters from Pom Coong Village. The town center of Mai Chau and Van Village are 1.5 and 3 kilometers away, respectively. The Mai Chau Ecolodge Resort is a luxury resort with a view of Hoa Binh's majestic mountains and hills.
Mai Chau Ecolodge Resort appears with the beauty of majestic nature surrounded by rice fields and hills, creating a beautiful scene like a paradise on earth. With professional service and peaceful scenery in the Northwest mountains, this resort is currently one of the top rated Hoa Binh Resorts
WHERE IS MAI CHAU ECOLODGE RESORT?
Mai Chau Ecolodge Resort is located on the Pom Pu hill in Na Chieng village, Na Phon commune, Mai Chau town, Hoa Binh province. Ecolodge is like a small world with green nature located right in the middle of Mai Chau valley. From every corner of the resort we can see this beautiful valley
MAI CHAU ECOLODGE ROOM SYSTEM
Mai Chau Ecolodge Resort has 6 types of rooms with more than 42 rooms with high-class and elegant design, along with the unique architecture of the stilt house with a balcony facing the mountains. Each bungalow is meticulously designed to show the traditional stilt house style of the Northwest ethnic minorities. The absence of television and other entertainment facilities keeps the resort true to what it stands for – a place to get back to nature.
Coming to Mai Chau Ecolodge Resort, you need to learn to understand the room types so that you can choose the right one for you and your family.
General room facilities: All resort rooms at Mai Chau Ecolodge Resort are fully equipped with facilities from: Telephone, Internet wifi in the lobby, Air conditioning, Hot water heater, Standing bathroom, Slippers, Tea/Coffee making facilities, Bathrobes, In-room Wi-Fi Internet, Desk, Hairdryer, Ceiling fan/Fan, Shower, Refrigerator, Safe, telephone.
At Mai Chau Ecolodge Resort, rooms are divided into the following room categories to suit each guest's choice:
Superior room (from 1,800.00 VND/night)
With a view overlooking the resort's garden, you will easily receive a beautiful scene when you wake up, which is the beauty of dawn in the early morning. Room with luxurious furniture, fitted with a double bed and a private balcony. The bedroom area is 25m2, the capacity is suitable for 2 adults, and is the standard room with the cheapest price in the resort.
Junior Deluxe Room (from VND 2,200,000/night)
Junior Deluxe is a higher room class than Superior room. The area of this room is designed to be larger (45m2), so it is equipped with 1 King size bed (or 2 single beds). The view of the Junior Deluxe room is overlooking the mountain and is fully equipped with amenities, including an open-air bath area and a private terrace. Standard for 2 people/1 room.
Deluxe room (from 2,300,000 VND/night)
Deluxe is similar to Junior Deluxe, with a room area of 45m2, equipped with 1 large bed (King size bed or 1 Queen size bed) suitable for couples. High-class design style, modern but still harmonious and airy and increase the attractiveness for tourists. And especially the room has a view overlooking the rice fields.
Suite room (from 2,700,000 VND/night)
The view of the Suite room covers the entire Mai Chau Ecolodge Resort, with a balcony, open-air bathing area and private terrace. Area 45m2 includes 1 double bed or 2 single beds.
President Room (from 4,000,000 VND/night)
President room has an area of 90m2, including 1 double bed. The room is located in the center of the resort, offering panoramic views of the beautiful Mai Chau Ecolodge. In particular, the President room, in addition to the outdoor swimming pool, also has an in-room bar.
Deluxe family room (from 4,500,000 VND/night)
Deluxe Family room has an area of 80m2, including 1 double bed and two separate beds, suitable for large families. 2 bedrooms are connected and have a view overlooking the vast rice fields.
HOW TO GO TO MAI CHAU ECOLODGE RESORT?
Mai Chau Ecolodge Resort is about 137 km from Hanoi and more than 60 km from Hoa Binh city to the northwest, visitors from the Central or the South can move to Hanoi and then to the resort by different means of transport:
Travel by motorbike or car (about 3-4 and a half hours along the route via highway 08 – Hoa Lac road to Hoa Binh – National Highway 6 – Thung Khe Pass – Tong Dau Intersection – Mai Chau – Na Phon) . Note that when going through the pass bends are quite dangerous, so you need to be careful.

Take a bus (about 4 hours, price ranges from 80,000-200,000 VND)

Use the shuttle service of Mai Chau Ecolodge Resort by private shuttle car (about 3,000,000 VND/car/round trip) or Shuttle Bus (600,000 VND/person/round trip).

Travel by contract taxi (~3-4,000,000 VND/car)
In addition, guests booking rooms at Mai Chau Ecolodge resort can choose the shuttle service that this hotel provides with 2 forms:
Private car shuttle: 3 million / 4-seat car / round trip / 2 days 1 night trip, pick up and drop off at the center of Hanoi. For guests who want to pick up at the airport or another location or have more time to rest, an additional fee is required.
Shuttle Bus: 600,000 VND/person/round trip pick up guests at 8:30 am at hotels in Hanoi Old Quarter, return from Mai Chau Ecolodge at 13:30.
WHEN TO COME TO MAI CHAU?
Mai Chau in each season has its own beauty that is extremely diverse.
Spring from February to April is the ban flower season with a warm climate, mild sunshine and quite pleasant humidity. This is a great time for you to have a spring trip with your family and escape the unpleasant humid weather in the North.
Summer from May to July is a time of many changes in the landscape in Mai Chau. May is the season of golden rice, June is the season to pour water and July is the time when farmers start sowing seeds. This is the time when the children are on summer vacation, the city is in the peak period of heat. Mai Chau is the best place for a summer full of experiences for the whole family.
Autumn from August to October is the most beautiful time to travel to Mai Chau with clear golden autumn sunshine, green rice gradually turning golden. The end of October is the harvest season in Mai Chau with breathtaking scenery.
Winter from November to January next year is the season of white plum blossoms. Northwest mountainous winter is an interesting experience that you should try once in your life.
REVIEW MAI CHAU ECOLODGE RESORT
Relax in a 5-star village in the middle of the beautiful Mai Chau valley
Coming to Mai Chau Ecolodge, visitors can safely put aside all worries to return to the peaceful village, with beautiful Northwest mountains and forests. Every hour at this place will be extremely interesting and meaningful thanks to its own special experiences.
Mai Chau Ecolodge Resort is carefully researched and designed based on the standards of a 4-star resort but adheres to the spirit of an Ecolodge resort.
Each motel and room is an ethnic stilt house that makes the most of natural materials but still ensures full amenities, luxury, modernity and sophistication according to 5-star standards. The thatched roofs, earthen walls, stone walls, wooden utensils, decorative decorations imbued with national cultural identity such as brocade cloth, crossbows, bamboo baskets… create a very simple, unique and cozy feeling.
Cycling in the middle of green fields
Mai Chau Ecolodge Resort provides free bicycles for guests to use. Because the roads around here are very peaceful, you can cycle around the resort or cycle on the roads between the vast rice fields. You can ride a bike while enjoying the peace and comfort that nature brings.
Outdoor swimming pool with a beautiful view
At Mai Chau Ecolodge Resort, there is an outdoor swimming pool, located right in front of the restaurant area, creating an impressive highlight for the resort with an area of ​​about 100m2. The pool system is worked hard by the technical team to always keep the pool water clean. You can just take a relaxing dip in the outdoor infinity pool, sip a glass of wine and immerse yourself in the natural scenery of Hoa Binh mountains. Some premium room types will also have a mini pool for you to enjoy privacy.
Watch traditional Thai dance performance
Mai Chau's unique features are fan dances, cup dances, and umbrella dances; famous dances and folk dances of the Thai ethnic group, the sound of trumpets and flutes. All of them are extremely attractive and attractive to help you have moments of harmony with the customs, culture, art and hospitable people here.
Outdoor campfire activities among the mountains and forests have become a habit for tourists when coming to Lac village.
Experience the market and take part in a cooking class with local dishes
The Cooking Class activity is a special experience for visitors who want to explore Northwest cuisine. With only about 600,000 VND/person, you will be directly guided by Ecolodge restaurant to cook some traditional Thai dishes.
Mai Chau Ecolodge's staff will wholeheartedly take you to the market to choose and buy ingredients, then return to the hotel with you to prepare and cook Northwestern flavors under the guidance of professional chefs.
Experience working in the fields and gardens with local people
Experiencing farm work or gardening is also a very new experience for visitors that only in Mai Chau Ecolodge has. With this activity, visitors can directly uproot, transplant rice, harvest rice in the field with local people or hoe, grow vegetables, water plants, and garden in the resort. Depending on each crop, Ecolodge will choose suitable activities so that visitors can experience and mingle with nature and rustic life in Mai Chau.
Relax at Spa Mai Chau Ecolodge
After a long day of sightseeing in Mai Chau, it's time to relax with traditional massages at Mai Chau Spa Ecolodge. Traditional Thai therapies will help your body relax completely, awaken all senses and be full of energy for a new day.
CUISINE AT MAI CHAU ECOLODGE RESORT
Staying at Ecolodge Mai Chau, guests can choose to eat in the resort's Hoa Lan restaurant or eat out in neighboring villages.
Eat at Mai Chau Ecolodge
Hoa Lan restaurant is located right next to the swimming pool, on the highest land of Ecolodge. The restaurant's 2-storey stilt house was built from the house of a resident who existed more than 100 years ago for renovation.
The first floor is for the reception hall and the bar. The second floor is a dining area that can accommodate 120 guests. Here, visitors can both enjoy the typical dishes of the Thai ethnic group while relaxing watching the beautiful valley view with rice fields, majestic limestone mountains in the distance.
A special highlight at Hoa Lan restaurant is the dishes made from fresh green vegetables and herbs grown in the resort's own garden or food grown by ethnic people in the region with a Northwestern flavor.
Places to eat near Mai Chau Ecolodge resort
If you do not have a main meal at Hoa Lan Restaurant, you can cycle about 1km to Lac village. Here are some famous restaurants for you to choose from such as:
Restaurant 38 at No. 38, Ban Lac 2

3 sisters restaurant in Chieng Sai village

Sunset Bar in Ban Lac
Coming to Mai Chau, you should definitely try the special dishes and drinks here such as lam rice, sour marinated meat, grilled meat, cross occipital salt and can wine. These Northwest flavors will make your village vacation more complete and memorable.
SOME PLACES AROUND MAI CHAU ECOLODGE RESORT
Mai Chau Ecolodge
From Mai Chau Ecolodge Resort, you can move to visit many famous places here such as:
From Mai Chau Ecolodge Resort to Hoa Binh Hydropower Plant is 15 minutes by car 2km from Muong Cultural Space Museum

Tien Phi Cave

Bich Tru village is about 3 km from Mai Chau Ecolodge
Moreover, you can visit Pu Luong, a must visit destination that is very near from Mai Chau, click here to get more details about Pu Luong – Mai Chau Tour.
Keyword looking more : mai chau, pu luong, hoa binh, pu luong excursions, location, update, paradise, evaluation, attractive
See more: