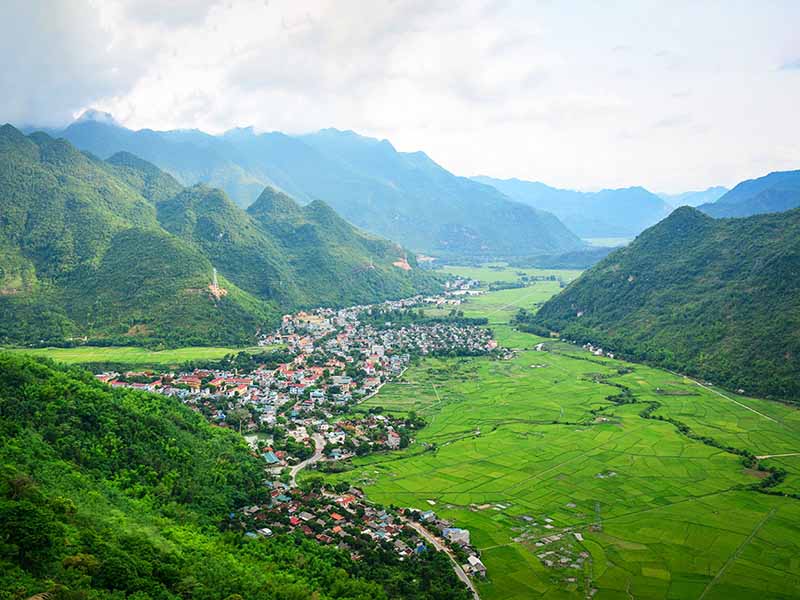 Hanoi Mai Chau Day Trip is a popular excursion for visitors to Vietnam's capital city, Hanoi. This day trip takes you to the tranquil and lush rural area of Mai Chau, which is located about 140 km southwest of Hanoi. The Mai Chau valley is surrounded by rolling hills, rice paddies and stilt houses inhabited by the friendly Thai ethnic minority. This area offers a great contrast to the bustling city life of Hanoi and is a perfect escape for those who seek peace and serenity.
During the Hanoi Mai Chau Day Trip, visitors will have the opportunity to explore the beautiful countryside and interact with the local villagers. You can take a leisurely bike ride through the rice paddies, visit a traditional Thai stilt house, or go on a guided hike to the top of a nearby hill for breathtaking views of the valley. Additionally, visitors can sample delicious traditional Thai cuisine and enjoy traditional dance performances by local villagers in the evening.
The Hanoi Mai Chau Day Trip is a great way to experience the unique cultural and natural beauty of Vietnam. The friendly and welcoming nature of the local Thai people, combined with the stunning scenery, makes this excursion a truly memorable experience. Whether you are interested in nature, culture, or just looking for a relaxing break from the city, the Hanoi Mai Chau Day Trip is definitely worth considering.
Hanoi to Mai Chau day trip
130 kilometers to the west of Hanoi is Mai Chau, a little village hidden away in a lush valley surrounded by emerald-green rice fields. This Mai Chau 1 day tour takes you to the countryside, experiencing beautiful views, and immersing yourself in the wonders of Mai Chau valley. It is designed for individuals with limited time who wish to see the natural beauty and unusual traditions of Vietnam's hill tribes.
Hanoi to Mai Chau day trip itinerary
We will pick you up at 7 am from your hotel in Hanoi and drive to Mai Chau. Visit the Muong tribes, make a scenic photo stop, then continue on to Thung Khe Pass for a breathtaking view of Mai Chau Valley.
Arrive in Mai Chau at 11 a.m, relax, and eat a traditional White Thai meal with a local family. Then, take advantage of your free time to get to know the locals.
On our excursions to the Pom Coong and Na Phon villages, we will ride bikes down a narrow village path in the afternoon, observing terraced rice paddies and small communities. We will also learn about the lifestyle of the Thai ethnic minority while admiring the natural beauty of the valley.
Distance from Ha Noi to Mai Chau
If you want to go on the road from Hanoi to Mai Chau, you must firmly hold the steering wheel to ensure there are no traveling problems. You can choose the primary means of transport are a coach, a private car, a bus to Hoa Binh, or a motorbike. We still regularly recommend tourists ride a motorbike to enjoy the natural beauty of this place fully. However, you need to carefully know about the routes to find the shortest and easiest route.
According to the map, the distance from Hanoi to Hoa Binh is 75 km, but to Mai Chau, you have to go nearly 140 km to reach the village here. The road is not difficult but quite zigzag, and bendy.
Also starting from Hanoi, we have the Hanoi- Pu Luong tour – The ideal getaway from the bustle of the city.
This excursion will take you to the peaceful and unspoiled Pu Luong Nature Reserve. For more detail, click here Hanoi Pu Luong tour.
Famous attractions in Mai Chau
Lac village
Lac village is inhabited by the original Black Thai people up to 700 years old. Lac village is now one of the exciting attractions in Mai Chau because you can both eat and drink to your heart's content. Become a folk girl to take pictures to check in and if you want, you can stay here. Lac village hides behind the misty mist and brings fresh air in a quiet and peaceful space of Hoa Binh mountains and forests. Along the way in Lac village, ethnic families often sell brocade and Mai Chau specialties, you can visit and shop.
Pom Coong village
Pom Coong village is an ideal destination because the atmosphere here is extremely clean, you will be surprised to see how well the culture keeps the hygiene of the people here. Pom Coong village is located next to a fresh and cool stream, the house is built against the mountain, and in front is a vast stretch of rice fields. When you come here, you will feel free to check in because at Pom Coong village there are many beautiful views, you will learn about the culture and lifestyle of the people here to see the difference compared to the plain.
Pa Co fair market
Pa Co market is a gathering place for H'Mong people on Sundays and weekends. If you travel to Mai Chau at the weekend, you can visit Pa Co on Sunday to know what a highland market is like. This is not only a place to trade agricultural products, daily life items, electronics, pets, and fabrics … but also a place for exchanges of H'Mong people in this highland land.
Notes when going on a Hanoi to Mai Chau day trip
If you drive:
Even if it is a suburban road, you should also adhere to the maximum speed because on the way there are many cases of vehicles encroaching on the lane, overtaking carelessly, if not controlling the speed will easily lead to an unfortunate accident.
In addition, on the way to Mai Chau, you will pass through towns in the districts: Luong Son, Ky Son, Cao Phong, and Tan Lac. There are also regular traffic police stations here, so you should pay attention to obeying the law to avoid fines.
This seemingly simple thing is not simple when you come to the bends, if you go too fast or do not pay attention, it will encroach into the lane of the oncoming vehicle, which is most likely to be dangerous, especially in the sharp turns of the Cun slope. Thung Khe Pass.
Always honk your horn when entering a tight corner, out of sight
A mistake you often make is not to honk at the corners where the view is blocked, if you honk the horn, it will help the vehicle traveling in the opposite direction know that there is an oncoming vehicle, avoiding traffic accidents.
If you travel by tour:
Choosing reputable tour sales channels or reputable travel agents

Choosing the tour that suits the needs of yourself and your family: price, location, and time. Etc.

From Mai Chau to Pu Luong is very fast and convenient, so you can consider the Mai Chau- Pu Luong tour to have more experience about the beauty of the northern mountainous.
If you are interested in the Pu Luong- Mai Chau tour, click here Pu Luong Mai Chau tour to read more about our itinerary.
See more: