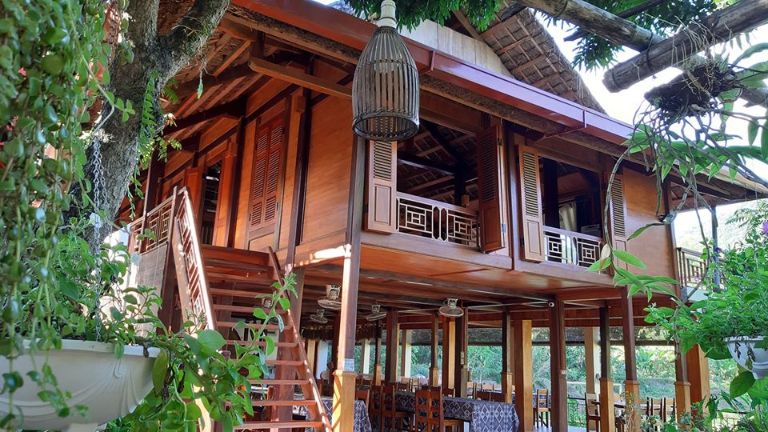 Mai Chau Dreams Homestay is a luxurious and serene accommodation option located in the picturesque Mai Chau Valley, Vietnam. This homestay offers a peaceful escape from the busy city life and provides guests with an opportunity to immerse themselves in the stunning natural beauty of the region. The homestay features spacious and well-appointed rooms, each of which is decorated in traditional Vietnamese style and equipped with all the modern amenities necessary for a comfortable stay. Guests can enjoy scenic views of the surrounding valley and mountains from the comfort of their private balconies or terraces.
At Mai Chau Dreams Homestay, guests can participate in a variety of outdoor activities including trekking, cycling, and visiting nearby ethnic minority villages. The homestay also provides a range of cultural experiences, including cooking classes and traditional dance performances, allowing guests to gain a deeper understanding of local life and culture. The on-site restaurant serves a delicious selection of local and international cuisine, using fresh and locally sourced ingredients.
Whether you are looking for a romantic getaway, a family vacation, or a solo adventure, Mai Chau Dreams Homestay is the perfect destination. With its tranquil surroundings, comfortable accommodation, and friendly staff, this homestay promises a truly unforgettable experience in the heart of Vietnam's Mai Chau Valley. Book your stay at Mai Chau Dreams Homestay today and prepare to be transported to a world of relaxation, culture, and natural beauty.
Overview about M
ai Chau Dreams homestay
Mai Chau Dreams homestay is situated at 40, Poom Coong, Mai Chau, Hoa Binh. This is the ideal place for tourists to stay with the design of a stylized 5-room stilt house, a solid wooden house. Besides, the homestay also has a large balcony, airy lake view and private garden. Especially, when you come here, you will be able to play with the Koi fish in the lake. At night, the space looks like a dream, more romantic with shimmering lights. If you are tired of the hustle and bustle, visit Mai Chau to find a peaceful corner.
Room types of Mai Chau Dreams homestay
At Mai Chau Dream homestay, you have many accommodation options. Homestay offers both separate rooms and dormitory rooms on stilts. The rooms overlooking the garden and rice fields will give you the most complete rest and relaxation time.
The room rate will depend on factors such as how long your stay, how many rooms are booked, additional service, etc. The price included:
Free breakfast

Free parking

Complimentary welcome drink and water in the room

Free to use other services as prescribed
Deluxe room of Mai Chau Dreams homestay
The Deluxe room is 20 square meters wide. You can choose 1 king size bed or 2 single beds depending on your needs. Besides, the homestay also has a large balcony so you can admire the beauty of Mai Chau nature.
Deluxe extra room of Mai Chau Dreams homestay
At homestay, Deluxe extra room is the perfect choice for a family. With an area of 20 square meters, we provide 1 single bed, 1 double bed and a large balcony facing the field.
Stilt house of Mai Chau Dreams homestay
Homestay has a stilt house for visitors who want to experience the life and local culture of the Thai people. Each person is provided with a futon, and the house on stilts has a common living area.
Facilities and services of Mai Chau Dreams homestay
Facilities
High speed internet (wifi)

Parking area (surcharge)

Outdoor play area for kids

Coffee shop (on the homestay premises)

Bar (snacks)

Restaurant

BBQ party tools (surcharge)

Kitchen area

Smoking allowed area

Meeting/banquet facilities
Services
Airport shuttle service (surcharge)

Shuttle service (surcharge)

24-hour front desk service

Concierge service

Luggage storage service

Currency exchange

Daily cleaning

Laundry service (surcharge)
Some note when choosing Mai Chau Dreams homestay as your accommodation
If you do not have experience riding the mountain pass in the evening, you should not run after 7:00 pm.

You should prepare all necessary personal amenities such as toothbrush, face towel, toiletries… and some kind of medicines.

If you want to visit a Thai house, you need to get the host's permission.

You should prepare neat and convenient clothes for moving. Mai Chau is often foggy at night and at night, so it's cold, so if you go in the summer, you should also bring a long-sleeved shirt.
See more: Pu luong Viet Nam
Exploring attractions nearby Mai Chau Dreams homestay
Pom Coong Village
Pom Coong village is the residence of the Thai people, this is also a famous village near Mai Chau Family homestay. Pom Coong village is located not far from Lac village. In Thai, Pom means hill, Coong means drum, Pom Coong means village of hills lying on a big drum. Not as famous as Lac village, but Pom Coong is still very peaceful and attracts tourists.
Lac village
Lac village is the most beautiful version of Mai Chau. In this village, you can discover the cultural identity of the white Thai people and admire the beauty of green rice fields, traditional stilt houses, brocade products or handmade souvenirs.
Chieu Cave
One of the beautiful places of Mai Chau that you must visit is Chieu Cave. From Mai Chau town, you have to conquer 1200 stone steps to reach the cave. Located on the top of Pu Kha limestone mountain, Chieu cave is most beautiful in the afternoon, when the sun crept up to brighten up the stalactites.
Thung Khe Pass
Going to Thung Khe Pass, you can admire the beautiful scenery of Mai Chau from above. Mai Chau valley is like a picture with green fields and houses on stilts in the distance. Thung Khe Pass each season has a different beauty with the color of the rice fields below and the special white stone color.
Mai Chau flagpole
From the flagpole, you can have a panoramic view of Mai Chau valley with white clouds hovering over the mountainside. This is an ideal place to take beautiful photos of Mai Chau valley with four colorful seasons.
Must see tourist attractions in Mai Chau!
See more: