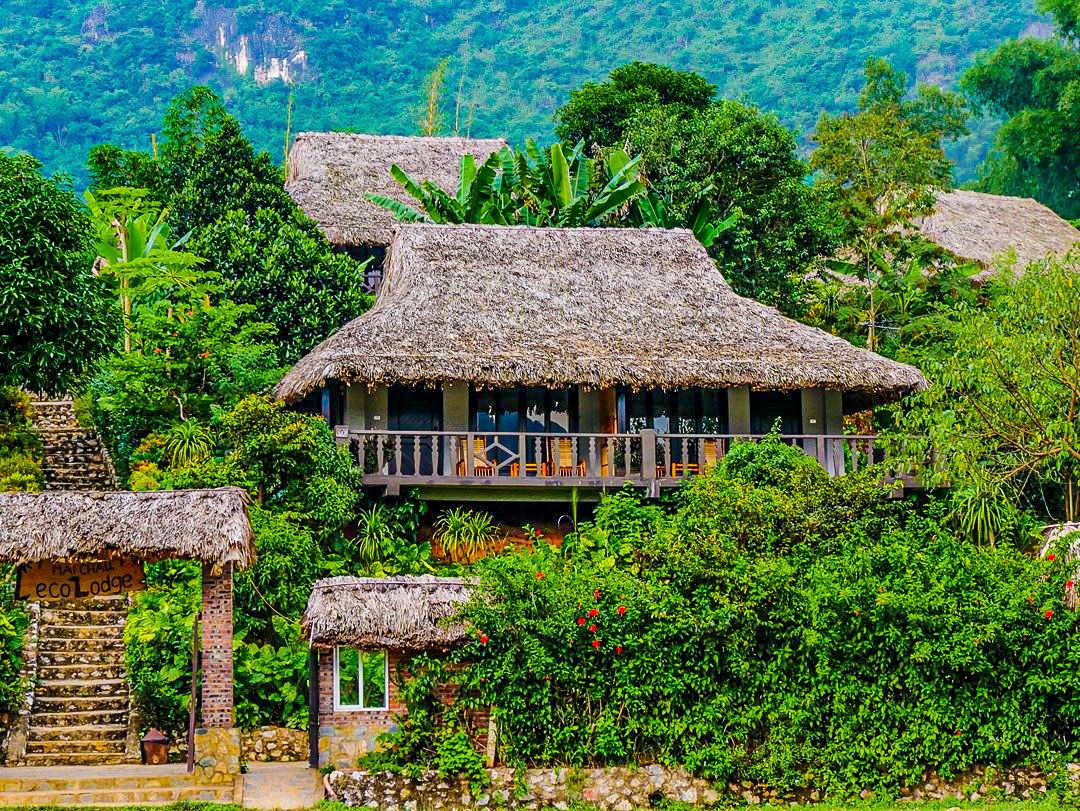 Mai Chau Ecolodge is a eco-friendly accommodation located in the stunning Mai Chau Valley of Vietnam. This lodge offers guests a unique and immersive experience in the heart of nature, surrounded by rolling hills and lush greenery. The lodge features comfortable rooms, all of which are built using locally-sourced materials and decorated in traditional Vietnamese style. Guests can enjoy scenic views of the valley from the private balconies or terraces of their rooms.
At Mai Chau Ecolodge, guests can participate in a range of activities including trekking, cycling, and visiting nearby ethnic minority villages. The lodge also provides cultural experiences such as cooking classes and traditional dance performances, allowing guests to gain a deeper understanding of local life and culture. The on-site restaurant serves delicious, locally-sourced cuisine, showcasing the best of Vietnamese cuisine.
Whether you are looking for a romantic getaway, a family vacation, or a solo adventure, Mai Chau Ecolodge is the perfect destination for those seeking a peaceful and eco-friendly experience in the heart of Mai Chau Valley. Book your stay at Mai Chau Ecolodge today and discover the beauty and tranquility of this stunning region of Vietnam.
Overview about Mai Chau Ecolodge
Mai Chau Ecolodge is located at Bai Sang pier, about 1km from the center of Mai Chau town, Hoa Binh. This is one of the high class eco-resorts with a view overlooking the majestic mountains of Hoa Binh.
With professional service and peaceful scenery in the Northwest mountains, Mai Chau Ecolodge Resort is currently one of the top rated Hoa Binh Resorts with visitors.
Room types of Mai Chau Ecolodge
Mai Chau Ecolodge resort has a total of 43 rooms. The rooms here use the main materials that are typical of the stilt houses of the Thai ethnic group. Besides the traditional features, the resort also combines modern elements such as Luxury Bedding, Private Balcony, Wooden Bathtub, Outdoor Shower to bring the best experience for guests.
Superior Room
Mai Chau Ecolodge has six Superior rooms, located on the westside of the resort .With 25 square meters space and a king size bed in the middle of the room, we promise to offer bright and homely accommodation for guests.
Junior Deluxe Room
The Junior Deluxe Room is 40 square meters, located in the southeast of Mai Chau Ecolodge. Each room has a window overlooking the beautiful mountain scenery in front, bringing you closer to Mai Chau's nature.
Deluxe Room of Mai Chau Ecolodge
At the resort, the Deluxe room is 40 square meters wide with one king size bed or two single beds. The furniture in the room is mainly made of wood, bringing a rustic, natural look and completely relaxing for guests.
Premium Suite Room
Inspired by an ancient Thai village, Mai Chau Ecolodge has 06 high class Suite rooms with decorative features of Thai stilt house culture. Each suite is 40 square meters, built in a traditional architectural style, using local materials such as bamboo, wood. Especially in each room, there is an additional small swimming pool for children, such an ideal place for families to stay.
Presidential room
The presidential suite at Mai Chau Ecolodge is 80 square meters wide. You will enjoy the difference of the room with its own space, its own bar. From the room, you can enjoy a panoramic view of the valley – an exclusive view only available in the presidential suite.
Connecting family room at Mai Chau Ecolodge
Family room (connecting room) consists of two 80 square meters connecting bedrooms with 01 connecting door in the middle of 02 rooms, two bathrooms with bathtub facing the garden, ceiling shower and separate toilet. Guests can relax outdoors on rustic bamboo chairs and enjoy nature under the shade of green trees.
Reference price list of Mai Chau Ecolodge
The price included tax and service charge.
Room type

Price

(VND/night)

Superior Room

from 1,800,000

Junior Deluxe Room

from 2,200,000

Deluxe Room

from 2,300,000

Presidential

 from 4,000,000

Connecting family room

from 4,500,000
Suggest some beautiful hotel in Mai Chau!: Pu Luong – Mai Chau Tour

Facilities and services of Mai Chau Ecolodge
Facilities of Mai Chau Ecolodge
Wifi in public areas

Steam room

Outdoor swimming pool, children's pool

Coffee shop

Restaurant

Safety box

Conference room
Services of Mai Chau Ecolodge
24 hour front desk

Housekeeping service

Laundry service

Tour booking support service

Luggage storage service

Massage

Spa services
Exploring attractions nearby Mai Chau Ecolodge
Thung Khe Pass
Going to Thung Khe Pass, you can admire the beautiful scenery of Mai Chau from above. Mai Chau valley is like a picture with green fields and houses on stilts in the distance. Thung Khe Pass each season has a different beauty with the color of the rice fields below and the special white stone color.
Mai Chau flagpole
From the flagpole, you can have a panoramic view of Mai Chau valley with white clouds hovering over the mountainside. This is an ideal place to take beautiful photos of Mai Chau valley with four colorful seasons.
Lac village
Lac village is the most beautiful version of Mai Chau. In this village, you can discover the cultural identity of the white Thai people and admire the beauty of green rice fields, traditional stilt houses, brocade products or handmade souvenirs.
See more: Pu Luong – Mai Chau combined tour
Some note when choosing Mai Chau Ecolodge as your accommodation
You should prepare all necessary personal amenities such as toothbrush, face towel, toiletries… and some kind of medicines.

If you want to visit a Thai house, you need to get the host's permission.

You should prepare neat and convenient clothes for moving. Mai Chau is often foggy at night and at night, so it's cold, so if you go in the summer, you should also bring a long-sleeved shirt.

If you do not have experience riding the mountain pass in the evening, you should not run after 7:00 pm.
See more: