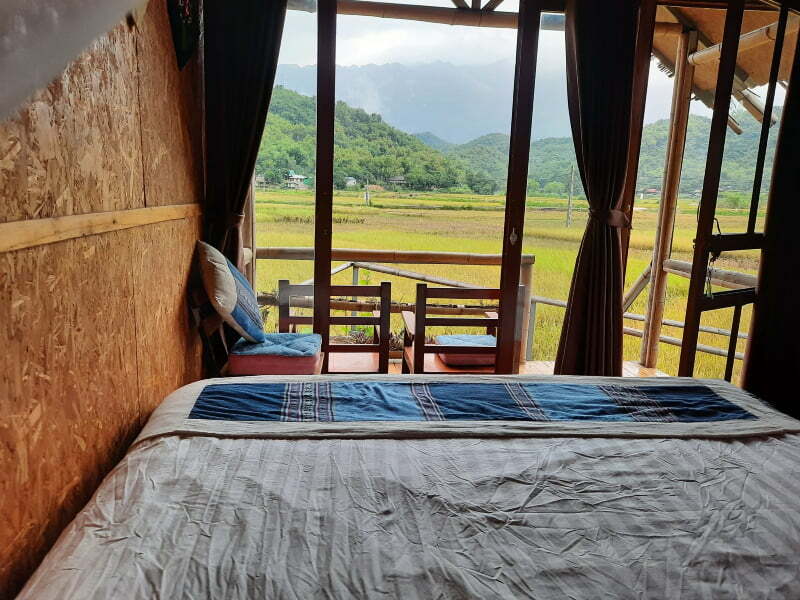 Mai Chau, located in the charming Northwest region of Hoa Binh province, is a popular tourist destination due to its beautiful scenery. If you choose Mai Chau as your upcoming destination, you will not be disappointed with Little Mai Chau as your resting place. Welcome to Little Mai Chau – A place that brings you peace of mind.
REVIEW LITTLE MAI CHAU HOMESTAY
Little Mai Chau Homestay located in a peaceful village in Na Phon hamlet, Na Phon commune, Mai Chau district, Hoa Binh province. This is also a convenient location for transportation when it is located near Highway 15.
Little Mai Chau Homestay is renowned for its rustic beauty, idyllic with nature, in front of the immense rice fields and behind the majestic mountains. Little Mai Chau Homestay is like being surrounded and sheltered in the tranquil green of nature. 
From a distance, Little Mai Chau Homestay looks like a poetic scene coming out of poems about the Northwest – a simple, gentle and strangely peaceful beauty.
Visitors will undoubtedly enjoy the simple thatched stilt houses hidden in the pristine but warm natural scenery of the Northwest mountains and forests.
See more: Pu Luong Travel Guide 2023
TYPE OF ROOM IN LITTLE MAI CHAU HOMESTAY 
Based on the magnificent scenery of the Northwest mountains, Little Mai Chau Homestay was designed and constructed with a focus on a space that is close to nature. The architecture of the homestay is inspired by stilted wooden cottages. The main sources of raw materials are bamboo, cork, and wood.
The spacious and open space in an open style with a system of doors and windows and fully furnished, modern and creatively decorated furniture will surely bring great resort experiences to visitors.
The homestay will have rooms suitable for different needs depending on the purpose of use and the number of vacationers. The information about the rooms at Little Mai Chau Homestay is provided below.
Family room at Little Mai Chau Homestay
With a view towards the mountain, the room is always filled with natural light and cool breeze from outside. The main design of the entire space context is wood, with open space facing the balcony and overlooking the mountain.
The room consists of 2 large double beds with a neatly tied white curtain system to create a spacious and delicate space. Fully equipped self-contained room ideal for a small family or group of friends.
Double room with mountain view at Little Mai Chau Homestay
Designed with a cozy and private space, the room includes a double bed suitable for a couple or a couple. The layout, decorated in a minimalist style, combines modernity with the beauty of the mountainous people's ethnic culture, creating a feeling that is both new and comfortable.
Furthermore, with a view of the mountain, visitors can relax and enjoy the charming and peaceful mountain scenery of the Northwest, complete with vast rice fields. Every couple's trip to Little Mai Chau Homestay will be an exciting experience.
Dormitory room at Little Mai Chau Homestay
This is a brand-new homestay service that is ideal for curious travelers who enjoy interacting with and learning about new people. The room includes a single bed system with full basic amenities.
The room is spacious in stilt house style, with a curtain system arranged around the room, white cushions and pillows, and neatly arranged brocade blankets. This can be considered as a new experience that visitors can choose. 
Deluxe Bungalow at Little Mai Chau Homestay
The inspiration throughout the design of Little Mai Chau Homestay is the ethnic style of the mountains. The space is simple, not too fussy but brings a sense of peace and warmth.
With a private space, with a private balcony and stairs, guests can comfortably admire the natural scenery outside.
Furthermore, the room's door system is designed right next to the bed, creating a cool and airy feeling when sleeping as well as relaxing in a private space surrounded by mountain nature.
REFERENCE ROOM PRICE LIST IN LITTLE MAI CHAU HOMESTAY
Room with 1 double bed with mountain view: 350,000 VND/pax.

Room with 2 single beds with mountain view: 450,000 VND/2 pax.

Room with 1 double bed + 1 single with field view: 700,000/3 guests.

Room with 2 double beds with field view: 900,000 VND / 4 pax.
However, Room rates of Little Mai Chau Homestay often change according to actual conditions, so you can contact Little Mai Chau Homestay for more details and to book a room.
SERVICE AND FACILITIES IN LITTLE MAI CHAU HOMESTAY
At Little Mai Chau Homestay, in addition to the basic services include Wifi free, Room service, Airport Shuttle Bus, Non-smoking rooms, 24-hour front desk, parking lot, full amenities in room, etc. The following are special services that you should experience when coming to Little Mai Chau Homestay
Dining area at Little Mai Chau Homestay
Perhaps coming to the Northwest is coming to the traditional and rustic dishes here, especially the kitchen meat. When you visit the Little Mai Chau Homestay restaurant, you will be able to sample a variety of Northwest dishes made from fresh and clean local ingredients.
To provide the most rustic experience, closest to Northwest culture, the Little Mai Chau Homestay dining room space is also very simple, rustic but always comfortable, especially with a variety of delicious, strange and very delicious dishes, suitable for parties or gatherings.
Outdoor BBQ at Little Mai Chau Homestay
With the advantage of being located right next to the vast rice fields, with a cool breeze every afternoon, it is very suitable for enjoying barbecue directly outdoors.
Little Mai Chau Homestay provides a full range of grilling tools, guests can freely grill food with the right amount for each serving. It will also be an interesting experience to eat the grilled dishes directly in nature, next to the fragrant ripe rice fields blowing in the afternoon breeze.
Bicycle rental service at Little Mai Chau Homestay
The Northwest mountains have the charming and idyllic natural scenery of small winding roads, small stilt houses lying undulating at the foot of the mountain, and golden fields in the new sunlight.
That is why the car rental service in Little Mai Chau Homestay was created. Visitors will ride their bikes down the small road, taking in the peaceful village scenery and breathing in the rare fresh air. It was a very soothing and comforting sensation.
PLACES TO VISIT AROUND LITTLE MAI CHAU HOMESTAY
Around Little Mai Chau Homestay, there are many places to visit, travel and take photos for visitors such as: Ban Nhut is 1.2 kilometers from Little Mai Chau Homestay, Mai Chau Happy Garden is 2 kilometers away, Ban Lac is 2.2 km from, Mai Chau Market is 2.6 km far, Phai Pheo is 2.9 kilometers away or Hang Chieu National Monument is only 3.3 km from Little Mai Chau Homestay. 
Besides, Pu Luong is one of the famous destinations very near from Little Mai Chau Homestay that you can not miss. For more details about the Pu Luong tour, click here. 
SOME NOTIFICATION WHEN CHOOSING LITTLE MAI CHAU HOMESTAY
On peak occasions such as Holidays, New Year's Day or summer vacation, you should book a room before your trip to avoid having no rooms available when you arrive. Room rates will change often, you should contact them in advance for advice before booking. 
See more: