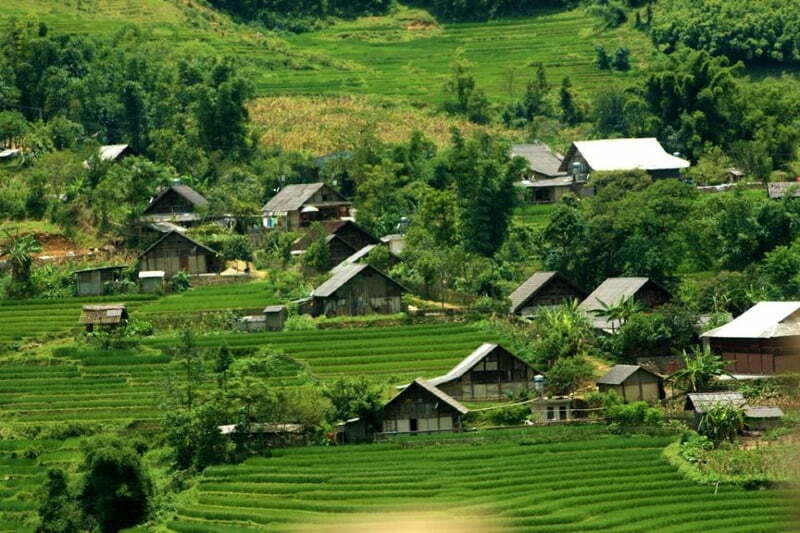 Mai Chau Hoa Binh is one of the destinations that attracts a large number of tourists, especially young people who love to move and explore new lands around the Hanoi capital area. Let's learn about some experiences of traveling by motorbike when going on the Hanoi – Mai Chau tour below.
TRAVEL TO HANOI FROM MAI CHAU BY MOTORBIKE
Mai Chau is famous for its beautiful villages – the top attractive community cultural tourist destination in the Northwest. Mai Chau is also a dream destination with vast rice valleys, rolling mountains surrounding villages, calm streams or mysterious caves waiting for visitors to explore. Mai Chau is the gateway to the Northwest with the typical beauty of the Northern mountainous countryside attracting a large number of Vietnamese tourists and international friends.
It would be interesting experience if you could go on a motorbike trip in Hanoi – Mai Chau trip with a distance that is not too far away (about 135 km) to be able to see firsthand the beauty on the road from Hanoi to Mai Chau and also immerse yourself in the breathtaking scenery of nature and the peaceful atmosphere of Mai Chau villages.
From the city center of Hanoi, take Thang Long Boulevard in the direction of Hoa Lac, and at the end of Thang Long Boulevard, turn left onto Hoa Lac Hoa Binh – DT446. You will travel along road 6 and pass the world-famous Thung Khe – White Stone pass. This road is difficult to travel because it is a steep and sharp pass, so if the weather is cloudy, you should move slowly and carefully to avoid it being dangerous. The majority of backpackers who come here stop to take photos to check in and see the very beautiful photos.
Continue on Highway 6 through forests, hills, and mountains to the Tong Dau junction, where you will turn left onto Highway 15 and continue straight to Mai Chau town. Mai Chau town is very close to famous tourist attractions such as Hang Chieu national monument, Lac village, so it is very convenient for you to visit and explore Mai Chau.
Besides, if you have a chance, you can go to Pu Luong, one of the must-visit destinations very near Mai Chau that you can not miss. For more details about the Pu Luong motorbike tour, click here.
HANOI – MAI CHAU MOTORBIKE DAY TRIP 
ITINERARY
After a fantastic breakfast has given you the energy you need, you will start out early in the morning in the direction of Mai Chau. Various view locations along the major road will present wonderful photo opportunities. The road is in pretty good condition, making biking relatively simple. After an hour, you will reach the valley.
Visit the nearby villages, observe the farmers at work in the fields, and gain knowledge of the traditional sewing technique. You can also purchase some handmade goods in one of the Ban Lac village shops.
Start a walk through more remote rice fields after a local lunch in the tranquil atmosphere of Mai Chau. It is easy to trek to the Mo Luong cave for visitors who want to have a glimpse of the valley. Even if the cave itself is not particularly interesting, the view from the top is fascinating.
With a motorcycle, you'll have more flexibility to go through the valley and more time to explore places like Pom Coong or Van Village.
SOME MUST – VISIT PLACES IN 
HANOI – MAI CHAU MOTORBIKE DAY TRIP
Thung Khe Pass
The majestic pass is located across the mountain range connecting two localities of Hoa Binh province, Tan Lac and Mai Chau districts. The pass is famous for its natural scenery of four seasons in one day. Moving on the pass in the direction from Tan Lac down, visitors can fully see the dreamy natural scenery of Mai Chau Hoa Binh.
Mai Chau flagpole
From the position of the Mai Chau Flagpole, visitors can zoom their eyes downward to capture the full beautiful and immense image of Mai Chau mountains and forests, far away are the villages of the people hidden in the mist. . You can also pose and take a lot of quality photos of yourself with a background filled with pride and national pride.
See more: Hanoi Mai Chau Tour

Lac Village
Located deep inside the valley, Lac Mai Chau Village is where visitors can discover a miniature Mai Chau.
Lac village stands out with its unspoiled and peaceful natural scenery, surrounded by rolling mountains, lush bamboo groves, immense rice fields and even houses on wooden stilts lying side by side. Visiting Lac village, visitors can discover the typical living and production culture of the people here. You can go to the stream to catch fish, go to the fields to break corn, weave brocade or prepare the specialties of Mai Chau people yourself.
Pa Co fair market
The market was formed a long time ago, meeting every Sunday every week. This is the place where people from all ethnic groups in the Mai Chau area come to meet, exchange and buy goods.
Wandering around the market, you can easily come across typical items of Mai Chau Hoa Binh land from agricultural products, livestock, traditional brocade, agricultural tools to electronic items, machinery, etc are imported from the lowlands.
SOME NOTIFICATION IN 

HANOI – MAI CHAU MOTORBIKE DAY TRIP

 

From Hanoi to Mai Chau, although the distance is not too far, not too difficult to go like other Northwest tourist destinations, but this will be a long trip, and a difficult trip for those who are not familiar with the winding roads and hills. Before riding your motorcycle from Hanoi to Mai Chau, keep the following points in mind.

See more: Hanoi to Mai Chau Day Trip: Explore Rural Vietnam
Motorbike maintenance
Before your Hanoi – Mai Chau motorbike day trip, you should check and maintain your motorbike so that your "companion" can take you to Mai Chau safely without any vehicle problems along the way. Because there are many dangerous steep passes, you should not ride a scooter. Motorbike with gears and clutches will make your journey safer.
Choose the right time to go to Mai Chau from Hanoi
You should pay attention to the weather forecast, you should not go to Mai Chau on a rainy day or too sunny in the summer because of the dangerous slippery mountain pass. Moreover, bad weather conditions also affect the health of you and your companions. If it rains heavily or is too sunny, you will not be able to fully enjoy the beautiful scenery along the way. Therefore, you must pay attention to the weather conditions before riding a motorcycle from Hanoi to Mai Chau.
Necessary items
Remember to bring sunscreen, raincoat, sunscreen to protect your health and skin from the effects of the weather during your move to Mai Chau and also when you return. In addition, you should also bring some basic medicine and medical supplies such as bandages, cold medicine, digestive medicine, and wind oil just in case.
Outfits
In addition to sunscreen and raincoats, thin coats in the summer and thick coats in the winter are required because Mai Chau is always cold at night, no matter the season. You should also wear flat shoes, sports shoes for walking, and climbing shoes.
Pay attention to your health
You should only go to Mai Chau in a stable health condition. Your good health will also inspire you to take the time to experience Mai Chau's breathtaking scenery and friendly locals.
Keyword more: vietnam, mai chau, puluong, pu luong excursions, trip, taxi, 2day
See more: