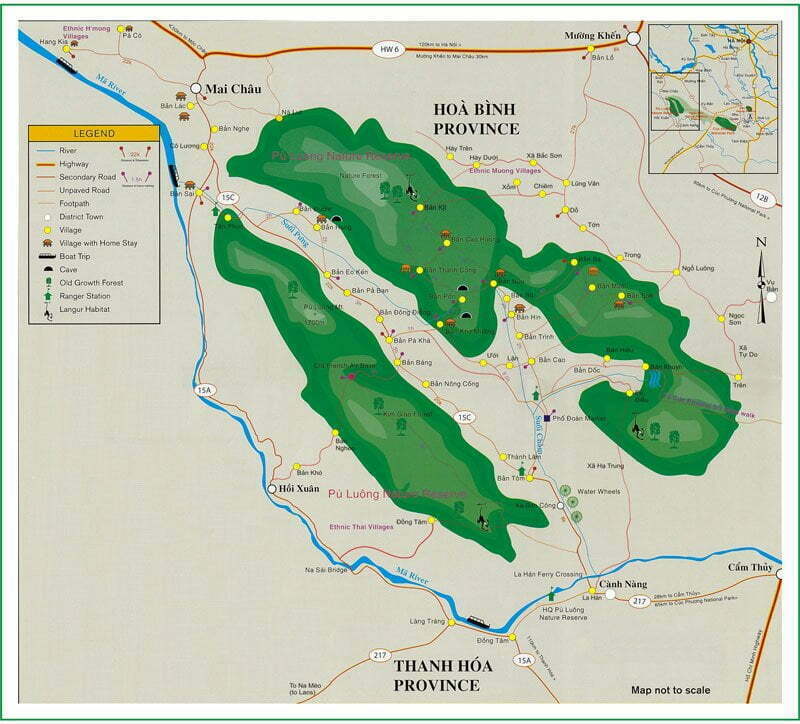 Suggested itinerary in Pu Luong Vietnam
The Pu Luong nature reserve provides the ideal setting for hikers, cyclists, and keen nature enthusiasts. The excursion needs you to be physically fit, but it's not too difficult. However, Mother Nature herself is offering a great reward. 
See more: Pu Luong Travel Guide 2023
Trekking tours in Pu Luong Vietnam
The most enjoyable is probably having time to explore the area and its beauty. There are treks for every skill level, from half-day flat-land treks to multi-day treks connecting villages.
With mountains, forests, rivers, cascades, and terraced rice fields, the scenery of Pu Luong map is breathtaking. Don village, Uoi village, Lan village, Kho Muong village, and Hieu village were among the villages visited. In Hieu village, you can stay in a homestay or an eco-lodge. 
For multi-day treks connecting, the challenger will attempt to hike through the jungle to the top of Pu Luong mountain (1700m).
Cycling tours in Pu Luong 
Another option for visiting the Pu Luong Nature Reserve is to rent a bike. The roads are good, and the land is flat enough in some places for a pleasant ride. It is, for example, very simple to travel from Don village to Hieu village. For the most experienced riders who want to ride on the dirt path, you must either bring your bike from Hanoi (it can be loaded on the bus) or pre-book a customized tour. Then you'll be able to follow a secret dirt path in Pu Luong.
This journey takes you through the Mai Chau valley and to the magnificent Pu Luong ecolodge. The trips will take you through lush green forests, deep valleys, waterfalls, and natural pools. Eo Ken village, Kho Muong village, and Hieu village are among the villages that will be passed through en route. You can meet locals, exchange stories, ask questions, and learn something new.
From Mai Chau to Pu Luong
Mai Châu is a fertile valley where ethnic Thais live in traditional wooden stilt houses.
Unfortunately, there are no tourist or public buses running from Mai Chau to Pu Luong at the moment. Because the distance is only 40 kilometers, the only way to get to Pu Luong from Mai Chau is by private transfer. Prices are reasonable, and we can easily arrange them for you. The trip will last only one hour and will take you along a scenic mountain road with mountain views.
But don't worry, our Pu Luong Excursions will soon start running daily shuttle buses from Mai Chau to Pu Luong. We will keep you informed. 
From Mai Chau, we will travel about 40 km, from provincial road 439, running along National Highway 15 C to Pu Luong.
Few foreign visitors have discovered the natural beauty and friendly local hospitality that make Pù Luông Nature Reserve one of North Vietnam's best-kept secrets. At the homestay, you will learn to cook authentic Vietnamese cuisine and enjoy dinner with the family before falling asleep to the peaceful sounds of the river.
You can find a list of activities in our Pu Luong Travel Guide and let us know what captivates your interest and excites your senses.
Our special adventure tour is also described in our article "Pu Luong motorbike tour" here. Alternatively, you can choose a multi-destination trip and combine a visit to Mai Chau and Pu Luong during your stay.
This article contains more information about our Pu Luong – Mai Chau tour.
We understand that each guest has unique requirements, and our sample tours provide an overview of the many activities and itineraries available in Pu Luong. Please do not hesitate to contact us so that we can collaborate to create your ideal tour. We specialize in tours to Pu Luong and Mai Chau. In addition, if you have any questions about transportation from Hanoi to Pu Luong by shuttle bus or private transfer, we are here to help.
From Ninh Binh to Pu Luong
The bus will pick you up at Tam Coc Marina, Dinh Tien Hoang Square, Ninh Binh City, Van Long Marina, Ninh Binh. The bus departs to Pu Luong in the direction of the safest and most flat Ho Chi Minh trail. The bus will stop for about 15 minutes along the way. Here you can rest and refresh before continuing on to Pu Luong. Bus to Pu Luong and drop you off at hotels Pu Luong Natura, Pu Luong Retreat, Pu Luong Eco Garden and end the trip at the Welcome Gate of Ban Don
However, due to the covid-19, the previous company organizing the shuttle bus to Pu Luong had to stop activities. There are currently only two ways to get from Ninh Binh to Pu Luong. You can take a public bus to Mai Chau and then a private transfer to Pu Luong from there. The bus ride from Ninh Binh to Mai Chau will take approximately 3 hours, plus an additional hour to reach Pu Luong. It is not a very convenient option and is best suited to budget travellers. 
Private transportation to Pu Luong is still the best option. You have control over your schedule, stops along the way, and point pick-up and drop-off. The journey will take approximately 3.5 hours. You can contact us directly if you need a car.
See more: