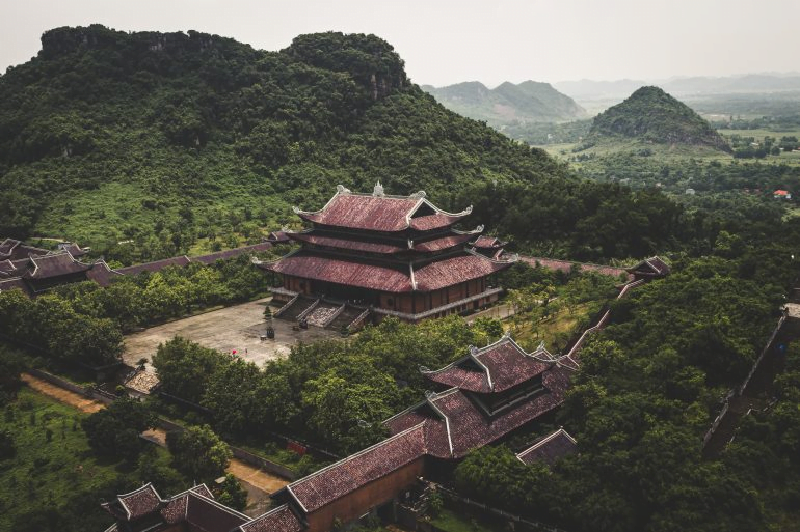 Ninh Binh is a famous tourist destination with charming scenery, many heroic historical sites. Hanoi to Ninh Binh schedule? How far is it from Hanoi to Ninh Binh? how do you go? This is a question that many readers ask today. The following information about the Ninh Binh day trip from Hanoi will help you have an interesting and meaningful trip.
DAY TRIPS FROM HANOI TO NINH BINH – WHAT SHOULD YOU DO IN ONLY ONE DAY TRIP TO NINH BINH?
Ninh Binh tourism combines the river, the caves, the culture, the history, the discovery, and the relaxation. When taking a day trip from Hanoi to Ninh Binh, there are more places to see than you might anticipate.
If you want to go away from a busy city and breathe in some clean, quiet air. Let's start planning your vacation with Hanoi Explore Travel so you can learn more about your 1-day tour of Ninh Binh right away.
TAKE A TRIP AROUND TOURIST DESTINATIONS
Hoa Lu Ancient Capital
When you arrive, you will remain in the Vietnamese capital during Dinh King's (968–980) and Le King's (beginning) reign (980 – 1009). The capital city of Hoa Lu is around 3 km2, and it contains temples, shrines, and the king's palace.
The royal family resides in a crowded urban area. The complex is incredibly tranquil, and you can explore on your own or with the assistance of the free temple guides.
Hoa Lu's ancient capital is encircled by tall limestone mountain ranges that act as a sturdy wall to keep out intruders.
A convenient waterway for commerce and other businesses, the city of Hoang Long is located northwest of the old capital, close to the Hoang Long River. The city is kept cool by the river's prevailing wind throughout the hot summer months.
Tam Coc
Tam Coc is also referred to as Halong Bay on Land (if you've never been there, learn more about Halong Bay). Rock islands and mountains that rise out of the sea make Ha Long Bay unique.
The limestone mountain ranges that extend along both sides of the river in Tam Coc provide for a very distinct landscape.
There are three caverns in Tam Coc: Ca Cave, which is the longest at 127 meters, Middle Cave, which is the second longest at 70 meters, and End Cave, which is the shortest at 40 meters.
There is no better way to explore all the caves than by boat. The boat ride to every cave takes two hours. These boats will glide along the Ngo Dong River, and the breathtaking scenery will make this an experience you won't soon forget! Tickets cost 195,000 VND per person.
Please be aware that if you don't want to get sunburned, you should bring water, a hat, an umbrella, and clothes that protect you from the sun. Perhaps you should pack a lightweight raincoat to protect you from the summertime rain. Bring a lightweight coat in the cold.
Bich Dong Pagoda
The 2 km from Tam Coc depot location, Bich Dong Pagoda, is known as "the emerald cave."
Nguyen Nghiem, the chancellor, gave it its name in 1773. A portion of the Ngo Dong river winds around the mountainside in front of the cave. Just across from the cave is a pasture.
Thai Vi Temple
The Thai Vi temple is located in Van Lam Hamlet, Ninh Hai Commune, and Hoa Lu District. Its location, which delivers perfect harmony through thousands of years and creates Tam Coc as it is today and is also known as "Shallow Ha Long Bay," is on the right of the Ngo Giang river and on the left of the Coi Linh mountain.
When we come here, we may experience the lyrical beauty of the mountains and rivers, but we can also enjoy the exquisite architectural creations that are representative of the region's appealing, unique identity and that were built by ancient people.
Trang An
UNESCO has recognized Trang An as a World Heritage Site. Trang The historic capital of Hoa Lu, Trang An, Tam Coc-Bich Dong, and Hoa Lu the existent forest are three protected sites where you may find picturesque complexes, which are mixed natural and cultural resources.
The Sao Khe River is crossed by the network of limestone caves known as Trang An, which is also recognized as Ninh Binh's most well-liked destination. Majestic limestone mountains surround Trang An, painting a picture of breathtaking beauty.
The process takes 2.5 to 3 hours on a boat with an experienced woman rowing, and the entrance charge is 200,000 VND. At the resort entrance, there is a ticket booth where you must purchase your tickets in person.
Mua Cave
The most striking location is certainly Mua Cave. 500 stairs up the slope at the hill's summit. Although the mountain's top temple is obviously unimpressive, the view of the entire Tam Coc region and the Ngo Dong river from there is truly worth a try, and the rewards will be commensurate with your efforts once you have reached the summit.
It costs 100,000 VND to enter, and the tour lasts roughly two hours. We have no business showing Mua Cave any respect.
Bai Dinh Pagoda
Compared to Mua Cave, Bai Dinh Pagoda is less difficult. Yet it's still a wise decision. You can immerse yourself in Buddhist culture and learn about how this religion influences Vietnamese people at the largest temple in Southeast Asia.
Constructed in 2003 and finished in 2010, it featured a traditional Vietnamese design and specific interior elements sourced from hand-picked regional craft towns.
Cuc Phuong National Park
The oldest national park with a tropical rain forest is Cuc Phuong. This Botanical Garden, which is 45 kilometers from Ninh Binh, is the ideal location for cycling, trekking, and wildlife and plant observation.
You'll also be surprised by the lovely scene that numerous vibrant butterflies have made. Welcome to a place where Mother Nature lives.
Thung Nham Bird Garden
Thung Nham Bird Garden is a tourist destination that represents culture, spirit, a diversified ecosystem, and breathtaking vistas. It is located in Ninh Hai Commune, Hoa Lu District.
Visitors can observe the wetland's environment and roughly 40 distinct bird species, totaling about 50 thousand birds, in their natural habitat.
Van Long Nature Reserve 
Van Long Natural Reserve, which is in Ninh Binh province and is around 80 kilometers from Hanoi, is a very interesting place to visit for a day trip. If you're considering visiting this stunning location, don't miss our tips and experience for completely exploring Van Long below.
Phat Diem Stone Cathedral
The church, also known as Phat Diem Stone Church, is a 22 hectare-sized Catholic religious complex that is situated in Phat Diem town, Kim Son Commune, Ninh Binh province. It is regarded by the press as one of Vietnam's most magnificent churches and is referred to as the "religious city" of Vietnam.
EXPLORING TO NINH BINH FROM HANOI IN A DAY BY THE BEST WAY
Around 93 kilometers separate Ninh Binh City from Hanoi in the south, and since both National Road 1A and the North-South Railway pass there, traffic is incredibly convenient. As a result, you can travel by road and rail to reach Ninh Binh.
By train
Three southbound trains are at least now available (SE5, SE7, SE19). Depending on the type of ticket you select, the price for one seat ranges from 15 to 18 US dollars per person.
Visit the Vietnam Railway website to verify the train information. Around 10 trains go through the station daily from 6 a.m. to 8 p.m., so you may effectively arrive in Ninh Binh city whenever you've planned to do so.
The Hoan Kiem District of Hanoi has a train station at 120 Le Duan Street, whereas Ninh Binh has a station at 1 Hoang Hoa Tham Street. Without any delays, it takes around 2.5 to 2 hours.
You can observe the ever changing view through the train window. There are four different seat types: hard berths (6 berths in a cabin), soft berths (4 berths in a cabin), and hard berths. All carriages and cabins, from Soft Seat type to Soft Berth type, are air-conditioned with the cozy seats/berths.
By bus
Not the best option, but don't completely disregard it. Either online or offline bus ticket booking is convenient and advantageous. You can either purchase the ticket at the bus terminal or online at VeXeRe.com.
Regarding the bus, certain bus companies offer the service of picking you up at an agreed-upon location and dropping you off at another.
You should ask your concierge for further details; they can also assist you in making travel arrangements and setting up pick-up arrangements at predetermined locations close to your hotel.
The bus terminal is where you can board the bus. You have access to 4 stations, depending on your needs, including:
This should be your top option if you're a daring traveler who is compelled to learn about Vietnamese daily life.
Locals typically travel across provinces by bus.
It is more crowded yet less expensive.
You must either share a seat with someone else or prepare yourself for the uncomfortable feeling of sitting on a plastic chair in the middle of the bus. That is a unique and particular experience.
You will pay between 50,000 VND (2.5 US$) and 100,000 VND (5 US$) each person.
Be sure to inquire about the cost before boarding the bus, as some bus drivers may attempt to overcharge a foreign passenger.
By private transport or Motorbike
The best option for your group if you're traveling from Hanoi to Ninh Binh is to book a private vehicle. Even with a small group, it may be quite expensive (under 10 people).
But, if you travel in a big company (more than 15 people), it can be less expensive than using the bus.
The benefit of this method is that it is quicker and more comfortable with a flexible timetable. Indeed, it has several issues that you need to be aware of.
If you wish to share a private vehicle with a group of people in order to reduce costs, you should suggest that they each pick a location from their hotels, focus on that location, and then start the journey. Otherwise, your timetable may be disrupted by late pick-ups from individual hotels.
To avoid fraud, you should carefully inspect the car and the contract. Request a total pricing that includes all costs, such as insurance, fuel, and other expenses. Some organizations may attempt to overcharge you for these costs.
English-speaking drivers are available through several firms, which is a huge benefit for travelers. Keep in mind that limos are more expensive than regular automobiles but are also the most comfortable.
By Limousine D Car
You should take into account all of your options because there are several. The luxurious limousine car is the alternate choice (more money of course more satisfying).
You will pay around 200.000 VND each person or $10.
There are lots of limousine companies to look up. Each of them has a website, and if it doesn't have an English version, you can use Google Translate to examine the information, or you can contact the concierge or a Vietnamese friend for assistance.
On the other hand, if you want to avoid worrying about where to go, what to do, or how to get there, you can select one-day organized trips.
BEST TIME TO VISIT NINH BINH
There isn't really a right or incorrect time to visit Ninh Binh City; it all depends on how you feel when you're in a place with three different weather systems and about 3200 kilometers of coastline.
Ninh Binh experiences the same hot, muggy weather as the rest of north Vietnam from May to October.
Regrettably, there is a strong likelihood of typhoons in September. From above, the weather from November to April appears to be less difficult because it is drier and cooler.
There is no need to consider the optimum time to travel because, during the rainy season, the scenery is so vibrant because the rice fields are at their most vibrant green. The entire year is the best period.
Ninh Binh
HAVE A LOOK AT ITINERARY FOR NINH BINH DAY TRIP FROM HANOI
There are many things to visit in Ninh Binh, and you should plan on spending 3–4 days there. Maybe not everyone will have the time to visit all of these locations. Here are some ideas for a 1-day tour in Ninh Binh.
Temple of King Dinh Le – Nham Valley – Thien Ha Cave
Leave by private car from Hanoi to Ninh Binh around 5:30 or 6:00. After eating breakfast, visitors will begin their one-day trip to Ninh Binh by traveling to the old capital of Hoa Lu to visit the King Dinh-Le temple (Truong Yen commune, Hoa Lu district) and pray for world peace.
9 a.m: Leave for the Nham Valley-Bird Garden in the Hoa Lu district (Ninh Hai commune); it is more than 10 kilometers from the King Dinh-Le Temple. Typically, if you want to get to Nham Valley, you must travel for about 4 km by Tam Coc-Bich Dong Street, cross Nang Valley, and then proceed by boat, motorcycle, or automobile (if you go in the direction of Temple Cave in Tam Coc-Bich Dong ).
Following your arrival in Nhan Valley, you can observe a variety of birds, including storks, cauldrons, le le, common teal, magpies, and starlings. Once your eyes are full, you can go ashore to see gardens, ancient forests, love valleys, and a thousand-year-old banyan tree.
Or, you could keep using a boat to explore additional caverns in the biological community of Nham Valley.
0pm: You travel to Nham Hill for lunch and rest. You can select from a wide variety of well-liked delicacies, including meat, chicken, fish, bitter bamboo shoots, and wild vegetables. Every traditional folk dish is made with ingredients sourced from nearby gardens, rivers, and canals. They taste good and are fresh.
1 p.m.: After eating lunch and taking a break, you start to make your way back to the parking lot in order to visit Thien Ha cave. The 10th-century Hoa Lu capital is protected by thick walls.
You can go fishing, take a boat around the lake, visit these amusement parks or sports fields, or go to a house on stilts to rest and enjoy a small meal before returning to Hanoi.
The schedule for the one-day excursion in Ninh Binh comes to a conclusion at 16:30 or 17:00 when you depart for Hanoi.
Hoa Lu Tam Coc Mua Cave Day Tour from Hanoi
This itinerary will take you to Hoa Lu, an old capital, Tam Coc Cave, and Mua Cave.
Morning: Leave Hanoi at roughly 8:00 am. Your accommodation in the heart of Hanoi's Old Quarter will be picked up by the tour guide. Driving there takes roughly two hours. The first stop is Hoa Lu, an ancient metropolis that has been home to the Dinh and Le dynasties for more than a thousand years. The allotted time to visit this location is between 45 and 60 minutes.
After that, proceed to the restaurant for a nap and lunch. On the drive to the restaurant, you will get the chance to take in the spectacular high mountains, charming rice fields, and tranquil countryside. If you're lucky, you might see herds of cows, goats, or buffaloes grazing on the slopes or next to the road.
After lunch: In the afternoon. You'll travel to the Tam Coc boat station to start your boat tour to explore Tam Coc. I think it was a thrilling experience to take in the river and mountains gorgeous and poetic surroundings.
Bring food and drink with you before getting on the boat; do not purchase water from vendors on other boats as they will overcharge you. To show your appreciation for the rower, who also helped make your trip successful, you should tip them roughly $2 when you conclude the ride.
Afterwards you'll go home to acquire a bike so you can get ready to ride through the tranquil village and past the rice fields.
Following that, you will proceed to Mua cave, where you may take a ton of lovely pictures and enjoy a panoramic view of the Tam Coc and Ngo river. You must ascend 500 steps in order to reach the top. It's a simple hiking trip if you enjoy physical activity.
You will be back at your car and ready to head back to Hanoi after the climb is over.
Hoa Lu Trang An Mua Cave Tour from Hanoi
Morning: Tour the historic center of Hoa Lu and eat lunch.
Afternoon: You will also travel to the following 3 places: Hoa Lu, Trang An, and Mua Cave will have the opportunity to explore the An Giang countryside, spend three hours on a boat, and learn about Trang An's wild and majestic beauty. To obtain stunning photographs and unforgettable experiences, you will travel to the King Kong film studio, one of the locations that gave rise to the name of the Hollywood film Kong – Skull Island.
After that, you'll be able to use a bicycle to explore quiet villages, mountains, and fields. You can ascend Mua Cave's peak at the conclusion of your quest to get back to Hanoi
See more: Pu luong tourism
Trang An Bai Dinh Mua Cave Day Trip from Hanoi
This schedule is the best option for people who are interested in learning about history, culture, and architecture.
Early in the morning, you'll visit Bai Dinh Pagoda, the biggest temple in Southeast Asia and a daring expression of the region's Buddhist culture. You will need to travel up by tram if you want to see the entire temple campus.
You'll go on to the restaurant for lunch once the tour is through.
Visit the Kong king's studio after beginning your tour of Trang An by boat for around three hours then continue your tour by bicycle for another 45 seconds.
You will have the chance to see Mua Cave, which offers a panoramic view of the rice fields along the Ngo river, at the conclusion of the excursion. To reach the top, you must ascend 500 steps.
See more: