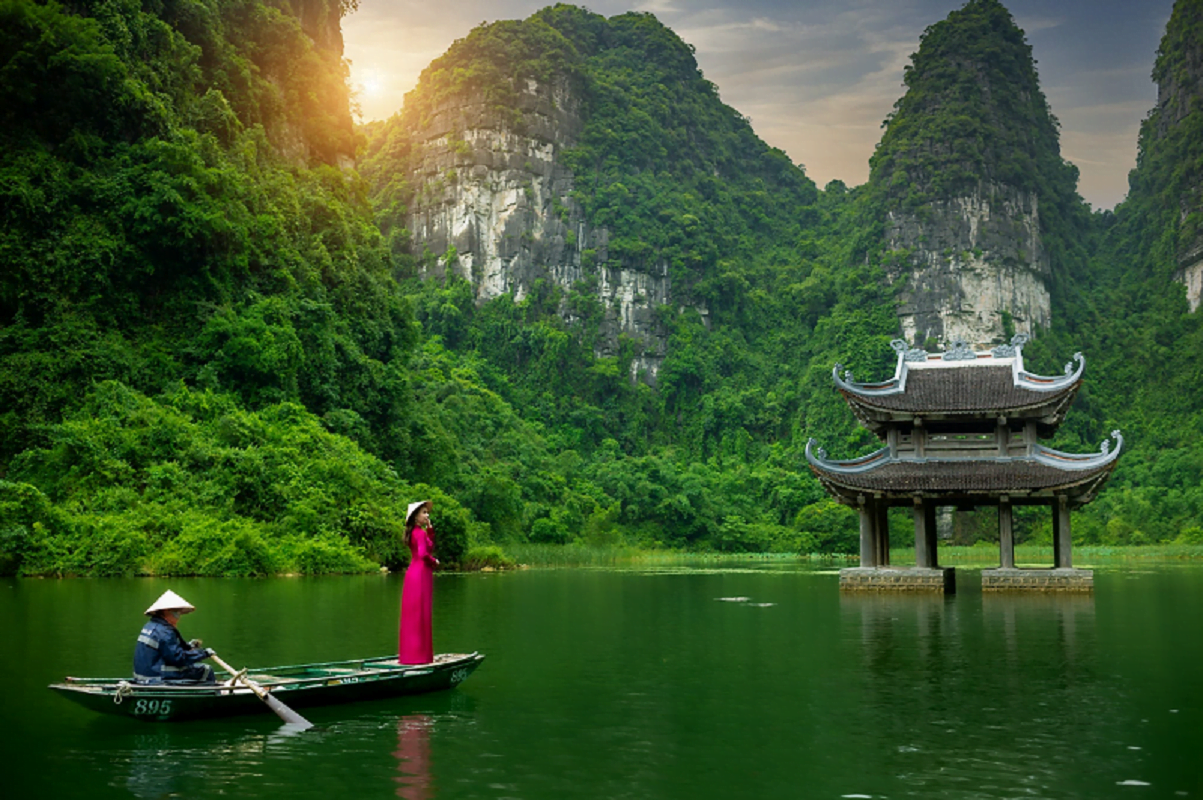 Ninh Binh tour 2 days 1 night is a journey to discover the land of the ancient capital that brings many interesting experiences for tourists who go for a few days and stay near Hanoi. If you are still looking for the answer to where to go, what to eat, and what to play during your trip, read the detailed Ninh Binh 2 days 1 night travel schedule below!
Recommend places for Ninh Binh Itinerary 2 days 1 night tour
Bai Dinh Pagoda is located in Gia Sinh Commune, Gia Vien District, Ninh Binh Province on Bai Dinh Mountain. The Bai Dinh Pagoda complex includes both the ancient and new pagodas. Bai Dinh Pagoda is designed with monumental architecture, a solid traditional identity, and an appealing area for foreign visitors. This is a well-known destination, with the largest pagoda in Southeast Asia.
Trang An is a spectacular landscape of limestone karst peaks permeated with valleys, many of which are partially submerged and surrounded by steep, almost vertical cliffs in Ninh Binh Province. This landscape is also rich in wetland ecosystems, limestone forests, and the ancient Hoa Lu ruins.
See more: Pu luong tourism
Ninh Binh Itinerary for 2 Days 1 Night
Take a boating tour to admire Trang An beauty
There are numerous itinerary options for the trip to Ninh Binh 2 days and 1 night. The most appealing destinations are Bai Dinh Pagoda and Trang An. will make a schedule recommendation for you. Visit Bai Dinh Pagoda for both majestic scenery and spiritual values. This is Vietnam's largest spiritual pagoda and one of the must-see attractions in Ninh Binh. 
When you visit Trang An eco-tourism complex, you will see famous karst mountains unique to VietNam and Asia. This location is referred to as "Ha Long Bay on Land."
Option 1 when to Ninh Binh 2 days 1 night
Day 1: Ha Noi – Bai Dinh Pagoda – Trang An
In the Morning
Travel time from Hanoi to Bai Dinh Pagoda (Ninh Binh) is approximately 2-3 hours. It takes about 1.5 hours to get there if you go in the direction of high-speed Phap Van – Cau Gie – Ninh Binh and then turn to Highway 10, which is only 10 km from the city center – Ninh Binh. 
Bai Dinh is about 15 kilometers away. Some famous tourist sites and beautiful landscapes for tourists to visit and explore Bai Dinh pagoda include Ancient Pagoda (4 km from New Pagoda), Light cave, Dark cave, Holy Nguyen temple, Cao Son temple, and Ngoc well. => It will take you about 2-3 hours to explore these places. 
If you want to save time for other places and your health, you can buy electric car tickets to visit because the temple area is quite large. After you have finished sightseeing at Bai Dinh Pagoda, if you still have time, you should visit King Dinh Temple, which is about 4 km away from Bai Dinh. 
After lunch, take a break for 1-2 hours.
In the afternoon
After a brief rest, you will depart for Trang An Grottoes, where you will spend approximately 3-5 hours sightseeing. Trang An's key locations include Trinh Temple, Tran Temple, Cay Thi Temple… If you want to eat goat meat and rice fire with local flavors in Ninh Binh province, go to Ba Cua restaurant. 
You will then return to Ninh Binh City. and then check into your hotel, eat dinner, and rest. The first two days of the journey in Ninh Binh have come to an end. You can walk around Quarter 8, Co Do Stilt House, eat some special foods at Huong Mai Restaurant, and other restaurants in this small town.
Day 2: Phat Diem stone church – Kenh Ga hot spring – Hanoi
In the morning
It's time to continue your journey through your 2 Days Ninh Binh Itinerary. Ninh Binh to Phat Diem stone church is 28 kilometers away. You will leave after eating breakfast. It will take you 2-5 hours to take photos and visit Phat Diem Stone Cathedral.
Have lunch near the stone church or return to Ninh Binh.
In the afternoon
Tourists depart from Kenh Ga (25 kilometers away in the north of Ninh Binh, about 30-45 minutes), where you can enjoy hot springs. Moving takes approximately 5 hours. The entrance fee is 15.000 vnd per person, and the bathing fee is 170.000 vnd per person. 
Ninh Binh Itinerary 2 Days Tour, you can also replace the second day with a visit to Cuc Phuong National Park or Thung Nham Bird Garden, Van Long Swamp. These are also excellent vacation spots. Because the hot mineral springs in Kenh Ga and the Van Long Swamp are so close, it is more convenient to combine the two.
Option 2 for Ninh Binh 2 days 1 night tour
Day 1: Hanoi – Phat Diem Cathedral – Thien Ha Galaxy Cave
Visit Phat Diem Stone Cathedral and eat lunch there straight from Hanoi. After spending the afternoon in Thien Ha Cave, return to Ninh Binh in the evening, get a hotel room, and sample some local cuisine.
Day 2: Trang An Grottoes – Hoa Lu Ancient Capital – Bai Dinh Pagoda – Hanoi
Visit Trang An Landscape Complex from Ninh Binh City and take a boat trip to soak in the breathtaking views. After that, proceed to the capital of Hoa Lu to see the King Dinh and King Le temples. 
Bai Dinh Pagoda should be your last stop before traveling back to Hanoi. This recently constructed pagoda holds a number of incredible records.
How much for Ninh Binh Itinerary 2 days and 1 night?
When you select independent travel in Ninh Binh, you can go wherever you want. However, everything related to your trip—including the modes of transportation, the locations, the cost of the tickets, the accommodation, and the meals—must be arranged on your own. 
In contrast, if you purchase a vacation to Ninh Binh for 2 days and 1 night from Hanoi, the tour operator will look after all of your travel, sightseeing, and dining needs for you. The fact that you won't be active on time is a drawback.
Are you wondering whether you should choose a self-travel or a tour to Ninh Binh 2 days and 1 night?
There are numerous reputable tour companies offering 2-day, 1-night tours while you're in Hanoi. Alternatively, you can view all of the tours we provide in Ninh Binh on our live website to get the best itinerary and price for your trip.
See more: