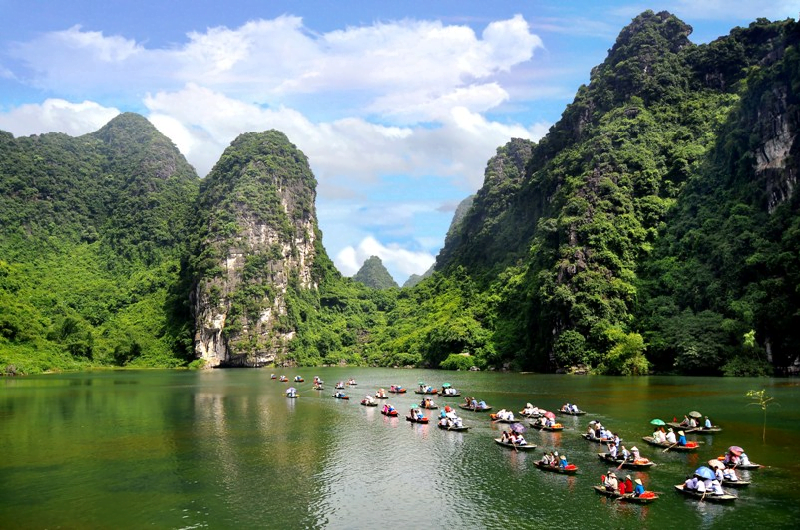 Located not too far from Hanoi, Ninh Binh is known as a beautiful tourist destination that always attracts tourists from all over the world. If you are in Hanoi and need to plan an upcoming trip from Hanoi to Ninh Binh by limousine bus, please refer to the article sharing the experience of booking a bus from Hanoi to Ninh Binh below, you will be answered. Get all the necessary information to book the most prestigious bus company.
Pickup spots in Hanoi – Phap Van highway – Cau Gie – Ninh Bình Hoa Lu ancient capital – Bai Dinh pagoda – Trang An – Tam Coc and other locations as requested by individual travelers.
As a result, it will take 1.5 to 2 hours to go by limousine the 95 miles between Hanoi and Ninh Binh.
THE HIGH-QUALITY CAR OPERATORS LIMOUSINE BUS HANOI TO NINH BINH
There are several various modes of transportation you can use to travel to Ninh Binh. A lot of people are currently choosing the luxurious 9-seat limousine in particular because of how convenient it is and how well the price matches the level of service. Similarly, the cost of the trip from Hanoi to Ninh Binh will range between 150,000 and 200,000 VND, with some areas of the airport and the suburbs offering free transportation.
The Limousine line's potential to pick up from numerous areas in the city (rather than only at bus stops like buses) and its luxurious seats are two of its biggest advantages. You will therefore be picked up from various sites in the city and dropped off at necessary tourist destinations in Ninh Binh, such as the city center, Bai Dinh pagoda, Trang An, and Co Hoa Lu capital, depending on your itinerary.
Khanh An Limousine
There can be up to 9 passengers in the popular Khanh An limousine, which has a large, airy interior. Clients will receive refreshments, clean towels, wifi, and help all along the way. The most recent model is the Khanh An limousine. By operating with extreme professionalism, having a price that is made public, and refusing to pick up more passengers along the way, they consistently build prestige. The car always leaves from 5 to 20 hours every day, once every journey. Some established locations offer car pickup for speedy ticket booking.
Tickets cost 140.000 VND.
Binh Minh Limousine
As more people travel from Hanoi to Ninh Binh, Binh Minh limousine cars continually improve their vehicles' quality and efficiency in order to better serve their customers. You can plan your time to buy tickets since this car runs every 1 hour and 20 minutes from 4 to 22 o'clock daily.
Also, you can employ a range of services, including wedding services and rental car packages. Also, it has the best equipment and one of the top qualities. They will be at your beck and call.
Tickets cost 130.000 VND.
Tu Tai Limousine
The most effective candidate in recent times is Tu Tai Limousine Hanoi – Ninh Binh. Only nine people can fit in the premium vehicle's spacious, opulently equipped seats. Wet towels, drink, wifi, a free charging station, and more are provided for guests. They typically charge 150,000 VND per person and never increase their rates. They never accept passengers on the road; instead, they only pick them up at predetermined locations in Hanoi and Ninh Binh.
Non Nuoc Ninh Binh Limousine
With only 8 seats, the Non Nuoc Ninh Binh Limousine is the most opulent vehicle traveling between Hanoi and Ninh Binh. This car typically runs at a frequency of 1 hour 30 minutes/trip from 5 hours to 22 hours every day. The majority of the patrons demonstrated that using Non Nuoc Ninh Binh limousine's transportation service resulted in amazing experiences.
They have a relatively set schedule, picking up in Pham Hung, Nam Tu Liem, and Hanoi, and dropping off clients at a number of well-known tourist attractions in Ninh Binh.
Tickets cost 150.000 VND
Huu Binh Limousine
Pickup by Huu Binh automobile from the Hanoi Opera House and delivery to the Thuy An Hotel in Ninh Binh. Also, this vehicle assists passengers who disembark at specific locations so they may move around more conveniently.
The cost of the premium limousine Hanoi-Ninh Binh trip is 200,000 VND per passenger and route. Throughout your journey, you can feel completely secure and at ease. It is all due to the staff members' professional attitude.
Xuan Khiem Limousine
Many passengers choose the Xuan Khiem limousine for the Hanoi to Ninh Binh route due to their expert and efficient working style. Their vehicle's system is well made, and it is roomy and pleasant. Customers receive wet towels, water, free wifi, and snacks while traveling.
Xuan Khiem limousine has a wide range of services. Customers from both the private and business sectors place a great value on the reputation of XuanKhiem Limousine. Depending on the customer's location, the prices range from 150,000 to 200,000 VND per person.
An Binh Travel – Limousine Car
An Binh Travel is a transportation business that focuses on providing excellent limousine service. An Binh Travel may be a fantastic option for you if you need to hire a car or use one to travel from Hanoi to Ninh Binh. An Binh Transport departs from Ha Noi, takes up passengers at a variety of locations, including My Dinh bus station, Nga Tu So street, and Nuoc Ngam bus station, and then puts them off at a predetermined location in Ninh Binh city. They attracted a lot of client attention; we appreciate your consideration.
Tickets cost between 140,000 VND and 200,000 VND.
X.E Vietnam
One of the largest businesses offering extensive transportation services with numerous limousines from Hanoi to Ninh Binh is X.E Vietnam. The cost of each trip's ticket is 130,000 VND. You can obtain a secure and comfy vehicle. Also, X.E Vietnam employs qualified personnel that are always hospitable and provide the greatest assistance to travelers throughout the tour. You can reserve a car to take you from Ninh Binh to the airport in Hanoi or Noi Bai daily from 5 to 21 hours.
Aclass Buslines
The most recent model, also known as "ground Jet," from Aclass Buslines has the greatest massaging chairs that cool your back. High-quality leather covers the interior, and the decorations are exquisitely detailed and opulent. Water, a 20-inch LED screen, a wet tower, and free wifi will all be provided for passengers. Many travelers choose AclassBuslines – Original Explorer due to their excellent service and affordable rates.
See more: Pu luong Travel
Ninh Binh Limousine
To ensure that passengers have a convenient trip, Ninh Binh Limousine transports passengers from Hanoi to Ninh Binh. This company sells elegant, high-end furniture, and the pricing is always described as being fair. It depends on the type of seat and the location. The Ninh Binh Limousine is consistently on time and scrupulously adheres to all traffic laws. You can be confident of your timetable as a result.
See more: