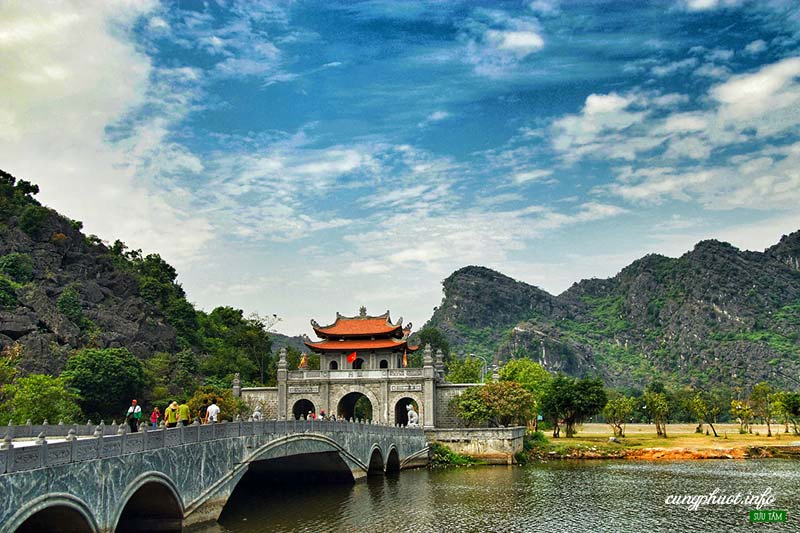 If someone asks me "Is Ninh Binh worth visiting?", the answer is definitely "Yes". Ninh Binh is a famous tourist destination in the northern part of Vietnam. The tourist attractions in Ninh Binh not only have great beauty, but also contain the heroic historical significance of the whole nation, so in addition to attracting a lot of international visitors every year, it is also a popular destination for many young people who love traveling in Vietnam.
1. Take the Trang An Scenic Landscape boat ride
Trang An tourist area is the most famous tourist destination of Ninh Binh. With beautiful unspoiled natural scenery, Trang An Complex has been recognized by UNESCO as The World Natural and Cultural Heritage. The scenery here is the winding rivers flowing through the limestone mountains, creating countless magical and mysterious natural caves that attract visitors. Visitors will experience sitting on a boat when visiting Trang An.
2. Climb up Mua cave viewpoint
Mua Cave is located at the foot of Mua mountain, a tourist destination in the tourist complex of Khe Dau Ha village, Ninh Xuan commune. Although not as famous as many other attractions in Ninh Binh, Mua Cave has won a lot of love from tourists because of its beautiful natural scenery as well as the space that is not crowded here.
From the foot of the mountain, you can clearly see the stairs extending to the top of the mountain, looking like a "mini Great Wall". Reaching the top of Mua mountain, you will be able to see the view of ripe rice fields and rowing boats floating on the water.
Must see destination: Pu Luong Nature Reserve
3. Visit Am Tien lake
As a national monument located in Hoa Lu national complex, Am Tien is a destination that visitors cannot ignore if they want to enjoy the peaceful and poetic natural scenery. Because of its pristine beauty, separate from the outside world, this place is also called by the name "Tuyet Tinh Coc". Tickets to visit Am Tien cave are 20,000 VND/person.        
4. Cycle around the countryside
Coming to Ninh Binh, you will always be amazed by the beauty of traditional villages and stretching rice fields. So what could be better than experiencing the activity of cycling around the countryside. This activity is encouraged because it brings visitors peace and does not affect the natural environment of Ninh Binh.                
5. Spend a few hours in Tam Coc        
Located in Ninh Hai commune, Hoa Lu district, Tam Coc – Bich Dong is a familiar destination with tourists when coming to Ninh Binh. Visiting Tam Coc, you will be sitting on a boat, down the poetic Ngo Dong River watching the majestic mountains and golden rice fields. The ferry ticket price is 150,000 VND for 4 people.
In addition, visitors can also visit Bich Dong, including a dry cave in the middle of the mountain and a water cave. On the mountain, there is Bich Dong pagoda, an ancient temple stretching over 3 floors of the mountain, where visitors from all over the world come to pray. Ticket price is 120,000 VND/adult and 60,000 VND/child.
6. Visit Hoa Lu Ancient capital
Hoa Lu ancient capital is located in Truong Yen commune, Hoa Lu district, which is an important national relic complex of Vietnam. This relic includes King Dinh temple, King Le temple and many other works. Currently, Hoa Lu ancient capital is a favorite destination of many tourists, especially those who want to learn about history as well as go to the ceremony to pray for luck and peace.        
7. Go bird watching at Van Long nature reserve        
The lagoon has an area of 3000 ha, is the largest wetland nature reserve in the Northern. This place is also known as "the bay without waves", because when traveling on the boat, visitors feel the water is as calm as a mirror. Going along the small leaf boat, you will see the vast marshes of water, diverse birds and many limestone mountains such as Meo Cao, Mam Xoi, Hom Sach, Co Tien, etc.
8. Trek through Cuc Phuong National Park
Cuc Phuong National Park has a total area of 25,000 hectares, is a famous ecological tourist destination attracting hundreds of thousands of visitors every year. Visitors here will be able to explore the rich flora and fauna, admire the beautiful natural landscape, participate in programs of eco-tourism, resort, campfire, adventure, research and historical culture.        
Exploring: Pu Luong Nature Reserve for nature lovers
9. Take some time to relax
After visiting the famous landmarks of Ninh Binh, giving yourself some time to rest is really necessary. Guests are free to relax around their hotel area with activities such as music, fairs, cafe or karaoke, etc.
Hopefully the above information is enough for you to answer "Is Ninh Binh worth visiting or not?". So what are you waiting for, let's plan a trip to Ninh Binh right now?
See more: