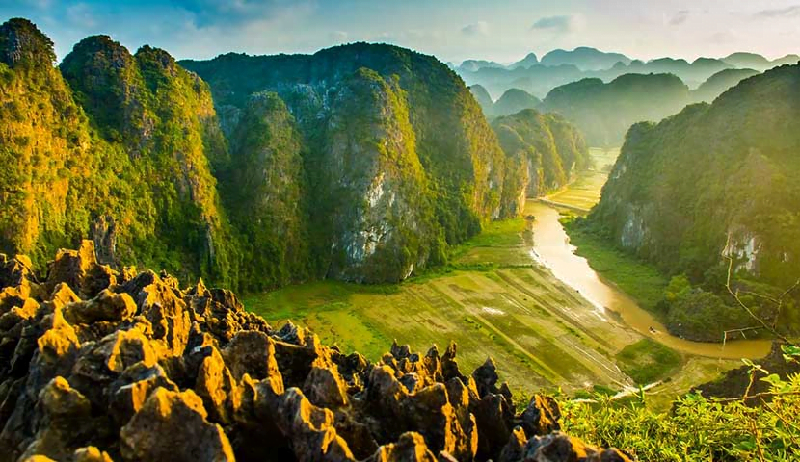 Ninh Binh 1 day tour experience, suggestions for sightseeing, travel and eating schedules, etc. Spend a weekend or a short vacation to discover Hoa Lu ancient capital with the most fun and relaxation. Let's find out some suggested Ninh Binh 1 day tour below.
NINH BINH – THE IDEAL DESTINATION TO VISIT
If you have little time but you still want to have a short vacation to visit and have fun, Ninh Binh is an ideal destination you should not miss. The land is favored by nature with attractive natural beauty. The land of the ancient capital with the ancient Bai Dinh pagoda, the scenic Trang An, Tam Coc – Bich Dong, Van Long lagoon, etc. is so beautiful. There are delicious specialty dishes that everyone has to praise.
WHEN SHOULD I HAVE NINH BINH 1 DAY TOUR?
As a famous tourist destination, you can visit Ninh Binh at any time of the year. But if you do not have much time, suggest you the 2 best times to enjoy the beauty of nature.
Spring: the time before and after Tet, the cold weather is very suitable for spring trips, visiting Bai Dinh pagoda. Admire the beautiful scenery in Trang An in a quiet space, and participate in many festivals,…

Summer: the season of ripe golden rice in Tam Coc fields, the beautiful white butterfly season in Cuc Phuong forest. Sitting on a boat to admire the scenery of Van Long lagoon, Trang An scenic area, … freely explore the beautiful nature and take many beautiful photos.
TRAVEL GUIDE IN NINH BINH 1 DAY TOUR
Go to Ninh Binh
– Going from Hanoi, the North: with a travel distance of just over 100km, you can completely travel by many means such as cars, motorbikes, passenger cars, tourist cars, etc.
By motorbike: about 2 hours, go straight along Phap Van – Cau Gie street.
By bus: departing from My Dinh or Giap Bat wharf, many routes to choose from. Ticket price ranges from 100,000 VND to 150,000 VND/person/way.
Travel by limousine, tourist car.
– Going from Saigon and other areas: planes are the fastest means of transportation. Choose flights of airlines such as Vietjet Air, Vietnam Airlines, Bamboo Airways to Hanoi or Thanh Hoa. From there, take a car to Ninh Binh.
Traveling in Ninh Binh
– Rent Motorcycles:
With a 1-day Ninh Binh travel experience, traveling by motorbike will have many advantages. It gives you the freedom to follow the tour and discovery schedule you want without being dependent. Rent scooters or digital cars at your hotel or car rental addresses with prices ranging from 100,000 VND – 150,000 VND/day.
– Take a taxi:
For those who go to Ninh Binh with family or a large group, taking a taxi is quite economical. Although the price is fixed, you can still bargain with the driver and before departure remember to check the meter to see if it returns zero.
– Traveling by bus: although there are many bus routes, sometimes they do not go through the sights you want to visit. Besides, time depends a lot, so consider taking this type of vehicle
SUGGESTED NINH BINH 1-DAY TOUR ITINERARY
Schedule 1: Ninh Binh – Hoa Lu – Tam Coc Bich Dong
6:30: Departing from Hanoi to Ninh Binh by car or motorbike, it will take about 1h30 minutes. You can stop for breakfast in Phu Ly (Ha Nam) or go to Ninh Binh to eat.
8:30: Arrive in Ninh Binh to start sightseeing in Hoa Lu ancient capital. Visit the temple of King Dinh – Le, visit Giap Tru pagoda, admire the scenery of Truong Yen valley, …
11h00: Visit Mua cave, climb the mountain, take pictures to check in.
12h00: Lunch at the restaurant, rest.
13h30: Move on to Tam Coc – Bich Dong wharf. Take a boat to explore the caves, visit the temple of Saint Tran, Thai Vi temple to worship the kings. Then return to the pier.
16h30: End the tour and go back.
Schedule 2: Ninh Binh – Bai Dinh – Trang An
6:30 am: Departure to Ninh Binh.
8:30: Arrive at Bai Dinh pagoda to start the Ninh Binh 1 day tour and tour. Admire Buddha at Tam The shrine. Explore the Arhat corridor, the largest bell tower in Southeast Asia, the 11m high Maitreya Buddha statue, …
12:30: Have a vegetarian lunch at the temple or go to a restaurant, rest.
13h30: Move to the boat station of Trang An tourist area. You can take a boat to visit Bright caves, Dark caves, etc. to admire the impressive nature. Visit the Cao Son God Temple.
16h30: End the tour and go back.
WHAT TO EAT IN NINH BINH 1 DAY TOUR?
Ninh Binh eel vermicelli
If you are tired of traveling and want to find a substitute for rice, eel vermicelli is a reasonable choice. Fatty eels with golden skin are sauteed with onions and spices. Put in a bowl of vermicelli that has been blanched with onions, herbs and broth. The dish is not strange, but enjoying it in Ninh Binh guarantees a different taste.
– Address suggestion for delicious food: Dung Thanh restaurant – 999 Tran Hung Dao, Van Giang ward, Ninh Binh. Price from 30,000 VND/bowl.
Mountain goat
Coming to Ninh Binh even for a day, you must definitely try to eat mountain goat to feel the typical flavor of this land. Ninh Binh mountain goats live in caves in the mountains, they eat grass and herbs, so the meat is not only fragrant but also good for health. Goat meat is tough, sweet in the mouth, making any dish is attractive.
– Address suggestion for delicious food: Duc De restaurant – 446 Nguyen Hue, Ninh Binh. Price is from 100,000 VND – 300,000 VND/person.
Burnt rice
Famous Ninh Binh burnt rice is sold everywhere. You can buy it to eat along the way, when you go sightseeing or eat goat meat for lunch. Burnt rice is made from selected quality rice grains, a rustic dish but contains a lot of work. Burnt rice bought as a gift is perfect, everyone likes it.
– Address suggestion to eat delicious: Hoang Giang restaurant – Hang Ca, Truong Yen, Hoa Lu, Ninh Binh. Price from 200,000 VND/piece.
Yen Mac sour spring rolls
Famous delicacies from ancient times, bearing many royal imprints that you should try when traveling for 1 day. Yen Mac sour spring rolls is made from thinly sliced fresh butt meat and mixed with pork skin that has been cleaned, listened and then cooked. Nem is eaten with fig leaves, guava leaves, herbs, etc., dipped in a very high quality dipping sauce.
See more: Pu luong tourism
Kim Son Wine
The wine is fermented from Kim Son yellow sticky rice, traditional medicine and pure sweet well water. All create a scrumptious taste, one of the famous specialties of the ancient capital that is loved by many people. The wine clicks gently, the sweet aftertaste lingers in the throat. Sipping with goat meat, burnt rice or buying as gifts are all popular.
The Ninh Binh 1 day tour is short, but if you know how to arrange a reasonable schedule, you can still visit many places. Eat a lot of delicious dishes and experience many interesting activities in this ancient capital. Learn how to plan your next trip together.
See more: