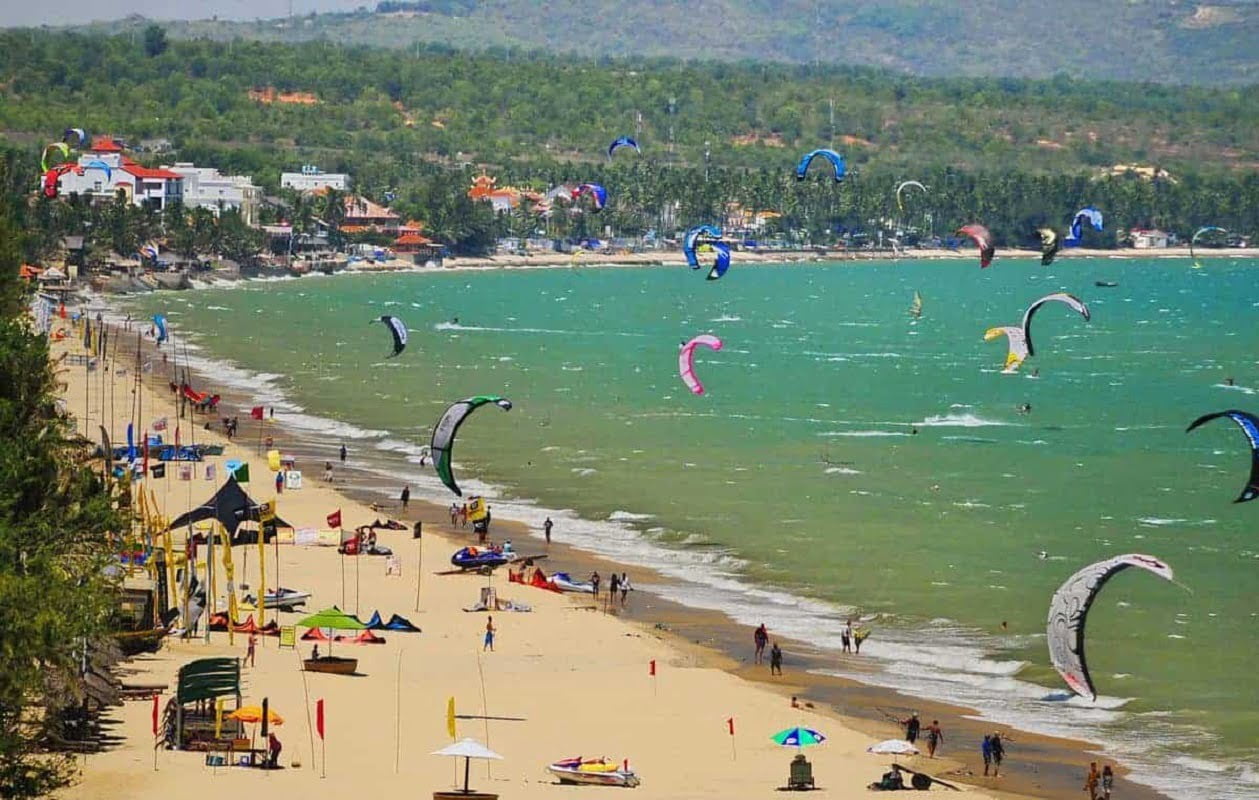 If you are going to travel to Mui Ne but do not know what to do in Mui Ne, then please refer to the interesting types of entertainment here that you can experience during your trip such as: 
Travel on the Bau Trang boat
Location: Hoa Thang, Bac Binh, Binh Thuan.
As a large freshwater lake in Binh Thuan, Bau Trang is surrounded by white sand slopes interspersed with dark sand dunes that make you seem lost in a desert. Here, you will enjoy virtual life with extreme photos, watch the calm lake surface from the high sand slopes, rent a boat for a tour around the lake or try driving with a super cool off-road vehicle.
Mui Ne Fishing village
Read more:Pu luong day trip
Location: Huynh Thuc Khang Street, Mui Ne, Phan Thiet, Binh Thuan
As a place to climb and dock every morning, walking around the coast of the fishing village, you will see a beautiful sunrise, the fisherman returns with a boat full of seafood, the trade takes place very excitingly. Therefore, around 5:30 am, you can come here to enjoy that beautiful peace and buy some fresh seafood to take home or cook and enjoy on the spot.
Entertainment at red sand dunes, wonder of Mui Ne
Location: Hoa Thang, Bac Binh, Binh Thuan.
As its name suggests, Sand Dunes Bay, under the influence of the wind, and changing shape every day and every hour, has created an extremely interesting natural landscape. Lost in this miniature desert, you will never be bored with super attractive games such as sandboarding, watching the sea from extremely chill high sand hills, living virtual to the fullest with a frame of 1-0-2. , satisfy your passion for speed when driving off-road vehicles on the sand,….In experience, you should go to the sand dunes from 5:00 to 8:00 when the sun has not yet risen, the sun is not too harsh and The sand is still cool, easy for fun activities.
Fairy Stream
Address: 67 Huynh Thuc Khang, Mui Ne, Phan Thiet
Like a fairyland, Suoi Tien is a certain tourist destination you must visit. The special topography is a large forest on one side, and a red-orange stalactite hill on the other side divided by cool orange water. Coming here, visitors will be immersed in that impressive space, very comfortable and peaceful
Fish Sauce Museum of Ancient Fishing Village
Location: No. 30 Nguyen Thong, Phu Hai, Phan Thiet, Binh Thuan.
Ticket price: 100,000 VND/adult and free for children under 1m tall.
With a unique theme in Vietnam, the Fish Sauce Museum of Ancient Fishing Village includes 14 large and small compartments, recreating more than 300 years of history forming Phan Thiet fishing village. You will visit the exhibition area of pictures and historical relics, models simulating a past Mui Ne, the process of making Rin fish sauce and recreating the activities of the traditional fish sauce making village.
Escape to a secluded beach
Swimming, swimming pool
Address: 3-4-5* beaches, resorts in Mui Ne, Phan Thiet
Operating hours: 5:00am – 6:00pm
If you have planned a trip to Phan Thiet but skip the swimming activity, it will be really lacking in the taste of the fun trip. You can choose to go to Lagi, Mui Ne or Ca Na to enjoy the freshness of the beaches running along the white sand.
Among the beaches in Phan Thiet, Ca Na beach is said to be the most beautiful because it still retains its clear blue color, each pebble can be seen under the water. In addition, associated with 5-star, 4-star, 3-star resorts, resorts, and beaches is a diverse culinary background, serving the maximum needs of customers. Here, you can both swim in the sea and enjoy the typical dishes of Mui Ne such as grilled squid teeth, grilled thunderstorms, quai cauldron cakes, etc. 
Kitesurfing
The sport of kitesurfing was introduced to Vietnam about 15 years ago. Well-received by people and tourists who love thrilling sports. And develop in most of the sea resorts across the country. Mui Ne is the most developed place and attracts many international tourists and residents. One of the main reasons is that the wind conditions are very ideal, the beach is beautiful, the sand is white, the sea is clear blue.
The sport of kitesurfing is basically the same as windsurfing. Developed and manipulated, taking advantage of the wind or the waves. Kite surfers can fly up out of the water, acrobatics in the air bring a feeling of extreme excitement.
Wind conditions in Mui Ne are very favorable for kitesurfing. However, the sea breeze in Mui Ne area is mainly south wind and irregular wind.
Seafood for guests
Mui Ne is famous for its delicious and cheap seafood. If you want to eat seafood, you should go to the beach early in the morning to buy fresh and delicious seafood. If you want to enjoy seafood, you can go to Phuong Vy restaurant with very delicious and cheap seafood dishes. Or you can enjoy squid teeth on Vo Thi Sau street. Fish salad is a specialty dish when traveling to Mui Ne, you can find pubs in the embankment area along the Ca Ty river or Vietnam Home restaurant located on Nguyen Dinh Chieu street, Mui Ne.
How to go to Mui Ne?
Located not far from Ho Chi Minh City, visitors can easily move from here to Mui Ne by many different means.
Bus: This is a means of transport chosen by many tourists because of its low price and convenience. Currently, there are many car companies running the route Ho Chi Minh City – Mui Ne such as Mai Linh, Kumho, Phuong Trang, Sinh Cafe… It takes about 4 hours to travel with a ticket price of about 130,000 – 200,000 VND/ticket.
Train: if you are not in a hurry, rushing about time, traveling by train is an ideal choice. Train ticket price is about 95,000 – 125,000 VND. You will buy a ticket to move to Phan Thiet station, then continue to catch the bus to go to Mui Ne.
Motorbike: with a passion for speed, conquering new roads, the journey from Saigon to Mui Ne will be an extremely worthwhile trip. Traveling on a small motorbike, you will be able to see the beautiful scenery on both sides, enjoy the cool air. This is the way to move that many tourists, especially backpackers, choose.
Airplane: If you are in the provinces far from Mui Ne, the plane is the most convenient and fastest means of transport. Because Binh Thuan does not have an airport, you need to fly to Ho Chi Minh City and then continue to travel by means that Pu Luong Excursion mentioned above.
When to go to Mui Ne?
Because it is less affected by the northeast monsoon, Mui Ne has a hot, dry, windy climate with few storms. Therefore, you do not need to worry about the time to travel to Mui Ne or play anything in Mui Ne, just when you are free, you can carry your backpack and go. However, you need to pay attention to the weather characteristics of the time of year here to prepare well for the trip.
April and May is the hottest time in Mui Ne, usually above 30 degrees Celsius. Therefore, if you want to visit and play outdoors in such hot weather, you need to prepare enough sunscreen, hats carefully.
The period from April to August is the most ideal time to travel to Mui Ne. At this time, the weather here will be quite pleasant, the sea is clear blue, the sky is clear, very suitable for swimming and outdoor fun activities.
From September to the end of the year, Mui Ne will often have rain, the sea is not clear blue but red due to the red sand alluvial color overflowing with the rain water. Therefore, it will not be convenient to have fun in the water and take pictures.
Read more: Pu Luong Nature Reserve