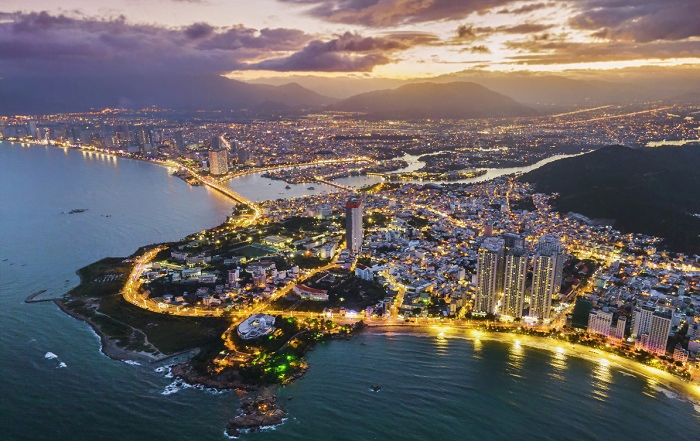 A delicate mix of modern and vibrant city, network of waterways with floating markets, gorgeous beaches and islands, natural diversity, and distinctive local lifestyle can be found in South Vietnam. Without a doubt, it offers something to suit all types of travelers. Yet, if you're unsure about where to travel in South Vietnam, the list of  must-see locations is below.
Ho Chi Minh City: immerse yourself in the dynamic atmosphere of the city
Ho Chi Minh City, a major economic center of the nation, is a prominent destination on every tour of South Vietnam that you take. South Vietnam's Independence Palace, Dam Sen Water Park, Suoi Tien Tourist Cultural Complex, Central Post, Notre Dame Cathedral, Opera House, and Sai Gon Square are just a few of the bustling city's many tourist attractions.
From drinking in a noisy bar to taking a leisurely boat ride down the tranquil Saigon River, the large, modern city offers a wide variety of activities for all types of visitors. You should also sample some of the regional specialties here, like Pha lau, Vietnamese bread, com tam Sai Gon (steamed broken rice with pork), and hu tieu (noodles with pork, shrimp, squid, or fish).
See more: Pu Luong Nature Reserve

Cu Chi underground tunnels
The Cu Chi tunnels are located in Ho Chi Minh City's Cu Chi district. Cu Chi is actually a system of tunnels built during the Vietnam-American War. It is a historic location where Viet Cong soldiers rehearsed for surprise attacks and hid to make contact. As a result, you will spend a lot of time in the Cu Chi tunnels experiencing the ambiance of the American fight.
Make sure you wear suitable walking shoes and be prepared for rocky surfaces because coming here also requires you to practice talking and breathing in tough conditions (darkness, lack of air), as well as discovering about underground life. Depending on the geological landscape, there might be two to three floors beneath the Cu Chi tunnels. Some entertaining activities include playing at shooting, swimming, sailing on a lake, and hiring a bike to go through tunnels.
Cao Dai Temple – the holy place of a plural religion
The location of Cao Dai Temple, in Long Than village near Tay Ninh, 100 km northwest of Ho Chi Minh City, makes it the perfect place to visit. Chanting occurs twice daily at 6:00 and 18:00 as part of worship, which begins at midnight and lasts for six hours. One of the most well-liked attractions of visiting this temple is witnessing Caodiasts praying. They wear long, flowing white robes for ordinary followers and yellow, blue, or red robes for priests, with the symbol of the Divine Eye embroidered on their headpieces. In addition, the architecture blends Neo-Gothic, Baroque, and Oriental design. It is also extremely ornately painted, with dragon-wrapped pillars, seven-headed cobras, and sky-blue ceilings among its many painted decorations.
Note: Visitors may observe from the galleries and may take photographs, but need to remove shoes and cover knees before entering. When a service takes place, silence is required.
Tay Ninh – go hiking and conquer majestic mountains
The Cao Dai religion, one of Vietnam's most fascinating indigenous faiths, has its center in Tay Ninh Town, the capital of Tay Ninh Province. One of Asia's strangest and most amazing buildings is the Cao Dai Great Temple at the sect's Holy See. Visitors can explore the Tay Ninh Holy See, the Dau Tieng Pool, the Moc Bai border, the Ba Den mountain area, which is home to numerous other mountains including the Pig Mountain (Nui Heo) and the Phoenix Mountain (Nui Phung), as well as a variety of caves such as Thanh Long Cave, Ong Ho Cave, the Ba Co Cave, and the Ba Tuan Cave, among others, by traveling there.
Ben Tre – gateway to the Mekong Delta
Ben Tre is ideally placed for a leisurely day excursion to get away from the busy city life because it is about 85 kilometers from Ho Chi Minh City. This coconut-growing region in the Mekong Delta might be regarded as the most real tropical region with breath-taking landscapes. When visiting fruit orchards, coconut groves, brick workshops, and home-made products like coconut candies, rice cakes, and handicrafts, you can take a rowing boat to explore rural areas while crossing zigzag canals flanked on both sides by palm trees and getting a taste of the unique local lifestyle. It is especially recommended to ride a "xe loi," a type of motorized rickshaw, or rent a bicycle to explore the area and learn more about local culture. Ben Tre is the most naturally beautiful and least visited part of the delta.
Can Tho – the heart of the Mekong Delta
Can Tho City, which borders the provinces of An Giang, Dong Thap, Hau Giang, Kien Giang, and Vinh Long, is situated in the Mekong Delta's central region. Located about 169 kilometers from Ho Chi Minh City, this is one of South Vietnam's most modern and elegant cities.
With its tropical orchids, temperate climate, and hospitable locals, Can Tho contains the majority of South Vietnam's highlights. Cai Rang Floating Market, My Khanh Tourist Site, Binh Thuy Ancient House, Bang Lang Stork Sanctuary, Phong Dien Floating Market, and Ninh Kieu Wharf are a few places to consider in your South Vietnam itinerary in Can Tho.
There are also a lot of delicious local dishes in Can Tho that you should definitely try, like banh cong (fried cake with minced pork pudding), banh tet la cam (sticky rice pudding with pork, mung bean, and salted yolk), banh xeo (fried thin pancake with bean sprouts, pork, shrimp, and vegetables), and lau mam (hotpot with pork, seafood, vegetable, and fish sauce).
An Giang – explore an amazing ecosystem of cajuput trees
An Giang Province is situated in the western region of South Vietnam. It shares boundaries with Dong Thap to the east, Can Tho to the south, Kien Giang to the southwest, and Cambodia to the north. Given its abundance of rivers, mountains, mangrove forests, and a refreshing climate, An Giang is one of the top ten tourist destinations in the nation.
Many sites, including the Tra Su Cajuput Forest, Cam Peak, Ba Chua Xu Temple, Bung Binh Thien Lake, and Long Xuyen Floating Market, should not be missed by visitors.
Dong Thap: take photos at endless flower fields
Dong Thap Province is located in the west of South Vietnam, extending along both sides of the Tien River. The region is well-known for its enormous rice fields, vast lotus lakes, and mysterious primitive forests. Sa Dec Flower Village, Huynh Thuy Le Ancient House, Xeo Quyt Tourist Site, Tram Chim National Park, and Thap Muoi Lotus Field are just a few of the numerous tourist attractions in this area.
Sa Giang prawn crackers, Sa Dec grilled duck, Cao Lanh chicken hot pot, and Sa Dec noodles with pork and coconut cream are just a few of the delicious cuisines available in Dong Thap.
Ca Mau: taste mouth-watering dishes of the Mekong Delta
South Vietnam's Ca Mau, the southernmost city in the nation, is a popular travel destination. Many historical relics connected to the valiant history of the Vietnamese people can be found here. Other well-known places worth seeing are the Ca Mau Floating Market, Nam Can Mangrove Forest, U Minh Ha Forest, Ca Mau Point, and Bird Sanctuary.
Moreover, Ca Mau boasts delicious local cuisine that combines traditional meals with specialties from other ethnic groups, including Kinh, Hoa, and Khmer. You should try grilled goby fish, fried squid eggs with pork, and stone crab stir-fried with salt while on your South Vietnam excursion to Ca Mau.
Numerous foreign travelers have been attracted to Vietnam, a country with a S shape. With its mesmerizing beauty, delicious cuisine, and friendly locals, South Vietnam's lush country provides many special experiences. Here are the top ten spots in South Vietnam where visitors can explore the most stunning landscapes and discover the native way of life.
Vung Tau – a place for the convergence of beautiful beaches
You may easily go to the coastal city of Vung Tau in 1.5 hours from Ho Chi Minh City, which is only 100 kilometers away. Vung Tau could be the perfect destination for your family vacation if you get tired of the noise and bustle in Saigon and would want to be surrounded by gorgeous beaches and the sea.
Vung Tau boasts numerous stunning beaches, including Truoc (Front), Sau (Back), Vong Nguyet, Dua (Pineapple), etc. along its 20 kilometers of coastline. All are great for swimming, relaxation, and sunbathing. Vung Tau City, which is part of the Vung Tau Peninsula, is one of the few locations on the mainland where you can enjoy the beauty of the dawn and sunset over the water. Also, the city of Vung Tau is home to a variety of interesting landmarks, including the Vung Tau Lighthouse, Jesus Statue, Niet Ban Tinh Xa Pagoda, Thich Ca Phat Dai Pagoda, and Long Son Large house.
Nha Trang – the Coastal City Of Beautiful White Sand Beaches
For a very long time, Nha Trang has been known as the Vietnamese city with the most exquisite beaches and the clearest water. Together with its breathtaking long beaches and bay, this coastal city also provides a variety of water sports, including scuba diving, hiking, snorkeling, and kite surfing. The climate is warm all year round, making it perfect for beach vacationers.
From Ho Chi Minh City, you can take a one-hour flight to Nha Trang, where you can stay in a luxury resort with a front-row view to the beach. This is a wonderful way to unwind and get away. You can join tours to cruise Nha Trang Bay with fishing villages and offshore islands for some outdoor entertainment, or you can hike to some of the city's highlights, like Po Nagar Cham Tower or Long Son Pagoda, to learn more about the history of the area and the beautiful captivation of the city.
Mui Ne – the desert of golden sand in Vietnam
The name Mui Ne refers to the place where the fisherman hides from the storms when they are out fishing. This cape can only be reached by roads and trains through Phan Thiet city and is situated halfway between Ho Chi Minh City and Nha Trang. Because of this, Mui Ne is still not as popular with tourists despite having a lot of promise.
Along with seeing the region's stunning beaches and clear blue waters, tourists to Mui Ne can also take inspiration from the region's famous Red and White Sand Dunes, which are unique to Mui Ne in Vietnam. Visit those Sahara-like red deserts at daybreak or sunset for stunning photographs and nice temperatures to romp around in. Kitesurfing on beaches or climbing in the Ta Cu highlands, which will give you a dramatic enchantment of the surrounding landscapes of white and red sand dunes, lush trees, colorful flowers, and coconut palms, will be a major thrill for nature lovers and explorers.
Da Lat – the City Of Flowers
Da Lat has earned a reputation as one of Vietnam's most romantic locations, ideal for adventurous couples, with its magnificent waterfalls, leafy forests, and brilliant flower gardens.
You'll find a picturesque town studded with French colonial homes, horse-drawn carriages, an Eiffel Tower-shaped radio tower, and the stunning Valley of Love, which is dotted with heart-shaped sculptures. This place is also known as the Paris of Vietnam, The City of Flowers, and The City of Lovers.
The town is bordered by lovely strawberry, coffee, and flower gardens. You may go hiking, mountain biking, canyoning, and white-water rafting in the nearby hills because of the area's cooler climate and foggy mountain air.
Phu Quoc Island – the biggest Pearl Island in Vietnam
The biggest and most picturesque island in Vietnam is Phu Quoc Island, popularly known as Pearl Island. This island is a part of Kiên Giang province's Phu Quoc district. On the island, there are a number of exquisite white-sand beaches that draw tourists. Beautiful beaches, gorgeous sunsets, evergreen woods, and a tranquil ambiance are all in plenty on Phu Quoc Island. All combine to create a travel destination that draws tourists from around the world. Phu Quoc has a sub-equatorial monsoon climate. Phu Quoc may be visited throughout the year, however the dry season is the ideal time to go. All of nature – blue sky, fresh water, a beach with white sand, and a distant tropical forest – seems to be perfectly interconnected.