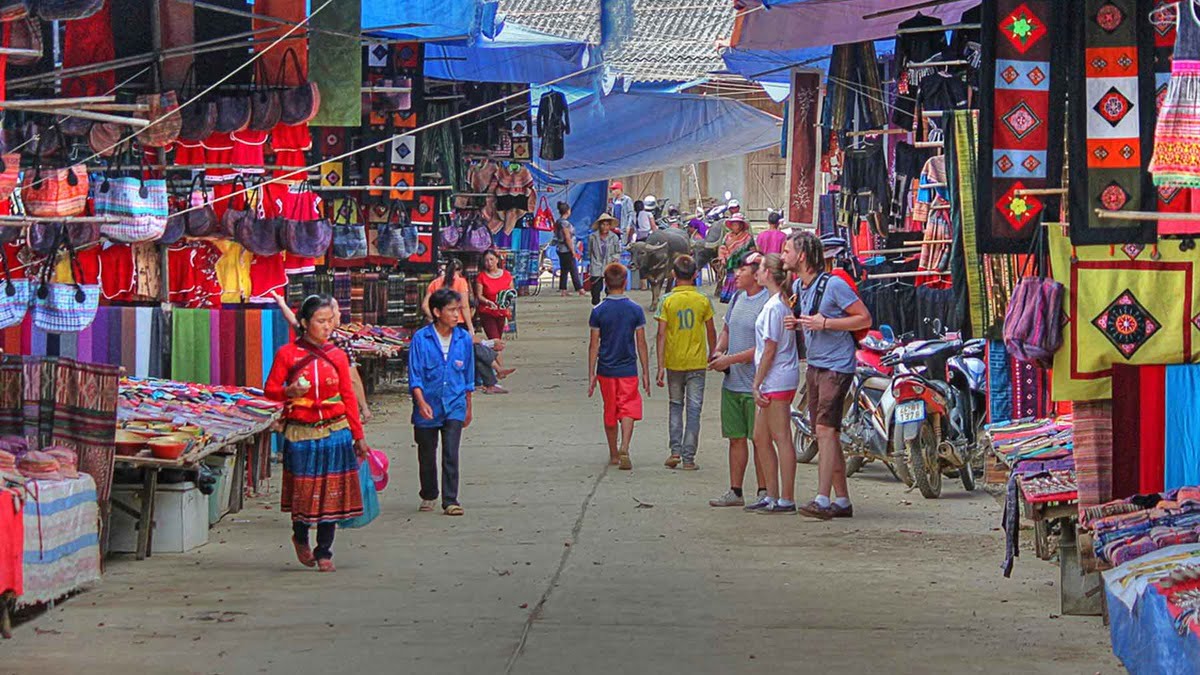 The northern provinces of Vietnam not only have majestic mountains, circular terraced fields, and attractive specialties, but they are also well known for their unique markets. The national identity, traditional beauty, and variety of selling items are the reasons why the market is attractive to both domestic and foreign tourists. Let's explore the Top of the most beautiful ethnic markets in North Vietnam with Pu Luong Excursion!
Monday: Phiet village market
Phiet village market is located in Phiet village, Bao Thang district. The market meets every Monday and starts early when the cold is still mixed with the mist. Compared to other markets in North Vietnam, Phiet village market is quite small and not too crowded, but it is a trading place for ethnic minorities in the region.
Most of the people who go to Phiet village market are white H'mong people. The market is simple with some covered stalls, the rest of the Mong people spread a few plastic sheets on the ground to display their goods. Although the scale is not large, Phiet village market is impressive with many colors because the main goods sold here are dresses, scarves, hats and belts for women.
Tuesday: Coc Ly weekly market
Located among the majestic hills of the North is the bustling scene of Coc Ly market. Coc Ly Market is about 35 km from Bac Ha town and is held every Tuesday. This is a place to meet friends, exchange, buy and sell goods of the Mong Hoa, the Black Dao and the Nung people.
The market is divided into separate zones. Products with bold flavors of the Northern mountains and forests such as vegetables, herbs, shiitake mushrooms, wood ear, honey, corn wine, upland rice, household utensils, jewelry and brocade products are concentrated in one area. However, the most prominent area is the place which sells livestock and poultry such as: Buffalo, cow, pig, chicken, dog, horse and cat. The atmosphere at Coc Ly Market is always bustling with buyers and sellers.
Wednesday: Cao Son and Sin Cheng markets
Cao Son Market is a market of the Mong, Phu La, Dao and Black Han ethnic groups in Muong Khuong district in the North of Vietnam. The market only meets once a week on Wednesdays. When entering the market, from early in the morning, on every street, a lot of people from the villages came to the market. Cao Son Market is more beautiful with friendly people, goods and natural scenery. In the vast space of the mountains and forests, people buy, sell and exchange goods without hesitation.
Sin Cheng market is located in the center of Sin Cheng commune, about 10 km from the district town of Si Ma Cai, meeting every Wednesday. Because it is located in a commune quite far from the district center, Sin Cheng market still retains the characteristics of the northern highland market in Vietnam. The market is the convergence to exchange of many ethnic minorities: Mong, Nung, Tay, Thu Lao, etc. The outstanding products at Sin Cheng Market are green vegetables, tubers and fruits from cold countries such as mustard greens, chrysanthemums, peas.
Thursday: Lung Khau Nhin market
Lung Khau Nhin market is located in Muong Khuong district, Lao Cai province. The market is held every Thursday morning, and is one of the famous markets of North Vietnam. Buyers and sellers here are the Mong, Nung, Kinh and the main trading items are agricultural products such as corn, rice, soybeans, peanuts, vegetables, fruits and brocade.
Coming to Lung Khau Nhin market, visitors will see many close, familiar and necessary items and utensils in every family such as: insecticide sprayer, hoe, basket, broom, bowl, plate and kettle. All these things made up the unique tourist attraction of Lung Khau Nhin market.
Friday: Chau market        
Since the 19th century, Muong Khuong district has had highland markets to exchange goods. Besides the famous markets such as Muong Khuong, Cao Son, Pha Long, Ban Lau; Chau market in Lung Vai commune has long become a famous trading center in the North of Vietnam.
The market is not only a place to buy and sell but also a place to meet and exchange feelings of soul mates, a dating place for men and women in the villages. Coming to Pot market, visitors can also explore the majestic Muong Khuong with many national cultural traditions.
Saturday: Can Cau market
Can Cau market is a typical market of ethnic minorities (mainly Giay, Mong, and Hoa). The market is located on the side of road 153 – a unique dirt road connecting Bac Ha town with the border town of Si Ma Cai. The market usually meets every Saturday, public holiday and New Year, lasting from early morning to past noon. This is also the largest buffalo market in North Vietnam with hundreds of buffaloes traded in each market.
Visiting Can Cau market, visitors in addition to shopping for local products also have the opportunity to enjoy delicious dishes such as pho with beef, heart vermicelli in a rich flavor of the northern mountainous. Delicious dishes such as black pig, village pig will surely bring you many memorable culinary experiences.
Sunday: Bac Ha and Sapa markets
Among the Sunday markets in the North of Vietnam, the most prominent one is Bac Ha market. Known as one of the 10 most unique markets in Southeast Asia, Bac Ha market is also the only market in the country that has a dedicated area for the sale and purchase of horses.
Not only that, Bac Ha market also attracts visitors by its specialty: the very famous Ban Pho corn wine is cooked with spring water at an altitude of more than 1,200m and distilled from yeast brewed with forest leaves. Visiting Bac Ha market, visitors can also enjoy Thang Co – the specialty of Lao Cai, which is cooked from the viscera and meat of the horse, along with fruits and herbs, creating a very unique flavor.
Sapa market is located in the center of Sapa town. On Sundays, you can buy medicines, rare forest products, handmade brocade products; ethnic dishes and many precious forest products. The market is also an opportunity for young men and women of different ethnic groups to meet and sing love songs for their partners.
The ethnic market always attracts tourists to experience and learn about the unique cultural features of ethnic minorities. Above is the top of the most beautiful ethnic markets in North Vietnam that we would recommend for your trip. If you have the opportunity to visit, remember to attend these markets.
See more: Northern Vietnam combined tour