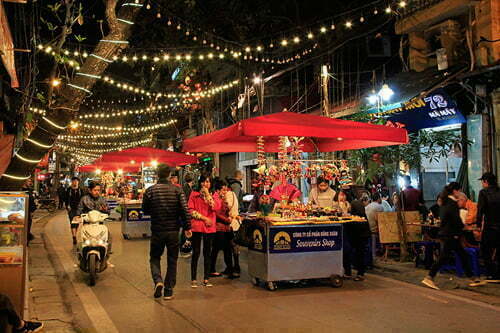 Night market is a real organization in Vietnam. This is the ideal location for those who want to explore the daily life of the locals. If the day-market is more commercial, the night market is organized to serve tourist purposes such as leisure walks, tasting street food and shopping for local souvenirs. Here are some of the most famous night markets in Vietnam.
1. Hanoi Old Quarter Night Market
Every weekend evening, the space from Hang Dao street to Dong Xuan market will be closed to traffic, forming a walking path nearly 3 km long. In the center of these pedestrian streets, local people set up a row of tents that make the famous night market.
The market has a variety of products such as clothes, crafts, household items and attractive street foods. All of these have attracted thousands of visitors to the Hanoi Old Quarter night market.
2. The Quang Ba Flower Night Market in Hanoi
Quang Ba Flower Night Market is open from 11 pm to dawn the next morning, the most crowded around 2 – 5 am. This is a night market specializing in providing fresh flowers for the whole capital located at Au Co street, Quang An ward, Tay Ho district, Hanoi. This place is known as "The paradise of flowers" with a variety of types and origins.
Quang Ba Flower Night Market sells a wide variety of flowers from familiar varieties (roses, chrysanthemums, gerberas, etc.) to exotic flowers (Monocada orchids, Dendrobium orchids, Sa Lem, etc.) or flowers imported from abroad (tulips, willows, etc.)
3. Long Bien night market in Hanoi
Long Bien night market is located near Long Bien bridge, Ba Dinh District, Hanoi. The market has been in operation for more than 20 years, and is an important trading place of Ba Dinh district. Long Bien night market is only unusually crowded and bustling after 10pm, so many people named the market as "The never sleeps-market in Hanoi".
This place has a variety of products for sale; especially vegetables, fruits and other agricultural products. Coming to Long Bien night market, you can always come across fruit stalls, shops selling agricultural products with attractive offers.
4. Hoi An night market
Hoi An night market is a "specialty" that visitors should experience. In the evening, Hoi An is filled with colorful lanterns, besides there are stalls selling souvenirs and food until late at night.
If you are tired of walking around the market, you can stop at the small roadside eateries to enjoy delicious local dishes such as Xeo cake, Hoi An bread and Quang noodles. If you're looking for a proper meal, there are restaurants nearby with upstairs terraces that offer spectacular views of Hoi An night market.
5. Nha Trang night market
Nha Trang night market is only 137m long but has embraced the whole idyllic and primitive beauty of Nha Trang. When the city lights up, the walking street at 46 Tran Phu Convention Center officially came into operation. Hundreds of people come to Nha Trang night market to shop, have fun and experience the cultural life here.
The night market has more than 100 stalls: from souvenirs, handicraft products to food and drinks. However, what tourists are most interested in are the artists who write calligraphy and paintings directly.
6. Dalat night market
Da Lat night market is locally known as "The Hades Market". Contrary to the horror name, the Hades market today brings an extremely bustling atmosphere and becomes a place not to be missed when traveling to Da Lat.
Da Lat night market has a wide variety of products from souvenirs to delicious food. In addition, there are many specialties of Da Lat that you can buy as gifts such as dried fruits, strawberries, artichoke tea, avocado, coffee, pickled wine, etc.
7. Ben Thanh Night Market in Ho Chi Minh City        
Referring to Ho Chi Minh, people will immediately think of Ben Thanh market, this is a historical symbol of the city with many outstanding events. Ben Thanh night market is known as "A Saigon mini", where visitors can fully experience the local life and culinary culture.
At Ben Thanh night market, stalls of clothes, souvenirs and crafts are displayed in long lines along the aisle. Besides, there are street food courts with the flavor of fried noodles, grilled fish and grilled meat.
Exploring: Pu Luong Day Trip
8. Phu Quoc night market        
Located right next to the romantic Duong Dong river, Phu Quoc Night Market is currently a popular nightlife spot for both locals and foreign tourists. From 4 pm, Bach Dang street and the sections of Ly Tu Trong – Nguyen Trai – Le Loi are closed to make a nightlife walking route for tourists.
Phu Quoc night market has a lot of handicrafts, necklaces, bracelets, rings which are made from natural pearls or stones found on the island. In particular, visitors can walk around the night market and enjoy fresh seafood dishes at a reasonable price.
Above is the information that we want to share about "Night market, a real organization in Vietnam". When traveling to the above attractions of Vietnam, instead of walking around the hotel, you should try spending an evening walking around the night market, enjoying delicious food and buying souvenirs. Contact us if you need any assistants.
See more: Pu Luong – Nature beauty in the heart of Thanh Hoa