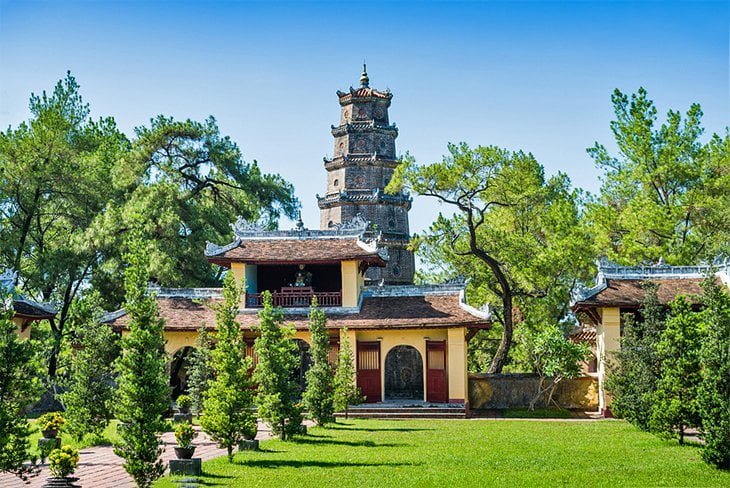 Hue is one of the famous tourist destinations, attracting the most visitors in Vietnam because of its long-standing culture, rich in historical value, and many beautiful cultural and artistic features such as Hue royal court music. , many unique architectural works, and unique cuisine.
Visiting Hue, Vietnam – Former imperial capital with a unique heritage
As the capital of the Nguyen lords of Dang Trong, then the capital of the Tay Son Dynasty, and finally the Nguyen Dynasty, Hue still retains a lot of historical and cultural values, and vestiges of ancient feudal dynasties.
Nature favors Hue with many beautiful landscapes, but Hue really shines with the tangible and intangible cultural values created by humans. This place is the land of cultural quintessence convergence, creating a spirit, a very unique nuance of Hue.
What to visit in Hue, Vietnam?
Our Pu Luong Nature Reserve lists some following best places as a reference for you when planning your trip:
1. Imperial City Hue
The Citadel is the common name used for the cluster of works including the Imperial Citadel and the Forbidden City, built-in 1804. The Citadel has more than 140 large and small works serving the central government apparatus, with a system of gates. The city is equally massive. The entire Citadel is spread over an area of nearly square shape, each side up to 2500 m. Some buildings and "must check-in" places when you visit the imperial citadel: Ngo Mon (southern main gate of the Imperial Citadel), Thai Hoa Palace, Temples, Co Ha Garden and Kham Van Palace
2. Tu Duc Tomb
Also known as Khiem Lang, is one of the beautiful works of the Nguyen Dynasty's architecture, about 5 km from the center of Hue city. Tu Duc Tomb has about 50 architectural works with Khiem in the name. There is also Minh Khiem theater for the king to watch and sing, which is considered the oldest theater in Vietnam that is still preserved.
3. Minh Mang Tomb
Also known as Hieu Lang, is located on Cam Ke mountain, about 15 km from the center of Hue city. Minh Mang Tomb is a collection of unique architectural works with more than 40 works including palaces, castles, pavilions. Besides, the mausoleum is also a treasure with nearly 600 crosswords carved with poems on Bi Dinh, Hien Duc Mon, Sung An, and Minh Lau palaces. The mausoleum of Minh Mang shows the seriousness of a social institution with the character of a king who has a talent for manipulating many fields.
4. Khai Dinh Tomb
This is the result of the integration of many Asian and European architectural lines. The mausoleum is the pinnacle of porcelain and glass mosaic art. Khai Dinh Tomb is also considered one of Hue's tourist attractions that is very popular with tourists because of its delicate structure and structure with high artistic value.
5. Dong Ba Market
Similar to Ben Thanh market in Saigon, Dam market in Nha Trang, Dong Ba market is also considered a symbol of Hue and one of the famous Hue tourist attractions. This market was opened during the reign of King Gia Long, after many events, it was renamed Dong Ba market in 1887 by King Dong Khanh.
6. Huong River
As a symbol and also the pride of the people of Hue, the Huong River is as gentle as a long, soft silk strip in the middle of the dreamy land of Kinh Ky. Huong River is jade green, clear as if reflecting the poetic city scene under the calm water and sparkling in the sunlight. Many artists, while on a cruise to admire the peaceful Huong Giang and listen to traditional Hue folk songs here, have found abundant inspiration to compose immortal poems.
7. Tam Giang Lagoon
In most Hue travel guides, Tam Giang Lagoon is always an indispensable place. With a length of 25 km, Tam Giang Lagoon stretches from O Lau river mouth to Thuan An bridge, connecting with Thuy Tu lagoon and Cau Hai lagoon.
From February to July is the ideal time to experience the life of fishermen here: go fishing together, enjoy dishes made from fresh seafood, or simply immerse yourself in the colors of the fish. The sky is dyed red when the sun descends on Tam Giang lagoon.
8. Village Thuy Bieu
Thuy Bieu Village is an ancient village, with an area not too large, located about 5km from the center of Hue city. A special feature of the village is the rustic, simple landscape, which has not been concretized too much, so it still retains many familiar images of old Vietnamese villages.
9. Thien Mu Pagoda
Thien Mu Pagoda, also known as Linh Mu Pagoda, is a famous ancient temple that tourists should not miss when traveling to Hue. The most unique feature of the temple is Phuoc Duyen tower. With a unique seven-story octagonal structure, the tower has become the symbol of the pagoda as well as the symbol of this ancient capital.
Thien Mu Pagoda is attractive for its unique and ancient beauty. The architecture is a mixture of Vietnamese and Chinese cultures. This temple is also known for many mysterious anecdotes. If you are someone who wants to hear about history, hire a local tour guide to hear stories about the temple for the most complete trip.
10. Lang Co Beach
As one of the most beautiful bays in the world voted in 2009, about 75 km from Hue city center, at the foot of Hai Van pass; Lang Co beach obviously appears in the list of Hue tourist attractions that must be checked-in.
Lang Co Beach contains almost everything that nature can give: the blue color of the sea mixed with tropical forests, the long white sand beach, the golden sunshine covering the landscape brings a sense of awe. both cool and powerful at the same time.
11. Bach Ma National Park
Moving away from the center of Hue city, Bach Ma Mountain is the natural boundary between Thua Thien Hue and Da Nang provinces in Bach Ma National Park with majestic waterfalls and a diversity of rare flora and fauna. Conquering Bach Ma mountain, you will admire the panoramic view of Tuy Van mountain, Hai Van pass, and the splendid scenery of Hue city as seen in the eye.
12. Hai Van Quan
Hai Van Quan from one angle
This gate that has witnessed so many historical ups and downs is a famous Hue tourist destination, belonging to Lang Co town, Phu Loc district. Located on the top of Hai Van Pass, one of the most dangerous passes of Vietnam with an altitude of 490 m above sea level, Hai Van Quan was built in 1826, under King Minh Mang.
13. Hue Water Park
Just looking at Thuy Tien lake park from afar, you can feel the illusory atmosphere covering the whole park. The closer you get, the more you will feel the desolation, ruin, and green moss covering every small detail after a long time of being abandoned. One of them must mention the aquarium amusement park that was invested in and built very elaborately. Especially, the more you step inside this aquarium, the more spooky and wild you will feel by the presence of patchy walls, covered with drawings.
When to go to Hue, Vietnam?
If you intend to travel to Hue, you need to find out which season is the most beautiful. In Hue, there are many scenic spots and delicious dishes that you should try. Therefore, if you come to Hue to travel in good weather, you will easily explore the beautiful ancient capital without fear of being interrupted by sudden rains.
From January to March: The weather is cold, the trees are budding, the scenery is beautiful. Suitable to admire the gentle beauty in Hue.
April: Festival season Hue Festival. The atmosphere is vibrant, bustling, the street is decorated very beautifully. If you are a fan of prosperity, you can travel in Hue at this time.
From May to July: At this time, the climate is cool and dry, which is also the most beautiful time to travel to Hue, especially early August.