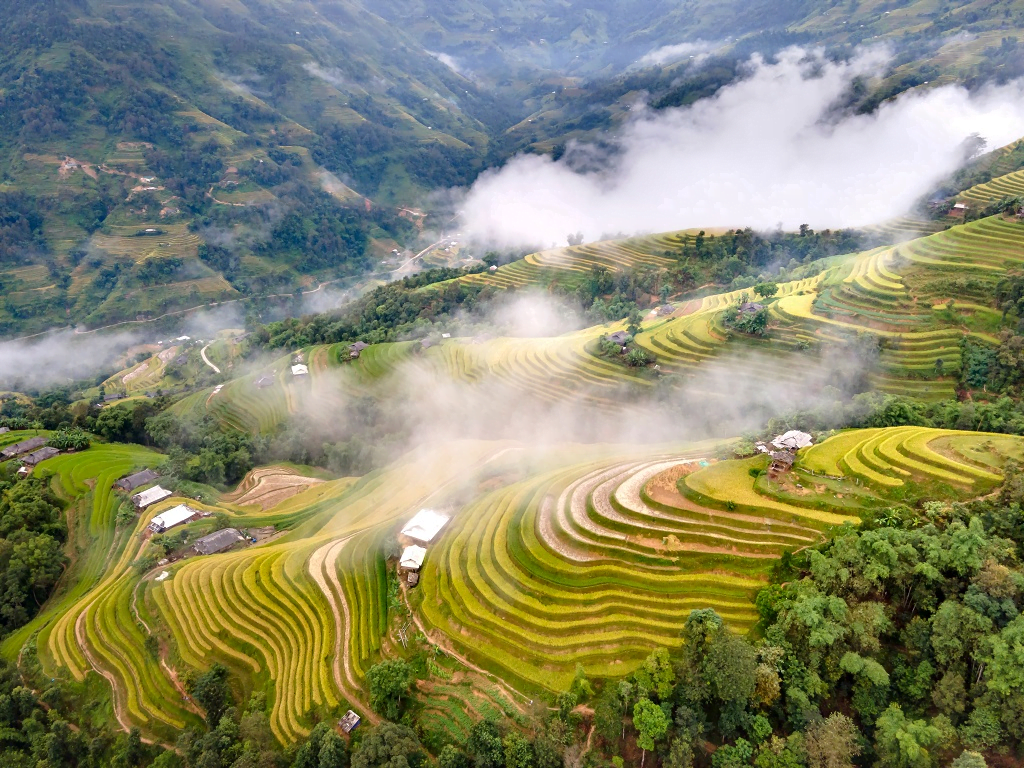 Many people around the world cultivate their sloped ground using terraced fields. Due to the lack of highland mountains suitable for cultivation, people decide to create terraces on the ridge's slopes. then create terraced rice fields by draining water from the high slopes.
No one can ignore the breathtaking magnificence of the terraced fields in Hoang Su Phi when visiting Ha Giang. The variety of colors that are scattered across the dangerous mountain ranges, lovingly embracing the sloping rock face like beautiful smooth lines.
WHEN TO GO TO HOANG SU PHI
Spring (January – March): At Hoang Su Phi, there will be many unique festivals of ethnic minorities. The festivals are full of colors and lively sounds, typical of the western mountainous region of Ha Giang. This is also the time when the peach, pear and tea plantations are the most beautiful.
From April to June: This is the time when the Hoang Su Phi terraced fields are in the pouring season. The moment when the sunlight shines on the terraced fields at this time is enough to make you fall in love.
September every year: Perhaps this is the most beautiful time of Hoang Su Phi. The terraced fields begin to ripen, creating a magnificent and poetic scene. This is also the time when Hoang Su Phi has the most tourists. In addition, this is also the ideal time to hunt for clouds in Hoang Su Phi.
From November to December: If you want to experience the cold of Ha Giang, go during this time. The cold season on the high mountains is especially with bitter winds, trees are covered in cold mist, but there are warm villages with smoke from the back of the mountain.
See more: Pu Luong Nature Reserve

WHAT TO DO IN HOANG SU PHI
Around 3,000 ha of terraced fields may be found distributed throughout Hoang Su Phi's communes. Still, the 760 hectares of fields designated as a National Heritage are the most stunning among them. Ban Luoc, Ban Phung, Thong Nguyen, Ho Thau, Nam Ty, and San Sa Ho are where they are located. Together with the stunning natural scenery of mountains, forests, lyrical rivers, and streams, these locations are home to well-known fields, lending even more beauty to the incredible Ha Giang loop tour from Hanoi.
Ban Phung
The commune of Ban Phung located near to the Chinese border. To get to the commune center from Vinh Quang's town center, you must travel around 30 kilometers along a short mountain pass.
Terraced fields in Ban Phung are huddled on steep hillsides because there are no broad valleys like Cao Pha or Muong Hoa. This region of Vietnam has the highest terraced fields, along with Ban Luoc.
Ban Luoc – San Sa Ho
There are numerous terraced fields in the communes of Ban Luoc and San Sa Ho due to their mountainous terrain and moderate slope. Everywhere there are terraced fields with a wavy or bow shape. Dao and Nung people in Ao Dai own the terraced fields nearby.
Nam Ty – Thong Nguyen
Nam Ty situated at kilometer 24 of the Bac Quang–Hoang Su Phi road. One of the locations designated as Hoang Su Phi's National Monument of Terraced Fields is Nam Ty, which is also part of the Red Dao.
For those who like a little danger and excitement, you can choose to climb West Con Linh Mountain to get a bird's eye view over the entire rice terraced fields and to take in the beauty of nature. The route may be longer and more challenging, but the scenery you will encounter will stay with you for the rest of your life.
The Thong Nguyen Terraced Fields are located on the left bank where three major streams come together to form a plateau in the middle of the mountain: Phin Ho flows down, Nam Ong flows back, and Nam Khoa bounces together. Many people remarked that "Quan Son – Tu Thuy" was located in Thong Nguyen. One of Hoang Su Phi's most stunning locations to witness terraced farms is Thong Nguyen. Around km24 of the route from Bac Quang to Hoang Su Phi is the most picturesque section, where you can stop shooting pictures.
Tay Con Linh Mountain
Tay Con Linh is a mountain peak located on the massif upstream of Chay river, located in the west of Ha Giang province. With an altitude of 2419m, this is the highest peak in the Northeast of Vietnam and one of the highest peaks in Vietnam. In particular, at the foot of the mountain is a preserved subtropical primeval forest. In addition, Tay Con Linh is considered a sacred mountain range of La Chi ethnic people.
Hoang Su Phi Sunday Market
Locals in Vinh Quang's central town hold a traditional market every Sunday morning along its main street, which is a couple kilometers long. The Tay Con Linh Mountain Range is home to ethnic groups of the Mong, Dao, Tay, Nung, and La Chi, and the market has a significant impact on their picturesque way of life. The market serves as a meeting area and a location for trading goods and services, among other things.
Chieu Lau Thi peak
The picturesque peak in Ho Thau commune, Hoang Su Phi, is known as Chieu Lau Thi in Vietnamese, which means "the nine steps of cloud." After the Fanxipan and Tay Con Linh peaks, Chieu Lau Thi is regarded as the third tallest mountain in Vietnam with a height of 2412 meters. For each traveler, climbing the mountain will be an unforgettable experience. After a long walk, enjoying the sunset from the peak is a satisfying experience. When there are so many low, floating clouds from the peak, the sky appears to be closer.
HOW TO GO HOANG SU PHI
You can go to Hoang Su Phi via private vehicle, public transportation, or a combination of both from the center of Ha Giang City at a distance of around 80 km.
By public transport
Hanoi to Ha Giang
Every day, there are numerous buses leaving from My Dinh bus station towards Ha Giang. The departure time is often between 8 and 9 pm, and you will arrive at the Ha Giang bus station around 5 am.
Ha Giang to Hoang Su Phi
When the coach transports you to the bus terminal, you have the option of renting a motorcycle in Ha Giang. From there, you can take a car back to Tan Quang and then turn into DT177 to reach Hoang Su Phi.
There is another way that a biker can use to get to Hoang Su Phi. It involves going to the border crossing at Thanh Thuy and then passing through Tay Con Linh.
By private vehicles
There are numerous ways to explore Hoang Su Phi using personal means. You can choose to go along Highway 2 in the regular Hoang Su Phi direction from Hanoi. After seeing Hoang Su Phi, turn toward Xin Man, Bac Ha, and the Yen Bai road to head back to Hanoi. This schedule will result in a circle that does not go back to the original path.
WHAT TO EAT IN HOANG SU PHI
Due to the fact that Hoang Su Phi is a district within the province of Ha Giang, these people share several specialities.
Fried Stream Fish
A must-try cuisine in Hoang Su Phi is stream fish that has been deep-fried in hot oil. Everyone who attends is drawn in by the crispy fish and delicious flesh, which is served with a dip made from fish sauce, some chili, onion, and lime juice. Freshly plucked basil and coriander leaves from the garden are served with the fish.
Sticky Rice in Five Colors
Visitors are drawn to this special meal in the Northern mountainous regions not only by its colorful garnish but also by the flavor. Sticky rice is meticulously crafted into a work of art using five vibrant colors derived from natural resources. They include gac, which produces red, local tree leaves, which produces green, pureed turmeric, which produces yellow, and Sau leaves, which produces purple.
Initially, sticky rice is given an eight-hour soaking in water. The rice is then divided into five sections, each of which is colored and steam-cooked for several hours. In the mountainous regions of Northern Vietnam, nearly all ethnic groups consider it to be a staple food. Women particularly prepare this unique and intriguing cuisine during festivals or other special occasions.
Shan Tuyet Tea
More than 2,000 meters above sea level, tea trees that are 100 years old and covered with moss can be found. Four seasons of wind and fog cause the tea leaves to grow valuable leaves that are utilized to improve people's health. Although no one is certain of the age of the oldest trees, the area itself is full of really old tea trees. The Northern region of Vietnam depends heavily on green tea. If you chat with locals over a cup of hot tea and observe how they prepare unprocessed tea leaves, it will be an interesting experience.