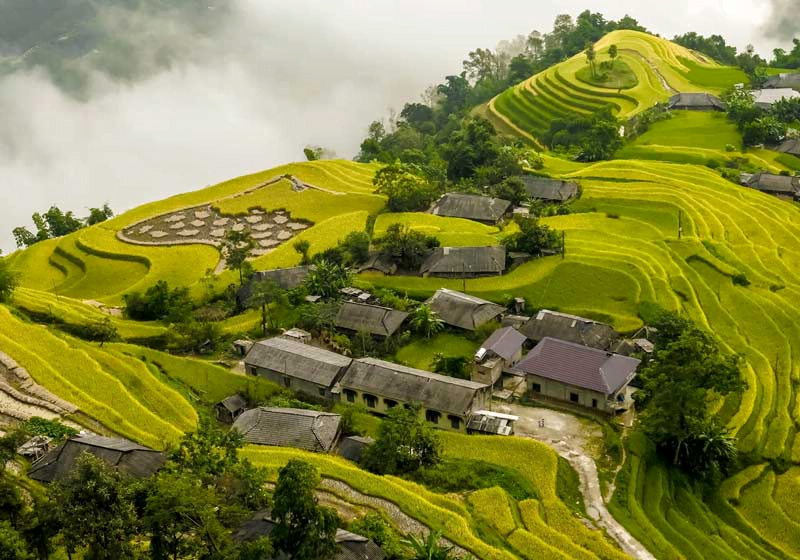 Known for the overwhelming beauty of the vast mountains and forests with unspoiled features and winding roads. Ha Giang fascinates many tourists who love the concept of "moving" and conquest. So specifically, if you start from the center, how many kilometers from Hanoi to Ha Giang? Ddi by what means? Which way is convenient? Let's update your knowledge baggage before starting your trip through the article below.
Distance from Hanoi to Ha Giang
In addition to the beautiful natural scenery, coming to Ha Giang, passengers also experience the unique culture of ethnic minorities and the unique cuisine of the Northwest mountains.
Ha Giang's terrain is high with many rolling mountains, the road going uphill is long and winding, so although the distance is not far, traveling is longer and more difficult than other places.
About 300 km from Hanoi, it usually takes passengers 7-10 hours to travel to Ha Giang depending on the route and means of transport you choose. Let's update the specific routes that passengers should go through below.
How to move to Ha Giang from Hanoi
Traveling by bus
According to many guides to move to Ha Giang from Hanoi, traveling by bus is quite convenient and often chosen by many people. At My Dinh bus station, there is always a daily departure to Ha Giang, suitable for people who like to go freely, go in small groups and do not want to have to ride a motorbike for long distances. For large groups, consider taking a limousine or other vehicle because it is difficult to find an empty car to share.
Currently, Ha Hoi and the northern provinces have bus routes to Ha Giang, the fare also depends on how far the car travels. There are many car companies such as Hung Thanh, Hai Van, Cau Me, Ngoc Cuong, Bang Phan, Khai Huyen, Khanh Hang for you to choose from. The cars on the way from 2 main garages are My Dinh bus station and Giap Bat bus station.
Ticket prices usually fall around 200,000 VND/person. Particularly, other high-end cars will have higher prices such as limousines with prices ranging from 300,000 VND to 350,000 VND or more. The advantage is that the interior is luxurious, cool, the car is light, always comfortable for guests. The bus operators always have a trip to Ha Giang every day. The latest departure is from 9:30 pm every day.
Read more:Pu luong day trip
Traveling by motorbike 
According to the guide of moving to Ha Giang from Hanoi for those who have gone before, traveling by motorbike is only suitable for those who love backpacking and want to conquer long and challenging roads. It is extremely suitable for a large group of people because the road will leave many great memories as well as save quite a bit of money. As for those who just want to come here to travel and rest, they should prioritize traveling by other means of transport.
Traveling by private car is also a great suggestion because it is safe and the travel time is also faster than motorbikes. Especially traveling by car will have more room for you to carry your belongings, not afraid of being too cumbersome like when traveling by motorbike. However, it should also be noted that people with experience in long-distance driving should take the wheel, especially those who know the way from Hanoi to Ha Giang.
Starting from Hanoi, there will be 2 directions for you to choose, this distance is nearly 300 km long, so it will take 6-7 hours to get there:
– The first route: Take the Noi Bai – Lao Cai highway. This route is relatively easy to go, only for cars and motorbikes, not allowed to move.
– Route 2: Go through Highway 32. This route is for both motorbikes and cars. Although this road is about a few dozen kilometers longer, it will be less crowded, safer and more convenient to travel.
Long distance, traveling by motorbike will take much longer than other means of about 8-10 hours to reach Ha Giang. But in return, you will enjoy the rare feeling of conquest, see the wonderful scenery of the mountains and forests in the most honest way, and save more than just 200,000 VND for gas.
Traveling by self -driving car
If visitors choose to move to Ha Giang by self -driving cars, it will take about 6 hours to arrive. The advantage of this vehicle is that you can fully take the initiative in time and on a roadmap, suitable for families or groups of 5 to 7 people.
However, to conquer Ha Giang by self -driving cars will require hard steering, experienced by crossing the winding mountain pass. Back to the road for cars to Ha Giang is similar to the two roads for motorbikes as guided above. However, in the two roads, Highway 2 has a fee, the road is quite wide and flat, so it is suitable for cars to move more.
Some notes when moving to Ha Giang
If you have memorized the instructions to move to Ha Giang from Hanoi above, do not forget to pocket a few more notes below to explore the rocky plateau more smoothly.
– Choosing to bring warm clothes whether in the winter or summer because the weather on the mountain is much colder in the plain. Should wear sports shoes or soft soles to move comfortably, especially when walking to visit locations such as Lung Cu flagpole, white cliff or Nho Que river.
– Should bring bloody drugs, ginseng ginseng or anti -motion sickness drugs because Ha Giang pass is quite circled so even car people are used to car sickness. In addition, you can bring some headache, abdominal pain, gauze and insect spray.
– Always bring all other papers and luggage to be able to present papers when required, avoiding trouble throughout the journey.
– If you ride a motorbike by yourself, you need to buy more storage gasoline (1.5l bottle), some repair and patch items. If you rent a motorbike in Ha Giang, it is not necessary because the owner will provide you with enough. Do not forget to check the car and the items accompanied before renting.
What are you waiting for without saving instructions to move to Ha Giang from Hanoi above. All questions about moving to the rocky plateau have been answered. Hopefully these moves will help you have a fun and full of interesting experiences!
Read more: Pu Luong Nature Reserve