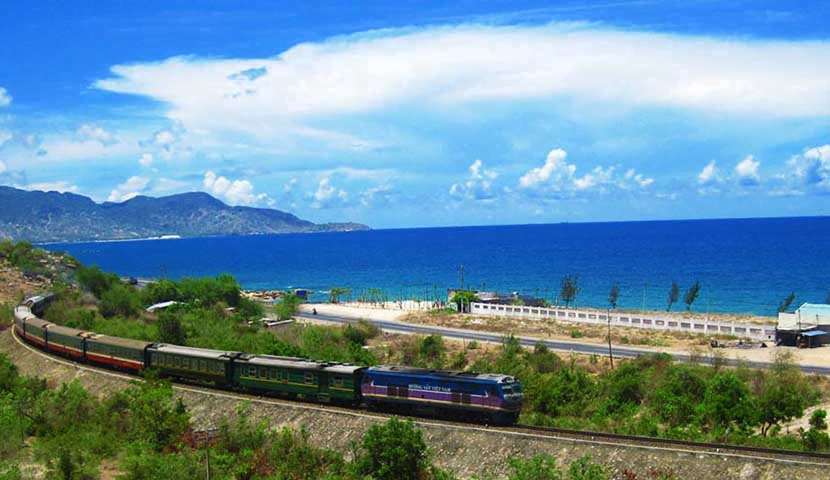 There is no doubt that an airplane is the most convenient means of travel because it gets you where you're going more quickly. However, nothing beats the magnificent scenery that can only be seen from window-side seats of a train when it comes to long-distance land travel.
Here's the lowdown on a list of the most beautiful train journeys in Vietnam for your upcoming vacation. 
WHY CHOOSE A VIETNAM TRAIN TRIP?
Breathtaking scenery
The best way to see Vietnam is on a train. A beautiful picture of Vietnam is provided by rail travel, up close and personal. Along the route, mountains, rice paddies, and stunning coastlines all reveal their magnificence.
The picturesque train ride from Da Nang to Hue through Hai Van Pass should be on your vacation bucket list because of its spectacular views.
The convenience
Remember all the trouble you had at the airport? Check-in and departure take more time than expected, not to add the cost and time of the cab ride to the airport (usually located far away from the city centers). These issues are resolved by rail travel!
You can travel quickly and easily to and from the city thanks to the train stations' ideal location.
However, some locations, like Sapa, can only be reached by rail or bus. Using the overnight train to get to your destination in the morning is convenient.
A comfortable
Rail travel is a better option than airplane, which can have crowded seats, or taking a car or bus, which can have bumpy roads.
Traveling by train in Vietnam is a relaxing experience with plenty of room to spread out and relax. If you are bored or have been sitting for too long, you can also stand up and move around.
Local experience
In Vietnam, taking the train allows you to experience life as a local. Your experience can be made special by getting to know Vietnamese people, tasting the cuisine at the various railway stops, purchasing souvenirs from the windows, etc.
Reasonable price
Despite the fact that it might be time-consuming, traveling by rail is frequently more affordable than flying or, in some cases, even taking a bus.
THE MOST BEAUTIFUL TRAIN JOURNEYS IN VIETNAM
Train from Hanoi to Sapa
The Sapa train heading to Lao Cai is the most obvious option for train travel in Vietnam. Although Sapa lacks a train station, this is perhaps the most common method of transportation to the highlands.
Nowadays, trains leave Hanoi at 20, 21, and 22, and they reach Lao Cai at 4, 5, and 6, respectively. The trip to Sapa takes just one hour by shared minibus or public bus along the twisty mountain roads.
The opportunity to treat yourself to a little luxury in a first-class railway carriage and get a good night's sleep before your Sapa activities is presented by the train to Sapa.
Train from Hanoi to Phong Nha
Phong Nha, like Sapa, is not on the line. But if you want to travel from the capital to the countryside with a stop at a beach in between, you may take a simple overnight train from Hanoi to Dong Hoi. This is the neighboring beachside town to Phong Nha, and in nice weather, it's a beautiful area to stay for a day or two. After that, you can join a group tour or rent a motorbike to travel the hour-long distance into the National Park.
Read more: Pu Luong Nature Reserve
Train from Haiphong to Hanoi
Passengers can purchase train tickets for a 2-hour-and-45-minute ride to Hanoi. from the Hai Phong Railway Station for VND130,000 (USD5.61).
The 102 km rail line that connects Hanoi and Hai Phong is filled with gorgeous scenery, including paddy fields and busy streets that portray the vibrant local culture.
The train's approach to Long Bien Bridge as it reaches Hanoi, nevertheless, must be the highlight of the journey. The energizing breeze will awaken passengers, and the panoramic view of the vast Red River and its lush fields on the river banks will amaze them.
Also, the ride is worthwhile because of the 117-year-old Long Bien Bridge, a cultural and historical icon of Hanoi that has survived decades of war.
It takes about five minutes to go from Long Bien Train Station to Hanoi Railway Station, where passengers can get off. These stations are a short distance from Hanoi's Old Quarter, which features historic buildings and a unique dining culture.
Train from Danang to Hue
The route from Da Nang to Hue or vice versa across the Hai Van Pass is likely the most well-known train route in Vietnam, and perhaps all of Vietnam. It's a long ride on the road, which is traveled by hundreds of motorbikes and scooters each day, but fear not even if you don't have bike legs—the train ride offers equally spectacular scenery.
The Da Nang – Hue train is incredibly breathtaking, hugging the coastline and surrounded by dense jungle, so be sure to get a nice seat, on the right going to Hue and on the left going to Da Nang.
During the day, the SE2, SE4, and TN2 run from Da Nang to Hue, and the SE1, SE19, and SE3 travel between Hue to Da Nang all before lunchtime.
Train from Dalat to Trai Mat
Da Lat, one of Vietnam's most attractive cities, is known for its many off-the-beaten-path scenery that can only be seen from a train's seat.
As the train leaves Da Lat Railway Station and passes Tran Quy Cap Street, dense rows of cherry blossoms will soon cover the cityscape of Da Lat, giving you the impression that you are in Japan.
Since Da Lat's cherry blossom season typically lasts from January to February, plan your trip to take advantage of this stunning window-side sightseeing experience.
From the luxury of their carriages, visitors may view stunning flower fields, charming villages, and mist-covered, lush mountains along the 7km length of the railway.
You can stroll for five minutes to Linh Phc Pagoda, Da Lat's largest pagoda made of thousands of shards of broken glass, after arriving at Trai Mat Train Station.
Train from Danang to Quy Nhon
Passengers can take The Vietage, an Indochinese-style train carriage, from Da Nang Railway Station for a 6-hour journey to Dieu Tri Train Station in Quy Nhon City.
The Vietage travels 317 Kilometers and passes through gorgeous rice fields, wooded glens, and the enchanting South Central Coast.
The Vietage, the nation's first luxury rail car, offers travelers a luxurious and comfortable way to take in Vietnam's distant scenery.
The carriage, which only has 12 seats for solitude and quiet, has a wide range of amenities, including a massage parlor for passengers to unwind in, a restaurant that serves elegant meals, and a bar with a selection of drinks.
You can take a 20-minute taxi journey from Dieu Tri Train Station to Quy Nhon City Center, which is located along the crescent-shaped Quy Nhon Central Coast, for an amazing beach walk or waterfront dining.
Eo Gio and Hon Kho are 20 Kilometers from the city center and offer gorgeous beaches perfect for a tranquil getaway.
OPTIONS FOR SEATS ON TRAIN IN VIETNAM
Hard seat

The soft seat has a seat that is covered in vinyl.

Hard-berth has three layers of beds, totaling six berths each cabin. The price corresponds to the level of comfort; the upper berth is the least expensive and the lower berth is the most expensive.

Soft-berth has beds on two levels (four berths per cabin). Within the soft-berth option, the cabin quality varies as well, ranging from one with wood panels to one with hard plastic.
WHERE TO BUY VIETNAM TRAIN TICKETS?
Online
To save time and enjoy hassle-free travel, purchase rail tickets online and get an e-ticket. These are a few places where you may look up and purchase Vietnam train tickets such as Baolau and 12go.
At train station
At the station, you can also purchase train tickets. It can be a little time-consuming and complicated, though. As a result, we recommend online purchases.
Read more:Pu luong day trip