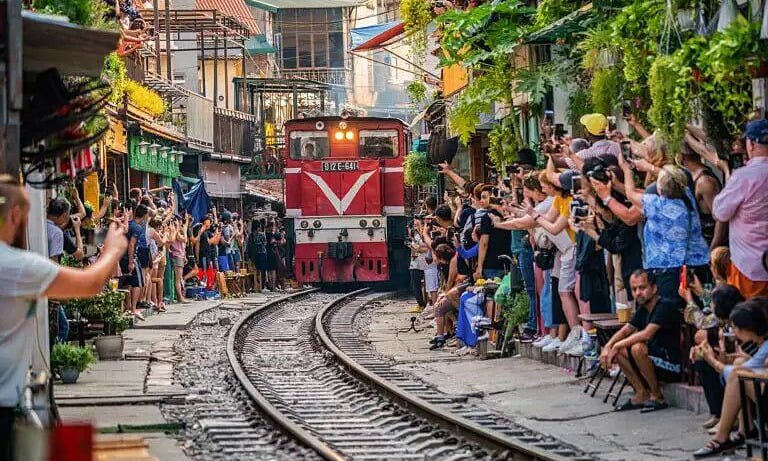 If you are tired of long bus trips or bored with tasteless direct flights, try traveling by train once. In particular, the recent introduction of 5-star tourist trains will bring you really interesting and new experiences!
Vietnam train map
Vietnam Railway Map – The Vietnamese railway system now has a total length of approximately 2.600 kilometers, connecting most cities and provinces throughout Vietnam, including many cultural, societal, and tourism destinations from the North to the South.
The domestic railway system is also linked to the Chinese railway, allowing trains to cross the border and arrive at stations in Nanning and Beijing.x
See more:Pu Luong Nature Reserve
2. Why choose a Vietnam train trip?
Although this is not a new experience, traveling by train is still loved by many people, especially young people who have begun to love it more recently. Especially when traveling between places with a close distance, traveling by train will help all visitors enjoy the beautiful scenery on both sides of the road.
Some reasons make you will choose train trip:
Prices seem to be stable and stable: Compared to airline tickets, train tickets seem to be much cheaper. And if you travel long distances, the price difference will be more, so this could be an attractive vehicle for those who want to save money.
Unlimited weight of luggage: When traveling by plane, airlines have their own regulations on the weight and size of passengers' luggage and you will have to pay an extra fee if the weight exceeds the limit. This makes many travelers feel concerned and anxious, but when choosing to travel by train, the weight of luggage will be comfortable and there will be plenty of room for luggage.
Freedom of seat: When traveling by train, all passengers can freely move around in the carriages as long as they make sure not to disturb other passengers. In addition, the train also expands the carriages with bed support so that customers can rest if the trip lasts many hours.
Another plus for you to choose to travel by train is the comfort of using other electronic devices anytime you want.
Simple procedure: You are bored because of the feeling of waiting for check-in at the airport or are afraid of the long driving distance, afraid of the sun and wind but still want to be able to see the beautiful scenery, then choosing travel By train is the right choice for you. Because when traveling by train, passengers only need to arrive 15-20 minutes before departure time.
3. The most beautiful train journeys in Vietnam
3.1 Hanoi Sapa night train
Currently, a day to Sapa has 3 trains, 2 trips in the evening, 1 trip during the day. The fastest train is the SP1 train, the LC3 train during the day without a bed, only a seat ticket. The night time of the train is quite reasonable compared to the passenger car because the guests spend the night on the train, in the morning come to Lao Cai to have breakfast, get on the car to Sapa very comfortably on time.
On the Hanoi – Sapa – Hanoi train route, there are many high-class and luxurious carriages with quality from 3 stars to 5 stars of investment travel agencies. These carriages are built separately, with beautiful, luxurious and delicate wood-paneled interiors. The toilet system is very clean. The bedroom on the train is very well soundproofed, so it is not noisy, sleeps well, has drinking water, cold towels, fruits, very good service staff. In addition, the carriage is equipped with a very good suspension system, so the train runs much smoother.
3.2 Train Hanoi- Hue
Traveling to Hue by train is one of the popular means of travel for tourists as far away as Hanoi. The advantage of traveling to Hue by this means is that you can admire the surrounding scenery and not get motion sickness or motion sickness. Traveling by train is also one of the most memorable experiences.
Hue is about 653 km from Hanoi capital, while Hue station is located in the city center, very convenient. Therefore, choosing to travel to Hue by train is appropriate. For those of you who are in Hanoi or the northern provinces, you should choose to travel to Hue during the warm weather, especially during the festival season to enjoy the exciting and bustling moments here. There is a difference between TN and SE trains, TN trains usually run slower because of more stations. Travel time by train from Hanoi and Hue is usually 13-15 hours. Ticket prices range from 400,000 VND to 1,200,000 VND depending on the type of seat you book.
3.3 Train Saigon- Nha Trang
The ticket price is about 390.000 vnđ.
Sai Gon – Nha Trang train stretches over 400 km passing through many provinces such as Binh Duong, Lam Dong, Binh Thuan, and Phan Thiet,… So you can enjoy watching the beautiful natural scenery along the beaches. province. It is wonderful to watch the sunrise on the sea and the sunset gradually falling through the window.
On the forums sharing experiences of traveling by train, Nha Trang station is one of the most popular stations. Nha Trang station is located right near the city center, the train buying procedure is also simple to save you travel time compared to taking a plane. In addition, you also have the opportunity to experience 5-star standard amenities on board.
3.4 Trains like no other
Cogwheel train in Dalat
Thap Cham – Da Lat railway (also known as cog railway) is 84 km long, built in 1932, and designed for mountain climbing. When in use in Vietnam, the ship passed through five tunnels, two large bridges, and two passes Ngoan Muc and D'ran. After 1975, almost all rails and sleepers on this route were removed because it was not economically viable. Most of the tracks and sleepers on the route were removed, and the specialized locomotives used to climb the pass were then sold to a Swiss business. Currently, only 7 km left Da Lat – Trai Mat is still used to serve tourists.
Luxury train "Indochina" Danang – Quy Nhon
This is a specially designed, high-quality train, connecting with the SE5 train at Da Nang station in the morning, returning by the SE8 train from Dieu Tri station (Binh Dinh) in the afternoon of the same day. The one-way ticket price is 350 USD (more than 8 million VND).
Although the exterior of The Vietage is painted like other cars, the inside is "a completely different world". The carriage has been redesigned with a dramatic wooden interior and caramel colored curtains. Each vehicle has 12 seats, all of which are labeled with the visitor's name
4. How to choose your seat on a train in Vietnam?
A comfortable seat will help you have a better experience during the trip. Then let Pu Luong Nature Reserve tell you tips on choosing a seat on the train so that we can have a safe and relaxing journey. Book train tickets as early as possible. Should choose the middle car (about the 5th or 6th car) – as close to the middle as possible. This is the safest position of the whole train, because usually the carriages at both ends will be deformed or flipped out of the way in the event of a collision. 
Trains also have many different types of seats, to serve each customer's needs such as hard seats, hard seats with air conditioning, soft seats with air conditioning and beds. Each type of chair has different high and low prices to meet the economic needs of each person. You should briefly grasp the characteristics, advantages and disadvantages of each type to be able to choose for yourself the best seat when traveling by train.