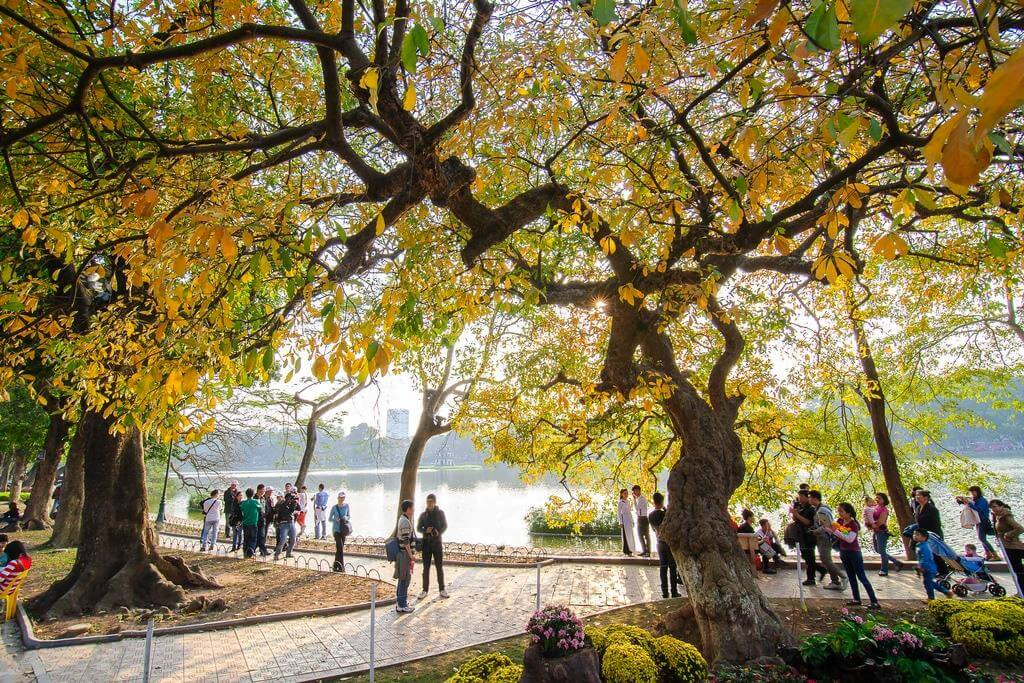 November is a fantastic month for international tourists to visit Vietnam. The following are the top 5 locations that should go in Vietnam in November. Enjoy your November Vietnam tours!
CLIMATE AND WEATHER VIETNAM IN NOVEMBER
November is one of the greatest months to visit North Vietnam, as the weather is now dry and sunny. The temperature in Hanoi will be moderate, while Sapa and Mu Cang Chai, which are mountain destinations, may expect cool weather by month's end. One of the greatest times to visit Halong Bay is during this month for a cruise or sea-kayaking adventure. Together with your sunscreen and hat for shade, bring warm clothing.
The northeast monsoon is still at its peak in coastal Central Vietnam, bringing with it strong storms, prolonged rains, and knee- to waist-high floods, especially in Hoi An. Pack a raincoat! Expect an average temperature of 73–80°F (23–26°C). Even while there are some sunny spots, now is not the ideal time to go on a beach vacation (Nha Trang receives nearly half of its annual rainfall in October and November). Nonetheless, the Central Highlands in the interior are currently cold and largely dry, making them ideal for outdoor activities.
See more: Pu Luong Nature Reserve

The Mekong Delta, as well as the beaches and offshore islands that are within easy reach of Ho Chi Minh City, are presently at their best. Blue skies have also returned to the south. Although there is still a lot of intermittent but potentially heavy rain in early November, it is generally dry by the end of the month. The average temperature in Ho Chi Minh City is 81°F (27°C). Bring a small umbrella and/or rainproof jacket, but for the most part, light summer clothing will do.
TOP 5 PLACES TO VISIT IN VIETNAM IN NOVEMBER
HANOI
Due to its beauty and romanticism, Hanoi in November appears in many Vietnamese poems and songs. Every area in Hanoi is romanced by autumn breezes. Streets are suffused with the fragrance of ripe crocodile fruit, which blends with the scent of milk flowers and orchids. Both locals and visitors are delighted by the pleasant cool weather. Nowadays, strolling through Hanoi's leafy alleys or along West Lake or Hoan Kiem Lake is a delight. Red leaves are also used to paint the picture of Hanoi's fall, in addition to fresh, green rice and white milk blossoms. In the city, tourism is at its peak in the fall.
International visitors visiting Hanoi in November can also see the bride and groom taking wedding photos while dressed in traditional wedding attire in the old quarter, on romantic streets like Xuan Dieu, Kim Ma, and Thanh Nien, among other lovely locations including parks, the Opera House, and the cathedral. Autumn in Hanoi is the most attractive season. Enjoy your November trip to Vietnam in Hanoi to experience the stunning Hanoi fall.
HUE
Hue, the capital of the Nguyen Dynasty, is situated on the banks of Vietnam's most romantic river, the Perfume River, and has been recognized as a UNESCO World Heritage Site. Hue is considered a poetry land in many Vietnamese songs and poems because of its extensive ruins, royal tombs, and outstanding museum. Hue is at the top of the list of must-visit sites for tourists who enjoy learning about foreign culture and history because of its costumes and artwork. The three citadels, Imperial City, Forbidden Purple City, and Inner City, represent the ideal combination of distinctive ancient architecture.
While traveling down the Perfume River, tourists can also see the Tombs of Emperors while taking in the picturesque scenery and enjoying performances of royal art. The Thien Mu Pagoda, which serves as Hue's official symbol, is another prominently attractive attraction. Hue is not only proud of having some of Vietnam's most stunning beaches, including Thuan An and Lang Co beaches, but also of its remarkable historic architecture.
Hue is supposedly the perfection of Vietnamese cuisine, fashion, and language. Hue women are thought to be the most attractive due to their pleasant personalities and image of wearing the traditional violet-colored silk Ao dai. The cuisine of the Hue people is an artistic form. Hue cuisine thus appeals to both tourists and the most picky diners. The most well-known and delectable dishes include
Hue-style noodles with beef (Bun Bo Hue), rice with small clams (Com Hen), and rice vermicelli with beef and pork (Bun Bo Gio Heo). There are many other Hue cuisines that are popular with international tourists. Hue is a worthwhile tourist destination because of its traditional culture, romantic and picturesque scenery.
HALONG BAY
In November, Halong is one of the most important places to visit in Vietnam. The pleasant climate encourages visitors to travel to Halong Bay and spend time relaxing with family and friends. The country sees an increase in the number of international tourists who visit Halong Bay for its plethora of tourist attractions during the month of November.
Halong is one of the most important places to visit in Vietnam in November. The pleasant weather encourages visitors to visit Halong Bay and relax with family and friends. During the month of November, the country sees an increase in the number of international tourists who visit Halong Bay for its abundance of tourist attractions.
MEKONG DELTA
The Mekong Delta, with its beautiful landscapes, green fields, fruit orchards, sleepy villages, and colorful floating markets, is Vietnam's most appealing destination. Lonely Planet, the world's largest travel guidebook, named the Mekong Delta one of the best value destinations in 2012. The Mekong Delta tours include many scenic spots. Can Tho, My Tho, Ben Tre, Vinh Long, and Chau Doc are the most well-known.
Tourists visiting Can Tho have the opportunity to learn about the daily lives of the locals by visiting Cai Rang floating markets, My Khanh Tourist Village, and Phu Sa Tourist Site. Tourists can also visit the Binh Thuy Communal House, a valuable art and architectural style monument in the newly expanded South Western area.
Ben Tre's beauty is enhanced by the natural scenery of very small islands such as Tien islets, Phung islets, and Oc islets, as well as the ecological environment of Vam Ho Bird Yard and vast orchards. Long Thanh Communal House and Van Thanh Temple of Literature should be visited by tourists. Furthermore, Chau Doc, with its Tay An pagoda, and Sam Mountain, with its Ba Chua Xu Temple, are both lovely and interesting places to visit in November.
The Mekong Delta is populated by people who live along the river. As a result, many villages are frequently accessible by rivers and canals rather than by road. Visiting the Mekong Delta entails taking a boat trip to explore the tranquil, fresh, and green countryside along the legendary Mekong River, as well as purchasing agricultural products on boats in the floating market. Tourists can also enjoy Cai Luong, a type of Vietnamese folk opera, while tasting local specialities.
HOI AN
Hoi An is said to be an Eastern Oriental classic captivation, located in Quang Nam province on the banks of the Thu Bon River. The weather in Hoi An is generally pleasant throughout the year. It is highly recommended for tourists to visit Hoi An whenever you have free time. Hoi An is a mix of old and new, with ancient architecture and locals going about their daily lives.
Hoi An's quiet and romantic beauty with old houses, quiet streets, and dishes bringing Quang – people's souls will definitely be a nice space for families to strengthen their bonds. In addition, tourists can swim in the blue water of Cua Dai Beach. Tan Ky House, Duc An House, and Tran Family Chapel are among the town's traditional houses, pagodas, halls, and museums. The best time to visit Hoi An is on the night of the full moon, which occurs on the fifteenth of the month. You can enjoy the ancient town of shimmering Hoi An while the power is turned off and the lanterns are burned. Hoi An is the best option for your November Vietnam tour.
Hoi An is also known as a shopping paradise, with wonderful antiques, handicrafts, souvenirs, and so on. It is also simple to have a tailored Vietnamese traditional cloth made by a well-known dressmaker. Come see and experience the charm of Hoi An for yourself; your November Vietnam tour will undoubtedly be a once-in-a-lifetime experience.