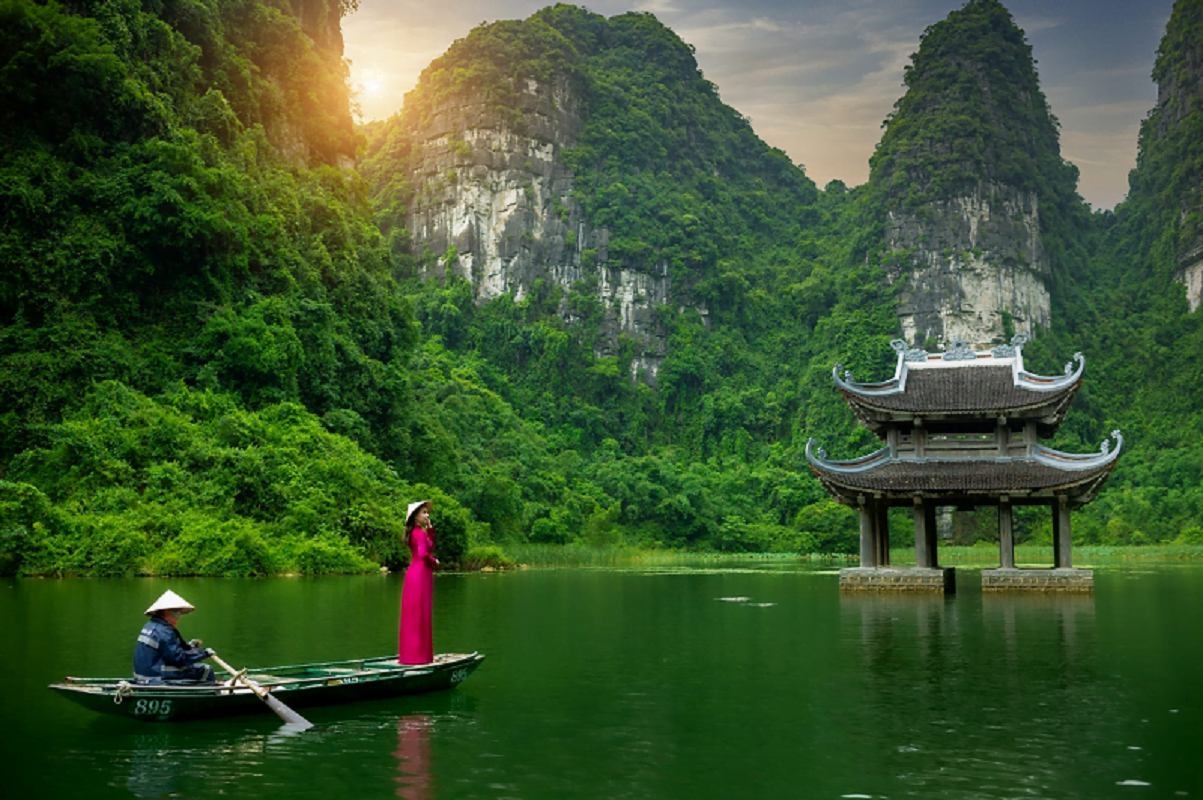 Ninh Binh Weather in November is a popular topic for travelers, as the region is known for its beautiful landscapes, rich cultural heritage, and unique attractions. November marks the end of the rainy season in Ninh Binh, which means that visitors can expect to experience a mix of sunny and cloudy days. The average temperature in Ninh Binh during November is around 20°C to 25°C, making it a comfortable time to explore the many outdoor activities and attractions in the area. Although it's typically not as hot as other months, visitors should still pack light clothing, as well as an umbrella, just in case it rains.
One of the most popular attractions in Ninh Binh is Tam Coc, which is known for its stunning views of the river and the surrounding countryside. This is a great time to visit Tam Coc as the water levels are low, which means that visitors can take a peaceful boat ride along the river and admire the picturesque scenery. Other popular attractions in Ninh Binh include Mua Cave, Trang An, and the Bich Dong Pagoda, which offer unique cultural experiences and breathtaking views.
Whether you're interested in history, culture, or simply exploring the great outdoors, Ninh Binh Weather in November is perfect for a variety of activities. With its mild temperatures and low humidity, November is a great time to visit Ninh Binh and experience the best of what this region has to offer. Whether you're a first-time visitor or a seasoned traveler, Ninh Binh is a must-visit destination in November.
Ninh Binh tourism in November gives visitors a new experience in the journey to discover the North of Vietnam. Ninh Binh is often called "miniature Vietnam" because it has all kinds of topography and climate like Vietnam. In Ninh Binh, there are limestone mountains like a towering wall dating back millions of years. There is a dense system of rivers scattered and winding through the limestone cliffs to create spectacular caves that are not found everywhere. Do not worry about Ninh Binh's weather in November because traveling to Ninh Binh in November when winter weather brings Ninh Binh a subtle color more attractive than ever.
What is Ninh Binh's average temperature in November?
Traveling to Ninh Binh in November is right in winter, the weather is cold, and the air in Ninh Binh is extremely fresh and cool, at this time, tourists to Ninh Binh are few, so Ninh Binh is not too crowded, very suitable for tourists who choose Ninh Binh as a resort after tiring working days.
The temperature in Ninh Binh this month fluctuates from 20 degree Celsius to 27 degrees Celsius, the average temperature is about 24.8 degree Celsius. In short, the atmosphere in November is quite comfortable.
See more: Pu Luong Travel Guide 2023
How much rain in November in Ninh Binh?
No longer the hustle and bustle of the spring travel season – Ninh Binh tourism festival season with the scene of tourists hurrying off the boat or jostling through the ticket gates, Ninh Binh in November is now extremely quiet and peaceful, etc.
The average rainfall in November is 68 mm and the average number of rainy days is 7.9 days, specifically:
In Ninh Binh city, the percentage of rainy days in November decreased rapidly, 24% at the beginning of the month and 10% at the end of the month (from 84mm at the beginning of the month to 24mm at the end of the month).
See more: Pu Luong Nature Reserve

How the cloud is Ninh Binh in November?
Ninh Binh sky has scattered clouds, and the covered sky rate is between 37% and 47%. The clearest day of the month is November 30, with clear or scattered cloudy skies 63% of the time.
When are the sunrise and sunset in November?
According to the November developments in Ninh Binh city, the length of the day is decreasing. From the beginning of the month to the end of the month, the day length decreased by 23 minutes, which is an average of 48 seconds per day, and 5 minutes 38 seconds per week.
The shortest day of the month is November 30 with 11 hours and 1 minute of daylight, and the longest day is November 1 with 11 hours and 24 minutes of daylight.
The average monthly sunshine hours is 135 hours
The earliest sunrise of the month in Ninh Binh City is 5:57 on November 1 and the latest sunrise is at 6:14 on November 30. The latest sunset is at 17:21 on November 1 and the earliest sunset is at 17:14 on November 26. So if you want to catch the sunrise and sunset, take these notes.
What is the humidity like in November?
The level of humidity in Ninh Binh City decreased rapidly during November, down from 74% to 42% according to the month's process.
How is the wind in November?
Wind speed and direction at any given location are highly dependent on local topography and other factors.
Average hourly wind speeds in Ninh Binh City were flat throughout November, still within 0.2 km/h
Ninh Binh in November is calm and peaceful. The craggy limestone cliffs are now covered with a gray-green color with an ancient appearance as if they were still lying there despite the wind changing direction. The river is now also lying peacefully, quietly resting after a series of hard days. The cold of winter makes Ninh Binh strangely beautiful!
What to wear in November?
Coming to Ninh Binh in November, don't forget to prepare warm clothes because at this time Ninh Binh has also entered the cold winter. Indeed traveling to Ninh Binh in the early winter with the vast fields of reed grass will bring you very special and unforgettable experiences.
Besides, you can try some kinds of traditional costumes like the Vietnamese ancient dress is also a great treasure with all kinds of costumes through the feudal dynasties. The most prominent among them are probably the Nhat Binh dress and Tac dress, two types of costumes that are often chosen when considering what to wear to Ninh Binh.
What's the weather like in Ninh Binh for the rest of the year?
In the spring season, this place is not too cold or too hot, especially visitors can combine tourism and springtime sightseeing, pagoda ceremony to pray for good luck.
Exploring Ninh Binh in the summer from April to June will certainly be an interesting experience for many visitors. Ninh Binh's weather in April is quite cool, not too hot, and even still a bit chilly in the early morning. At this time, Ninh Binh is no longer as crowded as in spring, so visitors can comfortably explore the attractions without having to wait for a long time.
Autumn in Ninh Binh will make us feel comfortable because of the mild temperatures. From July through October, Ninh Binh experiences its autumn, a time when you can take pleasure in and observe the water lilies in bloom.
Where does this data come from?
Based on a statistical analysis of hourly historical weather information and model reconstruction from January 1, 1980, to December 31, 2016, this report depicts typical weather in Ninh Binh City.
There is only one weather station at Noi Bai International Airport that is approved to be used in our network to record the temperature and historical dew point of Ninh Binh City. This weather station only measures temperature and dew point.
The MERRA-2 Modern Era Analysis of NASA provides all other meteorological information, such as cloud cover, rainfall, wind speed and direction, and energy flow. This reanalysis reconstructs hourly weather history around the globe on a grid of 50 kilometers by combining multiple measurements taken over a large area under a cutting-edge global meteorological model.
See more: