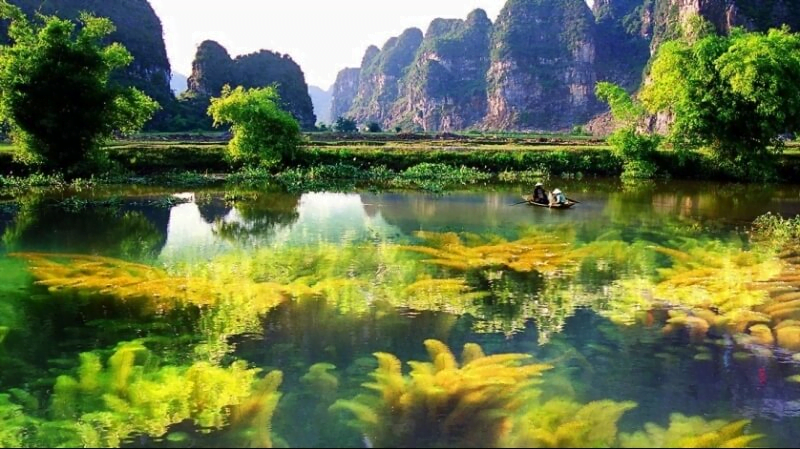 Ninh Binh Weather in October is a popular topic for travelers, as the region is known for its beautiful landscapes, rich cultural heritage, and unique attractions. October is considered the shoulder tourist season in Ninh Binh, which means that visitors can expect to experience moderate crowds and comfortable weather. The average temperature in Ninh Binh during October ranges from 20°C to 25°C, making it a cool and pleasant time to visit the region. Visitors should pack a light jacket, as well as a hat and sunglasses, to protect themselves from the sun.
One of the most popular attractions in Ninh Binh is Tam Coc, which is known for its stunning views of the river and the surrounding countryside. This is a great time to visit Tam Coc as the water levels are moderate, which means that visitors can take a peaceful boat ride along the river and admire the picturesque scenery. Other popular attractions in Ninh Binh include Mua Cave, Trang An, and the Bich Dong Pagoda, which offer unique cultural experiences and breathtaking views.
Whether you're interested in history, culture, or simply exploring the great outdoors, Ninh Binh Weather in October is perfect for a variety of activities. With its cool temperatures and comfortable humidity, October is a great time to visit Ninh Binh and experience the best of what this region has to offer. Whether you're a first-time visitor or a seasoned traveler, Ninh Binh is a must-visit destination in October.
Ninh Binh tourism in October brings visitors many new experiences in Ninh Binh in countless journeys back to Ninh Binh at different times. October brings visitors a quiet feeling when moving to any tourist destination in Ninh Binh with the autumn weather in the North, especially this is not the peak season of Ninh Binh tourism. It will be very suitable for those who want to have a fun and quiet holiday with their loved ones. Let's find out more about Ninh Binh weather in October to have the best preparation for your trip.
NINH BINH WEATHER IN OCTOBER OVERVIEW
The weather in Ninh Binh in October is the most pleasant weather of the year when tourists travel in Ninh Binh. The weather from October to the first half of December is the time when it is autumn in the North, so the temperature ranges from 22 to 26 degrees Celsius. With this weather, visitors feel comfortable, cool and not sultry when climbing, not as hot as summer or early spring like when sitting on boats all over Trang An, Tam Coc, not cold like autumn and can roam any place of Ninh Binh with a really relaxed mood. Therefore, many tourists from the South choose October as their travel time in the North in general and Ninh Binh is an indispensable destination.
See more Pu Luong

HOW MUCH RAIN FALLS IN OCTOBER?
On average, there is a 36% probability of rain in Ninh Binh in October. And on a typical day, we receive 0.54 in (13.6 mm) of precipitation from rain or snow. Some people would refer to that amount of rain as moderate rain to better convey how much it is.
The wettest month in Ninh Binh is August, when there is a 67% chance of precipitation and an average daily rainfall of 0.22 inches (5.5 mm). The driest month in Ninh Binh is February, when there is a 10% chance of precipitation and an average daily rainfall of 0.18 inches (4.5 mm).
HOW IS CLOUDY NINH BINH IN OCTOBER?
In Ninh Binh during the month of October, the average amount of time the sky is clear or sunny (partially overcast or less) is 10.3 hours (43% of the day). To put things into perspective, Ninh Binh experiences an average of 13.6 hours of clear, sunny days per day in the month of March, whereas just 3.3 hours per day on average in the month of June are cloud-free.
WHAT TIME DOES THE SUN RISE AND SET IN OCTOBER?
Ninh Binh experiences 11.7 hours of daylight on average every day in October, with sunrise at 05:50 and sunset at 17:32.
The day in Ninh Binh with the most daylight is June 20th, with 13.4 hours, while the day with the least daylight is December 17th, with only 10.9 hours.
HOW HUMID IS OCTOBER?
With an average relative humidity of 78% in October, Ninh Binh is somewhat humid and might be characterized as humid but cool. The relative humidity is at its maximum in March at 85% and its lowest in December at 76%.
HOW WINDY IS OCTOBER?
Historically, the average wind speed in Ninh Binh in October is 12.4 mph (19.9 kph). The month with the highest average wind speed is December, which averages 12.5 mph (20.1 kph), while the month with the lowest average wind speed is August, which averages 9.8 mph (15.7 kph).
OCTOBER CLOTHING SUGGESTIONS
The average temperature is 82°F (28°C), with a low of 71°F (22°C), and feels comfortably warm with a light wind. A slight risk of rain is also possible. Most individuals would choose to wear something really light, like a sleeveless shirt, in light of this.
WHERE DOES THIS DATA COME FROM?
The MERRA-2 project from NASA used a climate model in conjunction with historical information from weather stations all over the world to estimate what the conditions were like for every spot on Earth. This study provided the weather data for Ninh Binh.
MUST-VISIT PLACES IN NINH BINH OCTOBER
So in October to Ninh Binh, where should I play? Nice place to have fun in Ninh Binh? Now let's take a look at the beautiful places in Ninh Binh in October.
Trang An
Coming to Ninh Binh in October without going to Trang An is indeed a mistake. Coming to Trang An, you will take a boat ride along the stream to feel the cool autumn air on the lake. The wind is gentle, the lake is quiet, the space around is trees, the scenery is poetic, it will definitely be a great reset time after a long time of hard work and study.
Bai Dinh Pagoda
The temple with a large and diverse architectural complex is definitely a place you do not want to miss when coming to Ninh Binh. Going to Bai Dinh Pagoda in October will bring you peace of mind, joy and relief from the worries of daily life. In addition, in October, there are many flowers blooming at Bai Dinh Pagoda, so you can also enjoy the beautiful scenery there.
Mua Cave
Mua Cave is a great place to see the scenery of streams and mountains in Tam Coc – Bich Dong. Autumn is a great time for climbing (about 200 steps). Come to Ninh Binh in October, remember not to miss Mua Cave or you will regret it.
Trekking Cuc Phuong National Park
The ideal place for visitors to explore here when the rainy season has ended with the autumn weather, the Trekking session does not take too much effort when affected by the weather like other seasons.
From Ninh Binh city, travel another 60km for visitors to the forest gate of Cuc Phuong National Park, then move 10km further on a small concrete road to reach the core of the forest. From this location, visitors can walk together one way to explore this place with many primitive tree species, ancient trees with many rich and diverse animals. The journey lasts 5 hours going through many different terrains and many places to explore.
See more: