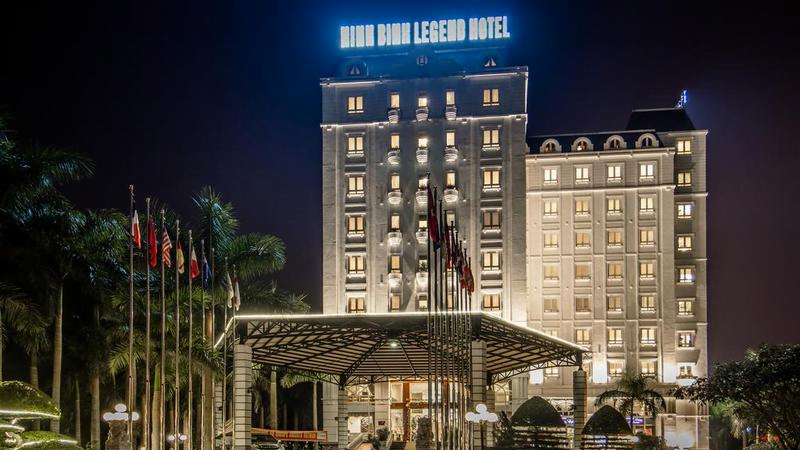 Legend Hotel Ninh Binh is a familiar place for many domestic and foreign tourists to visit the peaceful land of Ninh Binh. With luxurious space, harmonious design and attractive resort services and facilities, the hotel promises to be an ideal place to relax after a long tiring day. Let's explore this resort space to see what's interesting below.
OVERVIEW ABOUT LEGEND HOTEL NINH BINH
Legend Hotel Ninh Binh is located in the heart of Ninh Binh city – where a variety of attractive entertainment activities and a variety of unique culinary services are concentrated. Coming to Legend Hotel Ninh Binh, guests will be immersed in a classic space combined with extremely classy and luxurious modern features.
Besides, Legend Hotel Ninh Binh also provides resort services with full amenities, modern comes with a series of attractive outstanding utilities such as swimming pool, restaurant, bar,… Professional staff, enthusiastic service and extremely friendly will definitely bring relaxing and comfortable moments to visitors.
See more Pu Luong

LOCATION OF LEGEND HOTEL NINH BINH
Legend Hotel Ninh Binh is located in the center of the bustling city of Ninh Binh. You can conveniently move to many of the most famous attractions in Ninh Binh which are recognized as world records.
Legend Hotel Ninh Binh has a detailed address at No. 177 Le Thai To Street, Xuan Thanh Urban Area, Ninh Khanh Ward, Ninh Binh City, Vietnam.
ROOM SYSTEM AT LEGEND HOTEL NINH BINH
With a system of resort space of up to 108 spacious, fully equipped and modern rooms, Legend Hotel Ninh Binh promises to be one of the most relaxing, comfortable and modern resorts in the city. Ninh Binh center.
Deluxe Double Room
The first room class of Legend Hotel Ninh Binh has an area of 40m2 with 1 large bed suitable for couples. A formal, sophisticated and romantic resort space with a reasonable price is always the first choice for every visitor when coming to Legend Ninh Binh.
The room has a view overlooking the river and mountain which is extremely "chill" with splendid views of the blue sky, white clouds, majestic mountains creating an idyllic and peaceful feature. Moreover, tourists staying here will be fully equipped with necessary living things and utensils, comfortable and modern equipment such as: two-way air conditioners, coffee machines, televisions. cable, lovely balcony to relax.
Deluxe Twin Room
One option for guests when coming to Legend Hotel Ninh Binh is a deluxe twin room with an area of ​​40m2, 2 single beds next to each other to create a feeling of comfort and privacy. The room is fully equipped with basic amenities and the most modern equipment system. The unique design of the old French style and a little bit of modernity creates a harmonious and extremely trendy space.
Executive Suite
Usually, visitors to the Legend Hotel Ninh Binh love the Suite rooms. This room class has a spacious space of up to 163m2 with separate kitchen, living room and bathroom areas, which is extremely convenient for small families or guests on business trips.
The room space stands out with the familiar deep colors of the old French design trend, dotted with extremely delicate white and gold colors to create a harmonious whole. This place will definitely be the ideal resort space for small families who love that coziness, completeness and peace.
Family Suite Room
This is a room with 2 connecting bedrooms, suitable for families of 4 or groups with a similar number of members. Choosing Suite Family, you can experience a modern, high-class resort space with full facilities and an extremely peaceful and relaxing atmosphere.
The room with a beautiful small balcony is a space to "chill" every romantic sunrise or sunset, immerse in the poetic mountain scenery, listen to the pleasant birdsong and get rid of all the pressures of the city. .
Double Suite Room
The last room class at Legend Hotel Ninh Binh is the Double Suite room with an area of 80m2, a spacious balcony and modern and comfortable equipment. From the bedroom, you can enjoy the panoramic view of Ninh Binh city full of freshness and poetry, in the distance are high mountain ranges that bring the most memorable moments of relaxation.
SOME SERVICES AT LEGEND HOTEL NINH BINH
Legend Restaurant
Location: 1st and 2nd floor with pool and garden view
The restaurant is a place to serve breakfast for guests staying at the hotel, and also a place to serve a full range of nutritious dishes for both lunch and dinner. The space at Legend restaurant is extremely unique when you can see the green garden and the relaxing blue swimming pool.
Here, you will enjoy a variety of traditional culinary flavors along with attractive and luxurious Asian and European dishes. You can choose the form of set menu, order or Vietnamese buffet depending on your preference.
Asian Restaurant
With a luxurious and spacious space, this is a suitable place for large parties, gatherings, weddings or birthday parties. Guests can enjoy the most attractive dishes of Asian cuisine prepared by the restaurant's talented chefs.
The restaurant is located on the ground floor of the hotel, so guests can both enjoy delicious cuisine while watching and relaxing by the fresh and cool garden setting.
Legend Bar
Location: Rooftop with mountain and city views.
Located on the top floor of the hotel, guests can enjoy the scenery of Ninh Binh city at night, shimmering, fanciful and full of green mountains. The bar at Legend Hotel Ninh Binh is only open from 16:00 pm to midnight so you can fully immerse yourself in the exciting private space here.
Legend bar serves a variety of local drinks and a range of premium drinks such as whiskey, champagne, cocktails, mocktails, etc., which are selected and prepared by professional bartenders at the hotel. .
Pool Bar
Location: 2nd floor next to Legend restaurant
This is the area that any visitor coming to the Legend Hotel Ninh Binh will fall in love with. The swimming pool area located on the hotel premises has an open space, surrounded by green trees that shade the clear blue swimming pool.
You can enjoy a dip in the 250m2 swimming pool in the cool water, or sip cocktails in the long queue at the pool. This is sure to be a memorable experience.
Modern gym
For those of you who love to exercise and want to maintain your routine and exercise regime, the hotel's gym will certainly be a great place. The gym has a large and airy space with full equipment, exercise equipment, modern exercise machines to help bring the most comfortable and comfortable exercise space for the practitioner.
Spa & Massage
After a long day of sightseeing and experiencing, this will be a place you can't miss. The Spa & Massage Center of Legend Hotel Ninh Binh aims to restore the body and take the best care of health to the staying guests to add positive and abundant energy after a meaningful vacation.
Here, you will enjoy a light scented massage space with the scent of natural essential oils and massage treatments performed by highly skilled and professional staff.
Spa & Massage in Legend Hotel Ninh Binh
Cooking classes
For those of you who love to cook, love to learn about the diverse cuisines of different cultures, don't miss the laughter-filled cooking classes of Legend Hotel Ninh Binh.
Here, everyone will be able to choose together the freshest ingredients, and prepare their own diverse dishes of many cultures, guided by the hotel's chefs. After that, everyone will gather together and enjoy the dishes prepared by themselves.
REVIEW OF CUSTOMERS ABOUT LEGEND HOTEL NINH BINH
With 11 years of continuous operation to improve and enhance service quality, Legend Hotel Ninh Binh has received many compliments and a series of positive reviews such as:
"The hotel is clean, neat and full of basic amenities. My family has a one night stay at the hotel. My feeling about the hotel is good: reasonable price, spacious and clean rooms, complete basic facilities, convenient to go to the scenic spots of Ninh Binh. However, the area around the hotel is still quite wild, unhappy and beautiful."
"Super nice hotel Very friendly staff Children love the swimming pool Delicious food Quiet space Good room service."
"Meaning and Relaxation. The attractions in Ninh Binh are suitable for short trips. Clean hotel, welcoming staff, quiet space."
PRICE LIST OF LEGEND HOTEL NINH BINH
With a large and diverse room system, the room price of each apartment will have different rates and be changed depending on actual conditions. For more details about the price list of each room, please contact the hotel's hotline for advice and support and receive more discount vouchers and a series of attractive promotions.
See more: