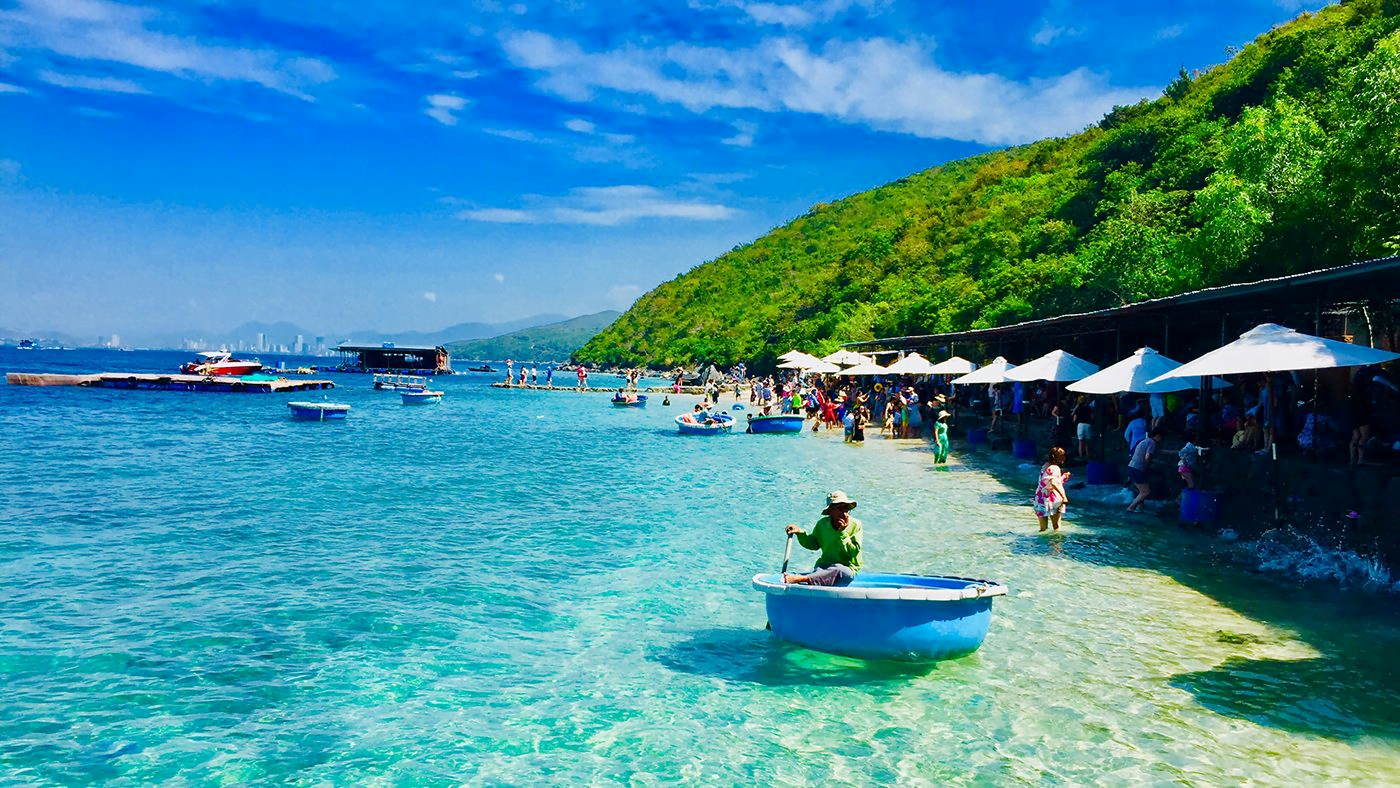 Whether you are looking for rugged peaks or splendor along a seaboard, the "Big tips for romantic couple travel in Vietnam" can give you the perfect passionate escape or spirited couple's trip away.
Top 10 couples travel destinations in Vietnam
Hanoi
Hanoi is a rich cultural and cosmopolitan city that boasts centuries-old architecture, magnificent museums, and dazzling boutiques. This is the best romantic Vietnam vacation for a loved bustling couple. The city is brimming with romance and the capital has countless Vietnamese love songs. Couples can walk down boulevards, saunter around Hoan Kiem Lake, explore the ancient of the Old Quarter, and dine at celebrity chef-owned restaurants.
Ninh Binh
It is not too far from Hanoi, so Ninh Binh tourism is very suitable for budget couples. With millions of years old limestone in Trang An or Tam Coc known as "Halong bay on land", couples have plenty of  romantic experiences like enjoying boat rides, admiring rice fields and mountains beauty, taking a great photo on Mua View point, etc.
Experience Pu Luong – Healing from nature for couple
Ha Long Bay
Sail along the waters of Halong Bay is a perfect way to spend a couple's honeymoon in Vietnam. By cruise, you can enjoy the panorama of beautiful forested limestone and emerald waters along the way. Now, couples can get to Halong Bay much faster and closer than in the past by taking Vietnam's most modern expressway (1,5 hours) and relaxing on a five-star cruise.
Cao Bang
The mountainous province of Cao Bang is one of the most beautiful regions in Vietnam for couples traveling with an authentic nature environment. One of the best things to do in Cao Bang is visiting the Ban Gioc waterfalls. This is Vietnam's largest waterfall, located right on the Chinese border. They are breathtaking waterfalls that will be a highlight of your couple's trip through Vietnam.
Must see: Pu Luong – Green Heaven for couple
Moc Chau
Moc Chau welcomes you to a world of intense tranquility and breathtaking nature. As a result, it is not surprising that many young people and couples visit this location to get away from the hustle and bustle of city life. Moc Chau is famous for the bright green tea plantations, which can be found on every hill. And a lot of newlywed Vietnamese wedding couples often travel to this area to have their wedding photos.
See more: Pu Luong – Unlock Nature Beauty for couple
Da Lat
Known as "The city of love", Dalat is a luxury retreat for couples. It is unquestionably an ideal hideaway for couples to stroll hand in hand through the streets, admiring the beauty of French colonial villas and poetic The Valley of Love. Do not forget to visit Cu Lan, Vietnam's most romantic ethnic minority village, which appears to be a fairyland among romantic scenery.
Hoi An
Hoi An is a popular honeymoon destination for couples. It is known for its charming village atmosphere, art galleries, low-cost tailors, and numerous bars and restaurants. Also, one way for a couple to experience real culture is through food, so why not take a cooking class together to gain more experience and learn about the hidden secrets behind each type of dish.
Nha Trang
Not only attractive by pristine beaches, but Nha Trang tourism is also an enchanting destination for shopaholics. Discovering the night market and feeling the vibrant atmosphere of the coastal city in South Central Vietnam will be an unforgettable experience for the couple. Souvenirs here are inexpensive, so do not miss the opportunity to give your partner a love gift.
Read more:Pu luong day trip
Mekong Delta
The Mekong Delta is Vietnam's far southern region and the country's rice bowl. Couples can visit Can Tho with a buzzy waterfront lined with manicured gardens, Ho Chi Minh with pulsating energy of commerce and culture or Cai Be floating market with abundant orchards.
Phu Quoc
Phu Quoc Island is a lovely island with palm-fringed land and white sand beaches. It is a wonderful romantic destination for couples, an island paradise where only the repetitive breaking of the waves on the beach disturbs the peace. If you take a direct international flight to Phu Quoc and stay on the island for up to 30 days, you do not need to obtain a Vietnam visa.
Honeymoon in Vietnam, yes or no?
We will give you 5 reasons why you should choose Vietnam as a destination for a couple vacation:
Budget – The low cost Destination
If you want to experience luxury in a foreign country, Vietnam is the place to be. Hotels and restaurants are reasonably priced, flights are inexpensive, and internal transfers are also pretty low. In fact, Vietnam could be considered one of the most affordable honeymoon destinations in Asia for couples.
Services – The Amazing quality
Despite their low prices, hotels and restaurants do not skimp on service quality. The staff will ensure that you face no troubles on your visit, ensuring you experience the best couple honeymoon in Vietnam.
People – The hospitable people
The locals treat & greet the tourists in the friendliest manner possible. And their hospitality is commendable. They are always happy to assist visitors in finding attractions, especially lovely couples.
Food – The Unique Cuisine
A perfect blend of salty, sweet, sour, & hot flavors, the Vietnamese cuisine offers mouthwatering dishes for couples. 
Scenic Beauty – The romantic locations
The beauty of Vietnam is endless. Couples can have romantic experiences in many places in Vietnam as mentioned above.
Best time for couple travel in Vietnam 
The best time to have a honeymoon in Vietnam varies by destination. For your convenience, we have summarized the regions below:
Hanoi: The days during the months of October and November are not too hot and there is little rainfall.

Halong: October to April is the best time for couples as this season is perfect for cruising, kayaking, and swimming.

Hoi An: May to July is the perfect time to visit Hoi An for a couple honeymoon with beach activities and low tourist footfall.

Dalat: The weather in December – March is comfortable with the absence of rain. The flowers are in full bloom, thereby making Dalat very vibrant and romantic for couples.

Ho Chi Minh city: May to November is the best time to visit the ancient township with plenty of green spaces.
These romantic places in Vietnam exude romance, and you can visit your favorite places for a couple's getaway or honeymoon. Pu Luong Excursion can assist you in planning a honeymoon that meets your needs, budget, and time frame.
Read more: Pu Luong Nature Reserve