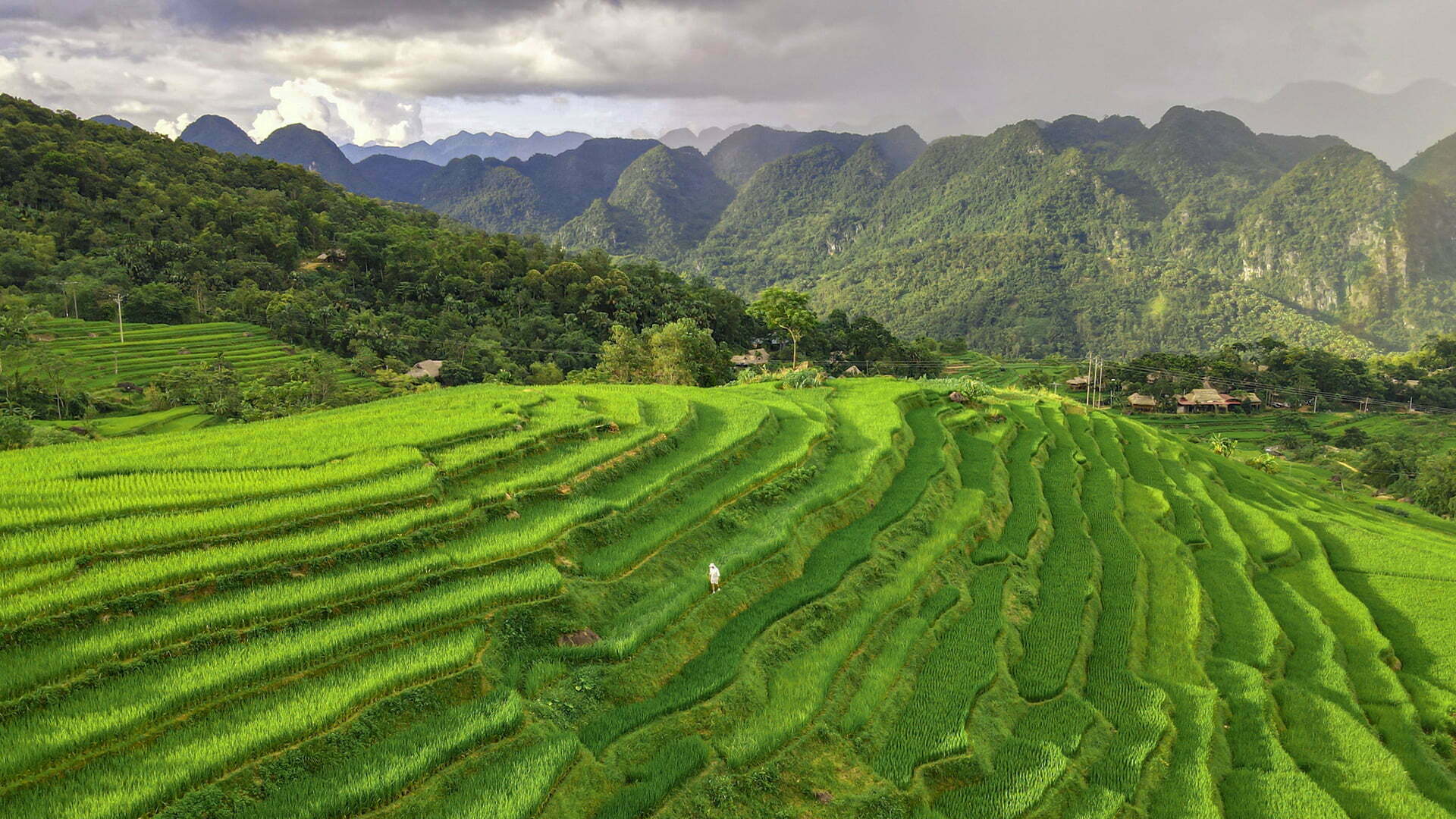 Vietnam is one of the naturally romantic nations for lovey-dovey lovers, and different locations give varied flavors of love, if love is a five-letter word and it is incomplete without you.
The historic charm of the country's heart can be found at Hue and Hoi An. Culinary innovation, ancient architecture, and artisanal items and handicrafts are all waiting for interested couples seeking culture and mystery.
In the north, waves of green and golden grain from Sapa's indigenous agriculture cascade down the sides of mountains. Hills of a different kind may be found in the Da Lat highlands, including mist and tea plantations, cool temperatures for cuddling, and meandering parks with colorful flower arrangements.
Tropical islands like Phu Quoc and Cat Ba near HaLong Bay, which are located at the country's northern and southernmost points, are available for elopements and engagements. Archipelagos' white beaches, cruise ships' smooth rock, and the wide, azure ocean all freely give themselves to couples as a cradle for love.
Spending weeks or months falling in love in (and with) Vietnam is conceivable. Here are seven of the most romantic places in Vietnam for a quick vacation or honeymoon.
Pu Luong Thanh Hoa – Viet Nam
Pu Luong is a great tourist destination in Thanh Hoa, Vietnam. With unspoiled natural scenery, vast plains and traditional stilt houses, Pu Luong is the ideal place to explore and enjoy the tranquility and tranquility.
Here, you can bathe in streams, climb mountains and walk on picturesque hilly roads. In addition, you can also visit villages with unique traditional stilt houses, participate in traditional activities of local people and enjoy delicious regional dishes.
Coming to Pu Luong, you can also admire the ripe golden rice fields, the green bamboo groves and the grassy trails along the roadside. This is really a destination worth visiting and exploring when you are in Thanh Hoa.
Da Lat
Da Lat is known as the "city of endless spring" for a good reason. It is a cool refuge away from the humid climate of Vietnam, a city of flowers and honeymooners, with clean air, lovely waterfalls, and lovely lakes.
The French-built homes and villas have been transformed into guest houses with views of the mountains and valleys. Go on a bike, maybe a tandem, and ride by serene lakes and romantic, flower-lined paths. The city's heart, Xuan Huong Lake, is known for its breathtaking sunsets. One of the most stunning freshwater lakes in the highlands, Tuyen Lam Lake, may be reached in a short amount of time. The city of a million flowers is a great destination for wellness and retreat travel.
The city is constantly in bloom. In vast public parks, flower gardens are grown in unending rows and cover every nook. One of these bears the moniker "Valley of Love," which was taken from the French "Vallee d'Amour." The park was designed specifically for couples. Walk together past sculptures and lavender fields to the trail that ascends Vong Canh Hill, which is lined with pine forests. To view the valley unfold in vivid color against Da Lat's clear sky, take the stairs or trek to the top.
Phu Quoc
One of the most well-known honeymoon spots in Vietnam is Phu Quoc. It is the largest island in the country and is surrounded by a national park that is under UNESCO protection. There are activities for lovers of all kinds here.
Take long walks on tranquil or bustling beaches – just switch up the shoreline to suit the ambiance. Enjoy blue days and pink evenings. Couples in need of pampering and partying can find luxurious resorts and entertainment along the ocean. Locate a secluded area of sand surrounded by rocky bluffs, where the only sound is the sound of the waves. Fine meals can be found at fancy restaurants with white tablecloths or in the little shacks of fishing towns since fresh seafood is widely available and reasonably priced.
Hire a motorcycle to travel through the countryside quickly and with wind in your hair. On two wheels, you can travel across much of the national park, which covers more than half of the island and has no shortage of viewing places. But, true nature enthusiasts should actually explore on foot because there is hiking that can be done here for several days and is suitable for all levels of fitness. The routes lead to caverns, waterfalls, and primitive jungles that are home to diverse ecosystems abounding with plant and animal life.
Sa Pa
Sa Pa, which lies located north-western Vietnam and is around 350 kilometers from Hanoi, is a justifiably well-known holiday destination for anyone looking for accessible adventure and romantic cultural trekking. Although Sapa town itself is uninteresting and the natural environment is what makes the journey worthwhile, it is nevertheless an excellent starting point for exploration. For a wholly genuine experience, stay in a homestay run by a family of an ethnic minority. The sunlight in the morning herald's the promise of a day spent in secluded nature because most of these are hidden away in mountains outside of town.
The tallest peak in Southeast Asia, Fansipan, is a good option for adventurous couples to climb. The aerial vista rivals the hike in difficulty. Hours spent immersed in nature, breath-taking views from the summit, and the companionship of overcoming difficulties with a sweetheart are all rewards for trekkers. The mountain can be accessed by the Guinness World Record cable car if the hike seems too taxing for a romantic getaway. Riders of cable cars are rewarded with a smooth journey through the sky itself as veridian hills and valleys pass by underneath them.
No "unromantic" sceneries can be found here. As far as the eye can see, the entire Sapa region is made up of terraced rice fields that have been grown over many decades into stair-like geometric patterns. The best time to visit is during harvest season, which lasts from March to May and September to November. The paddy fields are alive with a thousand different colors of green the remainder of the year, with flooded fields reflecting the blue sky like a house of mirrors.
Ha Long Bay
One of the most well-liked honeymoon spots in Vietnam is HaLong Bay. This UNESCO World Heritage site's otherworldly limestone scenery attracts lovers and tourists of all ages. Like scars, towering karst formations protrude from the emerald sea. Many have not yet been touched by human civilization and are still in their natural state, with rainforest, luxuriant, unsolved secrets contrasting with harsh rock, and boundless ocean.
The best way to explore HaLong Bay is via cruise. Pick a schedule that works for you; any number of days and nights can be spent combining activities like sports and sunbathing, adventure and relaxation. Kayak around isolated islands and into caverns. Discover coral reefs and the thrill of colorful marine life by scuba diving. Visit floating fishing communities to experience the local cuisine and culture. Or just unwind while the boat meanders across the scenery; it is interesting enough to observe.
The experience can be shared with a group of close friends or complete strangers on public cruises. Making a private reservation is the most romantic course of action. Spending extra money on personal cooks, opulent bedrooms, glass walls, bathtubs, and sommeliers is worthwhile. But every budget will eventually run out, rendering the planet colorless. When night falls on the karsts, the sky explodes with magnificent constellations.
Hoi An
Ancient love fills the streets of the timeless village of Hoi An. A city built for love, with centuries of it, its aura is almost viscous.
The building itself is a playful dance of several cultures. Vietnamese, Chinese, French, and Japanese influences are all present in this area. Walk through a maze of fading yellow paint, beneath pink and purple buganvilias cascading from wrought iron French balconies, and along twisting passageways. In this charming village, it's simple to lose track of time, so make sure you ride your bicycle through the rice paddies. Across soggy, lush fields, tiny cement walkways that smell like rain and earth wind their way.
Finding a hidden area of An Bang or Cua Dai Beach is simple during the day and up until sundown. The back end of the beach is lined with single-story eateries and cafes, giving the impression that everything is still open to the sky. The tide is calm and silent; instead of roaring, the ocean is whispering here. Da Nang is actually relatively close, but from this vantage point, it seems far enough away to make Hoi An's beauty feel like it is in another country. Gaze along the coast to the north to see Son Tra Mountain calling.
Nighttime brightness from an impossibly large number of hanging silk lanterns gives the streets a mystical golden glow. After a candlelit meal, take a moonlit stroll along the river. Float a paper lantern and watch the wishes of lovers flow downstream as the candle flickers.
Hue
Hue is dense with romance if Hoi An is fluid with it. Hue, a city of golden age with a royal palace, delectable cuisine, and a "walk to remember" location, will undoubtedly be a muse for everyone to fall head over heels with.
This is the city of citadels, tombs, and temples that served as Vietnam's former imperial capital. Stone monuments silently honor the nation's founding figures. Stroll hand in hand through the Forbidden City, a treasure guarded by crumbling walls that are so tall they seem to have been impervious to time.
It is obvious that the dynasty's ruins are a relic of history, both magnificent and past. They lack a sense of the present. Yet, Hue's pagodas and temples are where spiritual inquiry still thrives and lingers. Buddhist monks chant to start the day at dawn. Take a midday stroll around one of these places of worship for a peaceful and lovely afternoon. Perhaps some of the bonsai trees that have been nurtured, groomed, and cherished for centuries might help a relationship become aware – a wonderful reminder to live in the now and let time take its lovely course through history.