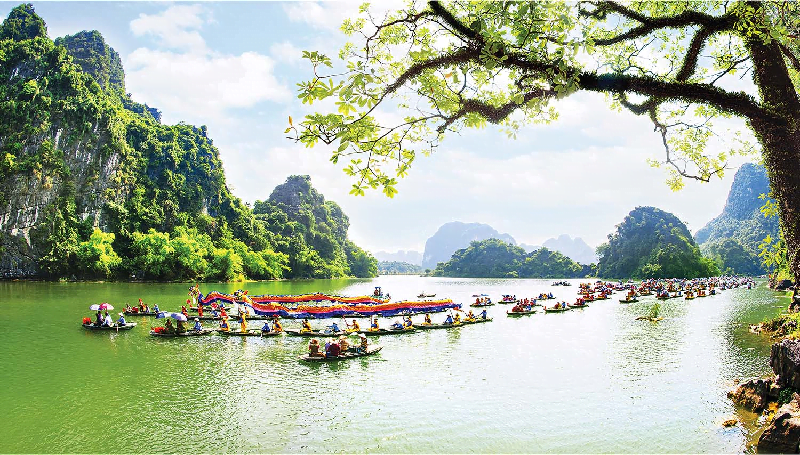 Ninh Binh Weather in February is a popular topic for travelers, as the region is known for its beautiful landscapes, rich cultural heritage, and unique attractions. February is considered the off-peak tourist season in Ninh Binh, which means that visitors can expect to experience fewer crowds and more peaceful surroundings. The average temperature in Ninh Binh during February ranges from 15°C to 20°C, making it a cool time to visit the region. Visitors should pack warm clothing, as well as an umbrella, just in case it rains.
One of the most popular attractions in Ninh Binh is Tam Coc, which is known for its stunning views of the river and the surrounding countryside. This is a great time to visit Tam Coc as the water levels are low, which means that visitors can take a peaceful boat ride along the river and admire the picturesque scenery. Other popular attractions in Ninh Binh include Mua Cave, Trang An, and the Bich Dong Pagoda, which offer unique cultural experiences and breathtaking views.
Whether you're interested in history, culture, or simply exploring the great outdoors, Ninh Binh Weather in February is perfect for a variety of activities. With its cool temperatures and low humidity, February is a great time to visit Ninh Binh and experience the best of what this region has to offer. Whether you're a first-time visitor or a seasoned traveler, Ninh Binh is a must-visit destination in February.
Traveling to Ninh Binh in February is the time of spring, surely this is the time when you want to have spring trips with your loved ones and Ninh Binh will be a place you should not miss. If you are wondering where you will have to go, or wondering when is the right time for a spring trip. Let's find out more about Ninh Binh weather in February and what to do when coming to Ninh Binh this month below.
OVERVIEW NINH BINH WEATHER IN FEBRUARY
Ninh Binh belongs to the Northern Delta region, so it has the weather tendency of the monsoon tropics, divided into 4 distinct seasons. February is the time of spring, the intersection between the old year and the new year, the atmosphere of Tet is bustling everywhere. peaceful new year. The period in February is the time adjacent to the Lunar New Year and during the Lunar New Year, so this place takes place a lot of attractive and crowded festival activities. Therefore, tourists often choose to travel to Ninh Binh in February to have interesting and different experiences that only February has. It is not hot and stuffy like summer, but there are gentle rays of spring sunshine shining. down to the charming young land of the ancient capital, making the landscape become sparkling and full of life.
In early spring, the trees begin to sprout, the surrounding sap is overflowing, people are excited to go to the festival at the beginning of the year, bringing a beautiful scene. The weather is also getting warmer at this time, there is no longer the "cutting" cold of the cold winter, there are typical drizzles of the North on the way to the temple ceremony at the beginning of the year. If you are not a Northerner and want to experience the Lunar New Year here, you should travel at this time.
WHAT HAVE IN NINH BINH TOURISM IN FEBRUARY?
In February, the Tet atmosphere fills all over the country, at this time, family members go to spring and wish for good things in the new year for their families. This is also the time to rest, so many people often choose to travel with their family during the Tet holiday to have moments with their loved ones. Therefore, a lot of tourists come to Ninh Binh to visit temples and leisure tourism in February.
If you are someone who does not like the noise and crowds, consider choosing Ninh Binh at another time.
Hoa Lu ancient capital
Hoa Lu ancient capital is a particularly important national relic complex of Vietnam and one of the four core areas of the Trang An heritage complex recognized by UNESCO.
The system of monuments in Hoa Lu is the place to witness the historical ups and downs of the Dinh, Tien Le dynasties and the beginning of the Ly dynasties. Counting here you will be able to contemplate the historical events of King Dinh, King Le Dai Hanh's temple, Co Am pagoda, Dinh – Le's mausoleum along with important historical and cultural relics such as Bai Dinh pagoda, Hoa Lu cave, etc.
In February, you visit Bai Dinh Pagoda to be able to bring luck and peace to your loved ones and family, so don't forget to come to Hoa Lu ancient capital to express your gratitude to our forefathers who have built and preserved the country to this day.
Temple of Truong Han Sieu
Temple of Truong Han Sieu Ninh Binh is a cultural-spiritual tourist destination with historical stories that everyone who visits Ninh Binh wants to visit once. Truong Han Sieu is known as a famous cultural celebrity, credited with composing the picture book series of our country. Truong Han Sieu Temple is located at Non Nuoc Bridge, Van Gia, Van Giang Ward, City. Ninh Binh is located to the southwest of Duc Thuy mountain. The location of the Temple is very special with the charming and poetic scenery of the country. Every year, Truong Han Sieu Temple welcomes many visitors to come here to worship and pray for passing exams, fame, and so on.
See more: Pu Luong

You should visit Truong Han Sieu Temple in February. At this time, the weather is not too cold and not as hot as summer, comfortable for the spring trip at the beginning of the year. This is also the time of festivals to welcome the spring to welcome the new year, so people come in a lot to create a crowded and bustling atmosphere. Visitors from all over the world come to burn incense to commemorate, worship and pray for health, peace, and success, creating a bustling and joyful scene at the beginning of the year with the scent of incense and smoke at temples and pagodas.
Trang An
Coming to Ninh Binh without visiting Trang An is probably a huge omission for you. With an area of over 6000 hectares, Trang An is known as "Ha Long Bay on land" with natural caves and an extremely attractive limestone mountain system. Sitting under a wooden boat, you will be able to admire the beautiful scenery of the mountains and the mountains along with the mountain goats running along the mountainside, you can also see many species of flora and fauna in the extremely rich ecosystem only in Trang An. .
The impressive thing for visitors when coming to this place is probably the blue water, you can clearly see each pebble, stones in the lake bed as well as the image of fish crept under each green moss.
February is probably the most suitable time to explore this land of "Ha Long on land", with cool weather not too cold, and little rain, suitable for sightseeing by boat in Trang An.
Mua Cave
Photography is always a passion for young people, so Mua Cave will be a place you can't miss because of the mystery like other caves, but in the beautiful natural scenery, standing from the top. You can see the beauty of the ripe rice fields stretching endlessly in Tam Coc.
From the foot of the mountain, you can clearly see the steps extending to the top of the mountain like a miniature Great Wall, to the top of Mua Cave you feel like you are standing on the top of Ma Pi Leng pass, extremely wide open, watching the view of the field is reduced to the eye, the rowing boats floating in the water. If you have the opportunity, you should arrange a trip to this place to be able to see its beauty with your own eyes.
TRAVEL TIPS IN NINH BINH FEBRUARY WEATHER
For the cheapest prices, book your lodging and travel tickets as soon as possible.
Many people opt for Ninh Binh when taking a lengthy vacation for the Tet holiday with their families. In other words, Ninh Binh is so overcrowded this month that reservations for travel, lodging, or homestays will soon be required. It enables you to find lodging in your preferred location for less money.
To avoid cracked skin, stay warm and practice better skincare.
Ninh Binh experiences a humid subtropical winter that is cold and dry. Therefore, in addition to keeping warm for your body to ensure that you won't get sick while on your trip, let's practice better skincare with appropriate moisturizing products to prevent cracked skin.
You will never be disappointed if you visit Ninh Binh in February. You can learn a lot of new and fascinating things about this country's traditional culture by visiting its numerous historical temples and pagodas. A great approach to learn more about this lovely country is to experience a local homestay during the Lunar New Year and enjoy delicious local traditional cuisine.
See more: