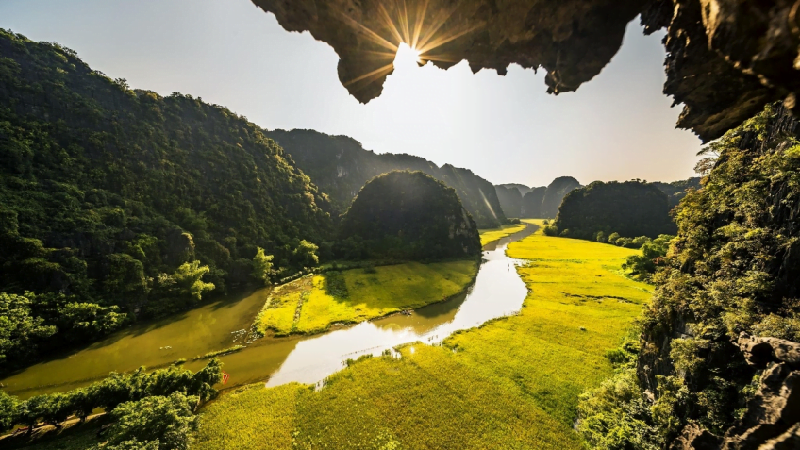 Ninh Binh is known for its warm and tropical climate, with temperatures ranging from 20 to 35 degrees Celsius throughout the year. The weather in Ninh Binh can be divided into two distinct seasons: the rainy season and the dry season. The rainy season, which usually runs from May to October, is characterized by high humidity and frequent rain showers. Despite the rain, this season is still a popular time for tourists to visit Ninh Binh, as the lush green landscapes and stunning scenery are truly breathtaking.
The dry season, which lasts from November to April, is generally considered the best time to visit Ninh Binh. During this time, the weather is dry and sunny, making it ideal for outdoor activities and exploring the city's many tourist attractions. Visitors can expect clear blue skies and warm temperatures, perfect for taking in the beauty of Ninh Binh's iconic karst formations, tranquil lakes, and rolling hills.
It's important to note that while the dry season is considered the best time to visit, it can still get quite hot and humid, especially during the peak months of March and April. Visitors should bring light, breathable clothing, as well as a hat, sunscreen, and plenty of water to stay cool and comfortable while exploring the city.
Regardless of the time of year, Ninh Binh is a truly enchanting place, offering something for everyone. Whether you're a nature lover, history buff, or just looking to escape the hustle and bustle of city life, the warm and welcoming weather of Ninh Binh is sure to entice you.
You are planning a trip to Ninh Binh, you want to know the year-round weather here so you can plan the best trip? Find out useful information about the weather in Ninh Binh 4 seasons of the year in the most detail right here.
Weather feature of Ninh Binh
Ninh Binh's climate is characterized by a tropical monsoon climate and a humid subtropical climate. A year is divided into four distinct springs, summers, autumns and winters. Ninh Binh summer is hot, humid and rainy, while winter is dry and cold and rarely rains. If you plan to visit Ninh Binh, before class, learn about the weather and climate here so that the trip will not be interrupted.
The annual average temperature of Ninh Binh is approximately 23.5 degrees Celsius. The average rainfall is in the range of 1,700 – 1,800 mm/year. On average, Ninh Binh has about 1,600-1,700 hours of sunshine a year and an average relative humidity of 80-85%.
When to travel to Ninh Binh? – 4 seasons in Ninh Binh
Weather in Ninh Binh 4 spring, summer, autumn and winter will have distinctly different shades from rainfall, temperature, humidity to number of hours of sunshine.
Ninh Binh climate in spring- Pleasant weather combines sightseeing with a temple ritual to pray for luck
Spring in Ninh Binh usually lasts 3 months (from January to March of the lunar calendar). At this time, the climate is warm, neither too hot nor too cold, suitable for spring travel and pagoda ceremonies. In the early morning and cold afternoon, you can feel a little chilly with a foggy mist hanging on the ground, creating a poetic and extremely romantic scene.
The weather in Ninh Binh in January is still quite cold, with little rain, and the average temperature is around 16-17 degrees. In January, the average rainfall is 24mm, the humidity is 85%, and there are 9 rainy days on average. This weather is ideal for organizing a tour. This is also a time when there are fewer tourists, so the scenery and atmosphere are very quiet and peaceful, ideal for those who enjoy lightness and silence.
Entering February, the weather is cold, with drizzling rain with an average temperature of about 18 degrees, the humidity is about 88%. At this time, the tourist atmosphere is gradually becoming busier and more exciting. This is the time when people and families invite each other to go on spring trips, temple ceremonies, and wish them luck and peace for the new year. At this time, the weather is beautiful, so festivals often take place with many interesting and attractive activities for visitors to experience.
In March, Ninh Binh weather is extremely pleasant, comfortable, suitable for visitors to the ancient capital to immerse themselves in the peaceful and beautiful atmosphere here. Cool weather, fresh air and charming natural scenery promise to bring you unforgettable experiences.
Traveling to Ninh Binh in the spring is a suggestion for tourists who love the quiet and gentle nature only found in the countryside in the North of Vietnam.
In the spring, Ninh Binh takes place many big festivals such as: Bai Dinh Pagoda, Hoa Lu ancient capital traditional festival, Thai Vi temple festival. Ninh Binh's climate is clear and warm spring is the time when this place welcomes the most tourists to visit in the year.
Ninh Binh climate in summer – Ideal season for exciting travels
Ninh Binh summer will fall around April – September of the solar calendar. In which, April and May is the transition time between spring and summer. Ninh Binh's climate at this time is very pleasant, neither cold nor hot. The weather at this time is not too harsh, the atmosphere is not too uncomfortable, stuffy like Hanoi.
Ninh Binh in the summer is no longer too crowded or jostled like the occasions during Tet and spring travel. And this is the time when you can freely explore Ninh Binh, freely find places to take pictures.
The mixed yellow and green lands of the summer landscape will give you mesmerizing virtual live pictures. Summer is also the butterfly season in Cuc Phuong National Forest. After each shower, when the sunlight begins to creep behind the clouds, butterflies will appear a lot to sing and dance.
Many people like to come to Ninh Binh around June, when there are ripe golden rice fields in the countryside. This is when Ninh Binh enters the peak heat wave, so prepare a full sun hat so as not to interrupt your trip.
Ninh Binh climate in autumn – light, pleasant, tinged with a bit of dreamy purple
If you are wondering if you should travel to Ninh Binh in the most beautiful season. The answer will definitely be autumn. Ninh Binh climate in autumn is gentle, the weather is extremely pleasant. Autumn in Ninh Binh lasts from July to October of the lunar calendar. The sun is no longer too harsh, the sky is clear and blue, dotted with white clouds calling each other. In particular, the gentle golden rays of sunlight weaving through the mountains in the early morning will create a romantic and love-filled beauty for this land.
Coming to Ninh Binh in autumn, visitors will be immersed in the forest of water lilies blooming on the water. Don't forget to take a boat ride on the Sao Khe River to discover mysterious caves. The scenery of the sky and clouds in Ninh Binh is as beautiful as a watercolor painting with a little pure white mixed with a little pinkish purple color of a water lily forest.
Ninh Binh climate in winter – dry weather covered with blooming reeds
Ninh Binh's climate in winter is cold and dry, typical of winter in the North. The lowest temperature in winter can drop below 10 degrees. Coming to Ninh Binh in the last days of the year, you definitely need to prepare warm clothes.
Ninh Binh's dry weather on winter days, people not only feel the sweet cold of the North but also are completely conquered by the blooming fields of reed flowers, covered with pure white color on the land of Ninh Binh.
This is also an ideal time for tourists to visit Trang An scenic complex, the area near Bai Dinh pagoda or Hoa Lu cave.
Coming to Ninh Binh in every season is beautiful and has its own characteristics. So, experience this land with your own feelings.
Another place very close to Ninh Binh but the weather is equally pleasant is Pu Luong, Thanh Hoa, if you are interested, click here for more information.
See more: