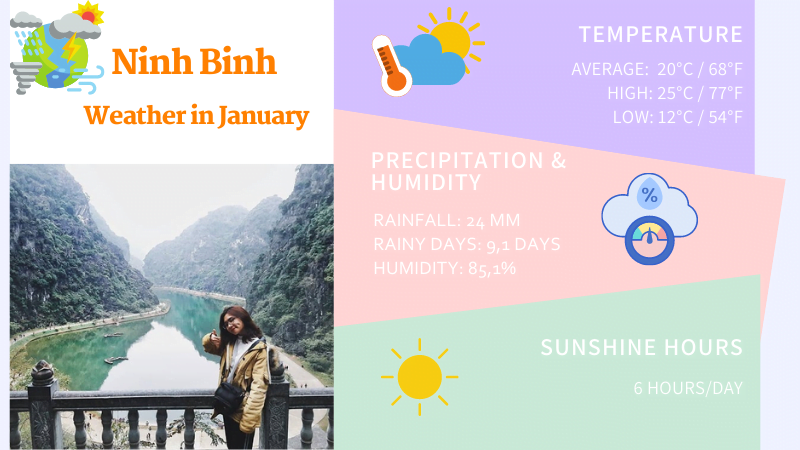 Ninh Binh Weather in January is generally cool and dry, with clear skies and warm temperatures during the day. Temperatures during this time typically range from 15 to 20 degrees Celsius, making it an ideal time for outdoor activities such as exploring the city's many temples, caves, and scenic landscapes. Despite the cool weather, January is still an excellent time to visit Ninh Binh, as the city's stunning natural beauty is on full display and there are fewer crowds compared to the peak tourist season.
You are preparing to travel to Ninh Binh but do not know "how is the weather in Ninh Binh" or "in what month should you travel to Ninh Binh". Then read this article right away to know more detailed information about the weather of the months in Ninh Binh!
See more: Pu Luong Nature Reserve

What is the average temperature in January?
Ninh Binh is a province of the Red River Delta region, characterized by a tropical monsoon climate. As in many Northern provinces, the weather here is divided into four distinct seasons: spring, summer, fall, and winter. During the spring and summer, it is hot, humid, and rainy. In winter it is quite dry and cold.
The average annual temperature in Ninh Binh falls from 23- 25 degrees Celsius. The average rainfall over years is from 1700 to 1800 mm. The relative humidity is high from 80- 85%.
Ninh Binh's weather in January is still quite cold, with a little rain, the average temperature is about  16- 17 degree Celsius. The rainfall in January is about 24 mm, the humidity is about 85%. This weather is quite suitable for planning a tour. This is also a time when there are not too many tourists, so the landscape and atmosphere are very quiet and peaceful, suitable for those who love lightness and silence.
How much does it rain in January?        
In January, the average number of rainy days is 9 days.
How cloudy is Ninh Binh in January?
The sky in Ninh Binh in January has a few scattered clouds, mostly clear blue sky. Therefore, tourists are completely assured because there will be beautiful sunshine for visitors to take beautiful pictures.                
When are sunrise and sunset in January?
The time of the sun's illumination varies with the time of the year. For January, normally the sun rises at 6:30 am and sets at 6 pm. Therefore, if you want to capture all the sunrise and sunset moments in January, keep this information in mind.                
How humid is it in January?        
We base the humidity on comfort/above the dew point, as it determines whether perspiration will evaporate from the skin, thereby keeping the body cool. Lower dew points feel drier and higher dew points feel wetter. Unlike temperature, which often varies significantly between day and night, dew point tends to change more slowly, so while nighttime temperatures can drop at night, a sweltering day is often followed by a sweltering night.
The month with the fewest sultry days in Ninh Binh City is January, with 7.5 sweltering days or worse
Most of the January air in Ninh Binh is dry, with moderate humidity, making visitors feel comfortable when visiting.                
How windy is it in January?
Wind speed varies depending on local topography and other factors. January is late winter and early spring, so the wind direction is mainly from the north or east. Visitors to Ninh Binh in January will sometimes feel the cool breeze blowing, so bring a light jacket and scarf.                
What to wear in January?
January is the time when the weather in Ninh Binh is still quite cold but it will not be too cold and there will be less rain, so it will have little effect on visiting tourist attractions in Ninh Binh. This is also the time when tourists in Ninh Binh are not too crowded, so the scene here becomes more and more peaceful, very suitable for those who love the quiet and gentleness of the Vietnamese countryside.
I think you should choose comfortable and light clothes. If you are a person who likes casual and active outfits, jeans and T-shirts combined with sports shoes will be the ideal choice.
Ninh Binh is a place with charming homeland beauty, so wearing an innovative Ao Dai in the middle of the sky and water is both stylish and has a traditional Vietnamese beauty. Combined with a conical hat, your outfit will be in harmony with the scenery here.
A colorful brocade dress will make you stand out among the green nature in Ninh Binh. Combined with a sedge hat and a pair of sandals, you have an extremely shimmering virtual live photo set.
What's the weather like in Ninh Binh for the rest of the year
Around April – May, Ninh Binh's weather is considered to be quite ideal, and pleasant, as the transition between spring and summer. By May, June is the lotus season, the ripe rice season in Tam Coc makes the whole Ninh Binh sink in golden color, especially if you can witness this scene with your own eyes when standing from the Dance Cave, you can see the full color of Ninh Binh.
Autumn in Ninh Binh will bring us gentle feelings, the weather is not too hot, and very pleasant. Ninh Binh's autumn lasts from July to October, which is an opportunity for you to enjoy and watch the water lilies bloom. Or you can take a boat on the Sao Khe River, and explore the complex of mysterious caves, which is a combination of charming landscapes, creating a beautiful picture, the entry point of which is the pristine, tinted water lily flowers, dreamy purple.
Winter in Ninh Binh is very special, the weather becomes dry, covered with blooming reed fields, from Trang An to Hoa Lu cave to Bai Dinh pagoda. The scenery like wearing a new shirt, and wearing a smooth white silk band combined with majestic rocky mountains will surely break many hearts of tourists.
Where does this data come from
This report illustrates typical weather in Ninh Binh City, based on a statistical analysis of hourly historical weather reports and model reconstruction from January 1, 1980, to December 31, 2016.
Regarding temperature and dew point, there is also only one weather station at Noi Bai International Airport, which in our network is suitable to be used as an authorized place to record the temperature and historical dew point of Ninh Binh City.
All other weather data, including cloud cover, precipitation, wind speed and direction, and energy flow, come from NASA's MERRA-2 Modern Era Analysis. This reanalysis combines various measurements over a wide area under a state-of-the-art global meteorological model/ to restore hourly weather history around the world on a grid of 50 kilometers.
See more: