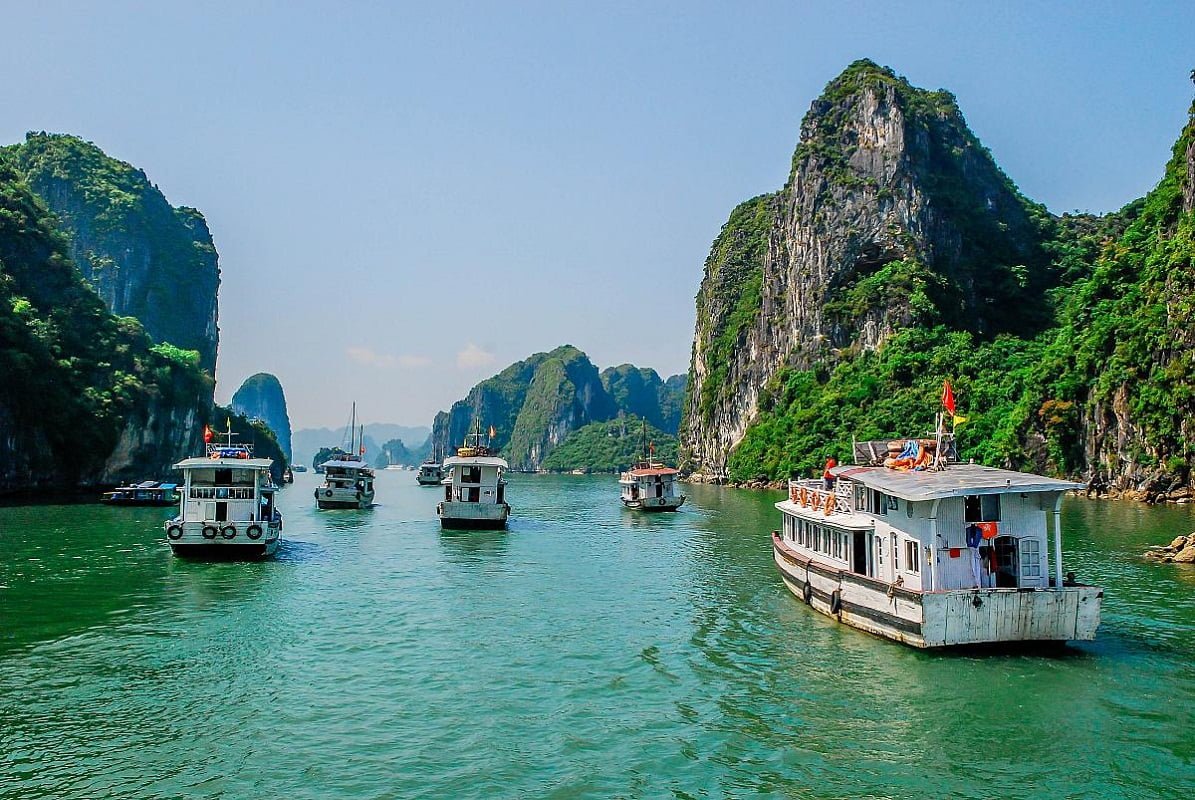 Many of us wish to have a long vacation to travel across Vietnam. This is a type of Tour where when participating, visitors will be able to set foot in many regions of the country. And through that travel journey, visitors will know more things, experience many interesting things in life.What to do on a 12 -day trip to Vietnam?
Why should you choose a 12- day Vietnam tour?
Each journey through Vietnam is a series of destinations and experiences that are gradually "opened up". Visitors participating in the journey through Vietnam will be given new energy for life and the road ahead. With a long enough journey through Vietnam, visitors will have "pocket experiences" for themselves. The journey through Vietnam 12 days and 11 nights is the same. This is one of the outstanding travel itineraries that bring visitors impressive things, unforgettable things. Let's explore with Pu Luong Excursion some typical 12 days 11 nights cross-Vietnam tours in today's introduction.
12 days tour Itinerary
Because it is quite spacious in terms of time, visitors who participate in long-day tours such as 12-Day Tour, 13-Day Tour, etc, will have the opportunity to access many sightseeing destinations, many different cultures in 3 regions of South – Central – North. Through this trip, visitors will surely be amazed at the beauty of Vietnam. Many of these places, in the eyes of international tourists, are places that every visitor "should visit once in his life". Some highlights of the 12-day 11-night journey across Vietnam are as follows:
Day 1 + 2: Hanoi – City of a thousand years of history
Read more:Pu luong day trip
Unlike other religious temples, the Temple of Literature was Vietnam's first university. It was established in 1070 by Emperor Ly Thanh Tong and was initially dedicated to honoring Khong Tu (Confucius). 
Following a meaningful tour of the Temple of Literature, you will proceed to the One Pillar Pagoda, an iconic Hanoi temple that is often regarded as one of Vietnam's unique symbols. You can get to Ho Chi Minh Mausoleum quickly from One Pillar Pagoda. 
It is the final resting place of Vietnam's greatest leader, President Ho Chi Minh. It is also the site of one of the most significant historical events in Vietnam, the day President Ho Chi Minh read the Declaration of Independence, giving birth to Vietnam.
Following that, our guide will take you to Ho Tay, Hanoi's largest lake and the "green lung of the capital," before visiting Tran Quoc Pagoda, which Thrillist named one of the most beautiful pagodas in the world. 
Following that, you'll enjoy a delicious lunch at an authentic Vietnamese restaurant prepared by skilled chefs. After lunch, you have the rest of the day free to explore the city.
On the second day, you can go sightseeing around the Hanoi Old Quarter. Traveling to Hanoi but skipping the experience of walking through 36 streets is a pity. Visiting the Cathedral, Dong Xuan Market, Opera House, etc.
Day 3: Ninh Binh – Explore Ha Long Bay on land
Trang An scenic spot is likened to "Ha Long Bay on land" with its wild beauty and charming mountains. Looking down from above, Trang An is surrounded by high mountains along the sky, covered with majestic moss colors, they reflect themselves in the clear water forming a green color of beautiful nature. Deep in those majestic mountains are dark caves, which contain ancient and long-standing cultural values from the beginning. Hidden behind the cloud-covered mountains are temples and pagodas that keep their ancient architectural features, from wooden pillars, decorative porcelain, Chinese characters carved on columns or tile roofs, altars, etc. Buddhist culture.
Arriving in Ninh Binh, you visit the ancient capital Hoa Lu (the capital of Vietnam in the late 9th and early 10th centuries), visit the temple of King Dinh and King Le. Visit the excavation site next to the temple of Le Dai Hanh, enjoy the scenery in the beautiful valley of Truong Yen to enjoy the wonderful scenery.
Then visit Hang Mua, you walk through the winding paths covered with green trees and beautiful mountain architecture and then the journey to conquer the top of Hang Mua mountain with 500 stone steps.
Your guide will take you on a boat to visit the caves. Go through 3 caves: Ca cave, Hai cave, Ba cave. Visit Thai Vi temple, which worships Saint Tran (Tran Hung Dao). After about 2 hours, you return to Tam Coc wharf.
Day 4 + 5: Ha Long – Excursion to the beautiful bay of Vietnam
You will have breakfast at your hotel before our driver picks you up and takes you to the port to embark on a Halong Bay cruise, which is one of the most beautiful bays in the world and has been designated as a UNESCO World Heritage Site twice. 
When you arrive at the port, the cruise staff will greet you warmly. Then you'll check in, and your lunch will be served early as the cruise departs for Ha Long Bay. You will not be accompanied on the cruise by our guide. Instead, crew members who speak English will look after you.
After lunch, take a short nap before engaging in some exciting bay activities such as sightseeing, swimming, and kayaking (depending on the specific itinerary of each cruise). 
You can also learn about Halong's culture by visiting local fishing villages or pear farms. Later, don't pass up the opportunity to enjoy a fantastic dinner while admiring the beautiful sunset or engaging in fun activities on the sundeck.
Day 6: Hue – Visiting the ancient capital
The Hue city tour will begin with a visit to Thien Mu pagoda, a popular Buddhist attraction in Hue. Thien Mu Pagoda is one of the oldest pagodas in this ancient capital, dating back to various feudal dynasties and wars. 
Hue City's symbol and a famous historical relic, the Imperial Citadel. This was the capital of the Nguyen Dynasty, the dynasty that ended Vietnam's feudal period.
Dong Ba Market will be the final stop on your half-day tour of Hue. This market is one of the largest commodity trading places in Hue, as well as one of the city's oldest. Dong Ba Market has always been one of the most exciting and must-see places for travelers who want to immerse themselves in Hue's culture and history.
Day 7: Road from Hue to Hoi An
Starting from the ancient capital of Hue to the ancient town of Hoi An, it will take you 3-4 hours to travel with a distance of about 126 km. With such a distance, it is not too difficult for you to choose for yourself a suitable means of transport such as bus, taxi, train, or motorbike, etc.
Day 8: Hoi An – Explore the old town with lanterns
You will spend a day walking through the old streets of Hoi An, admiring many ancient houses with unique architecture and observing local people going about their daily lives. Famous sites include the Japanese Covered Bridge and the Fujian Assembly Hall. 
Cau Pagoda (Japanese Covered Bridge) is a small bridge that crosses a canal into the Thu Bon River. Cau Pagoda is Hoi An's only ancient bridge and has become a symbol of this historic town.
In the 17th century, Japanese businessmen built this bridge for traffic purposes. Lord Nguyen Phuc Chu named this bridge Lai Van Kieu in 1719, which means "the bridge to welcome guests from afar." It was later restored in 1817, 1865, 1915, and 1986. As a result, the original Japanese architecture is no longer visible. Its architecture, on the other hand, is infused with Vietnamese culture.
Day 9 +10 + 11: Mekong Delta – Explore the world half on land, half underwater
It will be a fantastic experience to spend an entire day touring the Mekong Delta and learning about the fascinating local life of the people of Southwest Vietnam. 
Many impressive activities are available here, such as visiting the floating market, picking fruits directly from the orchard before tasting them, and cycling through a peaceful village.
Day 12: Ho Chi Minh city – Visiting "Pearl of the Far East" – Departure
Known as the "Pearl of the Far East", for a long time TP. Ho Chi Minh City has become a cultural, economic, and political center with busy shopping and entertainment centers, historical sites and famous traditional cultural areas such as Duc Ba Church, Independence Palace, Nha Rong Wharf, Ben Thanh Market, Bitexco Tower, etc. 
Read more: Pu Luong Nature Reserve