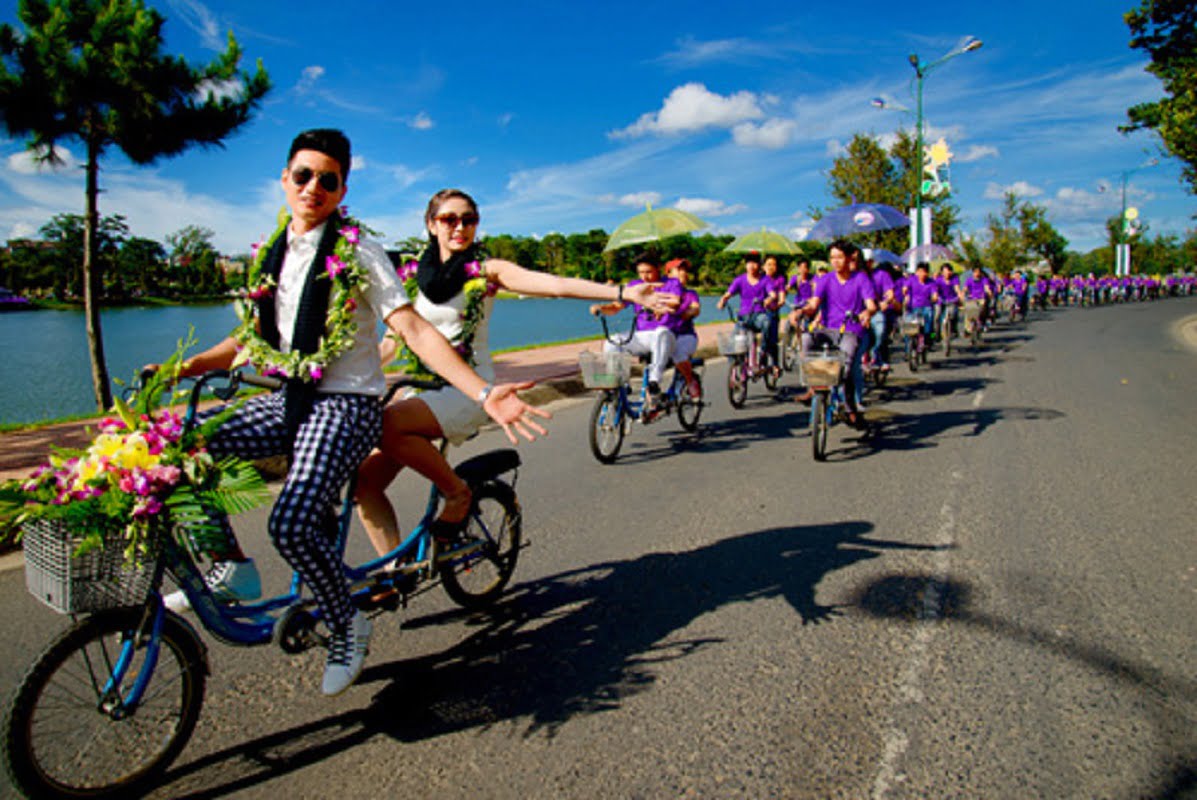 Vietnam is famous for many beautiful landscapes from stretching fields to clear blue beaches and majestic mountains. Instead of traveling by car or motorbike, why don't you experience the tourist attractions by bicycle in your own style? 
Top 9 best cycling places in Vietnam
Long-stretching mountain ranges, sun-filled valleys, ever-expanding paddy fields, deep blue beaches, serene rivers, and a plethora of other scenic rural views abound in Vietnam. Isn't it ideal for taking a stroll and marveling at the world's wonders? Riding a bicycle through Vietnam and taking in the breathtaking scenery is an even better experience. The bustling streets of the cities, despite being congested most of the time, can be quite enjoyable to zip and roam around the people's daily lives. So here is our list of 9 cycling destinations in Vietnam for you to consider.
1. Ha Noi 
Hanoi is an excellent stop on a Vietnam tour because it is designed for cycling, and it is the ideal place to get to grips with the chaos of Vietnamese traffic and street life. The city's slow-moving and laid-back vibe makes getting around on a bike easy and hassle-free, with beautiful lakes, parks, and delightful tree-lined boulevards. Begin by visiting the Ho Chi Minh Mausoleum complex, the final resting place of Vietnam's founding father, after whom Ho Chi Minh City is named. It is not only Ho Chi Minh's former residence, but it also houses the Buddhist One Pillar Pagoda.
Then it's on to the lively Old Quarter, a veritable architectural museum evoking a provincial French village in the 1930s. The '36 Streets' are a bargain hunter's paradise, with shops selling everything from elegant silk clothing to sublime jewelry and lacquerware. Explore Hanoi's legendary street food scene at night by visiting the hole-in-the-wall vendors serving steaming bowls of Pho.
2. Cat Ba national park
Cat Ba National Park is located on an island off the coast of northern Vietnam, east of Hai Phong. This island is the largest in Halong Bay, covering 354 square kilometers. This makes Cat Ba an excellent place to relax and unwind, or to cycle around the recreation center. Cycling through Cat Ba National Park provides an excellent opportunity to see a wide range of plants and animals, including some that are indigenous to Vietnam. Cat Ba National Park is notable for the diverse range of experiences available while cycling around the recreation center. There are secluded beaches, dancing waterfalls, caverns, mountains by limestone, and breathtaking valleys just waiting to be discovered.
4. Vung Tau
In Ba Ria – Vung Tau, there are now many bicycle rental services, double bikes with quite cheap rental prices and are chosen by many tourists.
Vung Tau's sea-hugging road is very beautiful with a peaceful scene with waves, wind, and the sound of bicycles on the road, making visitors feel very calm and relaxed. With a bicycle, you can walk everywhere from Bao Dai palace, the beach, the statue of Jesus on the hill, Duong beach or watch the porcelain flowers in the sunset. All will blend together into the beautiful scenery of Vung Tau beach for the trip.
4. Hue
Read more:Pu luong day trip
Stopping in Hue, with narrow junctions and intersections, it is difficult for a taxi to pass, so many people choose to ride a bicycle to admire the ancient scenery here.
On this road, you can visit famous places such as Thuan An beach, Quoc Hoc Hue school, Con Hen, … along with the streets containing the history of ups and downs of Lord Nguyen. Snacks such as tea or cakes of Hue should also be stopped by bicycle to enjoy.
5. Hoi An
One more name in the ideal location is Hoi An. From the old town to the Thu Bon River, then to Cua Dai Beach, the vast fields are attractive places for tourists. The journey will not be boring because the food and beautiful scenery of Hoi An will make cycling visitors more enthusiastic and happy with the trip.
6. Bong Lai valley- Phong Nha Ke Bang
With just a map and a bicycle, you can spend a whole day exploring Bong Lai valley. Follow the trails that fit only on mountain bike wheels, explore indigenous villages, and enjoy the romantic, peaceful scenery of the mountains. After hours of cycling, enjoying traditional grilled chicken and a glass of beer will close your exciting day.
7. Da Lat
Da Lat is always full of flowers, fresh flowers all over the streets. With cool weather, you can ride a mountain bike around the low hillsides, around the lake shores full of morning dew, or simply drive downhill to cross the pine-lined roads, welcoming the golden sunlight on the top of the hill.
In Da Lat, there are many shops selling snacks in the middle of the road, you can stop to enjoy a little taste of the strange land, to love this S-shaped curved strip of land.
8. Ho Chi Minh City
Exploring Ho Chi Minh City by bicycle gives visitors indelible insights into the city's rich culture, history, and bustling daily life. Admire the stunning French colonial architecture, including the iconic Opera House, Notre Dame Cathedral, and General Post Office. Explore the city's bustling Chinatown, including the incredible Cholon and Binh Tay Markets. Finally, pay a visit to the Reunification Palace, which served as the residence of the President of South Vietnam during the Vietnam War. Then refresh and revive your spirits at Ben Thanh market's food stalls or with a glass or two of street-side beer, known as Bia hoi.
9. Mekong Delta
For some, pedaling through this breathtaking and distinctive Vietnamese land and waterscape is a highlight. This is a fantastic ride with a fantastic labyrinth of waterways, floating markets, pagodas, peaceful countryside, and charming little country roads. You can visit the floating markets or pedal around the rice paddies, inspecting local farmers' produce such as rice and exotic fruits.
Things to keep in mind when you want to cycle in Vietnam:
Many dramas can be avoided by planning ahead of time and bringing the proper equipment for a cycling trip to Vietnam.
Bicycles and repair shops can be found almost anywhere in Vietnam. If you bring your own high-end tricked-out frame, local mechanics may not be able to work on it.
The best months for cycling are October to February when the rainy season ends and the weather cools.
Look for a 'Honda' store if you have a bike emergency. They are frequently excellent with bikes and motorcycles, and they will frequently pump your tires, tighten your brakes, and oil your gears for a small fee.
When cycling in Vietnam, keep your eyes peeled because traffic rules are more guidelines than hard and fast rules. Get used to the locals using their horns liberally, as local custom requires it.
In Vietnam, who has the largest vehicle has the right of way, which rarely means the cyclist!
On paper, Vietnamese drivers drive on the right side of the road. However, this is not always the case. Cars, motorcycles, bicycles, and pedestrians tend to converge from all directions, frequently using both sides of the road depending on traffic volume.
Read more: Pu Luong Nature Reserve