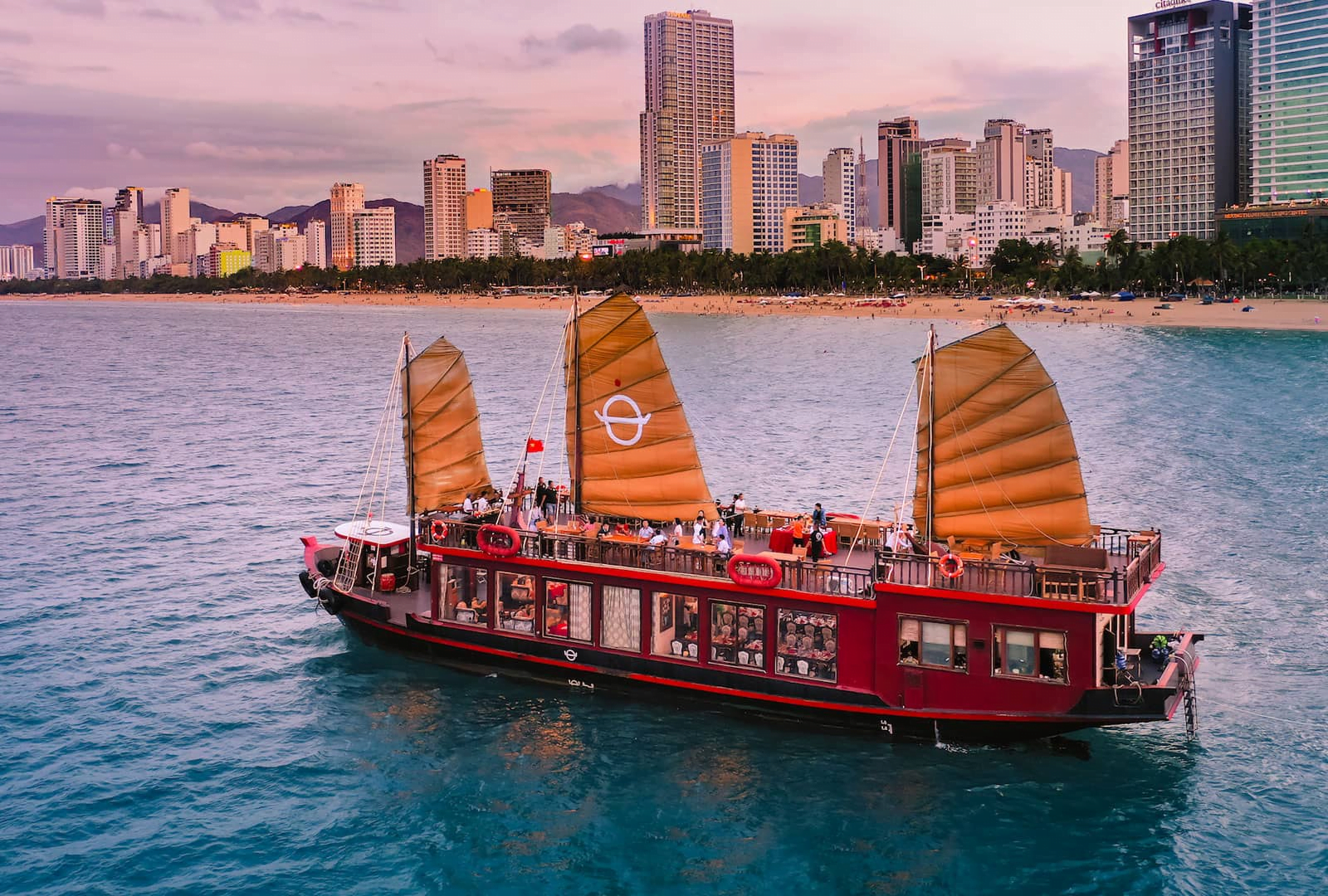 Cruise travel is becoming a popular trend for many people because of the completely different and new experience. In Vietnam, there are many attractive destinations where travel enthusiasts can experience the pleasure of cruise boat check-in with beautiful scenery and the most perfect cruise service.
In addition to checking-in luxury tourist destinations, 5-star resorts, and attractive tourist areas, recently, the trend of looking for cruise destinations in Vietnam has begun to explode. Traveling with cruise boats has been increasingly enhanced with luxurious spaces and attractive schedules that make traveling believers fascinated. Famous tourist destinations in Vietnam such as Ha Long Bay, Saigon River, Lan Ha Bay, Nha Trang,.. are the best places for you to enjoy an exciting trip between the sea and the sky. Let's find out this interesting boat service below to prepare a list of your next vacation.
HA LONG BAY
Ha Long Bay is one of the top tourist destinations for cruise boats in Vietnam, with picturesque scenery and developed tourism services that make anyone who has been here once also fall in love. Ha Long Bay has up to 1600 islands, large and small, tourists here will have a lot of choices with yachts from 3-star to 5-star luxury cruise.
Floating on the sea and watching the wonders, enjoying the beautiful scenery is the best experience when visiting this place, in addition, visitors can explore other interesting things such as kayaking, check-in. attractions, culinary discoveries, and a multitude of exciting activities. Some cruises in HaLong that visitors can refer to are Star Light (5 stars), Peony (4 stars), Orchid (5 stars) President (5 stars), Paloma (4 stars), V'Spirit (3 stars), …
BAI TU LONG BAY
If Ha Long Bay is an attractive and bustling national destination, Bai Tu Long is known as a deserted bay, pristine beaches hidden among impressive limestone mountains are creating an interesting attraction for tourists who love the sea when coming to Quang Ninh.
The travel magazine Travel and Leisure Asia has suggested that visitors to Asia should experience a three-day vacation on a cruise around Bai Tu Long Bay. It's hard for you to get bored with the breathtaking scenery of this bay with 1,600 large and small islands, of which the highlight is Bai Tu Long National Park and 3 main island clusters: Ba Mun, Tra Ngo and Sau.
To experience boat tours to visit the bay, visitors depart from modern ports such as Cai Rong passenger port, Van Don international passenger port in Ao Tien urban area with modern cruise services, convenient and fast.
LAN HA BAY
Similar to Ha Long, Lan Ha Bay is also a very famous tourist destination in Vietnam. The scenery here is not inferior to that in Ha Long and especially the cruise service, especially the extremely developed luxury cruise. Lan Ha has the wild beauty of large and small rocky islands, blue sea surface, pristine white sand beaches full of warm sunshine.
Exploring Lan Ha by river cruise boat, you will enjoy the feeling of being lost in the middle of nowhere with wonderful scenery. Taking a cruise is the most complete way to discover Lan Ha when visitors can see the beauty of the bay from many angles, enjoy luxurious services on luxury cruises and discover rich cuisine. Some cruises in Lan Ha Bay that visitors can refer to are Serenity Cruise (5 stars), Heritage Binh Chuan (5 stars), La Regina Legend (5 stars), ….
Read more:Pu luong day trip
NHA TRANG
The borderland of Nha Trang not only fascinates visitors by its beautiful landmarks, the immense sea with rich islands, it is also the famous cruise tourist mecca of the Central region.
Cruises in Nha Trang, tourists will have 2 popular options: day trip with 2 to 3 islands tour, sunset view, dinner party or 2 day 2 night tour to fully explore the beauty of both islands. The island is located far from the shore, which is beautiful and enchanting as well as participating in interesting experience activities such as snorkeling, visiting fishing villages… Some cruises in Nha Trang you can refer to such as Horizon Cruise, Emperor Cruises , Harems Cruise…
PHU QUOC
The dreamy pearl island is a paradise for those who are passionate about travel, where it not only has the most luxurious resorts, world-class entertainment areas but also a super hot tourist destination in Vietnam. Cruises in Phu Quoc, visitors can choose Sarita, the largest and only European-style cruise in the pearl island.
Experience with this cruise  is also very rich with interesting activities such as exploring the waters of the South Island, enjoying delicious seafood, swimming in the clear blue water, checking-in Hon Dam Island, diving, coral viewing…
SAIGON RIVER
In addition to the romantic bays, river cruises in big cities are also a prominent form of tourism. Cruise tours in Ho Chi Minh City are popular as tours to experience the route walking the Saigon River, watching the vibrant beauty on both sides of the city, passing through a series of iconic works such as Nha Rong Wharf, Tan Thuan port, Thu Thiem 2 bridge, Landmark 81 building…
Besides, visitors can also enjoy food while watching the prosperous appearance of the city that never sleeps on luxury cruises . These are trips with reasonable travel itinerary, helping guests to explore bustling Saigon from the middle of an empty river.
The above tourist destinations in Vietnam are all too familiar and famous. Experiencing floating on the sea with the luxurious space of a cruise boat, admiring the endless beauty will be something worth trying once in a lifetime.
Read more: Pu Luong Nature Reserve