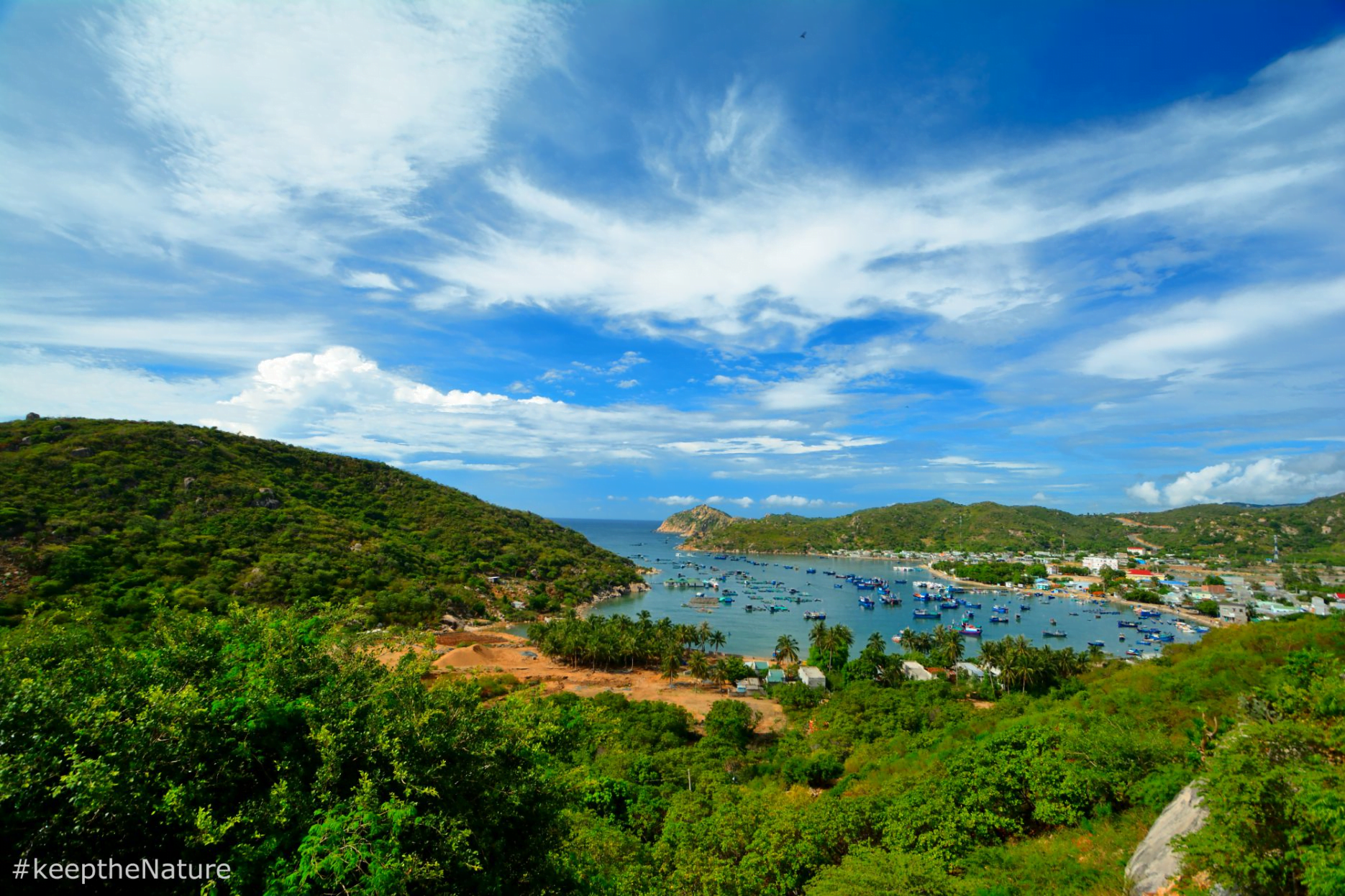 Nha Trang is the beach city in the South Centre Coast of Vietnam. Visiting Nha Trang, you can admire the beautiful nature, pristine beaches, and islands, learn about the ocean world as well as enjoy many delicious foods in the area. Here are some Nha Trang travel experiences you should read. 
Top 9 great things to do in Nha Trang
Nha Trang Bay
Nha Trang Bay is a unique natural complex with diverse natural resources in Khanh Hoa, Vietnam. Nha Trang Bay is not only a tourist destination for visitors to swim and relax but can also explore and learn about the natural world. 
Po Nagar Cham Tower
The Po Nagar Cham tower Nha Trang was built some time around the 7th century and dedicated to the worship of Lady Po Nagar, the Goddess who created and nurtured the Earth. This temple features soft stone columns and towers that beautifully combine inspirations from Hinduism and Cham architecture.
Long Son Pagoda
Long Son pagoda is one of the most visited pagodas in Nha Trang for both locals and tourists. The pagoda decorated with ceramic tiles covers the temple's entrance, a part of the roof and the altar inside.
National Oceanographic Museum
Nha Trang National Oceanographic Museum is the biggest Vietnamese research center focused on marine biodiversity and ecology. The museum has thousands of marine and bird specimens as well as exhibits of the life of aquatic species. One of the museum's highlights is an 18-meter-long humpback whale skeleton that was discovered underground.
Relaxing in Nha Trang beach
With numerous beautiful beaches, Nha Trang provides everything for ideal places to leisure. The most popular beach in Nha Trang is Tran Phu Beach, which attracts tons of tourists with lots of activity day and night. If you want peace and quiet, Bai Dai Beach might be a better option with a heavenly coastline and clear blue water. Besides, Doc Let is also a must-visit destination in Nha Trang. Despite being a popular tourism destination, this beach maintains its pristine beauty with white sand, deep blue sea and gentle waves.
Fun activities at Vinpearl Land
Vinpearl land is a combination of amusement park and water park in Nha Trang. Besides rides and thrills for all ages, it also has lazy rivers, beaches with sun loungers where you can rest and cool down for a while. The Vinpearl sky wheel, one of the highest Ferris wheels in the world at 120 meters, is also situated right next to the island.
Visit the fishing village
Fishing villages in Nha Trang existed for hundreds of years and became part of the cultural heritage in Vietnam. Visitors can explore idyllic beauty and see traditional basket boats in Bich Dam. Or coming to Van Gia to experience a beach with soft golden sands nearby and places to try traditional local dishes.
Exploring: Pu Luong with the beauty of traditional Thai villages 
Admire the architecture of Nha Trang Cathedral
Despite time's devastation, the 92-year-old church stands out on Thai Nguyen Street in the heart of Nha Trang. The church has an old French beauty with its impressive Gothic architecture and two bronze bells on the bell tower. It is an ideal place for newlywed couples and tourists to make and keep happy memories.
Mud bath
Taking a mud bath is one of the must-do activities in Nha Trang which is very popular with tourists. The natural mud here not only relaxes but also benefits your skin. Here are some recommended spots for you to experience mud bath: Thap Ba Hot Springs Center, I-Resort Nha Trang, 100 Egg Mud Bath, Galina Mud Bath, etc.
Day trip from Nha Trang
Binh Hung and Binh Ba Islands
If you're looking for a one-day trip from Nha Trang, come explore the beautiful Binh Hung Island with us. On the way to the island, you'll be greeted by a cool breeze and serene scenery. Then you'll go to Ong Nam Hai Tomb, Ba Temple, and Binh Hung Pagoda to learn about the island's culture and history. The following stop will be Binh Ba island. The pristine nature of this island will bring a rest for tourists, completely different from the bustling atmosphere of Nha Trang city center.
Nui Chua National Park
Located next to Nha Trang, Nui Chua National Park – Ninh Thuan emerges as a jewel in the heart of the desert with blue sea, colorful coral and spectacular caves. It is home to all types of terrain, ecosystem and space which promote tourism value. Besides, you can climb every steep slope, round down the winding roads and explore surrounding landscapes.
Must see: Pu Luong – Green Heaven
What to eat in Nha Trang? 
Grilled spring rolls (Nem nướng Nha Trang)
The pork is rolled in rice paper, along with slides of cucumber, green mango, carrot pickle, and various raw vegetables such as salad, basil, and so on. After wrapping, enjoy the blend of fat, sweet, sour, and spicy flavor with the special sauce.
Pearl fish salad (Gỏi cá trích)
The fresh herring is cleaned, cut into filets and then dipped in lemon juice to denature the proteins in the fish. After that, combine it with shredded coconut and sliced red onion. Herring salad is wrapped in rice paper and rolled with forest vegetables before being dipped in sweet and sour sauce. It is a fantastic dish of Nha Trang.
Jellyfish Vermicelli (Bún sứa)
Jellyfish vermicelli in Nha Trang is very famous, attracting tourists by its rich broth from fish and other seafood ingredients. Aside from the thick and crunchy white jellyfish, there are steam fried fish, fresh onions, chili, and herbs to enjoy.
Hopefully, the shared information will help you better understand about Nha Trang – the pearl of the East Sea. We wish you a wonderful trip to Nha Trang!See more: Pu Luong – Nature beauty in the heart of Thanh Hoa