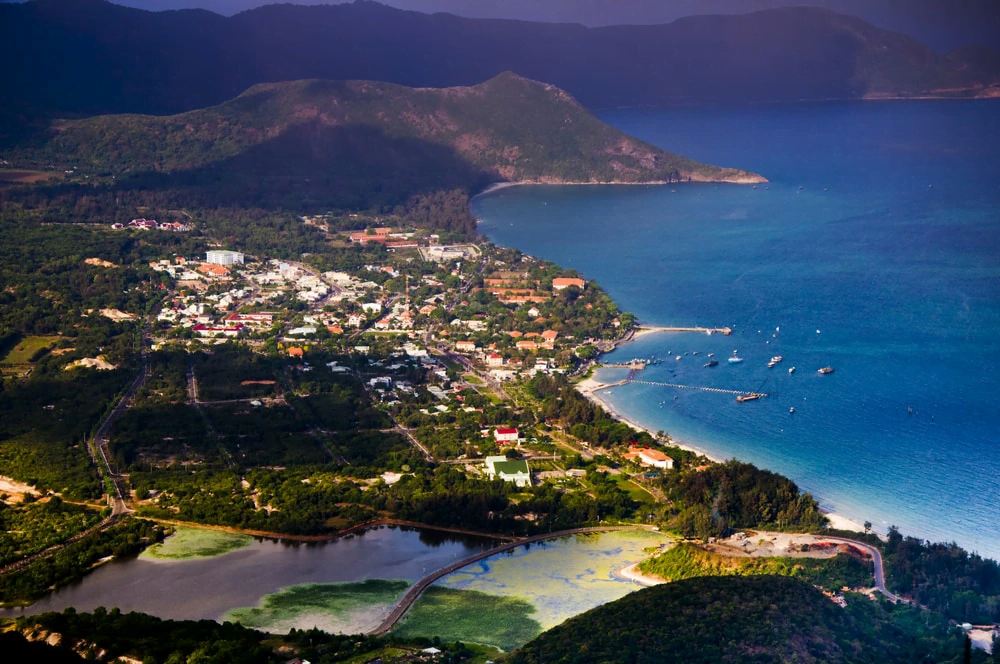 Only a few travelers arrive in Con Dao, a little archipelago off the southern coast. Despite the extra work required, those who make the trip are rewarded with some of the nation's most idyllic beaches and top snorkeling. Con Dao National Park is located on a large portion of the island. You will have plenty of opportunities to find your own paradise thanks to its lush jungle.
CON DAO – WHEN TO GO
Con Dao is most enjoyable between March and September, when the sea is calm and the weather is gorgeous. You will have the opportunity to observe Vic traveling to Con Dao from anywhere to lay eggs if you visit this time. When you step foot on Con Dao, you simply must participate in various activities like snorkeling and observing corals, fishing and seeing turtles lay their eggs, and touring deserted islands.
Due to the impact of the northeast wind, the beach in Con Son Bay frequently experiences high waves from October until February the following year. Yet, because it is the dry season, there is usually sunshine, so you can go to Con Dao now rather than winging it.
HOW TO GET TO CON DAO
Con Dao island can be reached in one of two ways: by air or by waterway
By waterway
From Vung Tau:
Every day, speed boats depart from Vung Tau, Can Tho, and Soc Trang for Con Dao island. It's common practice to go from Ho Chi Minh City to Vung Tau City and take a ferry to Con Dao. Con Dao Express 36 is the greatest vessel. It is the first five-star, fast ship in Vietnam with luxurious and comfortable accommodations. It takes around three hours and forty-five minutes to get from Vung Tau to Con Dao.
The boat departs from Vung Tau for Con Dao at 8:00 a.m. and returns from Con Dao to the mainland at 13:30. Weekend rates are 880,000 VND per person, while weekday rates are 660,000 VND.
From Can Tho:
At seven in the morning, ships leave Ninh Kieu pier, arrive at Tran De port in Soc Trang, and dock at Ben Dam port (Con Dao). The duration varies from three to four hours depending on the weather. About midday, a boat leaves Con Dao for the mainland. On weekdays, the cost of the ticket is 610,000 VND, and for weekends, it is 690,000 VND.
From Soc Trang:
At 8 am, ships from Soc Trang leave the Tran De port and dock at the Ben Dam port (Con Dao). One way travel time is one hour and 45 minutes. At 13:00, a boat leaves Con Dao for the mainland. On weekdays, the cost of the ticket is 320,000 VND, and for weekends, it is 350,000 VND.
By airplane
Con Dao may also be reached via flight. You'll need to wait 45 minutes to obtain Con Dao. For internal flights from Saigon and Can Tho, Con Dao currently has Con Son airport. You will need to make a stop at one of these two places if you are traveling from Hanoi. The island's core is 12 kilometers from the airport, and the majority of hotels and resorts offer complimentary shuttle service or taxi service.
How to getting around Con Dao 
On the island, taxis and motorbike taxis are widely available. A motorcycle can be rented for 100,000 to 150,000 VND each day. Regular shuttle buses connect resorts and towns at places like Six Sense and Paulo Condo.
CON DAO – WHAT TO DO
Relaxation on the beaches
Many tourists come to Con Dao because it has some of the nicest beaches in all of Vietnam. The majority of these beaches are on Con Son, the main island, and are readily reached by car. Fortunately, there is not much waste and the ground is fairly soft with sand.
Bai Dat Doc, the greatest beach on Con Son Island, is a picturesque beach with a mile-long crescent of light sand that is surrounded by green hills.
The second-best beach on the island is Dam Trau Beach. Wide areas of soft sand and pure water are surrounded by rugged, forested slopes on either side.
A large sandy and pebble beach with abundance of shells and shade is called Bai Loi Voi. The Con Son town center has a sizable section of sandy beach.
Although Bai An Hai on the south side of Con Son is lovely, there are a lot of fishing boats close by.
Diving in Con Dao
Con Dao boasts the cleanest sea in all of Vietnam, making diving there one of the top activities. There is a lot of coral to see, and the waters surrounding the islands are officially protected. There are more than 1,300 different types of marine life in the area, which makes it famous for its variety. Also, you'll discover one of the few shipwrecks in Vietnam where you may go diving. Although diving is feasible throughout the year, January to June is seen to be the optimum period for ideal weather and decent visibility.
Observation of turtle nesting
The best activity in Con Dao, if you are here during the right season, is without a doubt observing turtles! The far-flung Con Dao Islands are home to many protected sea turtle nesting sites and have Vietnam's highest population of sea turtles. These sea turtles travel to Con Dao from the Philippines each year to breed. The female turtle will lay roughly 100 eggs at a time after the turtles get to Con Dao. From May through October, with a peak from June to September, the Con Dao turtle nesting season occurs. Each year, there are roughly 400 sea turtles.
Bay Canh Island, Tre Lon Island, Cau Island, and Tai Island are the most well-known islands for turtle sightings. The most well-known island is Bay Canh Island, a sizable island directly in front of Con Son Island. Join a Con Dao Turtle Tour, which is organized by the Con Dao National Park office, if you want to watch sea turtles laying eggs in Con Dao.
Hiking in the national park
While much of the inland is highly forested, there are numerous excursions surrounding Con Son Island. Con Dao National Park is where you should go. It is advised that you bring a national park guide with you when you enter the forest.
There are quick excursions to a cave, many beaches, and an old tree. The journey to the park's highest point, though, is the best one. This location offers a stunning view of the entire island on clear days.
Con Dao Prisons
Visits to the former prisons are among the most amazing things to do in Con Dao. The French colonial period saw the construction of these jails, which were also put to use during the Vietnam War. Here, political prisoners were detained and subjected to self-torture. The Phu Hai, Phu Binh Camp, and French Tiger Cages are the three primary prisons that may be visited.
Of the 11 jails on the island, Phu Hai Prison (Con Dao Prison) is the biggest and dates back to 1862. There were thousands of prisoners kept here, 200 or more crowded into each detention facility.
The French constructed the notorious "tiger cages" in 1940 to house close to 2,000 political prisoners. The guards may prod the inmates like tigers in a Victorian zoo in any one of the 120 rooms.
The Americans constructed Phu Binh Camp, a 384-room, on the outskirts of the city in 1971. The corrugated iron roofs on the cells heated up quickly. Also, you can find "American Tiger Cages" here.
CON DAO WHERE TO STAY
Con Dao is a collection of 16 islands, the largest and most populous of which is Con Son Island. Here you may find most of the local spots, historical places, and tourist attractions.
The majority of the attractions are located in Con Dao Town and Con Son Bay. You should look for a hotel nearby as well. Some areas of the island are tranquil and serene, scattered with luxurious resorts.
An Hai Beach is a sandy, aesthetically pleasing beach that is situated in the southern part of the city. If you want to take in the tranquility and environment, it is a good idea to get a hotel in this area.
On the northern side of the city is Doc Beach. This area is home to the opulent Six Senses Resort, which also owns a portion of the white sand beach.
Dam Trau Beach, which lies a few kilometers to the west of Con Son Airport, is a fascinating spot to vacation. You can see gorgeous sunsets from here.
There are several little beaches in the scenic area of Nhat Beach, which is a few kilometers northwest of the Shark Nose. This neighborhood is perfect for backpackers because there are a few hostels nearby.